When I first encountered Redragon, I was struck by their ability to dominate the budget keyboard market, consistently delivering reliable options for as little as $30. It's a rare combination of affordability and performance that has made them a go-to choice for many.
Now, with the introduction of the Redragon K631 Pro SE, the brand is venturing into more premium territory. They've managed to incorporate features usually reserved for high-end keyboards, all while maintaining that budget-friendly charm we've come to appreciate.
Priced at $60, the K631 may not pack the same punch in terms of value as the wildly popular Redragon K552. However, it still presents a compelling option for those in search of a feature-rich wireless keyboard that won't break the bank.
Pros
Low latency wireless through 2.4 Ghz
Up to 3 devices with Bluetooh
Compact 65% layout
Included switches are factory lubed and fast
Hot swappable switches
Cons
1600 mAh battery only
Build quality is a bit low
Tech Specs
Redragon K631 Castor Pro
Length: 30.99 cm / 12.2 inches
Width: 10.49 cm / 4.13 inches
Height: 2.60 cm / 1.02 inches
Case: Smokey plastic
Weight: 470 grams
Keys: 68 keys
Connectivity: USB-C to A cable, 6ft, detachable
Keys & switches
Switch options: Custom Quiet Linear Switch
Keycap material:AB=-8
Keycap legends: Double shot
Keycap profile: OEM
Media keys: Yes, through layer
Backlight: Full RGB (North facing)
Software: Castor Pro
Design & Dimensions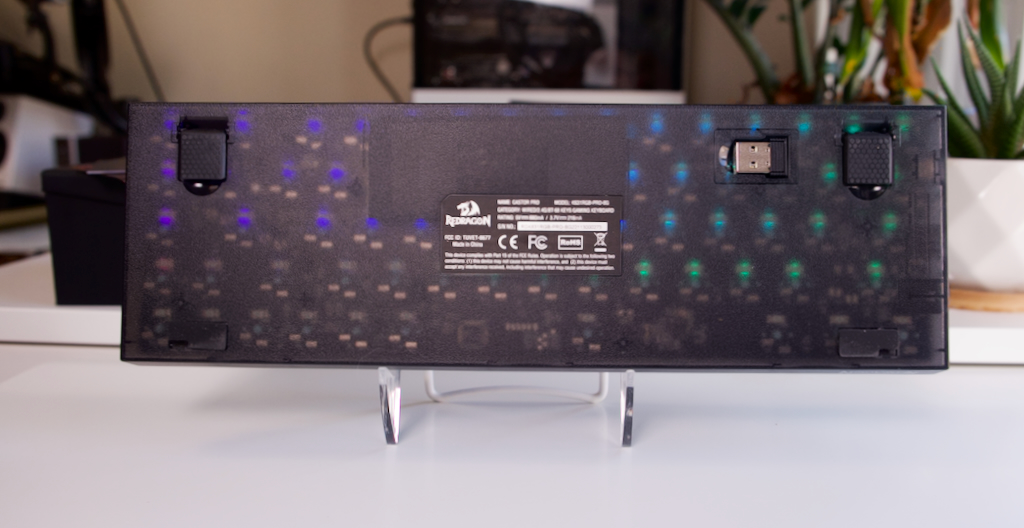 The K631 Pro is a well laid out compact 65% keyboard. The unique design feature is its clear smoky black plastic case, this allows for the PCB and RGB to come through on the back and the sides of the board.
You can also see there's no interior foam or dampening material in the board.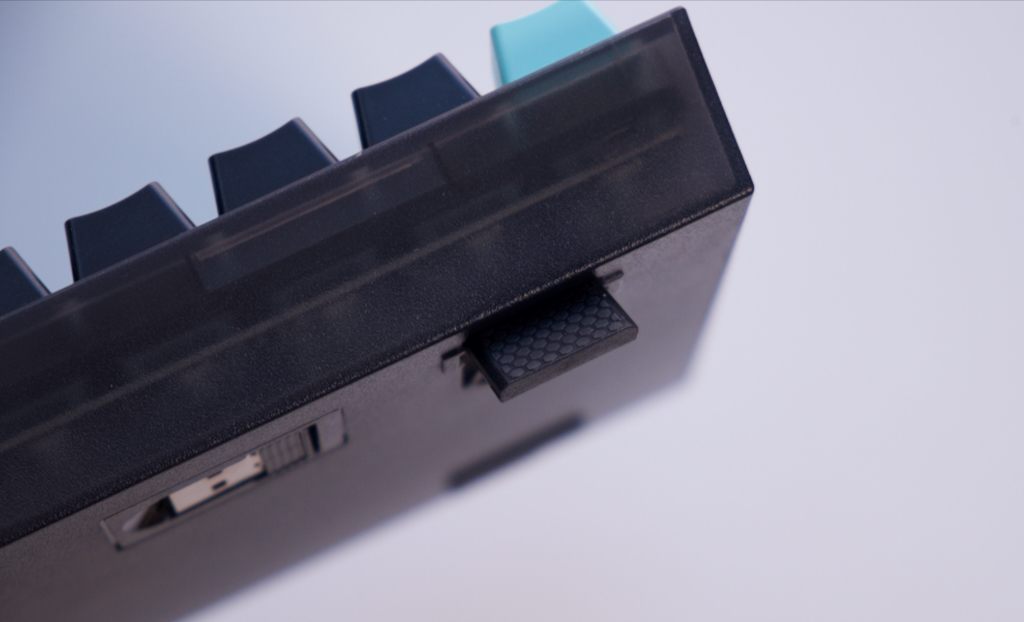 On the back of the keyboard there's a home for the wireless dongle, as well as single level feet. The feet are coated with rubber and feel stable.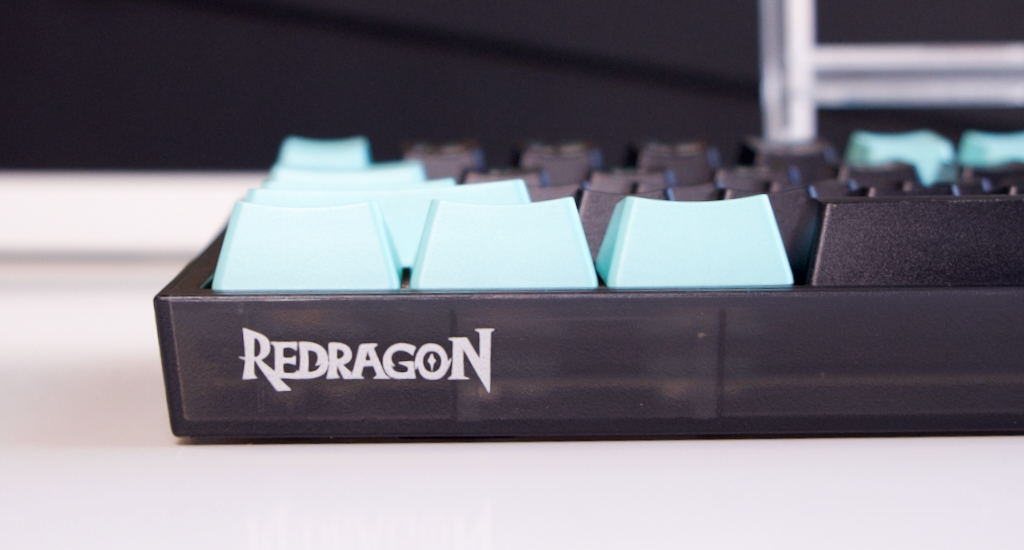 The front lip features the classic Redragon logo, which is the only branding on the keyboard.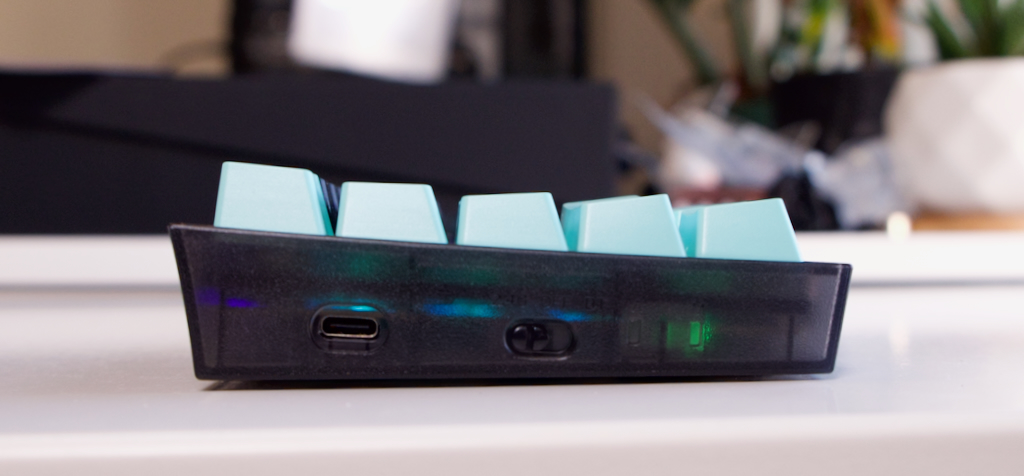 The USB-C port and the switch between off, BT and 2.4 Ghz mode are situated on the left side of the keyboard.
Typing Sound Test
Despite the claim of quiet switches, the K631 Pro makes quite a bit of noise. There's a harsh clack on bottom out that is likely the result of the cheaper rigid plastic plate and hollow interior.
There is a big of flex downward, but it's not because of any gasket or mounting system, the entire keyboard flexes a bit if pressed hard enough.
I'm not hearing a lot of crunch or ping which is great. The stabilizers are maybe even a little lubricated and sound quite a bit more muffled compared to the regular keys.
This keyboard isn't the best sounding keyboard I've heard, but there are definitely worse, if you're looking for a quiet keyboard, then you might be want to skip this one.
Switches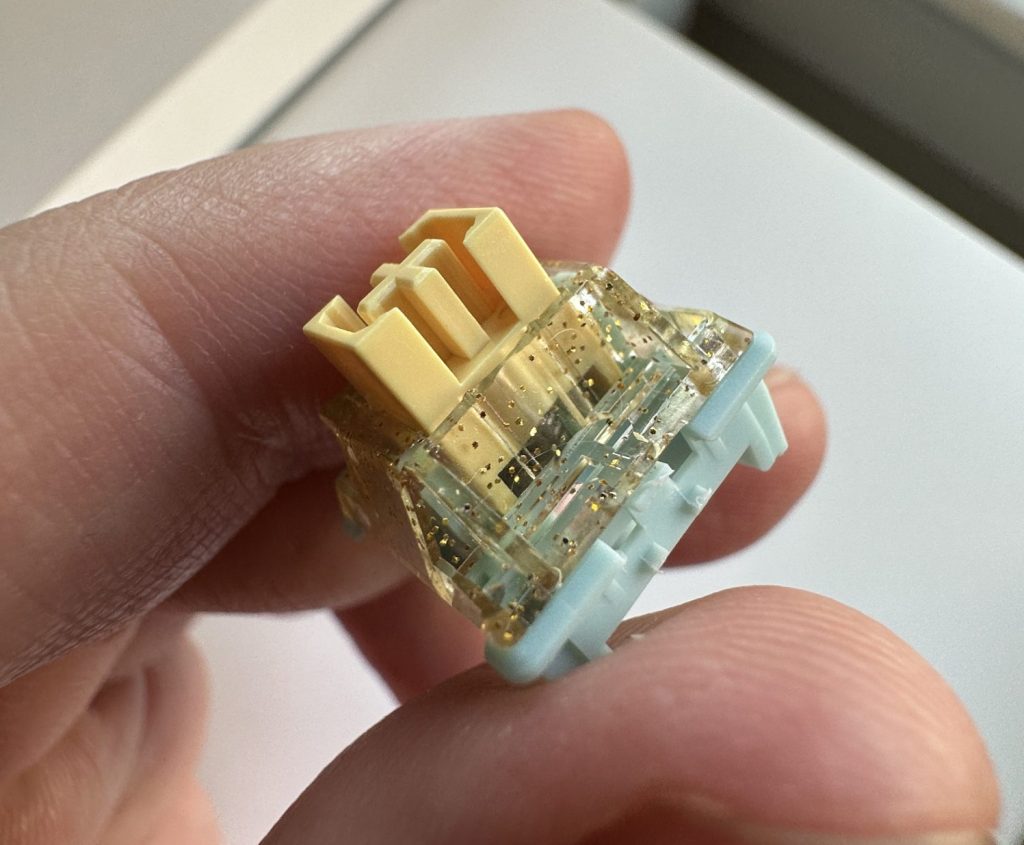 The K631 Pro SE features a "custom linear switch" which is what is demanding the $10 premium over the Pro.
These custom switches boast a box stem design, clear housing with gold flecks, and a north-facing window for RGB lighting.
These linear switches provide a swift typing experience, thanks to their slightly shortened travel distance of 1.8mm and a 37g actuation force. The switches feel consistently smooth throughout their travel, and upon closer inspection, the stems are lightly lubed.
Interestingly, there's no dampening at the bottom of these switches, so it's unclear where the quiet comes in for these switches.
There is some side-to-side play in the switches, causing a bit of wobble in the keycaps.
Despite this, the switches perform well for gaming, offering a light and fast experience without any significant drawbacks.
And if you ever want to change things up, the K631 Pro SE is fully compatible with both 3-pin and 5-pin switches, giving you plenty of options for customization.
Stabilizers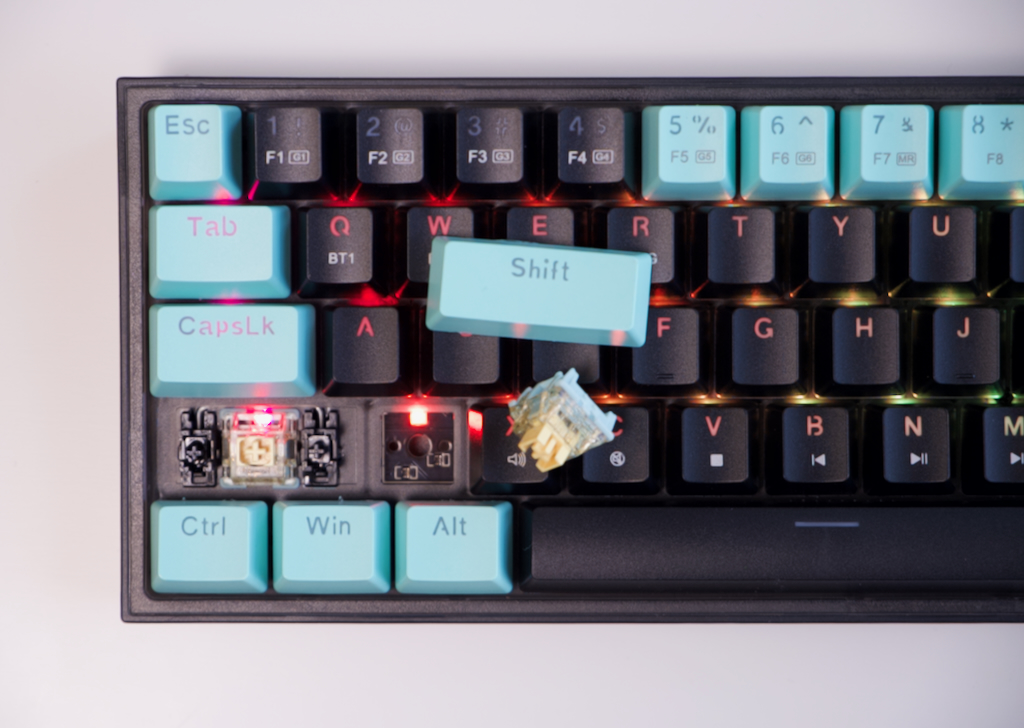 The K631 Pro uses a standard looking clip-in Cherry stabilizer. The stabilizer is solid, there's not a ton of chatter. The stabilizers are bit inconsistent from each other, with the shift keys feeling a lot softer than the space bar or regular keys.
The stabilizer does have some play side to side, but nothing noticeable on use.
ABS Keycaps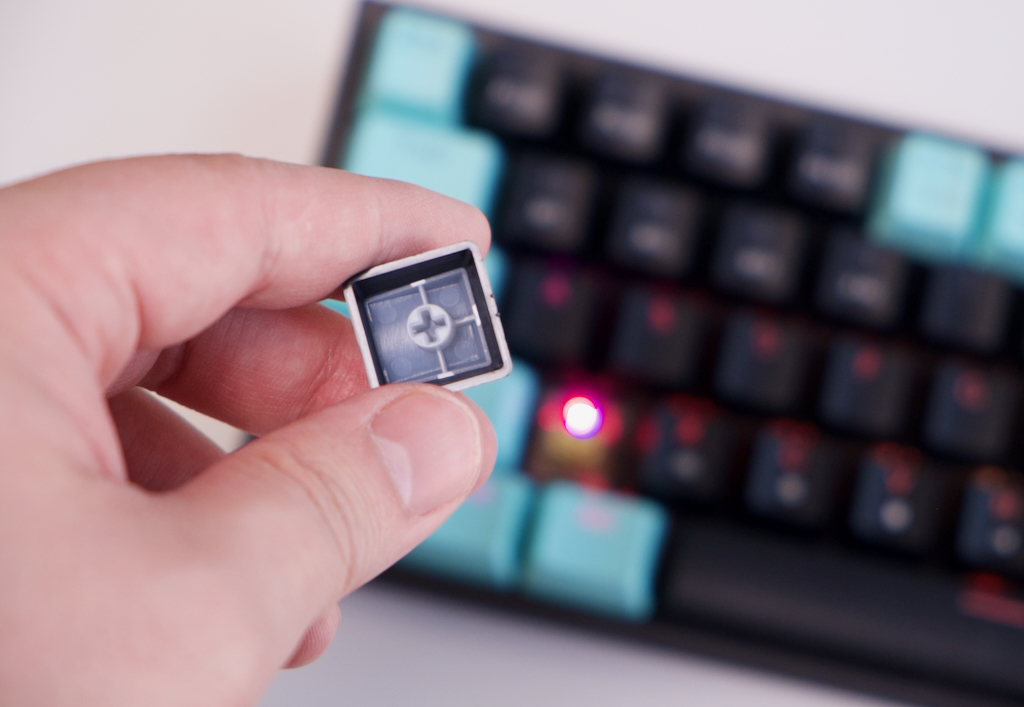 Keycaps are ABS plastic with double shot for shine-through. The K631 Pro SE comes in a light blue and black colourway not seen on the Castor or Vanilla Pro version of this keyboard.
RGB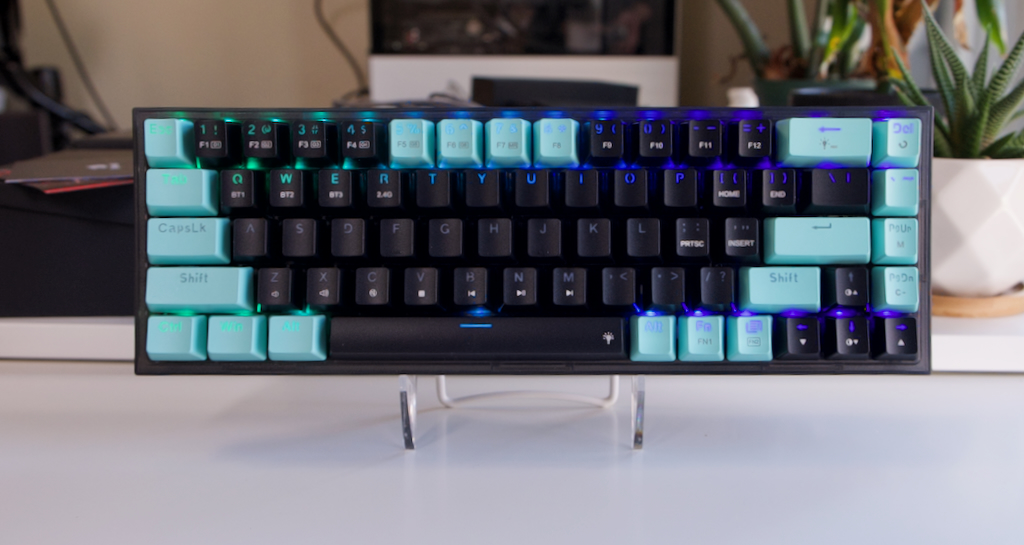 RGB on the Redragon K631 Pro SE is bright with the shine through keycaps being fully lit. There's much diffusion or bounce going on with the black plate so a lot of the RGB spill is quite direct onto the neighbouring keycaps.
Since the entire case is see-thru, the RGB lights are visible on the back and sides of the keyboard, but again not very diffused.
Wireless Experience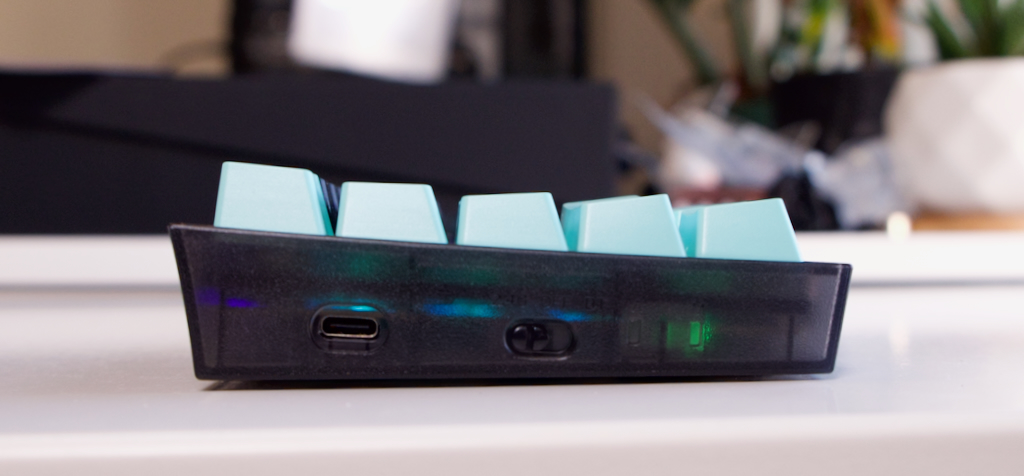 This keyboard comes with a 2.4 Ghz dongle as well as the ability to connect to up to 3 devices with Bluetooth 5.0.
The connections I experienced were solid, with the 2.4 Ghz being low latency enough for gaming.
This keyboard only has a 1600 mAh battery however, which means the keyboard will run for about 10ish hours before needing a top up, with a longer battery life if you turn off RGB.
Overall this is a pretty good wireless experience, especially at this price point, I'm not seeing many 2.4 Ghz options at under $60.
Build Quality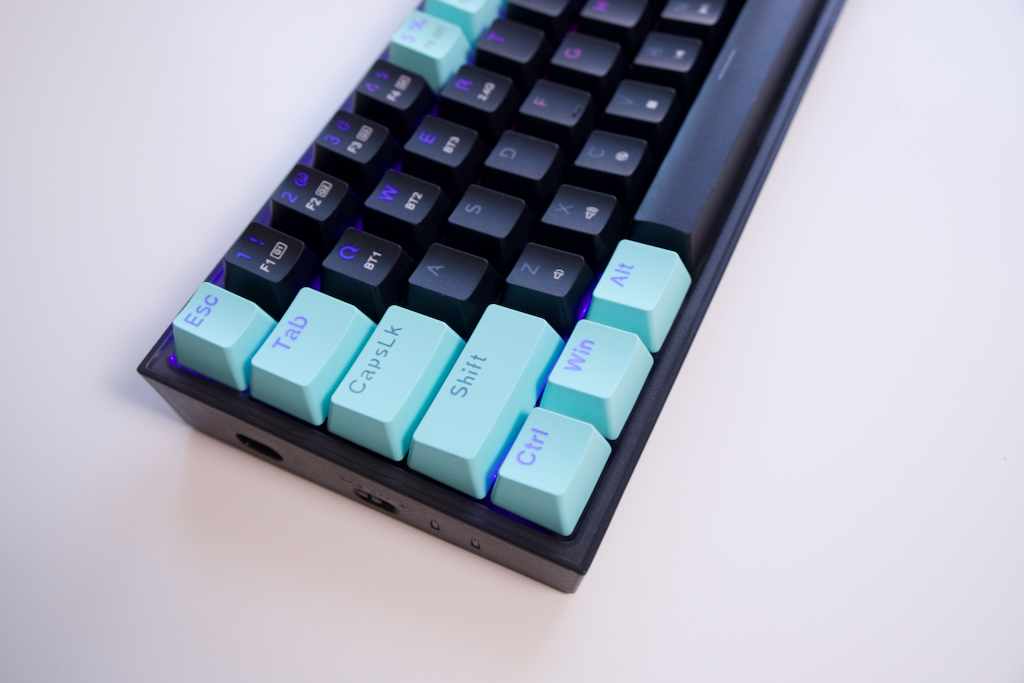 This keyboard is a far cry from Redragon's other tank like products.
The build quality of the K631 Pro SE leaves much to be desired, with noticeable flex and creaking throughout. The thin plastic and lack of metal backplate in its construction contributes to this issue.
The keyboard itself is very lightweight, weighing in at just 470 grams.
Software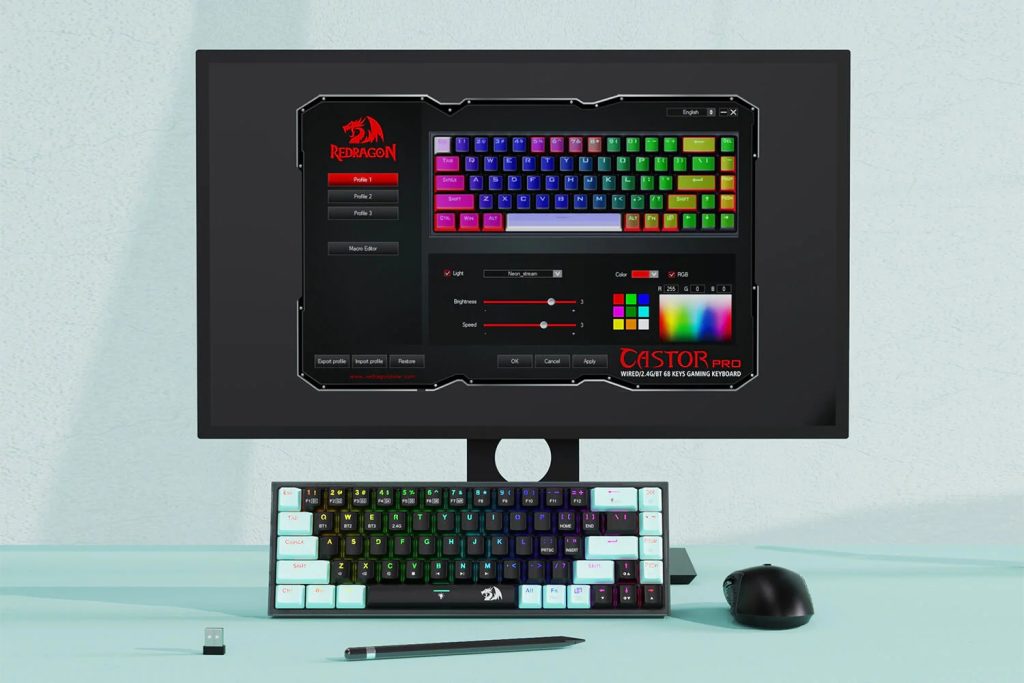 The K631 Pro SE is supported by Redragon's Castor software which you can find on their official website.
The software allows all the standard functionality you would expect like keyboard remapping, lighting configurations and macros.
The keyboard has extra functions like media keys, RGB control and gaming macro hot keys that are behind 2 fn layers.
What's in the box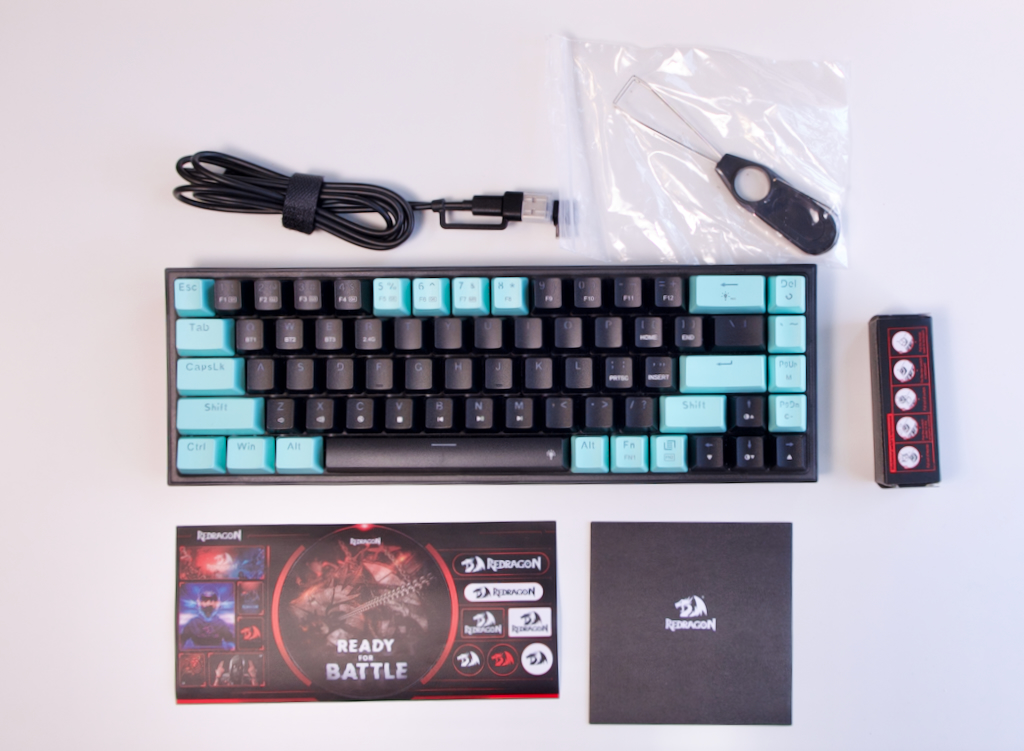 A standard set of accessories are included with the Redragon K631 Pro SE:
1 x Redragon K631 Pro SE Keyboard
1 x User Manual
1 x Keycap Puller
1 x Switch Puller
1 x USB-A/C Cable
1 x Sticker
4x Replacement Switches
Model differences
There are three versions of the Redragon K631, the Castor, the Pro and the Pro SE. All of the keyboards feature a 65% layout with RGB.
The Pro SE is the most expensive at $60 USD and is the only keyboard with the custom linear switches.
The Pro is wireless 2.4 Ghz and Bluetooth, with linear red switches.
The Castor is the base model and is the same as the Pro model without wireless, only wired.
Verdict
Redragon is still delivering great value with this line. The K631 Pro SE is a good wireless gaming keyboard with 2.4 Ghz at under $60. As long as you're okay with some flex, and a mediocre battery life.
The big question is whether the $10 premium over the Pro is worth it, if you're on a strict budget, I'd say probably not. The custom switches are nicer and a little faster, but Red switches are plenty fast, and if you have lube you can mod your switches to suit your preferences.
I couldn't find many other reputable brands that can offer these specs at this price point, so if you're looking for a budget wireless gaming keyboard, the K631 Pro SE is a good option.