The console war is heating up!
Last week, Sony finally revealed the Playstation 5 along with a slew of games. We now know about the specs, games and design of these next-gen consoles.
I've made a handy infographic summarizing and comparing the two consoles with what we know about the two gaming machines.

Specs Comparison Table
| | | |
| --- | --- | --- |
| | PS5 | Xbox Series X |
| CPU | 8x Zen 2 Cores at 3.5GHz (variable frequency) |  8x Cores @ 3.8 GHz (3.66 GHz w/ SMT) Custom Zen 2 CPU |
| GPU | 10.28 TFLOPs, 36 CUs at 2.23GHz (variable frequency) Custon RDNA 2 GPU | 12 TFLOPS, 52 CUs @ 1.825 GHz Custom RDNA 2 GPU |
| Memory/Interface | 16GB GDDR6/256-bit | 16GB GDDR6/256-bit |
| Memory Bandwidth | 448GB/s |  10 GB @ 560 GB/s, 6GB @ 336 GB/s |
| Internal Storage | 825GB Custom NVME SSD |  1 TB Custom NVME SSD |
| IO Throughput | 5.5GB/s (Raw) | 2.4 GB/s (Raw) |
| Expandable Storage | Approved NVMe SSD Slot | Proprietary Expansion Card |
| External Storage | USB 3.2 External HDD Support | USB 3.2 External HDD Support |
| Optical Drive | 4K UHD Blu-ray Drive | 4K UHD Blu-ray Drive |
Overall Power (CPU, GPU)
We're no Mark Cerny, but from these plebeian eyes, the Xbox Series X is packing more pure power with higher CPU clocks, TFLOPs and CU count. The difference here isn't massive but expect Xbox to have slightly higher fidelity and framerate on third party games.
Xbox seems to be heavily focused on thermals and cooling this generation, meaning that power lead will not be hamstrung by throttling.
Both consoles will be capable for 4K, 120 Hz, VRR and HDR so I don't see these parts of the specs being a deciding factor in the grand scheme as console wars go.
Console Size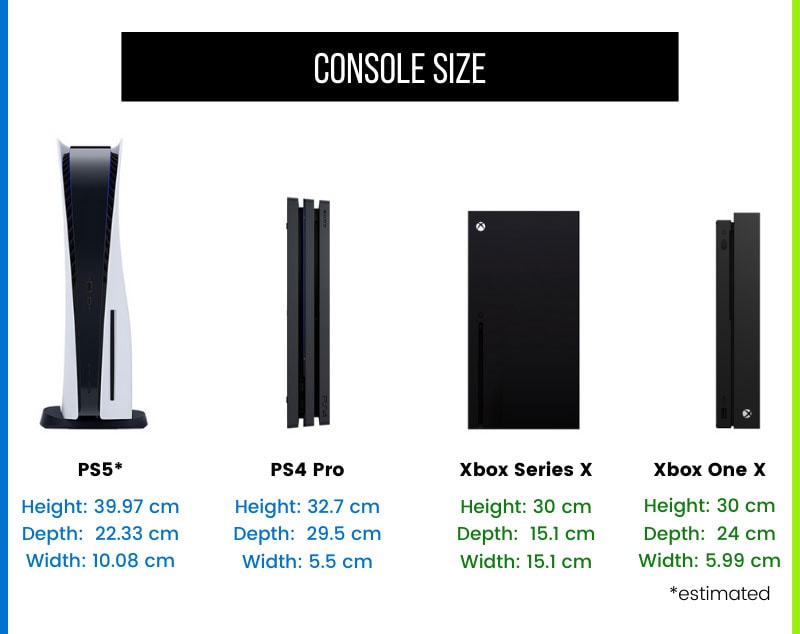 The PS5 is looking like the largest gaming console we've ever seen.
If you're planning on getting a PS5 prepreate to make a significant amount of space for it, luckily the PS5 can be set horizontally, giving it some flexibility. The sheer size of the PS5 will help the console avoid thermal issues.
The Xbox Series X design has been known for a while, it's reminiscent of a small form factor PC, with a huge emphasis on cooling vertically.
TLDR: Router vs Fridge
Storage
SSDs are now standard.
Both Xbox Series X and PS5 will come with an internal SSD. By that inclusion alone, you'll see load times drop dramatically compared to this generation.
PS5 is taking load speeds another step further, Sony is including a custom 825 GB NVMe that supports 5.5 GB/s of read/write speed, according to Mark Cerny, this unlocks game design choices that were not possible on any game designed around HDD load speeds. This type of storage tech may give an advantage to first party PS5 games that can implement streaming that's not possible on Series X's 2.4 GB/s. The new Ratchet and Clank is an indication of how a game can take advantage of such speed storage.
Both consoles are offering pathways to add extra storage to the console. Sony is allowing standard m2 SSD drives to be installed in a bay. If the SSD is approved by Sony to meet speed standards, it can be used to store PS5 games, otherwise the SSD will be used to store PS4 games and to swap installed games off the main SSD.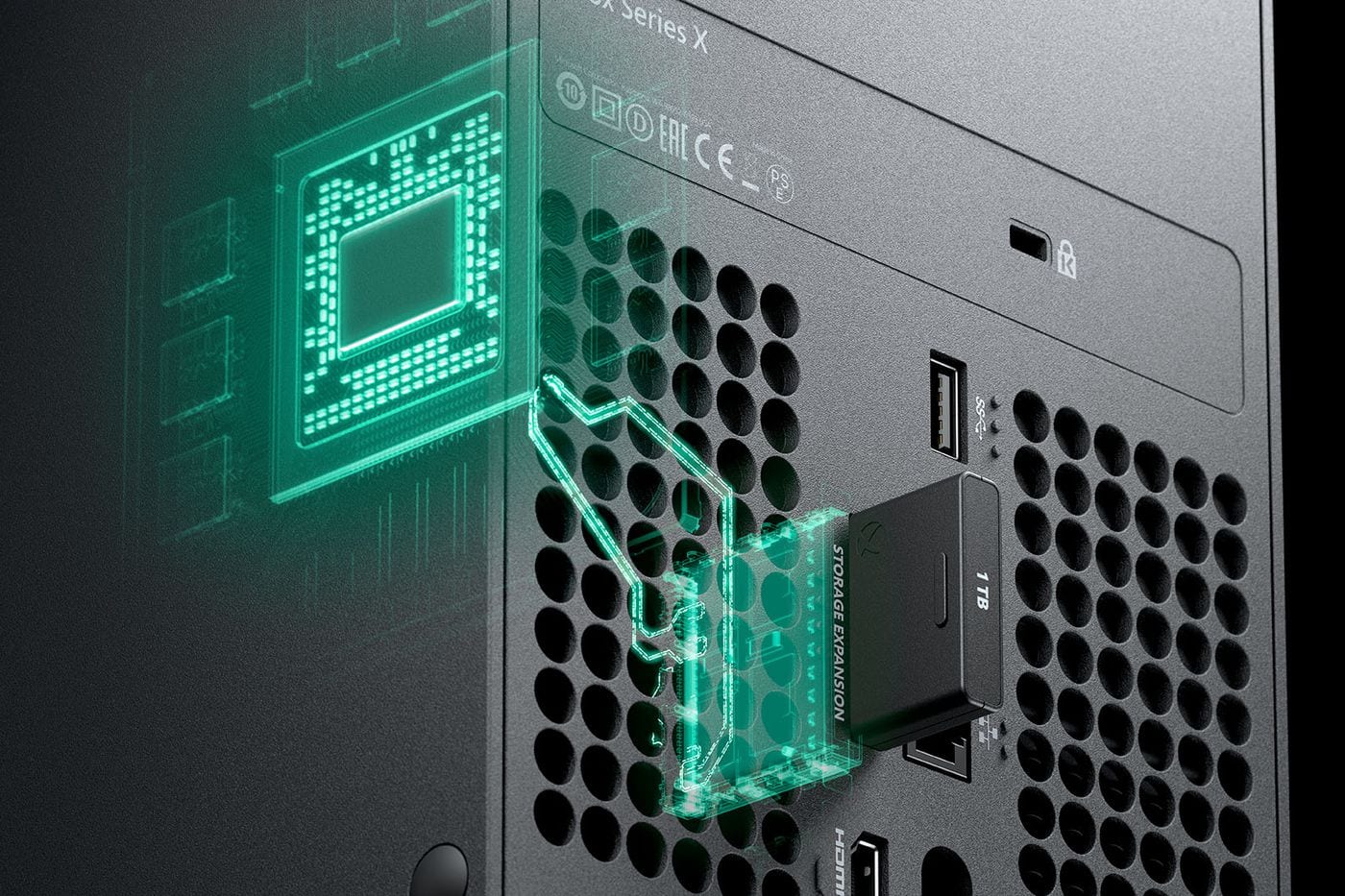 Xbox is using proprietary expansion cards that come in 1TB increments. These cards are as fast as the internal SSD so all extra storage can be used like internal storage.
Backwards Compatibility
Xbox continues to get BC right.
The Xbox Series X will be backwards compatible with all Xbox generations, with some games seeing enhancements like HDR and framerate. Xbox backwards compatibility is something we've already seen done well and expect it to be done well on the Series X. Smart Delivery will take your game ownership cross console, so if you buy Halo Infinite for Xbox One, you can play Halo on Xbox Series X with better graphics while passing over all your save information.
The Playstation 5 will have backwards compatibility on just the PS4, no BC available for PS1, PS2 and PS3 sadly. The PS5 is looking to have most of its library backwards compatible by launch with improved frame rates on FPS unlocked games and just more consistent frame rates in locked FPS games (Bloodbourne!)
The Series X value proposition is looking quite nice for any Xbox One or 360 owner.
Controllers
The new Xbox Series X Wireless controller and the DualSense are evolutions from the previous generation.
The Series X controller now sports an Elite style D-pad and dedicated share button, there's nothing radically different about this controller and there need not be, the Xbox One controller is one of our favourites.
Sony's DualSense controller is further iteration of the DualShock 4, it keeps the touchpad and motion controls, the button placements are all the same, it does away with the light bar (thank you). As its name suggests, the DualSense is adding more feel to the controller, the biggest change being adaptive triggers, triggers that can change resistance depending on what's happening in the game. Haptic rumble is another new feature, purportedly enabling more complex vibration and rumbles.
For PC gamers, both controllers are 100% compatible with PC's.
Features
This is where a lot of console differentiation looks like its happening from a hardware offering standpoint.
Xbox Series X is extending its Quick Resume feature to multiple games at a time, meaning you can store multiple game states on the console at a time and jump back into those games without needing to load the game back up.
Playstation 5 looks to be focused on delivering better audio with 3D audio, making positional audio more compatible with any hardware setup.
Games
This is what matters the most right.
Both companies seem to be making first party games a focus, Sony has already been very strong for the last two generations, while Microsoft has been snatching up studios over the last couple of years.
The PS5 game line up is headlined by Horizon Forbidden West, Spider-man: Miles Morales and Ratchet and Clank. You can see all the games announced for PS5 in this video:
Here's a list of games currently announced for PS5:
Horizon: Forbidden West
Spider-man: Miles Morales
Ratchet and Clank: Rift Apart
Gran Turismo 7
Godfall
Oddworld: Soulstorm
Resident Evil 8: Village
Demon's Souls
Grand Theft Auto 5 enhanced
Project Athia
Solar Ash
Sackboy: A Big Adventure
Destruction AllStars
Deathloop
Stray
Goodbye Volcano High
Returnal
Bugsnax
Hitman 3
Ghostwire: Tokyo
Jett: The Far Shore
Kena: Bridge of the Spirits
Astros Playroom
Pragmata
NBA 2K21
FIFA 21
Madden 21
Quantum Error
Cris Tales
Sherlock Holmes: Chapter One
Dustborn
Planet Coaster: Console Edition
Control
Destiny 2
Fortnite
Warframe
Gothic
Assassin's Creed Valhalla
Rainbow Six Siege
Outriders
The Lord of the Rings: Gollum
Watch Dogs: Legion
Battlefield 6
Gods and Monsters
Cyberpunk 2077
Xbox Series X is lead by Halo: Infinite as a cross-gen Smart Delivery game and Senua's Hellblade 2.
Here's a list of games currently announced for Xbox Series X:
Halo Infinite
Senua's Saga: Hellblade 2
Scorn
The Medium
Assassin's Creed Valhalla
Bright Memory Infinite
Call of the Sea
Chorus
Control
Cyberpunk 2077
Destiny 2
Dirt 5
Fortnite
Gears 5
Gods & Monsters
Grand Theft Auto V
Hitman III
The Lord of the Rings: Gollum
Madden NFL 21
NBA 2K21
Observer: System Redux
Orphan of the Machine
Outriders
Planet Coaster: Console Edition
Pragmata
Resident Evil Village
Scarlet Nexus
Second Extinction
Sherlock Holmes: Chapter One
Tom Clancy's Rainbow Six Quarantine
Tom Clancy's Rainbow Six Siege
Ultimate Fishing Simulator 2
Vampire: The Masquerade – Bloodlines 2
Warframe
Watch Dogs: Legion
WRC 9
Yakuza: Like a Dragon
Find a list of games on Wikipedia
Release date and price
Nothing is known about price about either consoles. Both consoles are slated to launch Holiday 2020.