A cloth mouse pad is a quintessential piece of gear that plays quite an underrated part in your gaming experience.
It's hard to recommend just one single mouse pad as the best gaming mouse pad period, so we've recommended 5 mouse pads that you really can't go wrong with.
The best overall mouse pad, if you don't know what you prefer, is the HyperX Fury S mouse pad, it combines really fantastic build quality with a medium/fast speed glide makes it a perfect first choice mouse pad.
| | Mouse | Speed or Control | Sizes | |
| --- | --- | --- | --- | --- |
| | HyperX Fury S | Both options | SM, M, L, XL | See Price |
| | Glorious Gaming Mouse Pad | Speed | L, XL, XL Extended Extended, XXL, 3XL | See Price |
| | Steelseries QcK | Control | S, M, L, XL, XXL | See Price |
| | Zowie GS-R | Control | S,L | See Price |
| | Corsair MM300 | Speed | S, M, XL, Extended, Extended XL | See Price |
The Glorious Gaming Mouse Pad is our top pick for a speed pad, it's affordable and provides a really nice fast glide while not skimping on stitched edges despite its price. The legendary Steelseries QcK is our first pick for a gamers looking for control pads, it's basement pricing means that even when the QcK wears out, which it will, it'll be easy to replace.
The premium Zowie GS-R provides a higher quality high control experience with very minimal branding. The Corsair MM300 provides a large size option for control pads.
Aren't all mouse pads the same?
Not exactly, most mouse pads will be an improvement over a bare wood, metal or glass surface, but a good mouse pad introduces a significant amount of consistency to your gameplay, which contributes you to playing better over the long term.
Good mouse pads are also generally built better, they have stitched edges and surfaces that will hold up better over time. Mouse pads come in a variety of sizes, paddings and textures that allow for a custom gaming experience. If you like to move your mouse fast, you can get a speed pad, if you like pixel by pixel accuracy, go for a control pad.
1. HyperX Fury S
The best overall mouse pad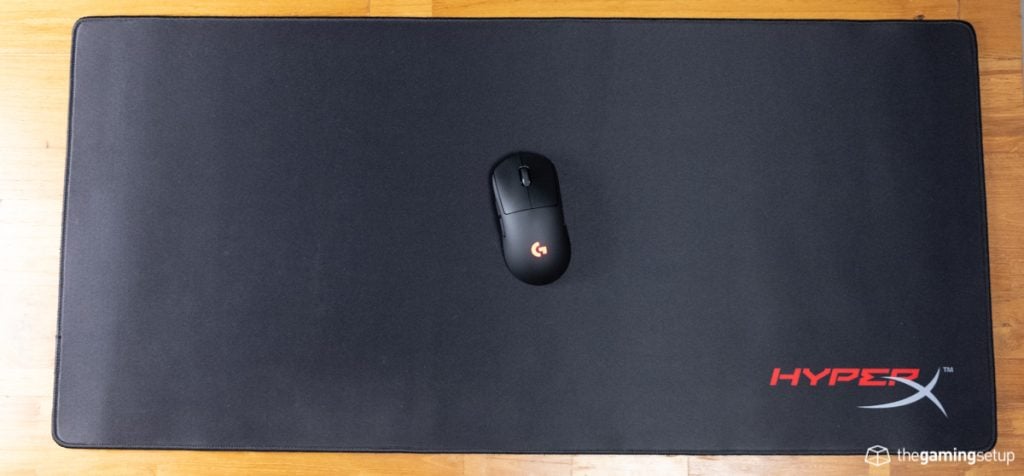 Pros
Very high quality
Comes in both control and speed variants
Comes with 4 size options
Nice thick padding
Really seamless stitched edge
Comes in multiple limited edition designs
Cons
Large HyperX branding on default design
The HyperX Fury S is a clear top pick given its wealth of options and its top-tier quality.
The Fury S comes in 4 size options:
Small: 290mm x 240mm
Medium: 360mm x 300mm
Large: 450mm x 400mm
XL: 900mm x 420mm
The amount of options means you'll get the mouse pad that best suits your amount of desk space.
I have the standard Fury S version, the surface tracks very consistently with an average amount of control, not nearly as much as something like the GS-R or QcK. The great thing about the Fury S is that it also comes in a speed pad variant.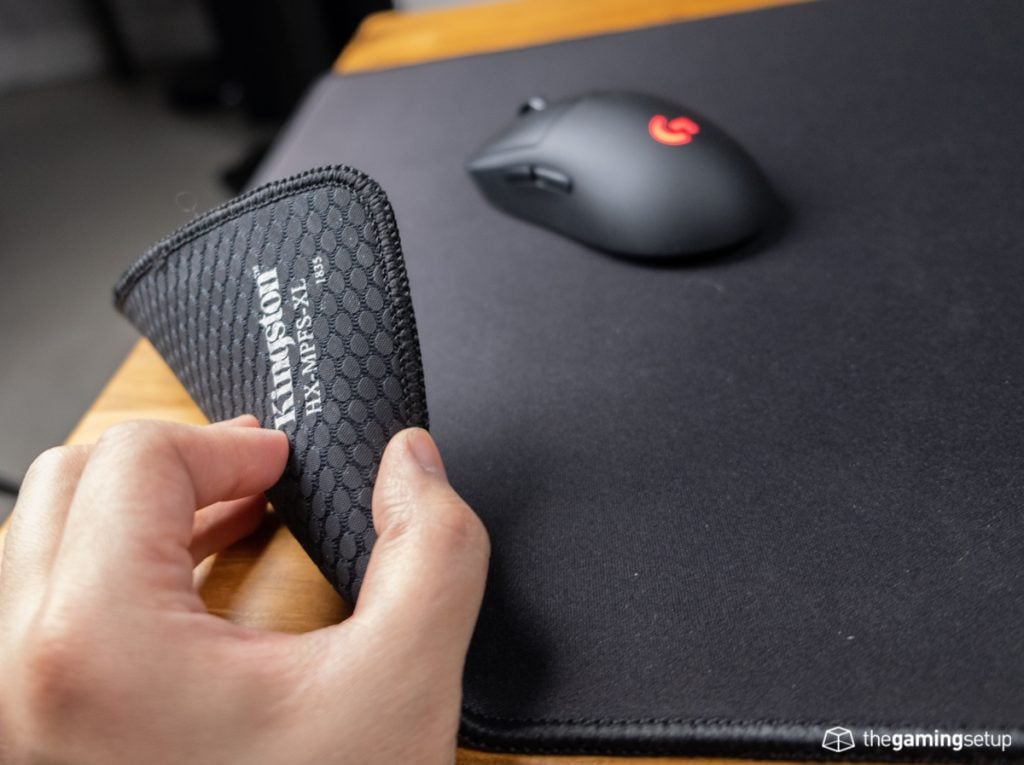 Comfort is awesome on the Fury S with a really plush and thick mouse pad which is something I enjoy, the standard version is slightly scratchy on the skin but nothing I would consider uncomfortable. The stitched is tight and perfect, no fraying happening here from my experience.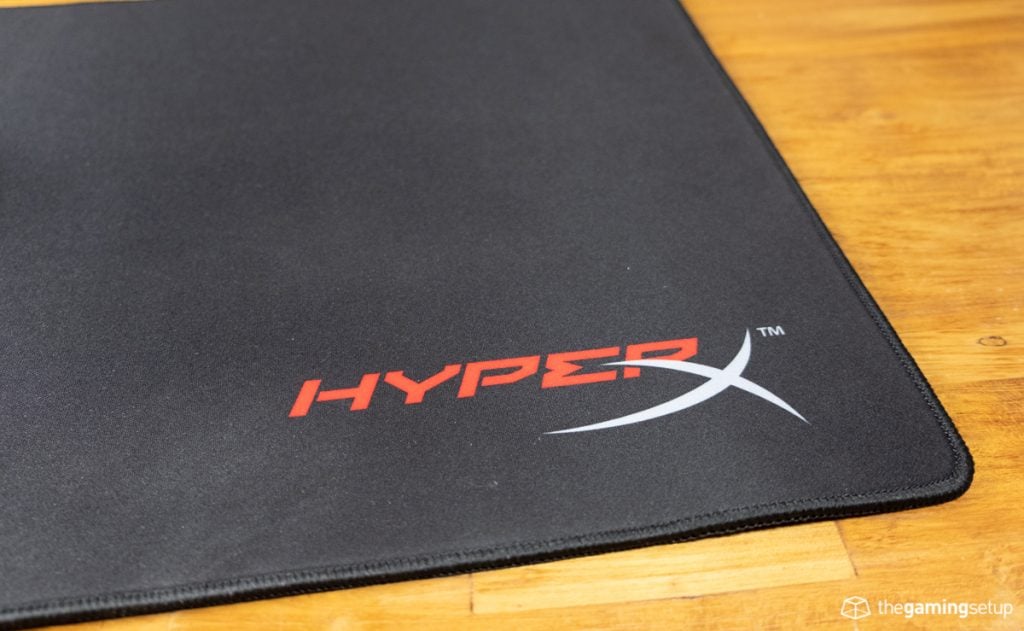 From a design standpoint the HyperX Fury S is okay, the logo is quite large but luckily the texture is the same on the branded area and I haven't noticed any tracking issues over the logo. The pad also has some limited edition custom
2. Glorious Gaming Mouse Pad
The best speed pad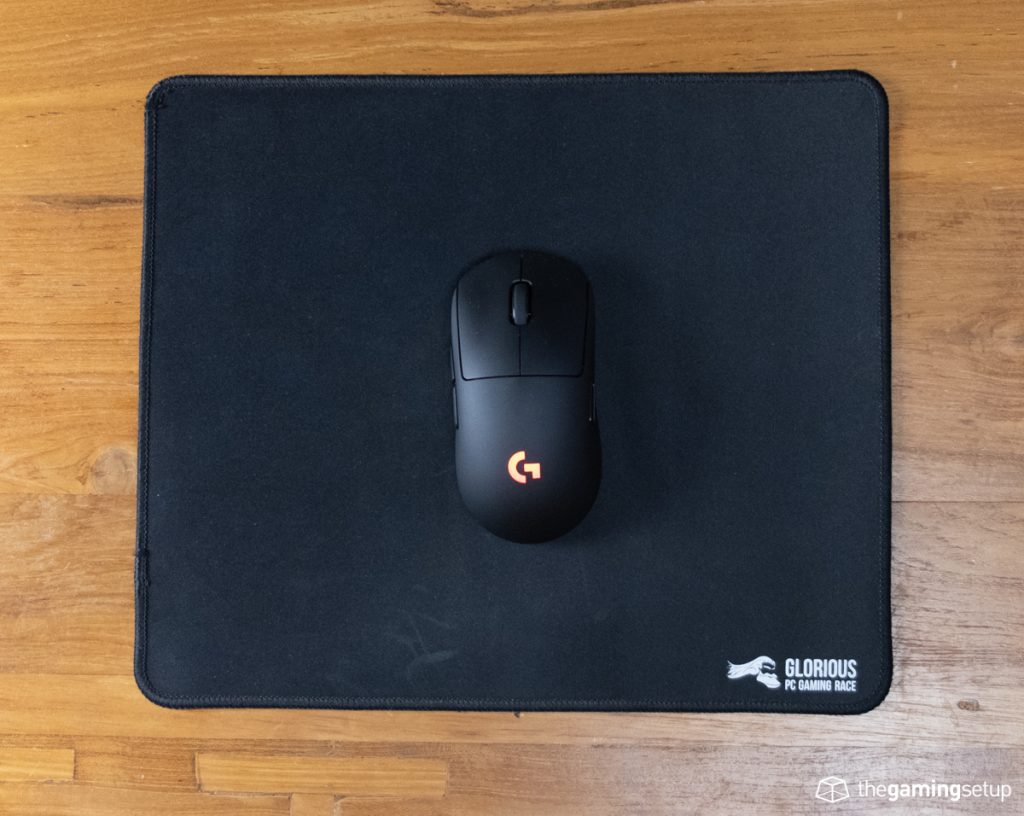 Pros
Affordable price
Great glide
Stitched edge at a low price
Minimal branding
5 size options
Color options: black and white
Stealth option with super minimal branding
Cons
Thinnest mouse pad on the list, there is one heavy Large version of the mousepad available on Amazon
Stitched edge inconsistent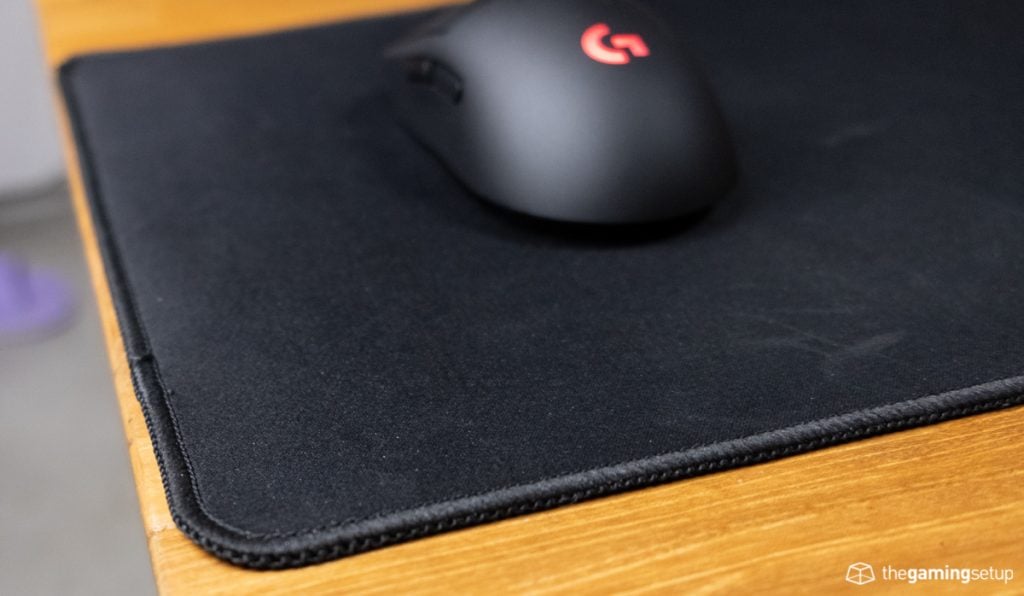 Glorious continues to show that they really get gamers and what they want. The Glorious Mouse Pad offers a really great speed experience for not a lot of money with the smallest Glorious size at $12 dollars.
Tracking is smooth and consistent across the entire pad with the logo only occupying the bottom right of the pad.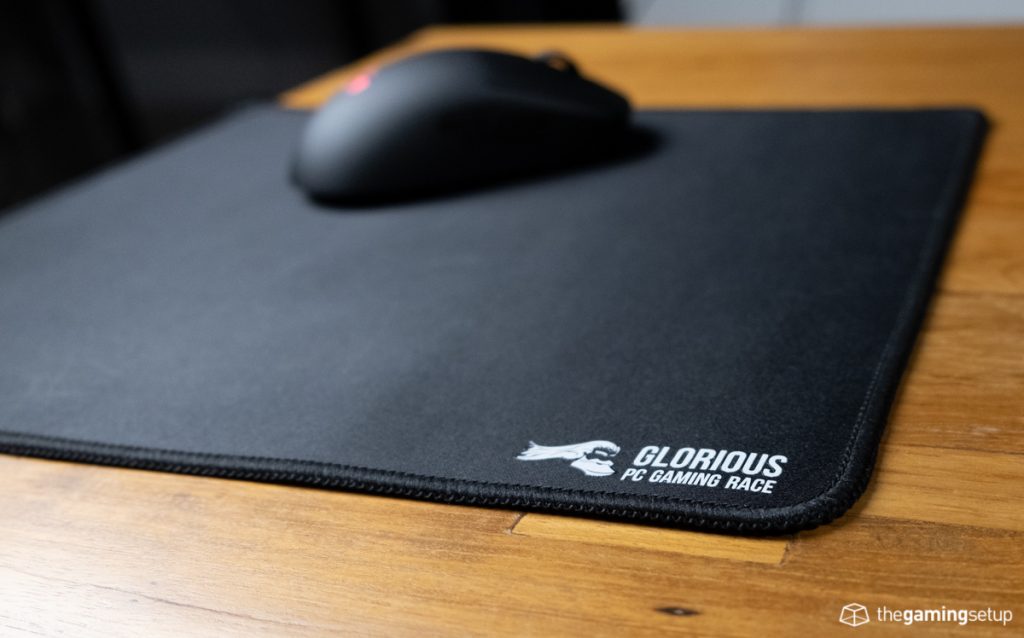 The logo itself is a bit of an eyesore, luckily the Glorious pad comes with a Stealth colour option, which reduces the logo to a gray head logo without the words, probably the best choice unless you really want to advertise that you have ascended.
Choice is a feature I really appreciate in a good mouse pad, the Glorious is no exception with 5 size choices:
Large: 61 x 122 cm
XL: 28 x 33 cm
XL Extended: 41 x 46 cm
Extended: 36 x 61 cm
XXL Extended: 28 x 91 cm
3XL Extended: 61 x 122 cm
You can get a mouse pad of any size, the 3XL size is MASSIVE if you wish to have your entire desk be a surface.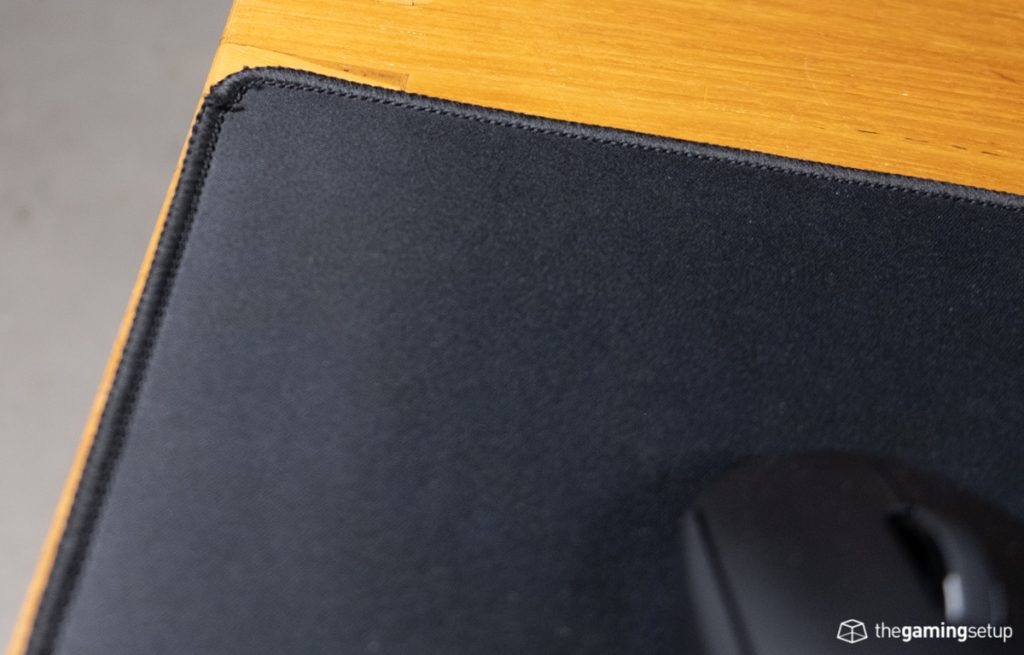 It's amazing to see a stitched edge on a mouse pad at this price, the Glorious stitches aren't as nice as the Fury S', there are a couple of loose strands and inconsistencies in my version of the mouse pad, but for the long run it'll keep the mouse pad from fraying no problem.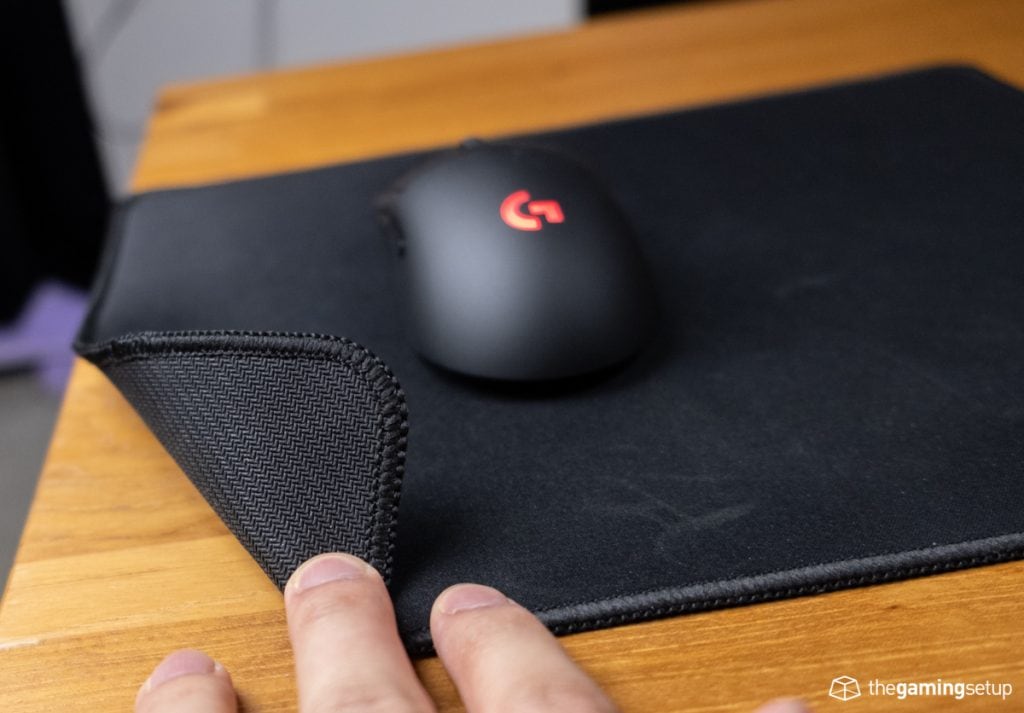 Underneath the mouse pad is coated with a tight rubber pattern, the underside is thin, I feel a lot more of my desk through this pad than a thicker mouse pad, but that is mostly a preference. The Glorious pad does a swell job of staying in place during hectic gaming sessions.
3. Steelseries QcK
A great budget control pad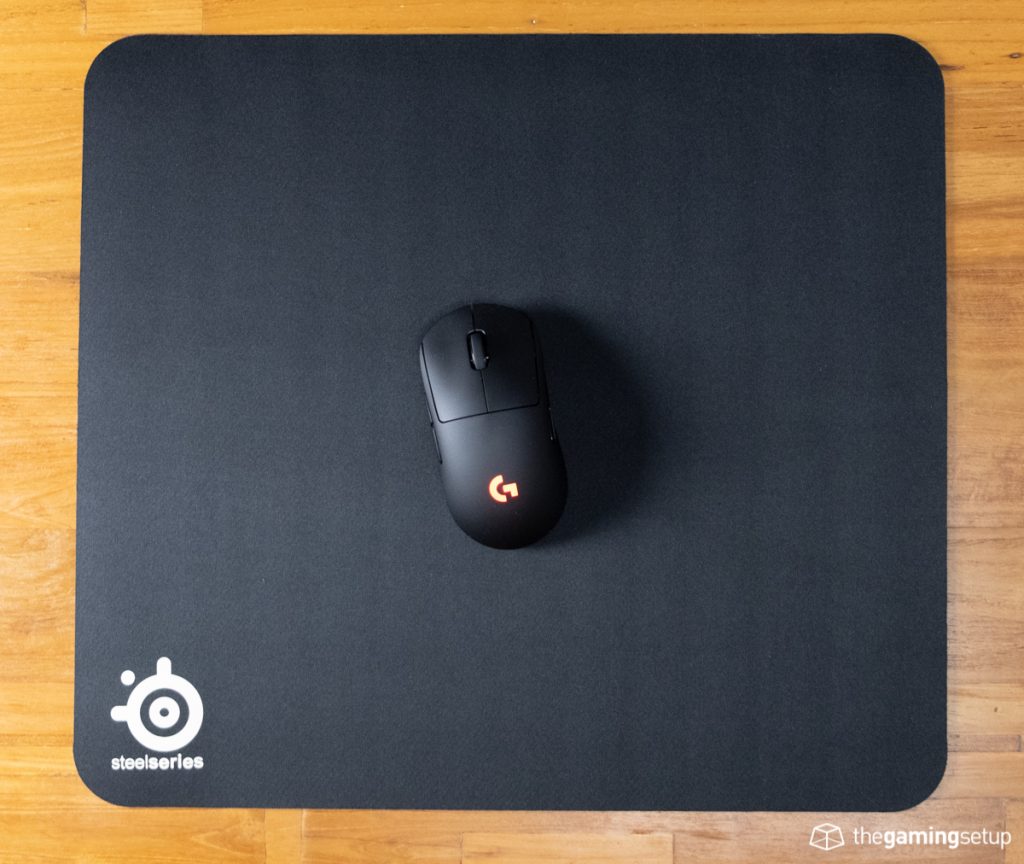 Pros
Legendary control
Different thickness options
Super affordable
Multiple size options
Cons
Pretty large logo foot print
No stitch edges at the lower price point
Missing extended option on base version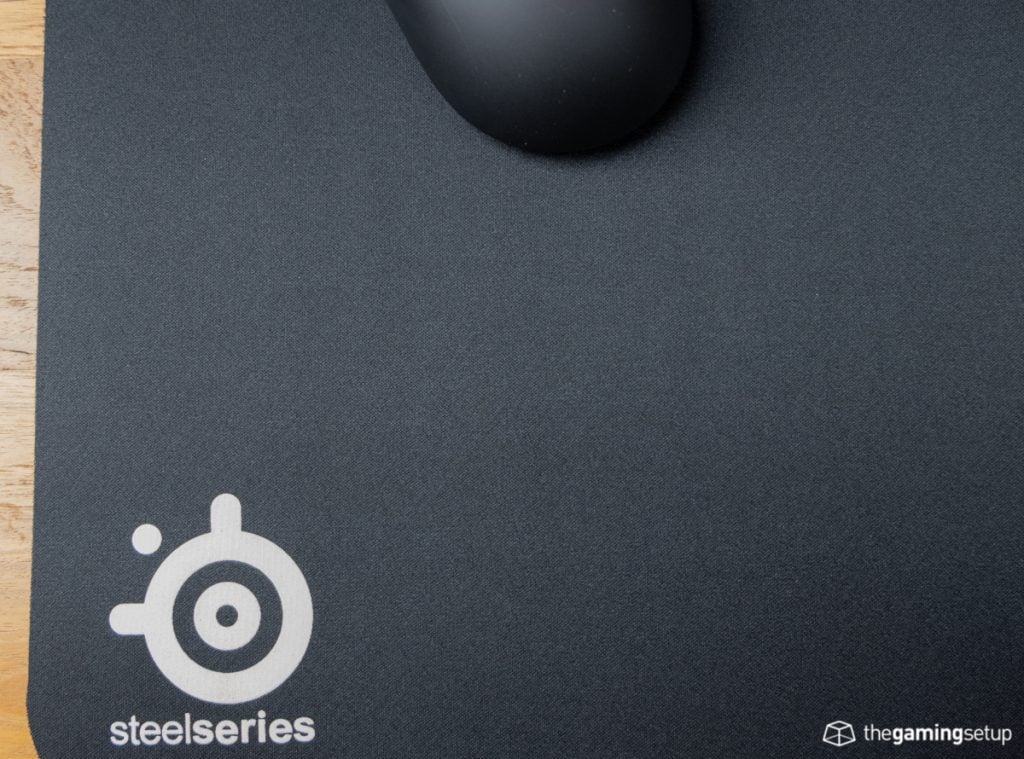 The QcK is a legendary mouse pad loved by a lot of CS:Go pro players, and for good reason. The QcK provides a really grippy, high control glide which is absolutely appreciated if you need perfect pixel precision to click heads from miles away.
The QcK comes with multiple options and types, there's the QcK Heavy which is a thicker version of the QcK vanilla, QcK edge is the version of the QcK with a stitched edge and an XL extended version, the QcK hard is the hard version and lastly the QcK Prism adds RGB to the mix.
We're picking the vanilla QcK here just for its pure budget value, this is the cheapest high performance mouse pad you can get on the market, you can get the small size for 7 dollars. We'd recommend the QcK edge if you'd like a control pad that lasts a little bit longer.
The QcK comes in 3 sizes: small, medium and large. Weirdly, this version is missing the extended size, the QcK Edge is your choice for an extended QcK mouse pad.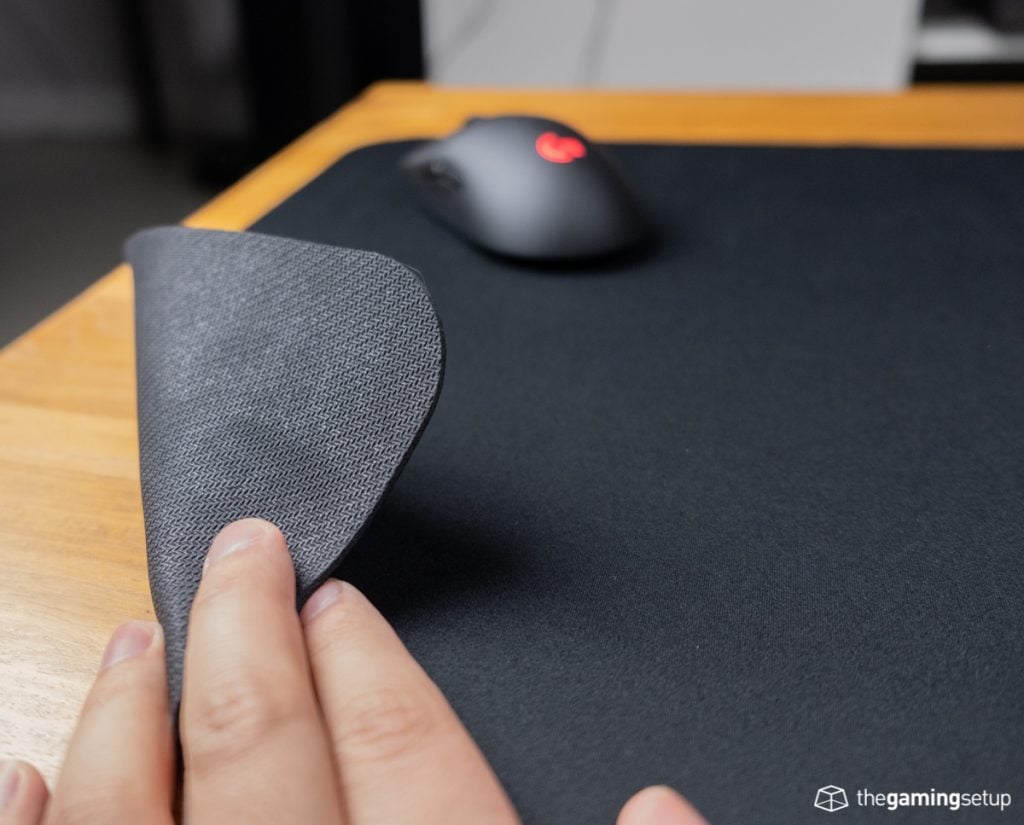 Underneath the QcK you see a tight rubber coating pattern that holds onto desk surfaces really well. The lack of a stitched edge on the vanilla pad means that you will see fraying over a long period of time, but at this price you can get a replacement pad no problem.
The logo of the QcK does have a fairly large footprint, with the logo having a rubber texture that will definitely interfere with tracking. The thickness of the mouse pad is average, thick enough to be plenty comfortable.
4. Zowie GS-R
High quality control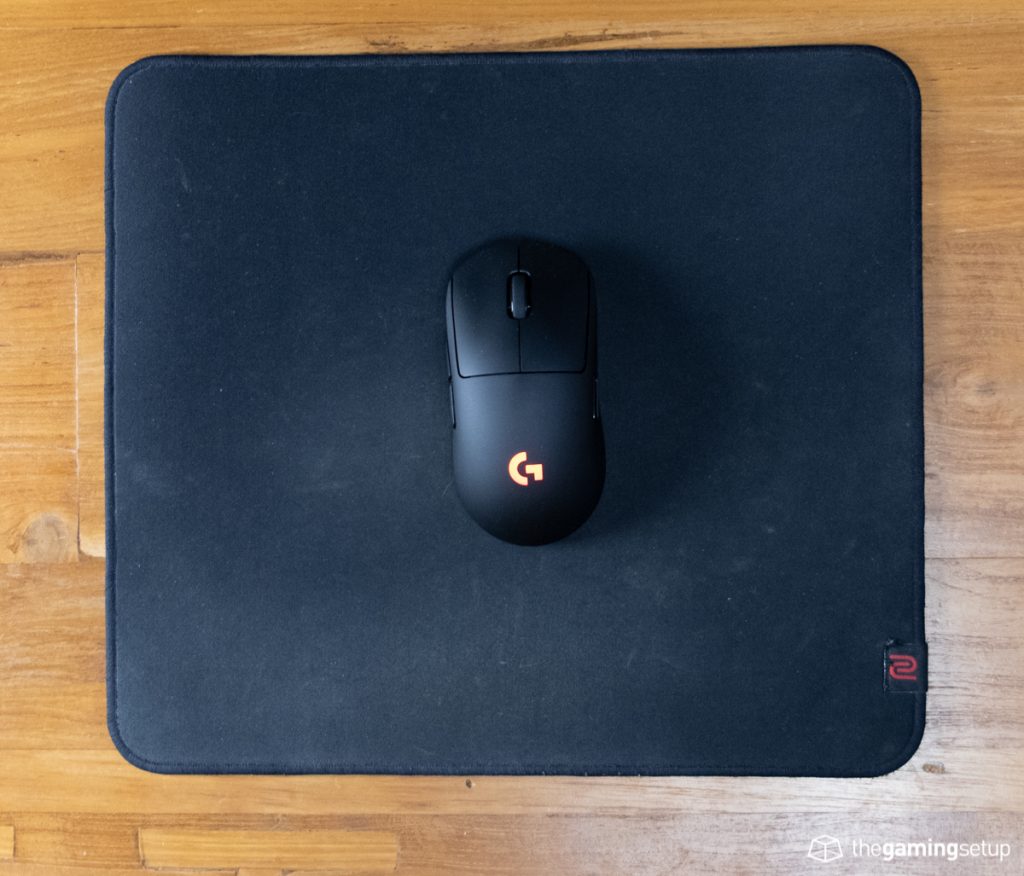 Pros
Minimal branding
High quality stitched edges
Really high control for people who want it
Decent thickness
Solid rubber base
Cons
Expensive
Only two sizes, large (GS-R) and small (PS-R)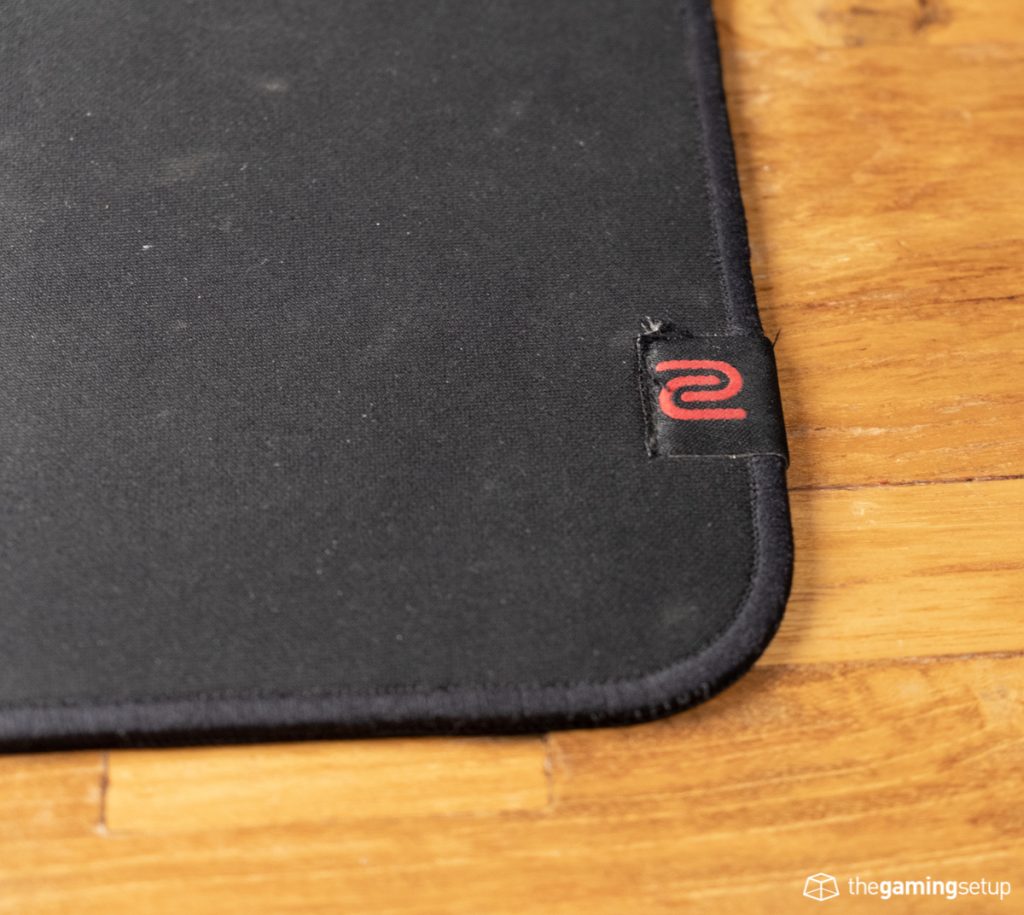 The GS-R was my main mouse pad for years and you can see that in the photos that I have of it, it's been through multiple cleanings and plenty of game play, it's a testament to the quality of the GS-R that it's still a serviceable mouse pad.
The GS-R is known for its super high friction glide, this is meant for gamers that know they want maximum control, and boy does the GS-R deliver on that front. The GS-R will provide a consistent grippy experience, so long as you keep the surface clean as the GS-R does tend to pick up dirt.
We'd recommend going for the GS-R over the P-SR only because the more space you have the better, the PS-R is the same super good mouse pad.
Dimensions of the GS-R: 47cm x 39 cm.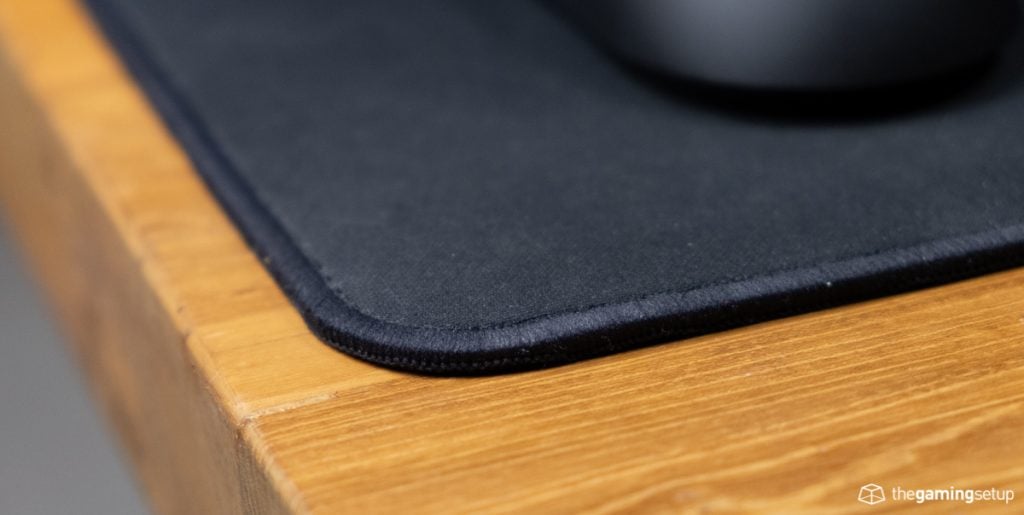 The stitched edge is tight and really consistent throughout, my old GS-R has shown no signs of fraying on the edges. The rubber underneath is solid and the thickness is in the medium range, really satisfying to use.
A minor pro, but a pro nonetheless, I appreciate the very minimal branding tag on the mouse pad that is entirely out of the way during normal gaming.
5. Corsair MM300
A great speedy-ish pad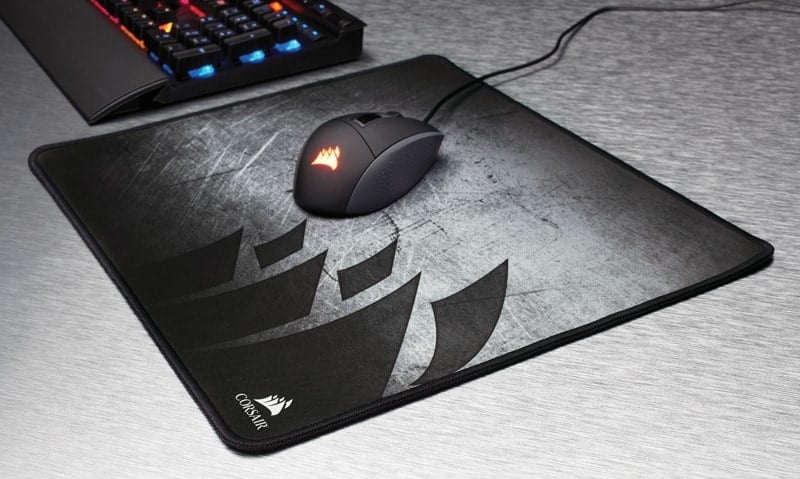 Pros
Good speedy glide
Multiple size options
High quality stitched edging
Good thickness
Grippy base
Cons
Non-standard surface design
Lots of branding
The Corsair MM300 represents another high quality speed pad option. The Corsair MM300 is a good choice if you don't want to more for a speed Fury, and you find the Glorious a little too thin, the Corsair MM300 sits between there nicely.
The graphics on the MM300 are love or hate, I personally don't like it but that's completely subjective, the pad tracks perfectly with a smooth glide even with the design.
The MM300 comes in multiple size options:
Small – 25.6 x 21 cm
Medium – 36 cm x 30 cm
Extended – 93 cm x 30 cm
The height of these mouse pads can be a bit of an issue, especially on the extended version, the mouse pad doesn't have much vertical room which may feel more cramped when compared to pads like the Fury and the Glorious.
All high quality markers are here, great stitched edge, satisfying thickness, and a great rubber bottom. The mouse pad is built to last.
How we tested and picked
As always, we primarily test by playing a ton of games a bunch of the top rated mouse pads. I personally prefer control pads but that will not stop me from appreciating a good speed pad. We played on these mouse pads with a bunch of our gaming mice. During gameplay I'm looking for a consistent experience, while looking for specific factors.
Surface
A good mouse pad surface is going to deliver a consistent tracking experience whether that's a smooth glide or a controlled glide, it should behave the same over time. Humidity actually has a factor to play in surface glide experience, a humid environment is going to make all gaming pads 'stickier', so in that case, you might want to go for a smoother, faster mouse pad. Faster mousepads usually have a tighter weave that is less affected by humidity in general.
Durability
After some time, the surface of a mouse will collect, dirt, skin and sweat and it'll lose its original glide properties. A good mouse pad will have a durable weave/texture to withstand a wash to restore the original performance of the pad. A lot of good mouse pads also feature a stitched edge, which prevents the mouse pad from fraying at the edges.
Slip and traction
The underside of the mouse pad should be lined with a surface, usually rubber, that will maintain a strong grip on your desk surface regardless of material. No matter how hard you're holding your mouse, your mouse pad shouldn't slip whatsoever.
Padding & Comfort
This is a bit of a personal preference, but I think good mouse pads should have a fair amount of padding, the more comfortable your gaming experience the longer you can play for. Surfaces and edges of the mouse pad should not irritate the skin on prolonged use.
Design
A good mouse pad should look like it belongs in a majority of gaming set ups, we don't like huge branding or over the top designs, the best mouse pads that appeal to the most people will have a bit of a minimal design.
Sizes
Good mouse pads will come in different sizes to accommodate the amount of desk space you have in your set up. Generally, you want to get as much mouse space as possible, a larger mouse pad gives you room to lower your sensitivity which is one of the proven ways to better your aim. Regardless, if you have little desk space, a good mouse pad should have a small size so you aren't too crammed.