Logitech is back with a familiar design with some considerable internal upgrades in the Logitech G Pro X Keyboard.
Two key changes have covered up the major weaknesses of the G Pro Keyboard, the G Pro X comes packed with new(er) GX switches, doing away with the poorly received Romer-G switches as well as adding hot swappable functionality into the board.
The G Pro X Keyboard still has some short comings though, the key caps are still ABS, the bottom row is still non-standard and the detachable cable is still using Logitech's winged micro-usb design.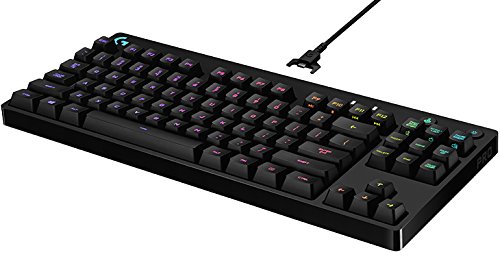 The Logitech G Pro X keyboard erases a previous major shortcoming of the original Logitech G Pro X with better switches and the ability to hot swap your own switches.
See Price on Amazon
Switch: Logitech GX Red, Brown or Blue | Size: TKL | Weight: 979 grams | Media Keys: Through fn layer | Keycaps: ABS, laser etched
Pros
Hot swappable
Good stabilizers
Good switch options
Solid typing feel
Attractive minimal design
Strong feet
Cons
Non-standard bottom row
ABS keycaps with matte coating
Winged detachable micro-usb connector
Switches
The Logitech G Pro X Keyboard does away with the Romer-G switches of old, in its place, a much more familiar feeling and looking GX switch with a standard Cherry MX stem. The G Pro X has 3 switch options to choose from out of the box:
Logitech GX Red – Linear, 2 mm actuation, 50 gram actuation point, 4 mm bottom out
Logitech GX Brown – Tactile, 2 mm actuation, 50 gram actuation point, 4 mm bottom out
Logitech GX Blue – Clicky, 2 mm actuation, 50 gram actuation point, 4 mm bottom out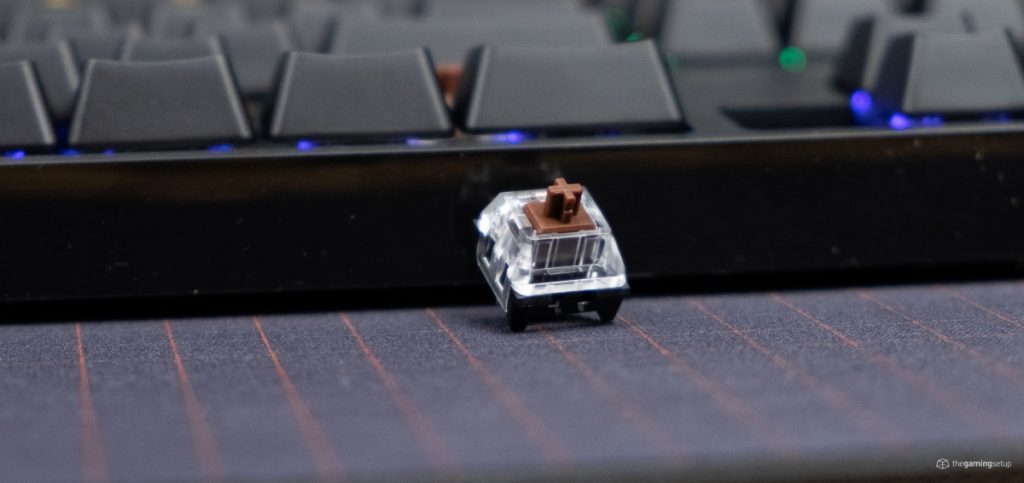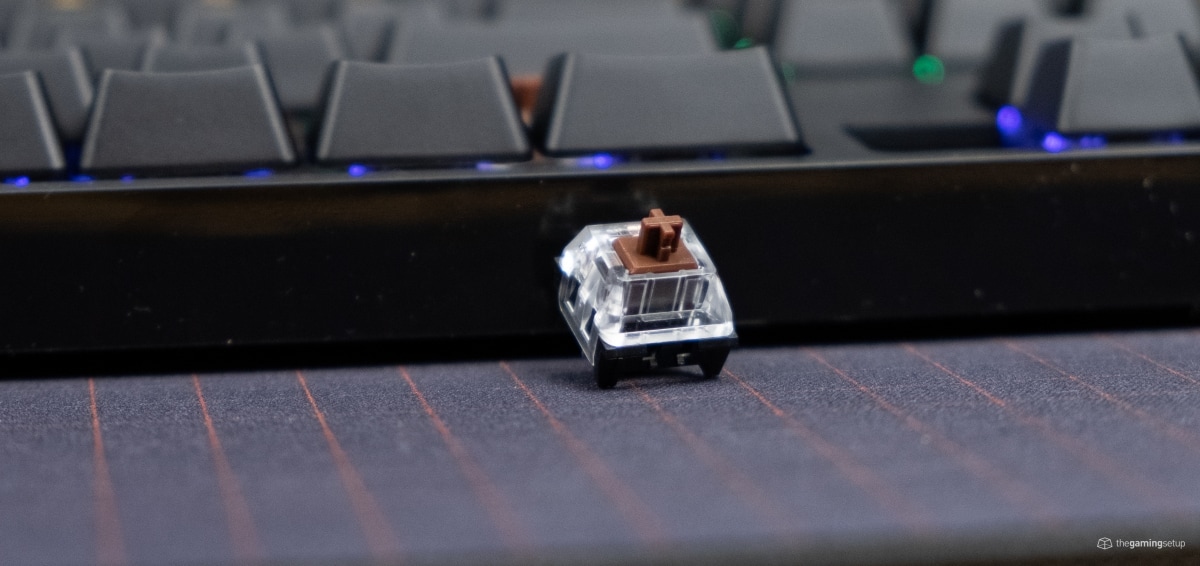 The switches don't really have any gimmicks, they seem to be Logitech's take on the traditional Cherry MX switch.
I'm reviewing the GX Brown switches in the Logitech G Pro keyboard, these GX switches look like they're rebranded Kailh switches.
The GX Brown's feel good to type on, compared to a regular Cherry MX Brown the actuation point and tactile bump are a little heavier, making the overall feel a little stiffer than a traditional Cherry MX Brown.
The tactile bump is slightly more pronounced than a regular MX Brown bump, which isn't difficult, the MX Brown bump is pretty much non-existent, we're not talking Zealios level bumps here.
The stem on the GX Browns do seem a little more stable with less wobble. The bottom out of the GX Brown almost feels cushioned with the amount of resistance I expect out of a run of the mill brown switch.
In general, I wouldn't recommend the GX browns for gaming, the extra added stiffness make it more fatiguing to game for longer periods.
The GX switches have a standard Cherry cross stem making these switches compatible with all after market key caps, this is a massive improvement over the proprietary Romer-G stems.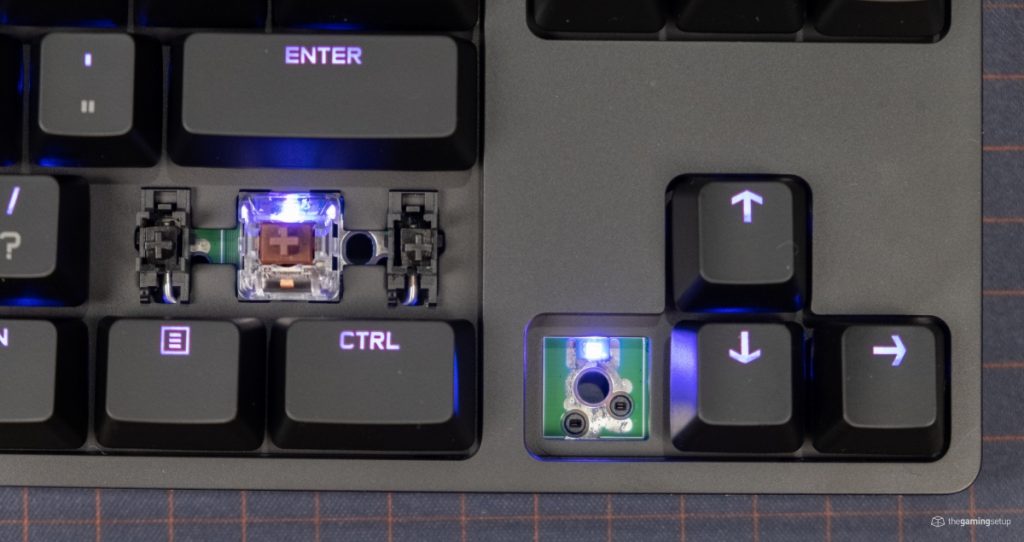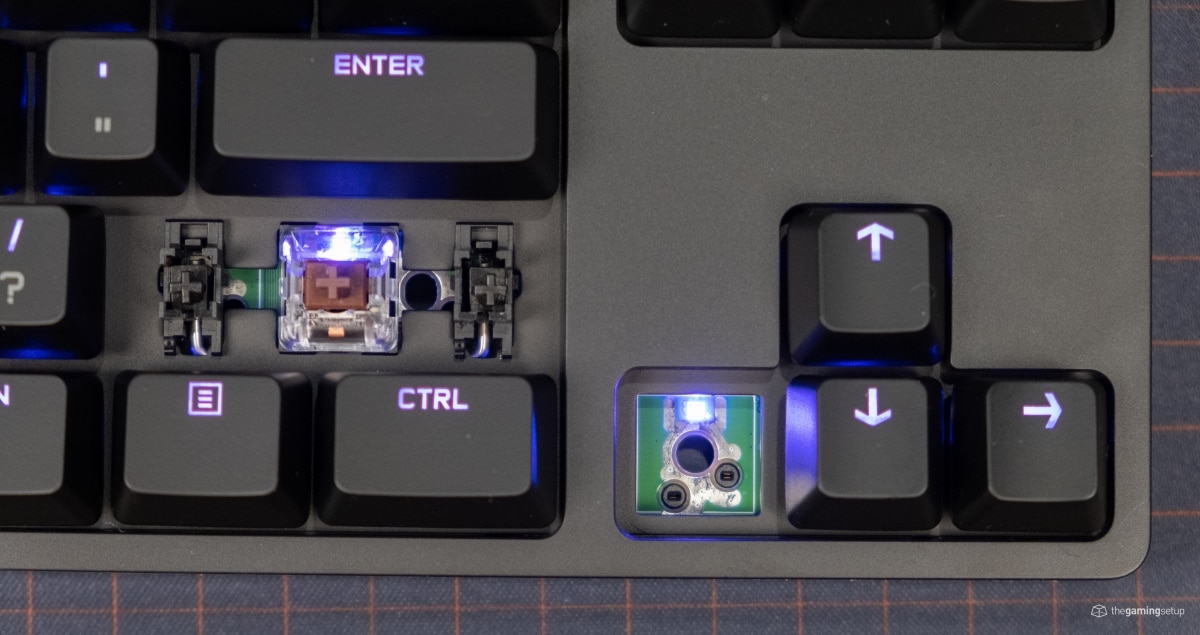 Logitech has brought something unique to their switch offering this time around, the Logitech G Pro X is a hot swappable board! What was once a custom or special brand feature is now in a super mainstream brand of keyboard.
I'm happy to say that my Zealios v2 and Zilent v2's worked in the keyboard without a hitch. For a lot of people, the ability to hot swap your own switches won't be a huge deal, but for people who are looking for their absolutely perfect switch, the Logitech G Pro X becomes a lot more flexible to your needs.
The G Pro X even comes with a handy dandy plastic switch puller to swap out your switches. Check out the video above to see the switch puller in action.
Kind of disappointing to not see a keycap puller along with the switch puller, if Logitech is going to promote customizing your board, they should also include a keycap puller to provide a complete experience.

The Logitech GX Pro stabilizers are pretty good, very good when comparing to other high priced keyboards like the Razer Huntsman Elite and Apex Pro. The Cherry style stabilizers do a good job, chatter is pretty minimal without a huge amount of rattle.
The stabilized keys are fairly smooth without much of a hitch, the space bar does produce a hollow sound, but I'd chalk that up to a hollow case more than to the stabilizers.
Design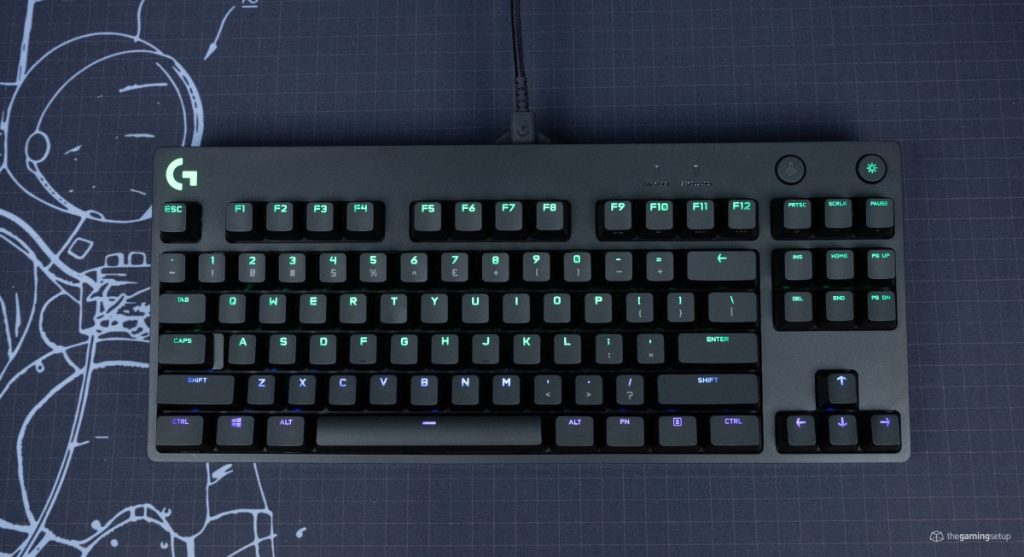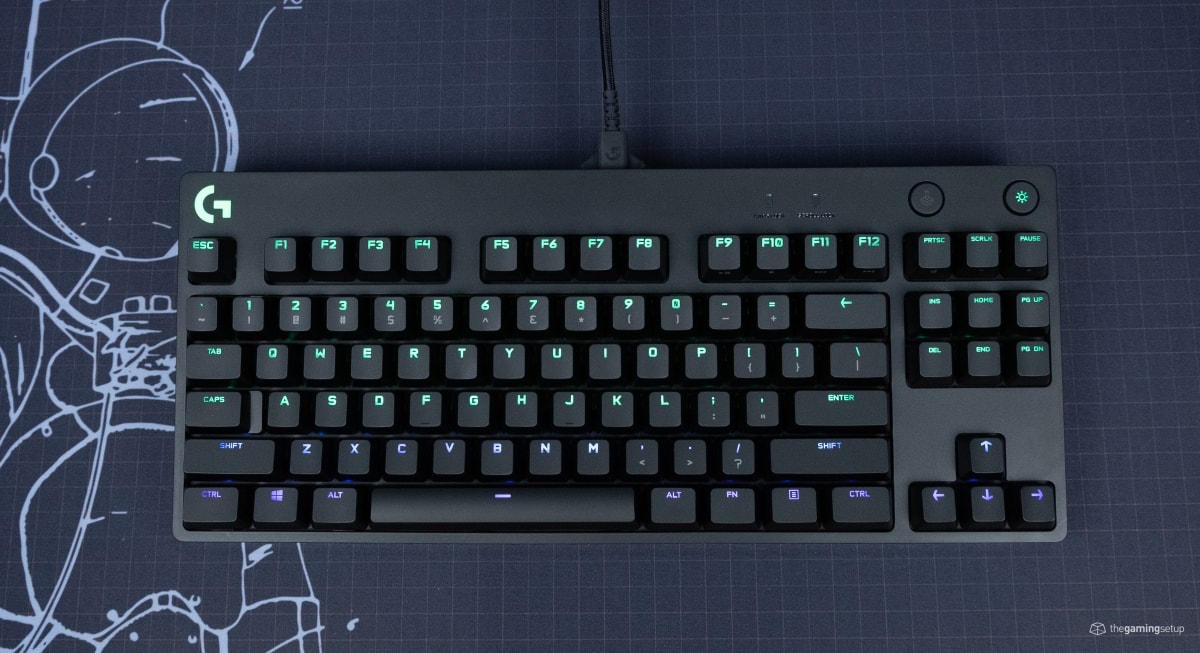 The Logitech G Pro X hasn't changed since the original G Pro Vanilla, I don't think it was necessary, most of the major qualms I had with the original G Pro were to do with internals rather than it's external design, Logitech made a good choice by not deviating too far.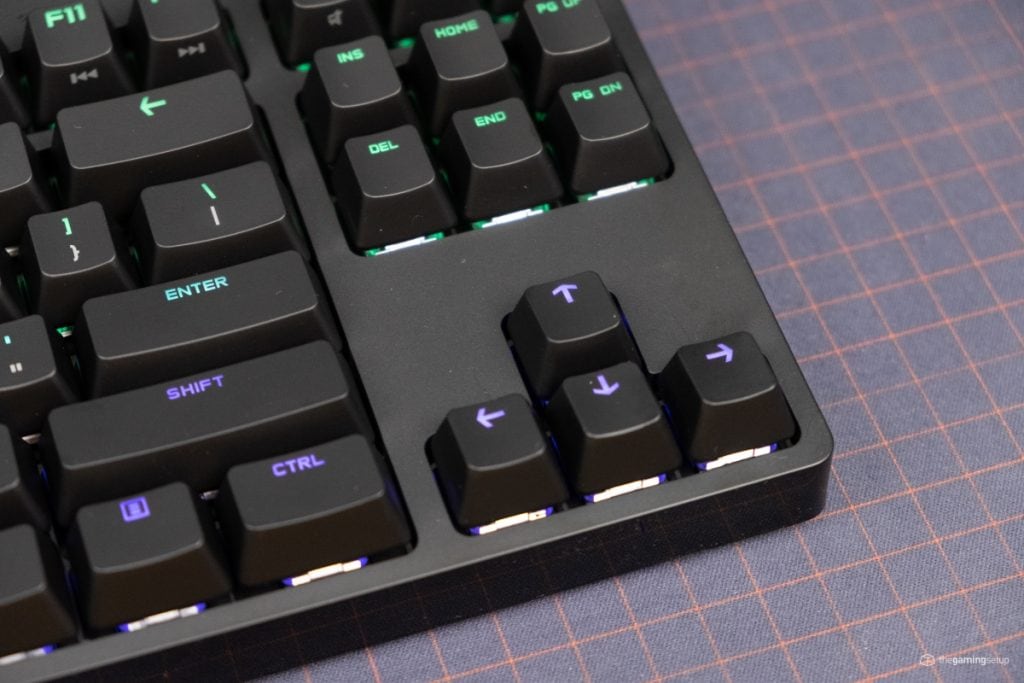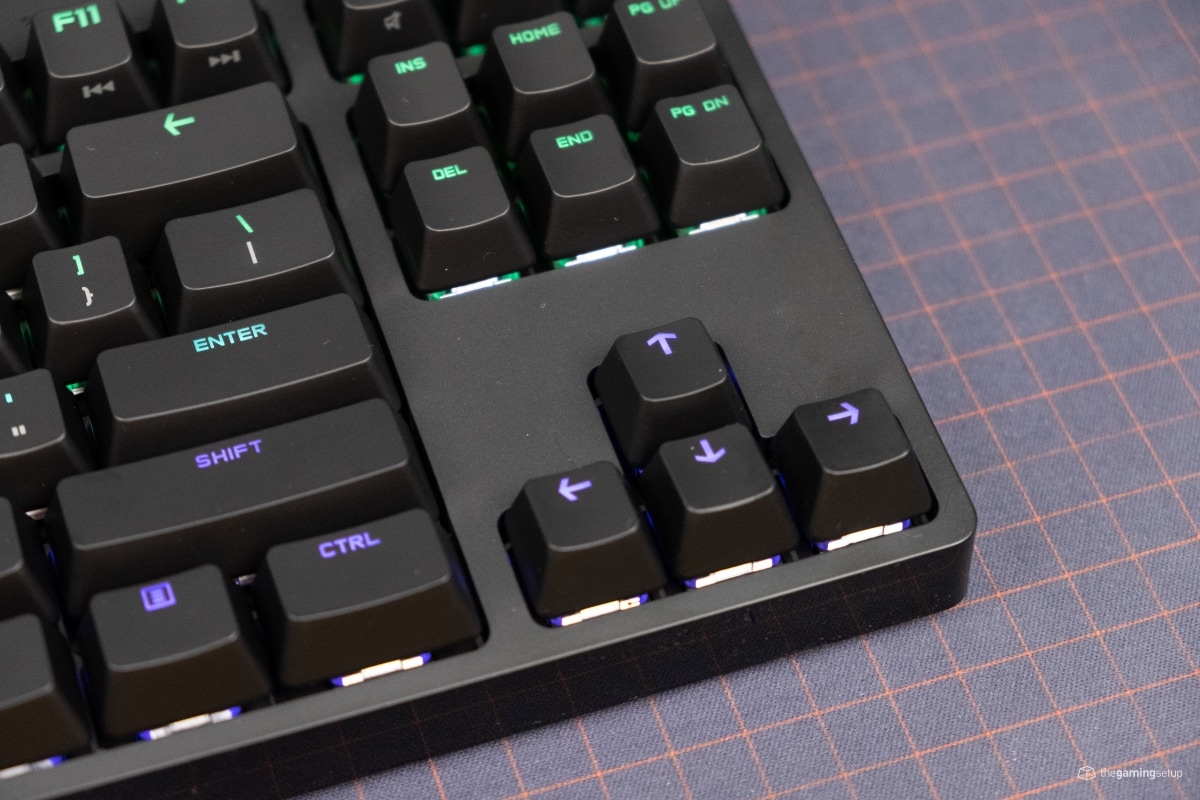 Case
The Logitech G Pro X is one of the few large brand keyboards that isn't a low profile cased keyboard and it's something that I very much like.
The high-profile design of the case provides a cleaner, more mature look than the low-profile exposed switch look that every other brand seems to have adopted. The entire case is made of plastic but I don't consider that a huge disadvantage compared to the thinnest layer of aluminum you find on other mainstream keyboards.
Build Quality
The entire keyboard has a good heft, weighing in at 979 grams it adds to the typing experience quite a bit. Pushing down on the center of the keyboard I don't see very much deck flex outside of the little amount that the PCB and plate allow, twisting the keyboard produces very little flex and no creak at all.
Size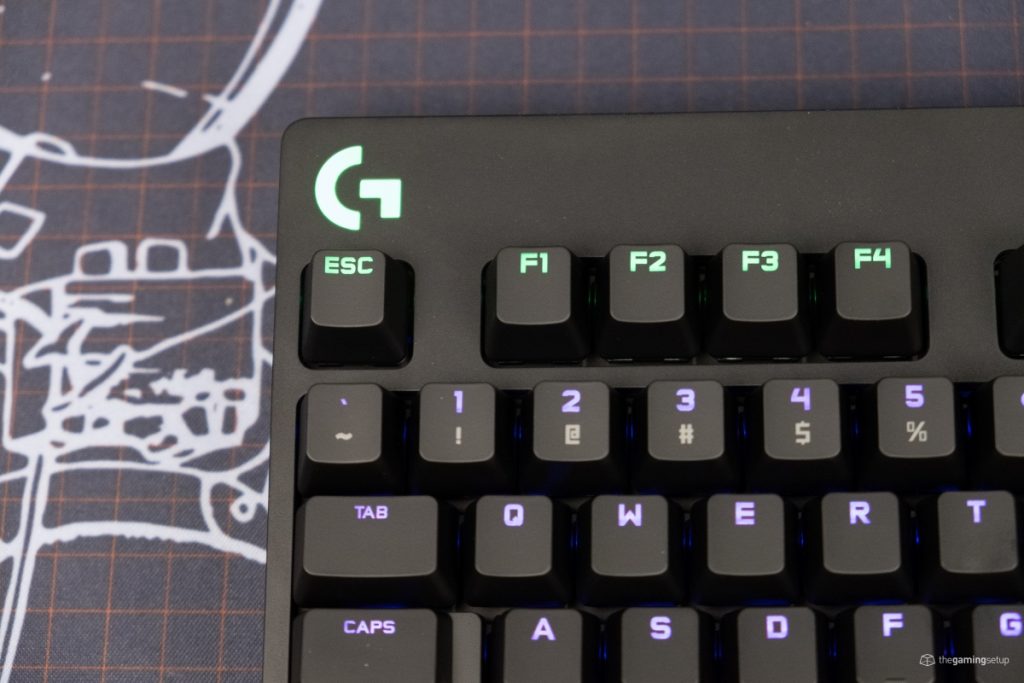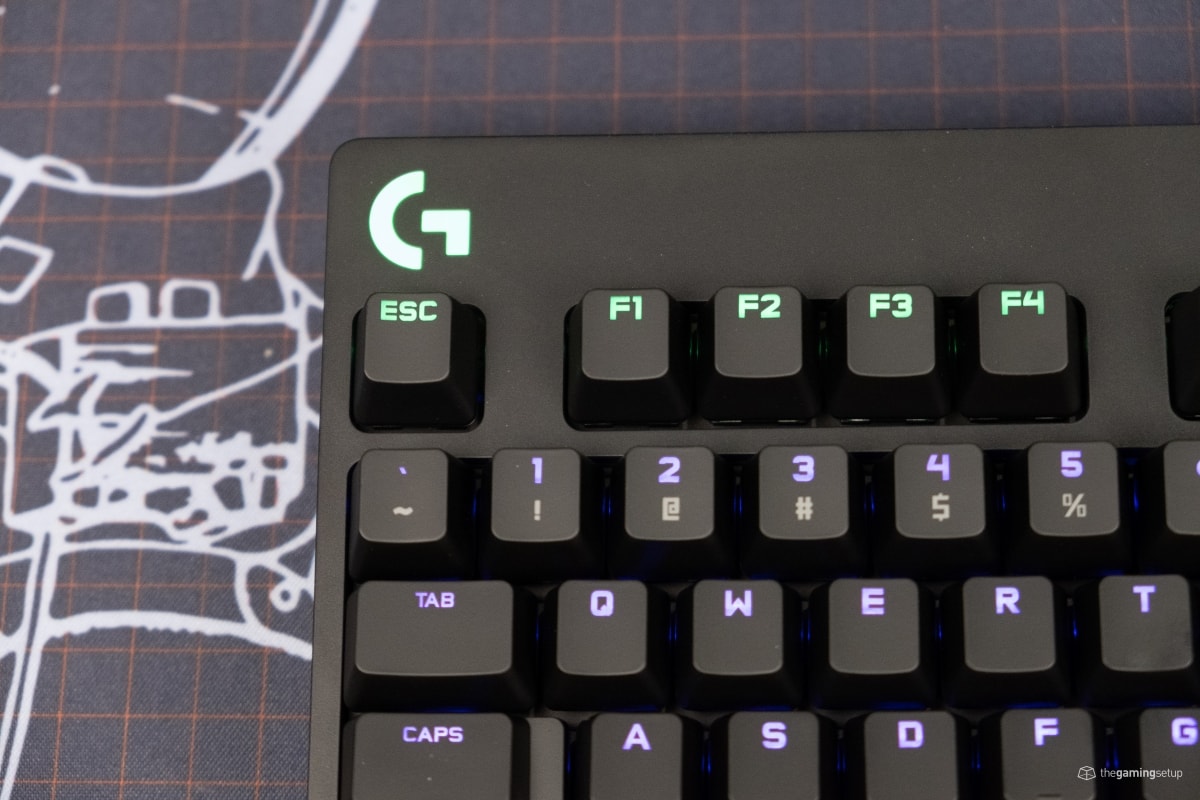 The keyboard is a standard TKL size with no dedicated media keys, there is a pretty large forehead to the keyboard above the F keys where an illuminated Logitech "G" logo sits in the top left, with dedicated gaming mode and led buttons in the top right corner. The forehead of this board does make it taller than the average TKL board, compared to the Razer Huntsman TE it is a decent amount taller, but generally that is unused space on your desk.
Font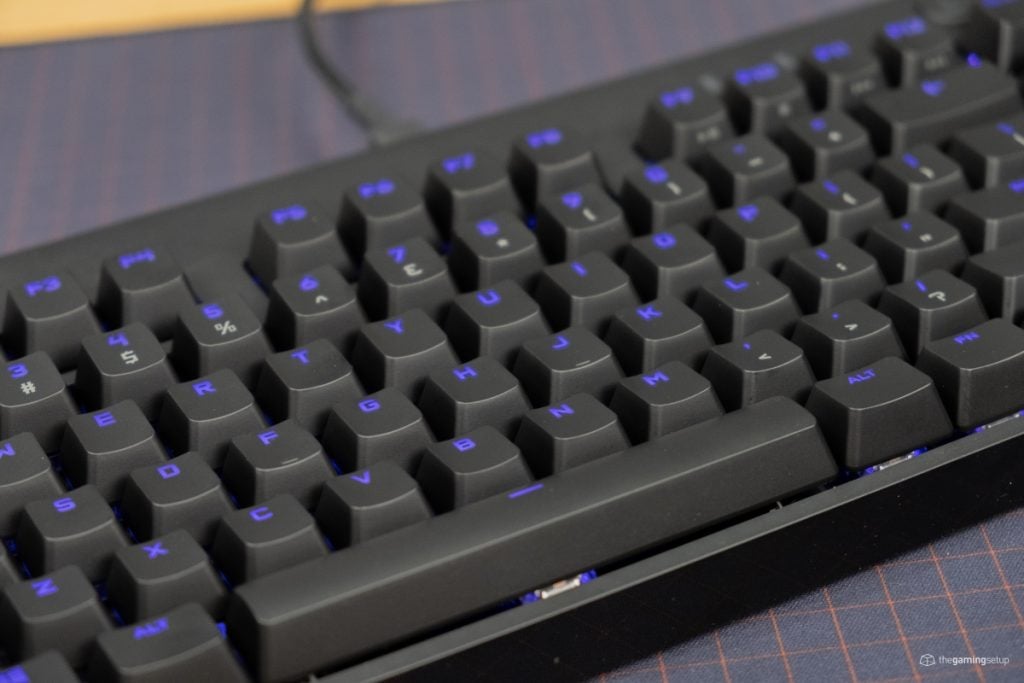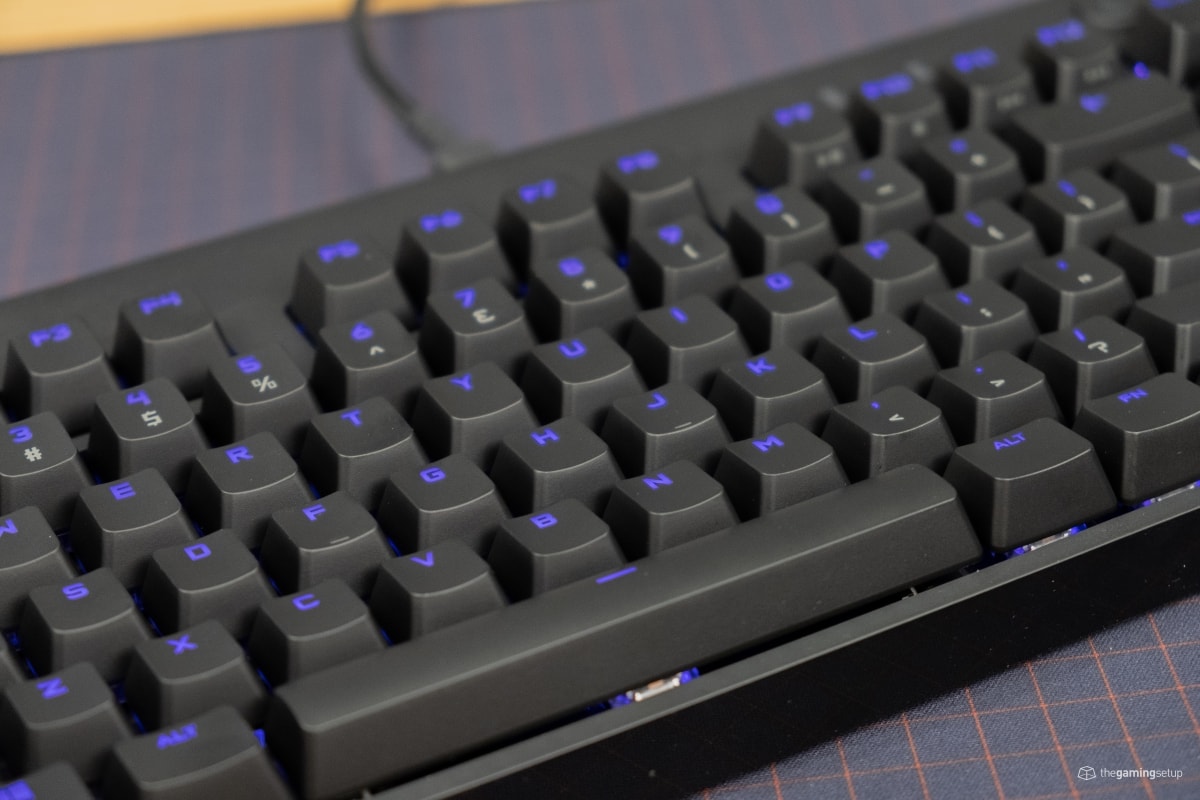 The font on the keycaps is a little gamery, with sharp, angular lines that would fit very well in a sci-fi game HUD. That being said, the font is legible and isn't too much of an eyesore.
Feet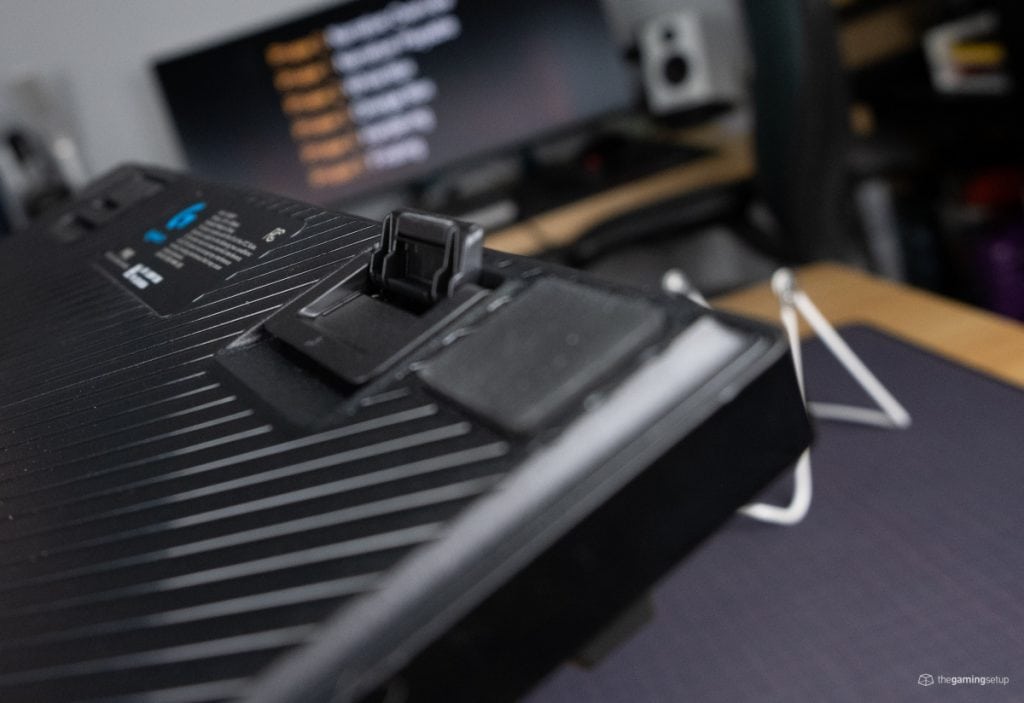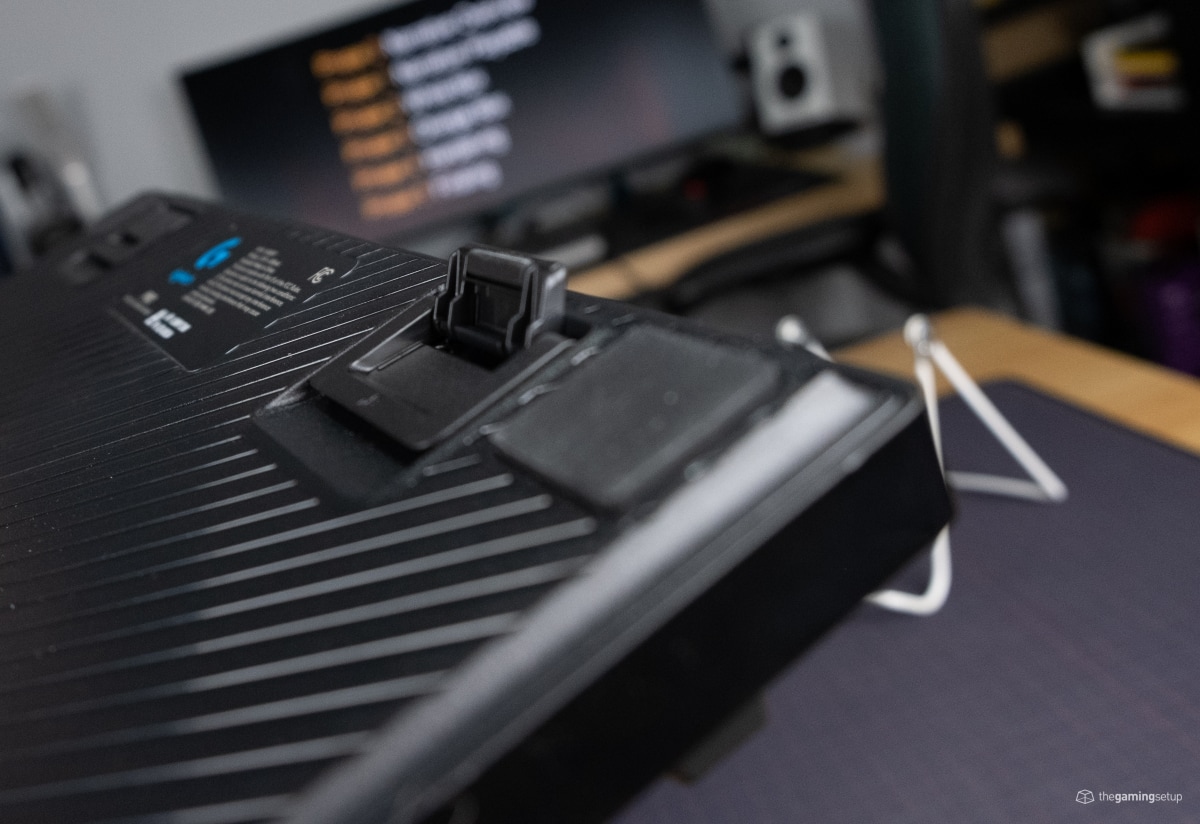 The feet on the Logitech Pro X come with two stages; a 4 degrees and 8 degrees. The feet are rubber tipped and the hinge feels strong and sturdy. I don't think you'll have any issues with the feet on this keyboard, pushing it back and forth does little to dislodge it from place.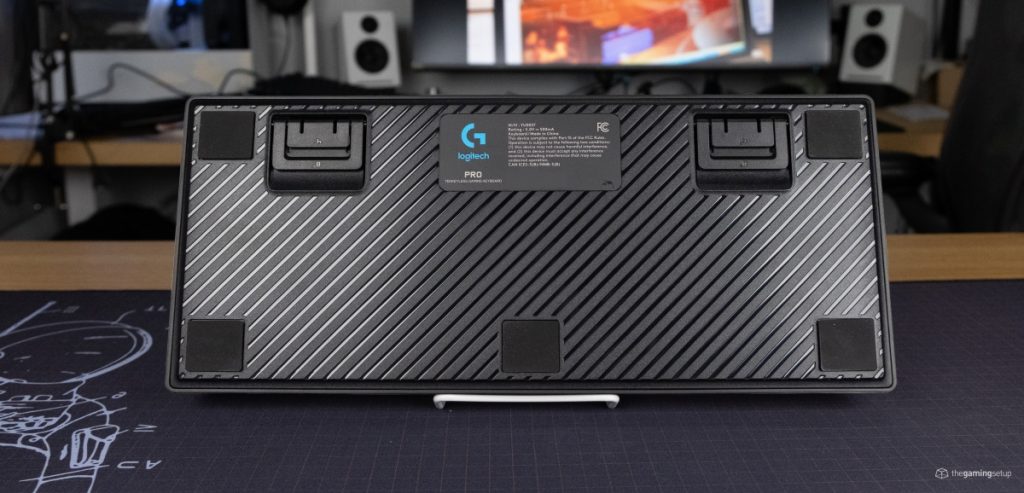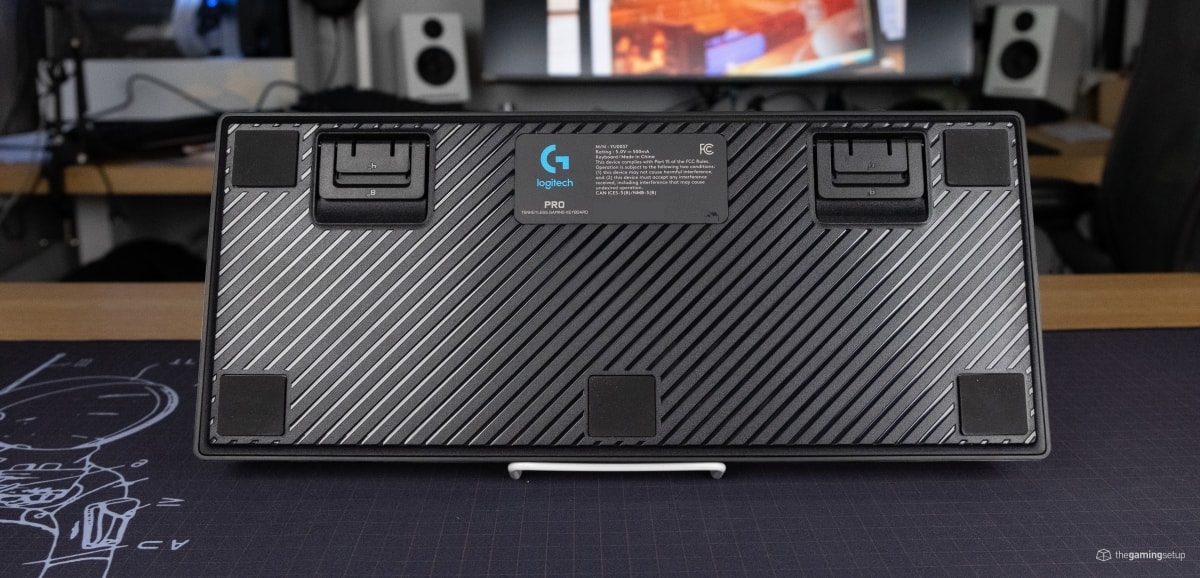 Outside of the raised feet the G Pro X is generously lined with 5 rubber bads, with a tasteful diagonal pattern on the back of the board in plastic.
Cable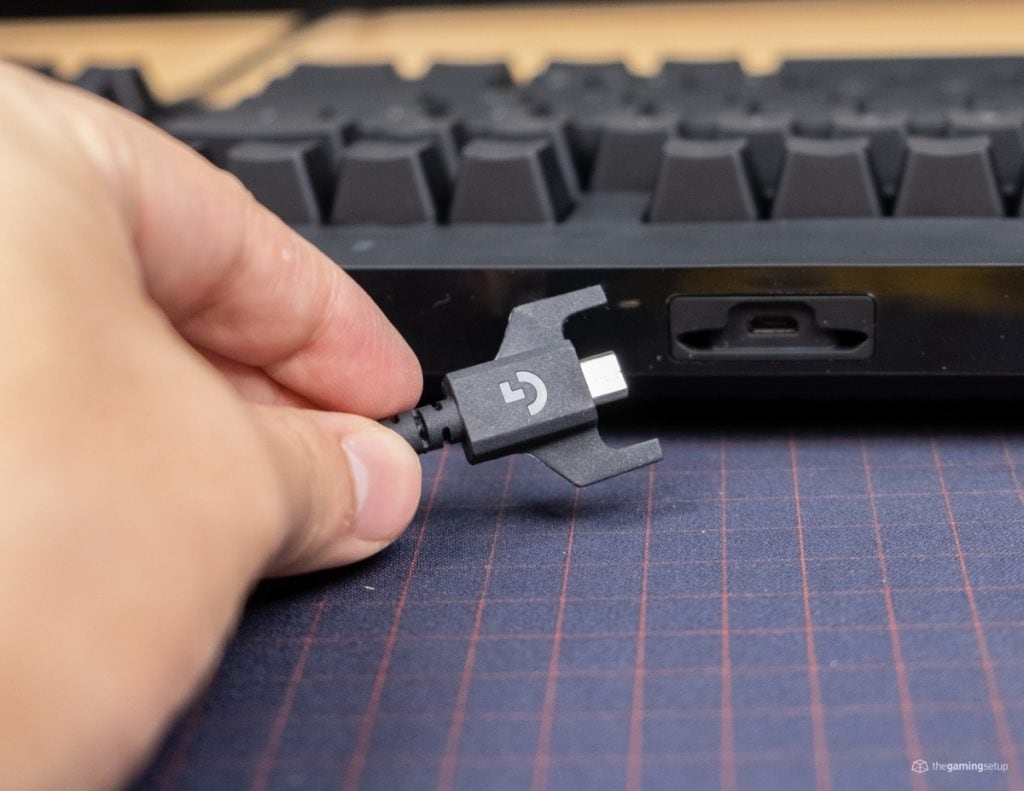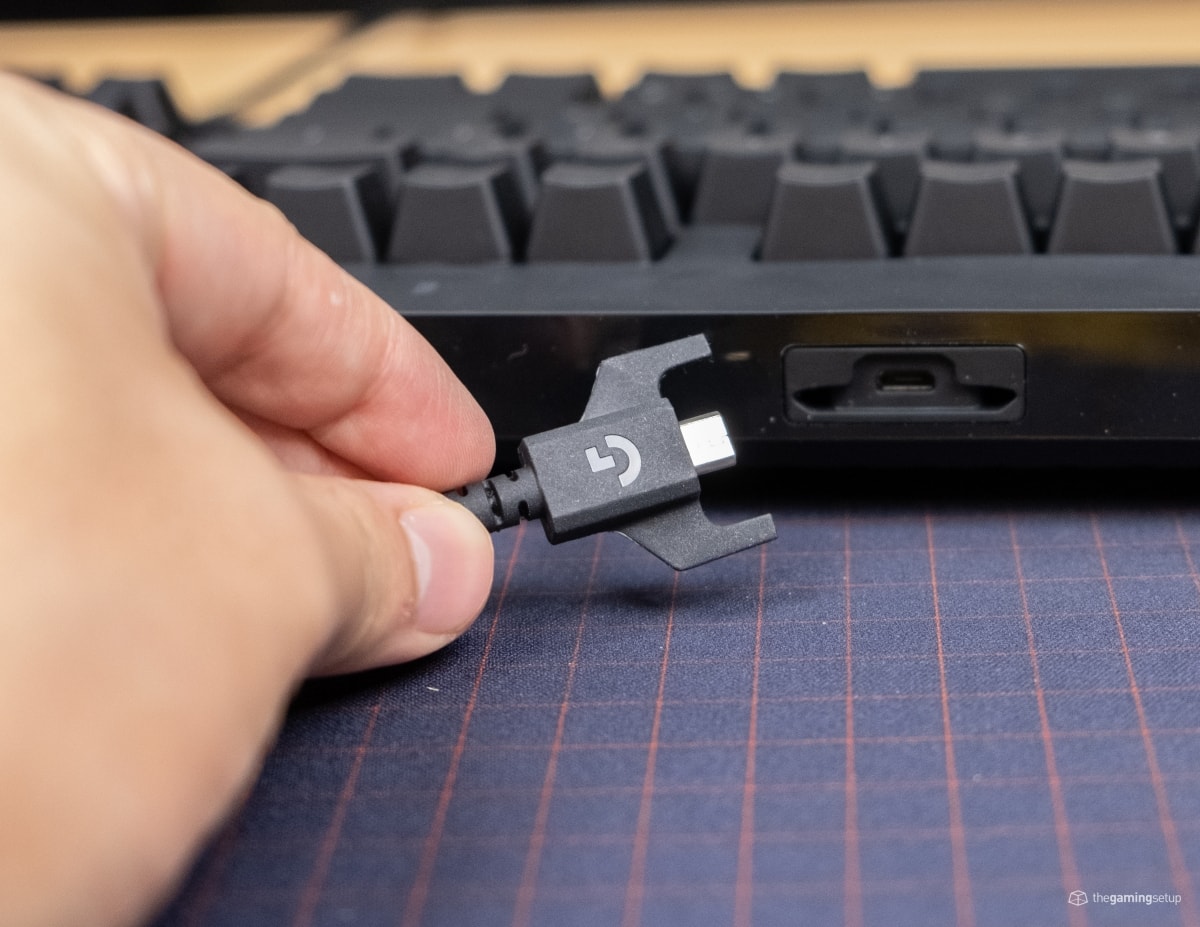 Logitech has not caught up with the times here yet and is still using their tipped micro-USB detachable connector, it's better than not having a detachable cable but not as good as what Razer has evolved to do by using a type-C connector. The cable itself is braided and is 1.8 m long.
You won't find any other extras with the G Pro X, no wrist rests, media keys or screens, Logitech is focusing on providing a great core experience seems like.
Keycaps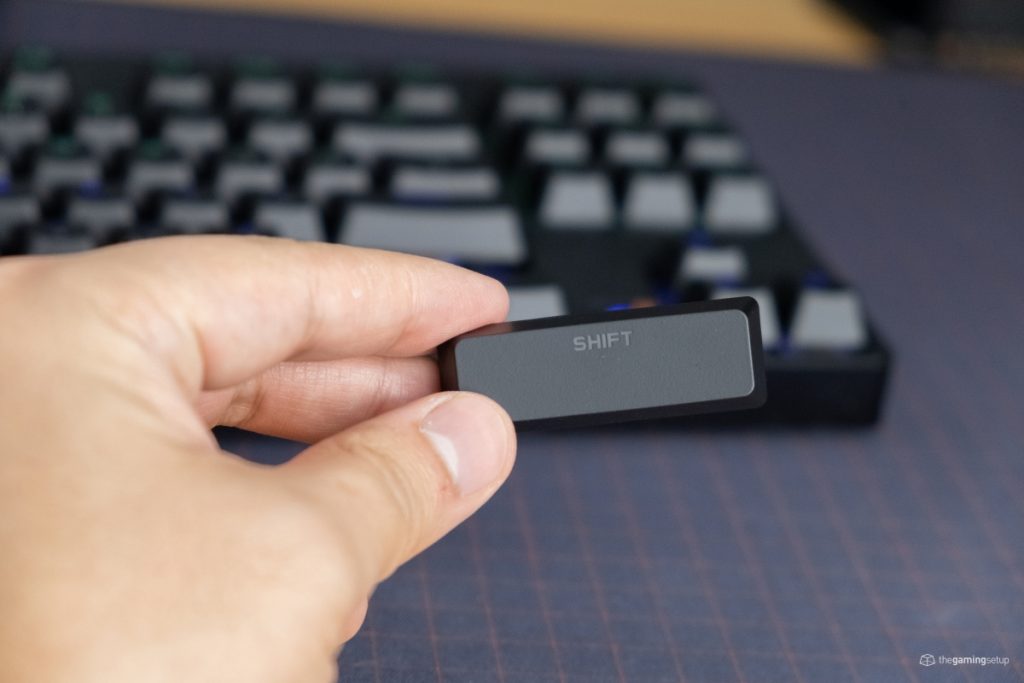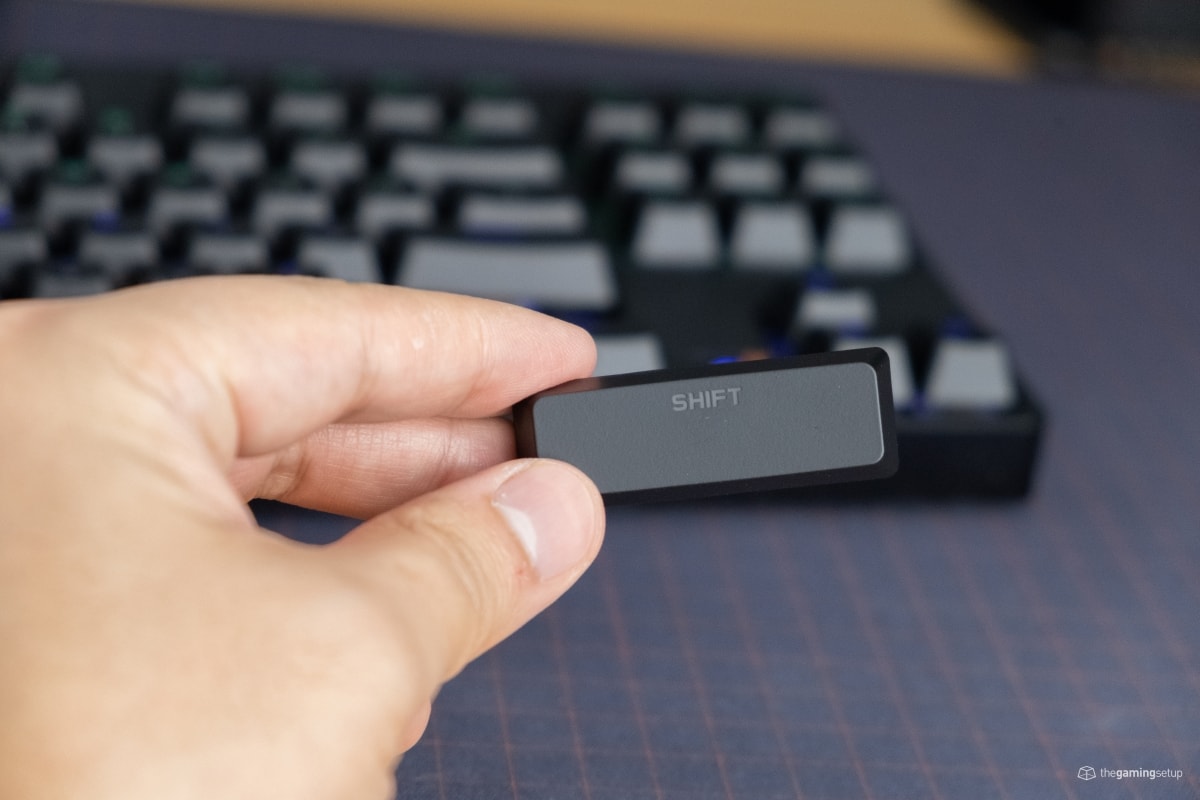 Ah the reliable let down, the thin laser-etched ABS caps have made their return on the Logitech G Pro X. This time around there seems to be some kind of painted matte coating that makes the keys feel a little different, it kind of irritates my thumb with how I glide across the space bar when typing, the coating may have positive benefits such as reducing shine, so far at the time of this review I've yet to notice any difference in durability.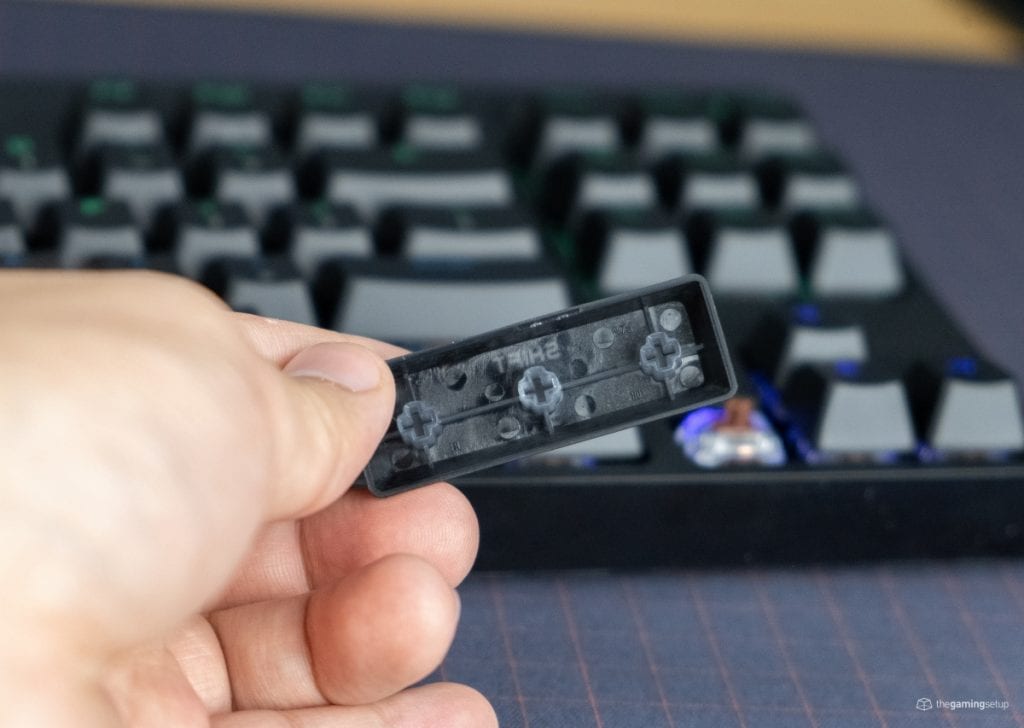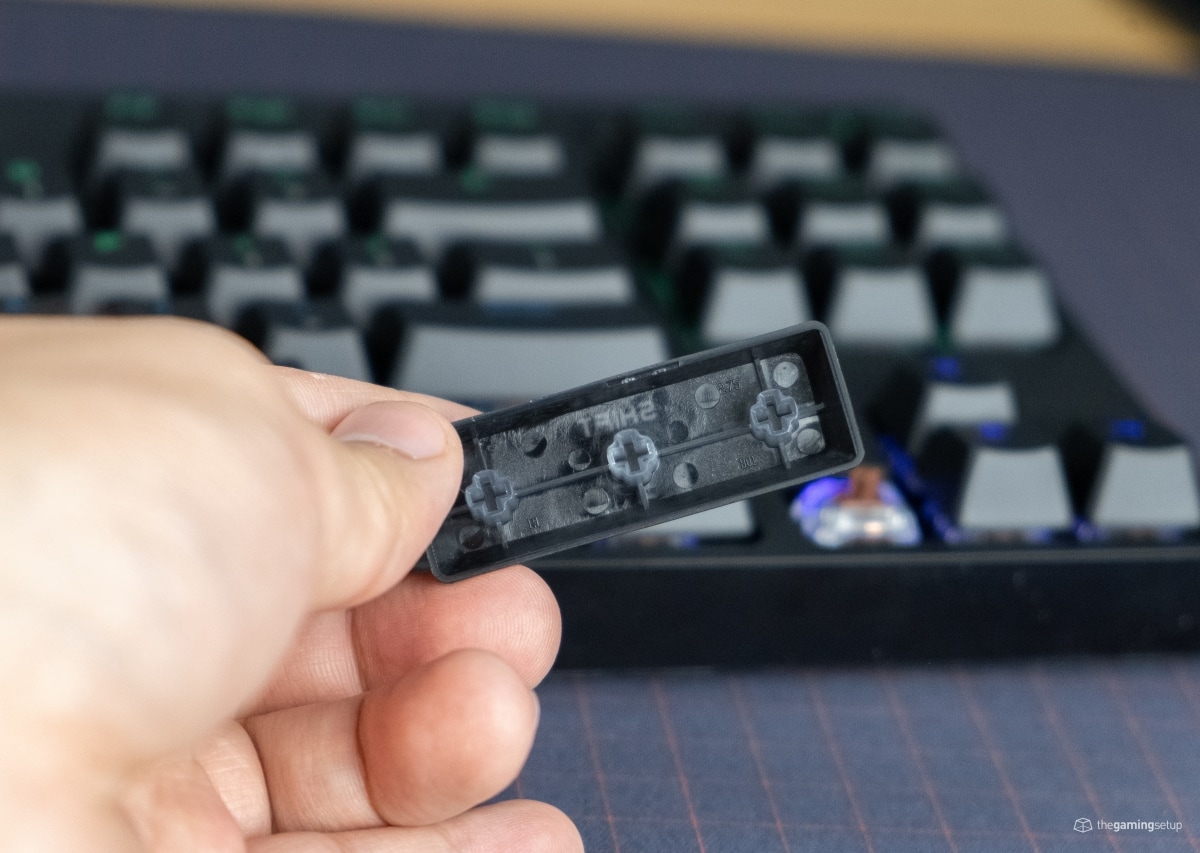 The underside of the cap, you can see that the keycap uses a laser etched method to allow for the LED to shine through, the light comes through evenly and is well lit. Laser etched caps have the potential to scuff and scratch leaving more of the clear plastic exposed, ruining the LED effect.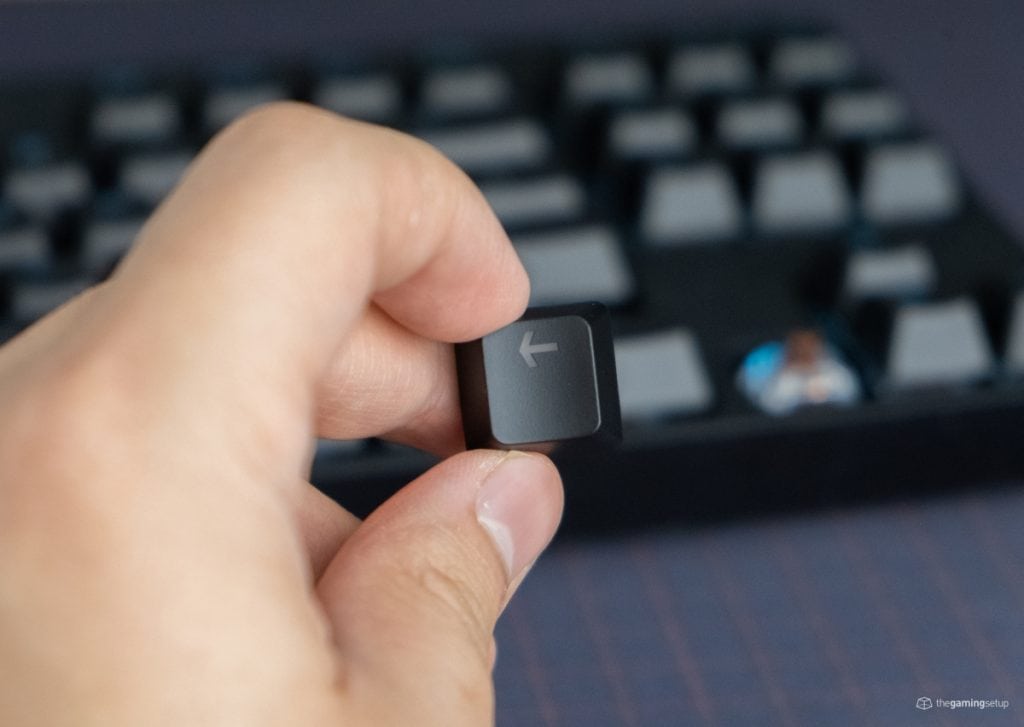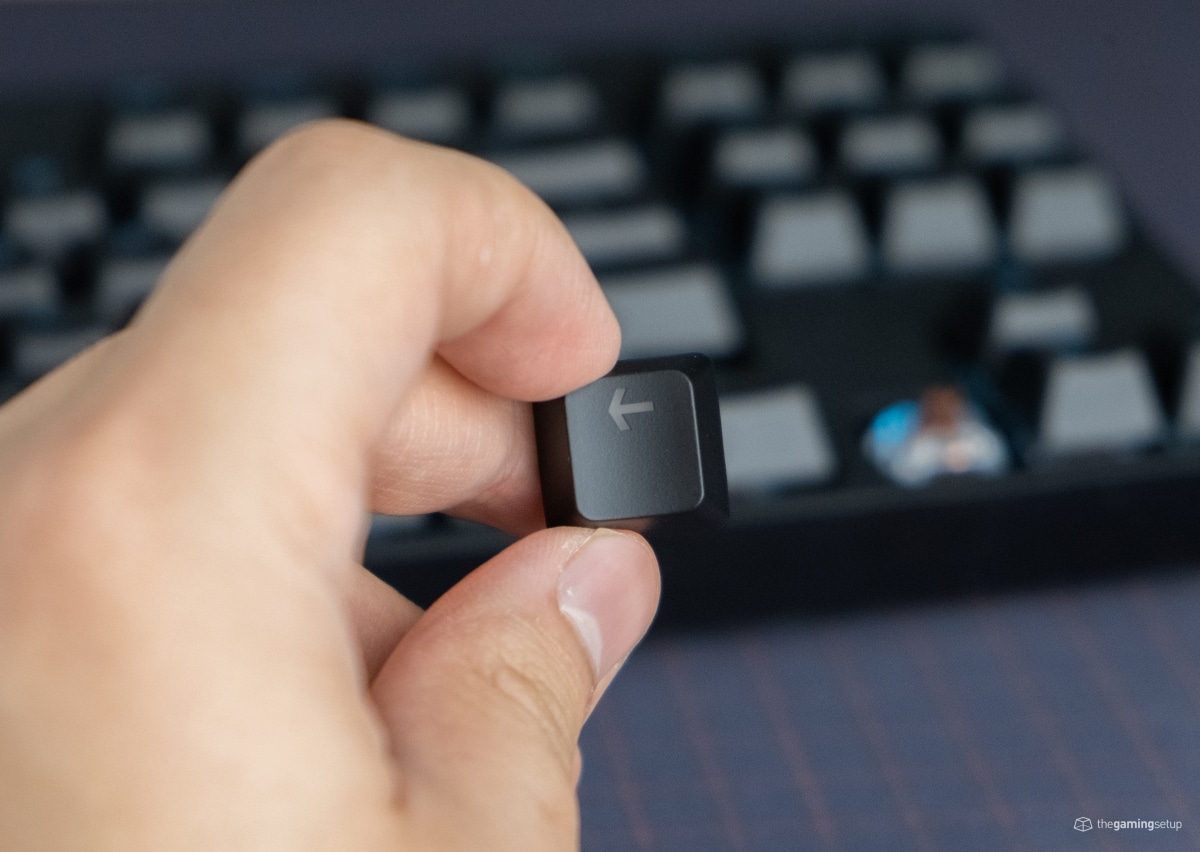 Fortunately, the Logitech G Pro X now has cherry compatible switches, which means if you get tired of these keycaps or they start wearing down, you can replace them with a fresh new set of durable PBT caps or fancy GMK caps. Unfortunately, the bottom row of the G Pro X is still non-standard so some key cap sets might not have the right size caps for your bottom row, a huge pain in the butt and more puzzling considering Logitech's push for tinkerability of this board.
Features & Software
The Logitech G Pro X runs on both Logitech Gaming Software and G Hub, you can read more about the differences between the two Logitech software here.
You can expect all the standard software features here.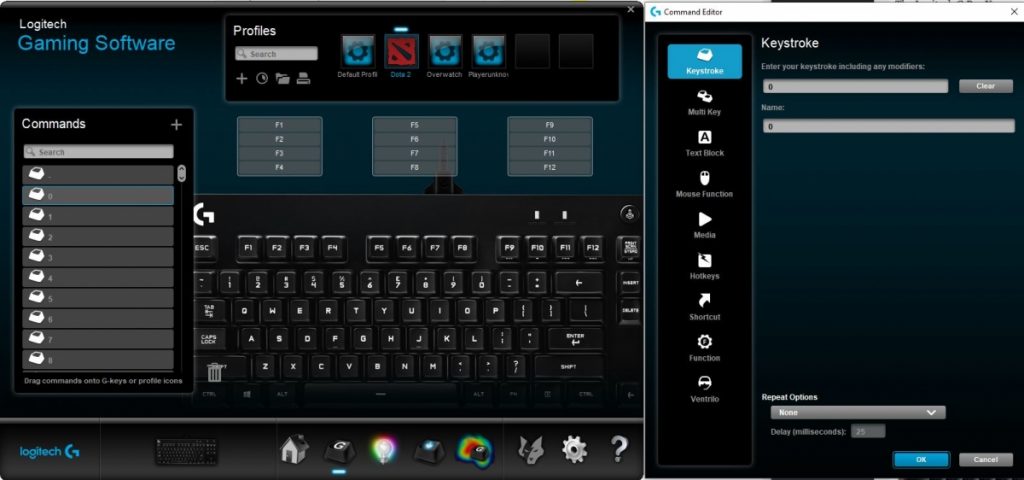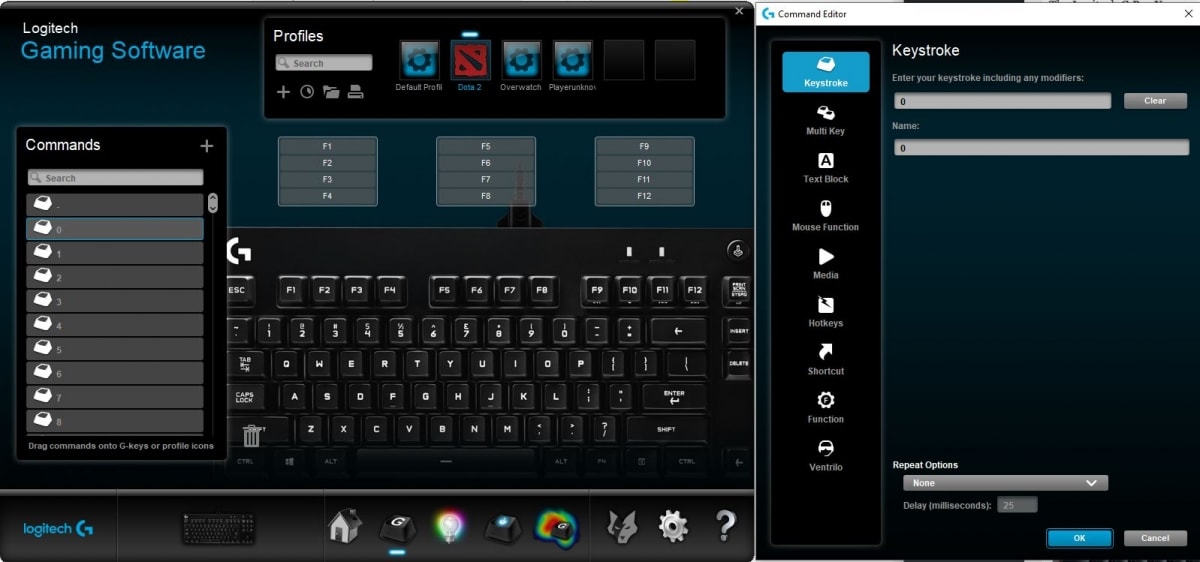 LGS allows you remap any key on the keyboard to a variety of functions including system functions, media functions and macros. What's absent here is the ability to add additional layers of functionality, something that I wish more keyboards did.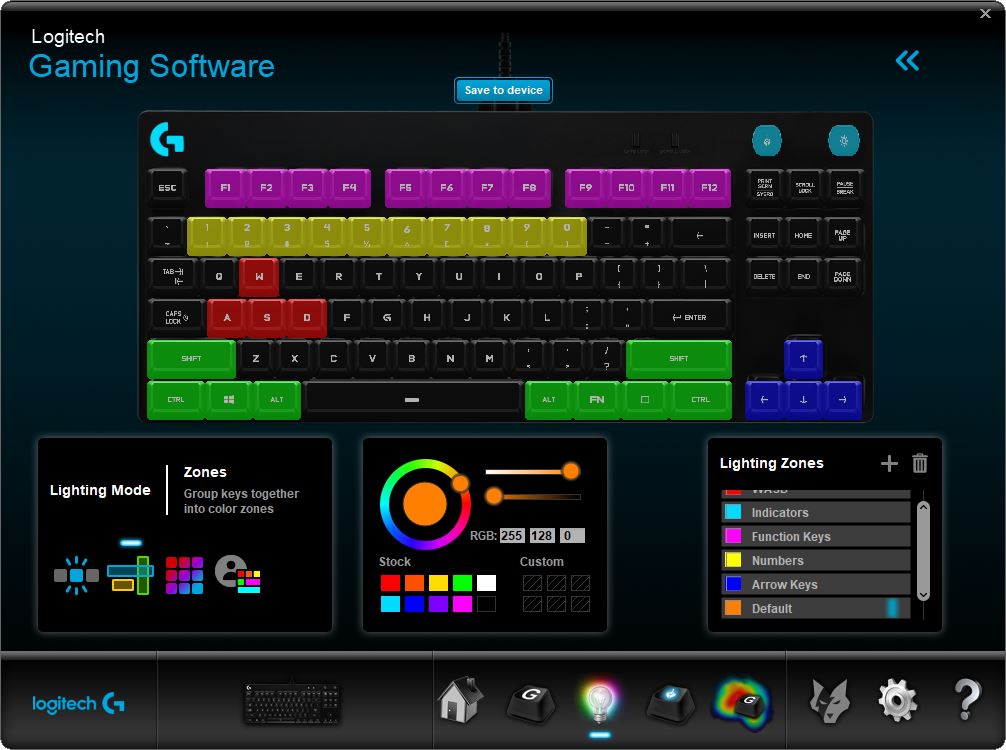 Logitech includes a bunch of lighting modes out of the box:
Contrastic
BleepBloop
Caterpillar
Datafall
Explosion
Fire
Lightning
Ocean Wave
Rainbow Ripple
Red White and Blue
Scanner
Sine
Skipping Stone
Sunstreak
SyncroCycles
Vertacool
You're also able to customize some standard effects:
Fixed colour
Breathing
Color Cycle
Color Wave
Key Press
All effects can be modified with colour, speed and direction
Logitech gives you the ability to disable keys in gaming mode, and the option to customize which keys to disable per game.
G Hub largely has the same features in a different UI, I still prefer Logitech Gaming Software for the time being.
Warranty and Reliability
There haven't been any major rumblings about the Logitech G Pro and I suspect the X will have similar reliability.
The Logitech G Pro X keyboard is backed by a 2 year warranty. Logitech's warranty in my experience is one of the best in the industry and they will generally work with you to find a good solution if you have issues with your board.
https://www.logitech.com/en-ca/footer/terms-of-use?id=3101
Value & Conclusion
The Logitech G Pro X covers up the major flaw in the original Logitech Pro in the GX switch and with the ability to hot swap to any other after market switch available. Combine the switch flexibility with a well designed case, strong software and overall good typing feel and you have a really good TKL option in this board.
It's not perfect, Logitech has failed to make progress in some ways that competitors like the Razer Huntsman TE have made.
The ABS key caps are still thin and have a weird feel to them, the detachable cable is still using micro-USB, and the bottom row is still not standard. The Logitech G Pro X would be well suited to have these upgrades.
If you are a little switch curious and appreciate a solid typing experience, I think the Logitech G Pro X might be worth checking out.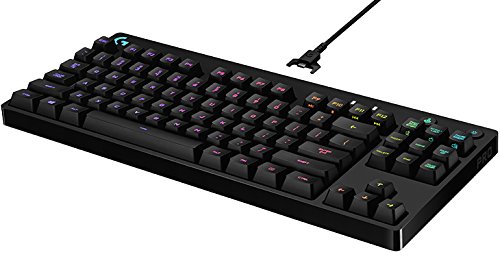 The Logitech G Pro X keyboard erases a previous major shortcoming of the original Logitech G Pro X with better switches and the ability to hot swap your own switches.
See Price on Amazon
Tech Specs
Logitech G Pro X Keyboard
Width: 36.1 cm
Length: 15.3 cm
Height: 3.4 cm (with caps)
Case: Matte black plastic top, black plastic bottom
Weight: 979 grams
Keys: 87 TKL size
Cable Length: 1.8m, braided, detachable, micro-USB
Keys & switches
Switch options: Logitech GX Blue, Brown and Red
Keycap material: ABS
Keycap legends: Laser Etched
Keycap profile: OEM profile
Media keys: Through fn layer
Backlight: Full RGB
Software: Logitech Gaming Software or G Hub
Polling rate: 1000 hz