With video games increasing in size every year, dishing out a few extra hundred dollars to upgrade your internal SSD on your PS5 so you don't have to worry about running out of space is totally worth it.
Here are some of the best SSDs for PS5 that can handle even Call of Duty Black Ops: Cold War (312GB!) without them breaking a sweat.
Best PS5 SSD Overall
WD Black SN850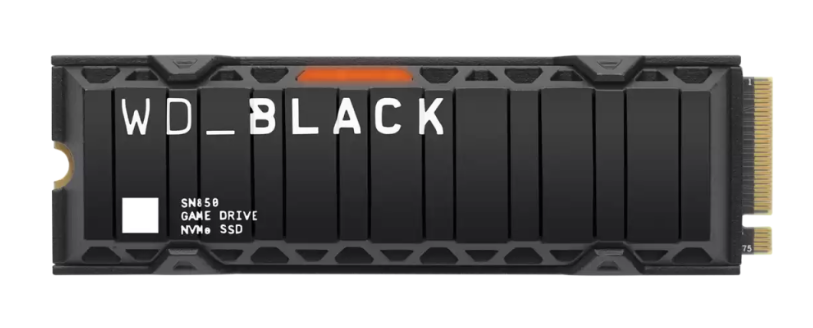 Pros
Officially Licenced by Sony for the PS5

Speeds much higher than the recommended minimum

Comes with a thick heatsink to dissipate heat
Cons
Somewhat lackluster write speed
Hands-down the best recommendation if you want to upgrade the storage of your PS5 is the SN850. It comes in two versions, one for PC and one for the PS5. Make sure you buy the latter as the heatsink on it helps with heat.
It's officially licensed by Sony for use in their systems, so you know that it's built to fit and perform perfectly inside your console. Even the lead architect of PS5, Mark Cerny, uses it and recommends others to go with this SSD.
The SN850 can hit speeds of up to 6550MB/s, which is well above the minimum speed of 5500MB/s suggested by Sony. The beefy heatsink it ships with is compact enough to fit inside the M.2 slot but manages to easily dissipate the heat the SSD produces.
Western Digital produces their own NAND flash, and have a solid reputation for producing reliable SSDs. This is a huge factor for us ranking this SSD in the top spot, I do not want to lose my data. There are other hard drives on this list that are faster and/or cheaper, but the difference just isn't worth it.
You can also opt for the higher-priced but faster-performing successor of this SSD, the SN850X. It isn't officially endorsed by Sony, but it's fully compatible with the system. If you can dish out the extra money, your PS5 will thank you for it.
Best for Speed
Samsung 990 Pro

Pros
Currently the fastest Gen 4 SSD out there

Hardware-based AES 256-bit encryption to protect your data

The heatsink and nickel-coating work well to keep temperatures in check, even in a PS5
Cons
Pricy
Poor value for money as the increase in speed doesn't really affect the performance of your PS5 as much
Samsung is a pioneer of storage drives. Their latest entry into the PCIe Gen4 platform is the 990 Pro. If speed is all you care for, at the expense of the bucks in your pocket, then you won't find a faster SSD than the 990 Pro. At 7450MB/s and 6900MB/s for read and write speed respectively, the 990 Pro has effectively maxed out the PCIe Gen4 standard, squeezing every bit of speed out of it.
In terms of thermal performance, the 990 Pro is no slouch. It comes with or without a heatsink, with the former being slightly pricier. PS5 owners should go with the 990 Pro with the heatsink to save the hassle of having to install one later on. Samsung has also coated the controller of the drive with nickel to further equip their SSD for the battle against overheating.
Everything isn't bells and whistles, however, as such performance comes at a cost, and we don't mean just the price tag. There have been reports of the health of the 990 Pro degrading much more quickly than anticipated early in its lifespan. Samsung claims these reports are only limited in number and they're investigating the matter, so keep this in mind before you buy the drive.
Best Balance of Value SSD
Crucial P5 Plus

Pros
Affordable

Provides the best value for your money

256-bit AES hardware-based full-disk encryption

Crucial has a good SSD reputation
If you like your money and want to invest in an SSD that does what it says, nothing more and nothing less, then Crucial has you covered. The Crucial P5 is amazingly cheap when put up against the competition, and at speeds of up to 6600MB/s, it still promises to leave the internal storage of your PS5 in the dust.
It comes with and without a heatsink with only a marginal price difference in both. We suggest you buy the one with the heatsink and save yourself the hassle of purchasing an after-market heatsink and installing it yourself. Its heatsink is custom-designed to fit inside the M.2 slot of the PS5 so you don't have to worry about compatibility.
Even at the slower speeds of the P5, there isn't any major difference in loading times when compared to more faster and expensive SSDs. You won't find an SSD with a better bang for your buck than the P5. Sadly, it doesn't come in the 4TB variant, so you'll have to look elsewhere if storage space is your first priority.
Best for High Capacity
Corsair MP600 Pro LPX

Pros
Not too expensive

Speed increasing the 7000MB/s milestone

Provides great value for its higher capacity 4TB model
Cons
Corsair doesn't have a proven SSD track record yet
If the lack of a 4TB variant in the Crucial P5 left a bad taste in your mouth, the MP600 Pro LPX should fix that. Not only does it come in a 4TB variant, but the pricing and performance of the 4TB model are quite decent as well.
You get up to 7100MB/s of sequential read speed in a form factor that's a perfect fit for the PS5. The pre-installed heatsink boasts a finned graphite design which helps to increase the surface area and dissipate heat more efficiently.
Corsair might not be as well-known for making NVME SSDs as some other brands on this list so it provides a 5-year warranty for peace of mind. Not everybody needs a 4TB NVME SSD for their PS5, but if you're one of them, then the MP600 Pro LPX can provide you with super-fast speeds at a decent price tag.
What to Look For in a PS5 SSD?
Before you dish out your hard-earned dollars on a pricey M.2 SSD for your PS5, you need to know exactly what you should look for in an SSD.

Note that while PC motherboards can support a majority of NVME drives, the same cannot be said about PS5. The newest Sony console can only support Gen 4 NVME SSD, and unlike PC motherboards, the M.2 drive on PS5 isn't backward compatible with older Gen 3 SSDs.
Speed
The official PlayStation website recommends an SSD with sequential read speeds of at least 5500MB/s. Speeds higher than this will further decrease the loading times on your games and reduce the time taken to copy games to or from the internal storage of the PS5.
As long as you invest in a reputable Gen 4 NVME SSD, you don't need to worry about the minimum speed requirements. Most Gen 4 SSDs have speeds close to 7000MB/s or greater, and this applies to all of the SSDs we included in our recommendation above.
When trying different SSDs, the difference in load speeds were minor between all SSD models. We did see faster transfer times though when loading games from an external hard drive.
Physical Size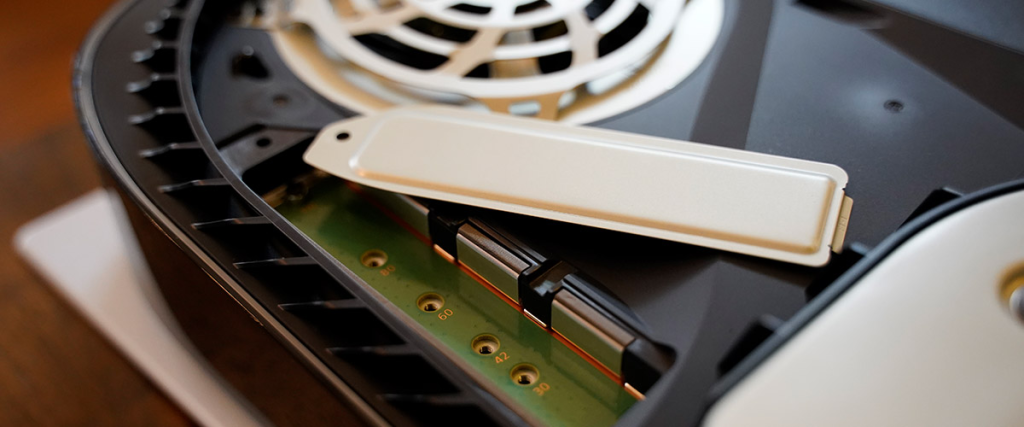 The space inside the PS5 is somewhat cramped, so make sure the SSD you buy can easily fit into the M.2 slot.
These are the sizes that Sony recommends:
| | |
| --- | --- |
| NVME Size | 2230, 2242, 2260, 2280, 22110 |
| Width | Up to 25mm |
| Length | 30/40/60/80/110 mm |
| Thickness | Up to 11.25mm |
Keep in mind that these dimensions include the space taken by the heatsink of the NVME. Most SSDs that come with a heatsink won't fit in the PS5 M.2 slot as the heatsink is much thicker than what the PS5 can accommodate. But because a heatsink is essential for an M.2 SSD for PS5, our list only includes the SSDs with heatsinks in a compact form factor that you can easily install in your PS5.
Capacity
Your PS5 supports NVME SSDs starting from 500GB of capacity all the way up to 4TB. You'll find 8TB Gen 4.0 SSDs on the market as well, but these are not support by PS5's.
The PS5 already has a 1 TB internal drive (825 GB of it is actually usable by the user), so keep that in mind when you invest in a high-capacity NVME.
4TB NVME might be overkill and will burn through your wallet. But if it's absolutely essential to store your PS5 library on your SSD and keep the games playable, you can consider investing in a 4TB drive.
Another solution would be to buy a cheap external HDD and store your game library on it. Remember that PS4 games can run directly from the external HDD, but to play a PS5 game, you'll have to copy it over to the internal storage first.
Going for a 1TB or 2TB SSD is recommended for most people, as it'll allow you to store your essential PS5 games and will cost a fraction of the price of a 4TB drive. Going below 1TB is unwise as you won't be able to store more than 7-8 AAA PS5 games on a 500GB SSD. Plus, a smaller NVME SSD won't give you the same speeds that a higher-capacity drive will.
Heatsink
Slapping on a heatsink on your NVME drive is extremely important as the M.2 slot in your PS5 isn't properly cooled by the cooling mechanism.
An SSD without a heatsink can heat up within seconds and its speed will reduce due to thermal throttling. High temperatures can even cause the data stored inside your SSD to degrade, leading to data corruption.
Nobody wants to lose their precious 100-hour Persona 5 Royal save file. That's why you should either purchase an SSD that comes with a heatsink or buy an aftermarket heatsink that, when applied on the SSD, will easily fit in the M.2 Slot of the PS5. With a heatsink, your SSD will remain cooler, sustain its blazing-fast data transfer speeds, and have a longer lifespan.
You can get away with SSDs that don't have heat sinks but it depends on how hot your ambient room temps are and that's a risk you would have to take.
Why is an SSD for PS5 Important?
One of the major advantages of upgrading the storage space of your PS5 is, well, the extra storage space you get. Your PS5 has only 825GB of usable capacity on it, and with your huge library of PS4 titles and the ever-increasing size of PlayStation exclusives, this space can run out pretty quickly. Even a 1TB worth of extra space will give you ample headroom to install your favorite titles without worrying about running out of space.
The internal storage of the PS5 has a read speed of 5500MB/s, which is pretty standard and nothing to write home about. When you add an NVME SSD to your system, you have the choice of investing in a super-fast Gen 4 NVME that can push for speeds greater than 6500MB/s. This will result in game loading times being faster than they were on the internal storage of your system.
If you need even more storage, then check out our best external storage drives for PS5.