As soon as I saw the Q1, I was hoping for more form factors with the same build quality, my hope has been answered.
The Keychron Q2 is a more compact version of the popular Keychron Q1. I've gotten tired of seeing high-end premium group buys with year long wait times, so I'm really pleased to see a relatively small brand answer the call for always-available premium keyboards. With a 65% form-factor, the Keychron Q2 is my perfect balance of available keys and compactness.
Keychron directly aimed at the GMMK Pro with Q2. Both are compact mechanical keyboards that offer a wide degree of customizability. The Q2 comes in at a $20 premium than the GMMK Pro, the Q2 blows the GMMK Pro out of the water in terms of overall typing experience, customizability and general build quality.
The best in-stock premium 65%
Pros
Great pre-installed stabs
QMK and VIA allow for a ton of flexibility
Very well-built
Has multi-device programming capability
Cons
Not cheap
Keychron keycaps might not be the best
Only 3 pre-packaged switch options
What's in the box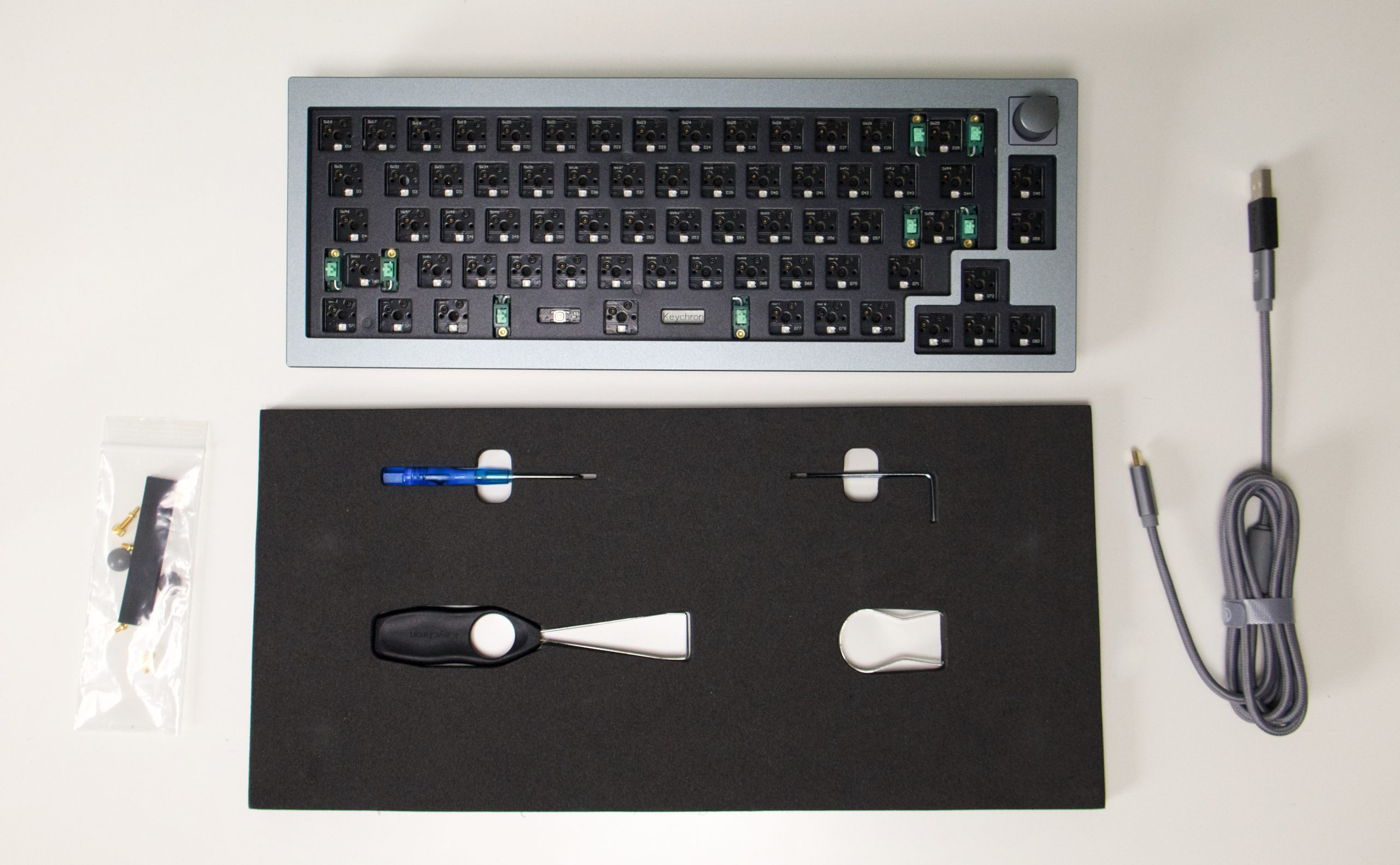 Opening up the Keychron Q2 box you will find:
A USB-C to USB-C cable
A USB-C to USB-A adapter
Wire keycap puller
Metal switch puller
Keyboard screwdriver
Hex key
Extra gaskets
4x Screw-in stabilizers
Foam
Steel Plate
PCB
Casing
Knob
Design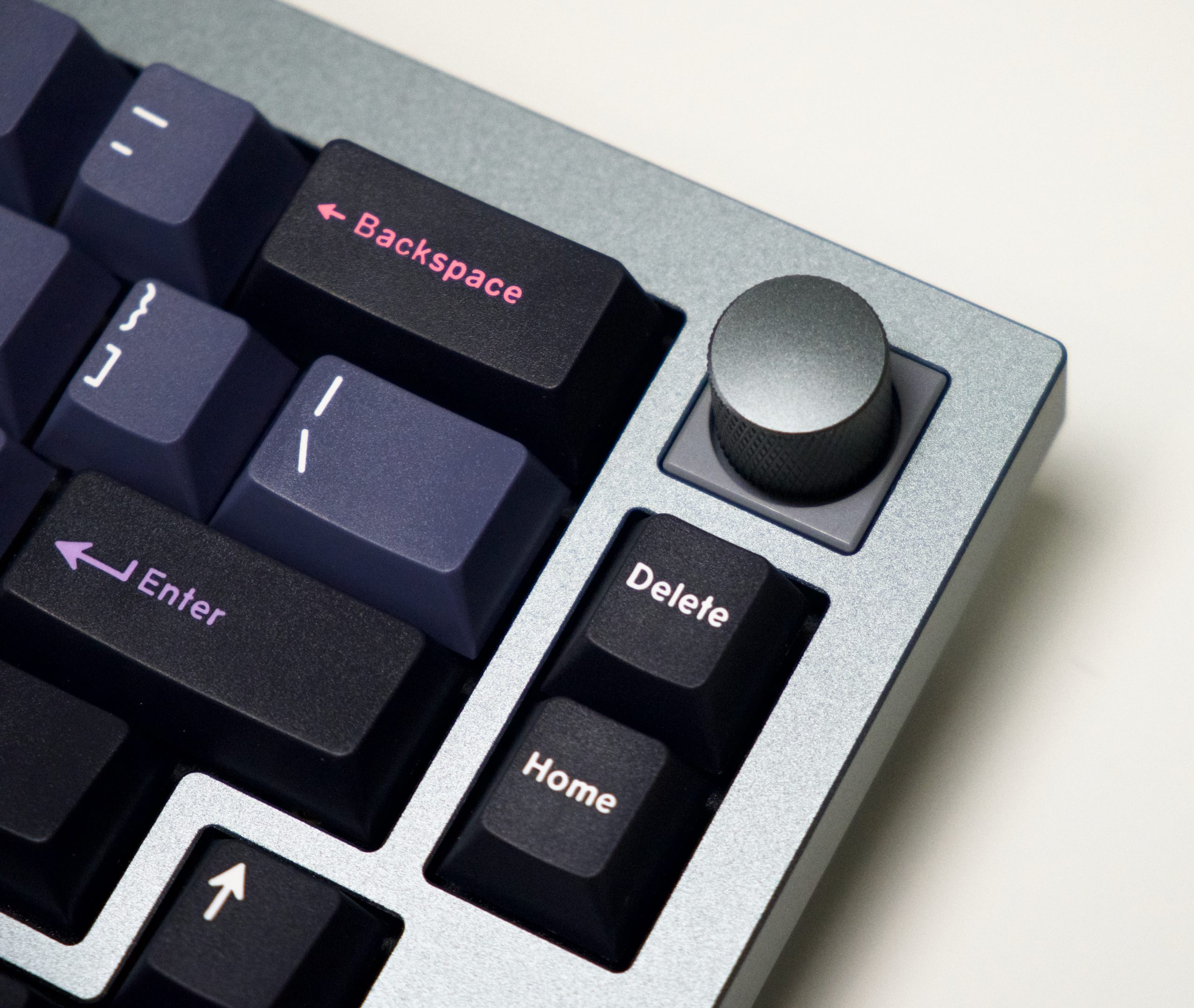 From the moment you pick up the Keychron Q2, you will immediately realize how heavy-duty this thing feels. It's a bulky, tanky 65% clocking at 1645 grams fully assembled..
The the entire case is CNC milled aluminum. The Q2 immediately makes itself home on your desk when you place it down, and the rubber feet ensure that this keyboard isn't going anywhere.
The Keychron Q2 features a double gasket mounted design. This does a much, much better job of minimizing any noises and reverberations inside the keyboard. The Q2 also has sound dampening silicon pads fitted inside; all in all, it amounts to a keyboard that sounds super clean.
Just like its rival, the GMMK Pro, the Keychron Q2 also features a an optional rotary volume dial. The rotary dial is the undisputed best way to adjust your volume and other level-based settings.
Keychron offers a lot of flexibility when buying a Q2, with multiple configurations; fully assembled (with switches and keycaps) or barebone, with a rotary knob or with a button, and with ISO or ANSI layouts.
Keychron offers the Q2 in three color variants: Carbon Black-B, Silver Grey-B, and Navy Blue-B.
Multi-device toggle
The Keychron Q2 has a switch on the top left side of the keyboard that allows users to toggle between Windows and MacOS modes, you can program each toggle with its own keycap and layer, a very handy feature if you have multiple computers that you plan to use this keyboard with.
Hot-swappable switches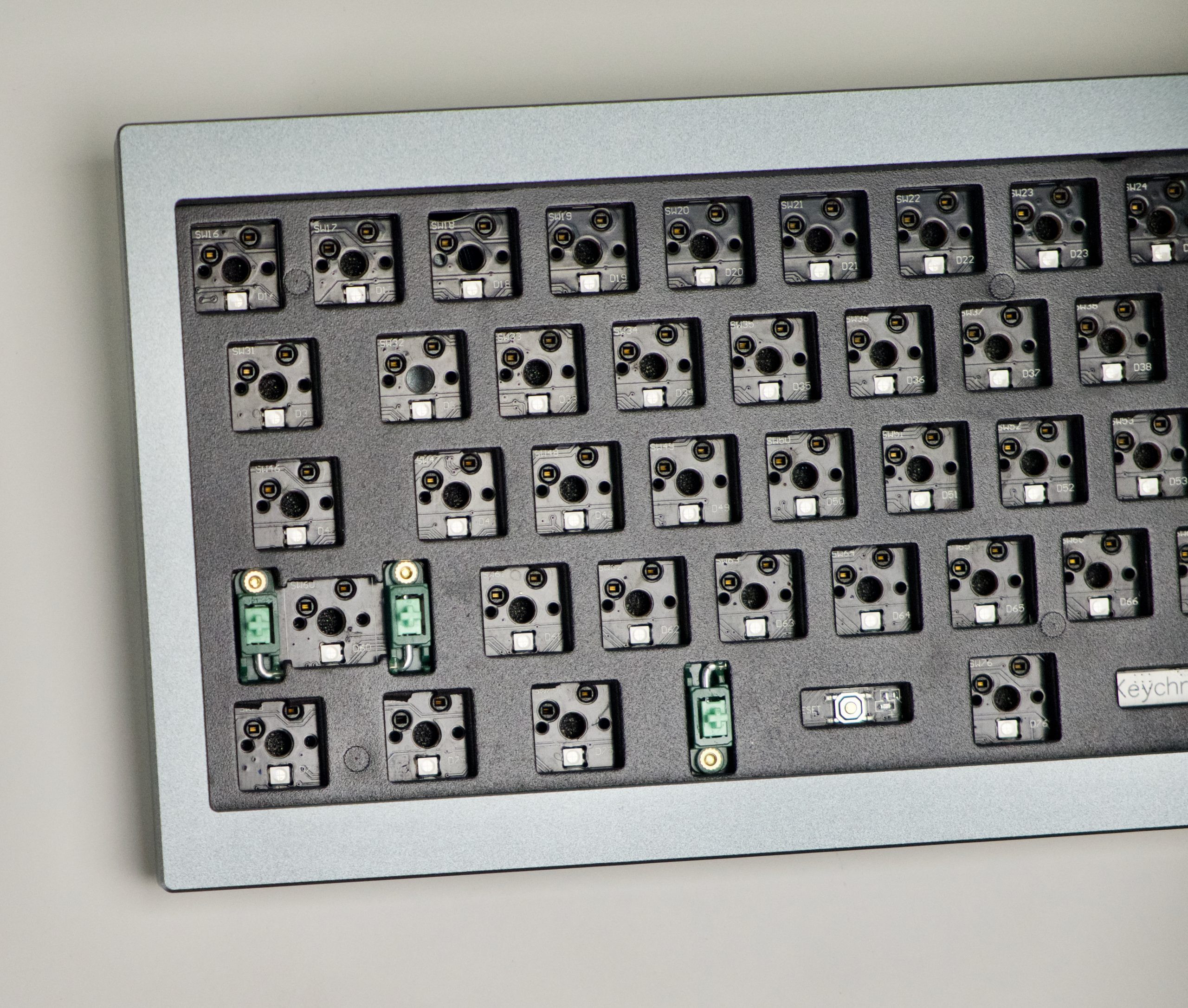 The Keychron Q2 is fully hot-swappable.
The Q2 can accept any regular MX style key switch, from Cherry to Gateron, or Kailh and other clones. Keychron itself sells the Q2 with Gateron G Pro switches in either Red, Blue or Brown switch types. The switches fit really well into the housing and the PCB, with little to no observable wobble.
Check out our best linear, tactile and clicky switch recommendations.
Stabilizers
The screw-in stabilizers included in the Keychron Q2 are simply great. They're definitely an improvement over the Q1 and have minimal rattle and clatter.
They're so good that I would argue that even the most enthusiast of enthusiast of keyboard builders would be quite happy with the pre-installs.
Compared to the GMMK Pro or the Drop Alt, the stabilizer quality is world's ahead.
Typing experience
The double gasket mount in the Keychron Q2 is fantastic and offers a sublime typing experience. It allows for a good amount of flex while providing great acoustics and lets your fingers glide over the keyboard without any disconcerting feedback. The softening effect of keystrokes done by the gasket mount is excellent, allowing for a much more satisfying bottom out even when you're really laying it onto the keys.
PBT keycaps
I unfortunately did not have the foresight to order the keycaps with the Q2, so I can't offer my own review here. I will say the Q2 feels great with some GMK caps.
The keycaps are all double shot PBT and have Keychron's proprietary OSA shape. These are ever so slightly rounded on the corners which is a tad uncommon on mass-market mechanical keyboards nowadays. But the PBT material still feels smooth and soft to the touch.
Seeing other customer reviews of the caps, you might be better off coming up with your own caps. The OSA PBT caps seem to have QA issues and generally have a thin build quality that introduces some wobble.
QMK software support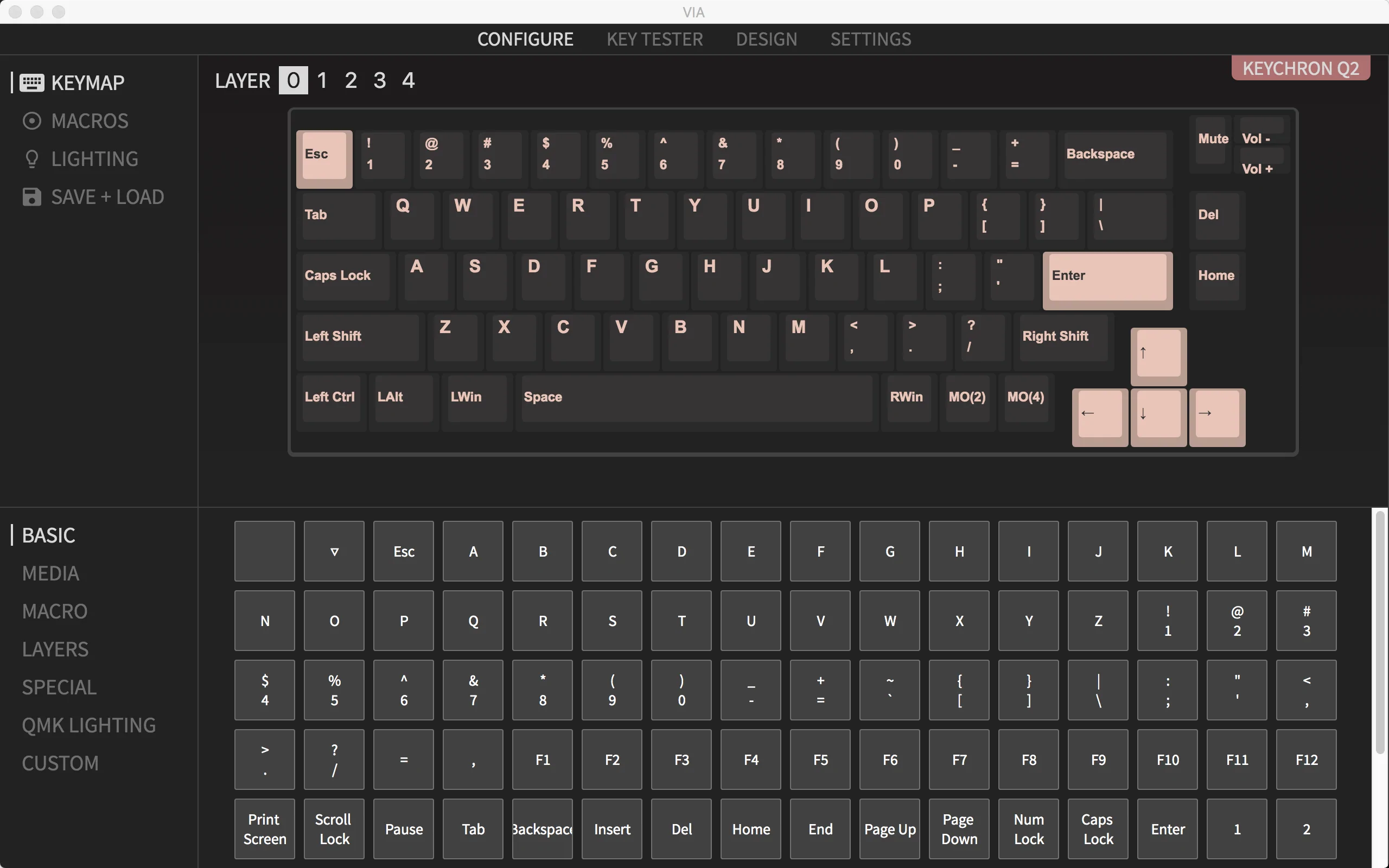 Keychron Q2 is fully programmable using the QMK and VIA.
If you're not familiar, QMK is the software of choice for programming the highest end premium keyboards, it's completely open source and is constantly being updated to allow for more functionality.
This powerful software comes with a learning curve, you need to learn syntax or use separate software to create a config file and flash the config to the hardware. Once you do learn how to program with QMK, the sky is the limit.
If you don't want to learn how to program a keyboard, then VIA is here to rescue you, VIA allows you to config QMK without learning any code and in real-time. VIA allows for multi layer key mapping, macros, lighting and configuring the knob.
Keychron has included several handy tutorials in its online user guide.
Warranty and Reliability
Keychron offers 12 months of Warranty and support for the Q2. You can find more information on their website (https://www.keychron.com/pages/warranty). Although I hardly think you would need it with how well-built the Q2 is. The CNC aluminum body is a true testament to Keychron's quality, and the Q2 passes the reliability test with flying colors.
Tech Specs
Keychron Q2
Length: 32.75 cm / 12.89inches
Width: 12.1cm / 4.028 inches
Height: 3.38 cm / 1.33 inches
Case: Full CNC machined aluminum
Plate: Steel
Weight: 1645 grams fully assembled
Keys: 67 keys
Connectivity: USB-C 2.0 cable, 6ft, detachable, with type-A adapter
Keys & switches
Switch options: Hotswappable, Gateron G Pro Red, Gateron G Pro Blue, Gateron G Pro Brown
Keycap material: PBT
Keycap legends: Double-shot printing
Keycap profile: OSA
Media keys: Through Fn keys
Backlight: Full RGB (South facing)
Software: QMK/Via
Conclusion
The Keychron Q2 is a great 65% keyboard for those who want the custom board experience without having to suffer through group buys and sinking in hundreds upon hundreds of dollars.
The 65% premium mechanical keyboard space is mostly shared by the Q2 and the GMMK Pro; which, in my opinion, gets handily beaten by Keychron in both typing quality as well as software support. At $179, this is an easy recommendation for anyone looking for their next long-term premium keyboard without the group buy headache.