The Cooler Master CK530, CK 552 and CK550 represent Cooler Masters entry level mechanical keyboard line, and they do feel quite entry level. This is a keyboard I wasn't expecting from Cooler Master, they've been highly reputed to produce quality boards and the CK series is a line that falls short of that quality level.
Perhaps there's just no room for a brand name to make an entry level keyboard to compete with the incredible value that chinese and overseas manufacturers bring with their boards, but the Cooler Master CK series brings some pretty terrible stabilizers, cheap key caps and some odd case design choices.
On a better note, the software works well, the keyboard looks pretty good and it's backed with a good warranty, if you're looking for budget without relying going overseas, Cooler Master has an answer for you.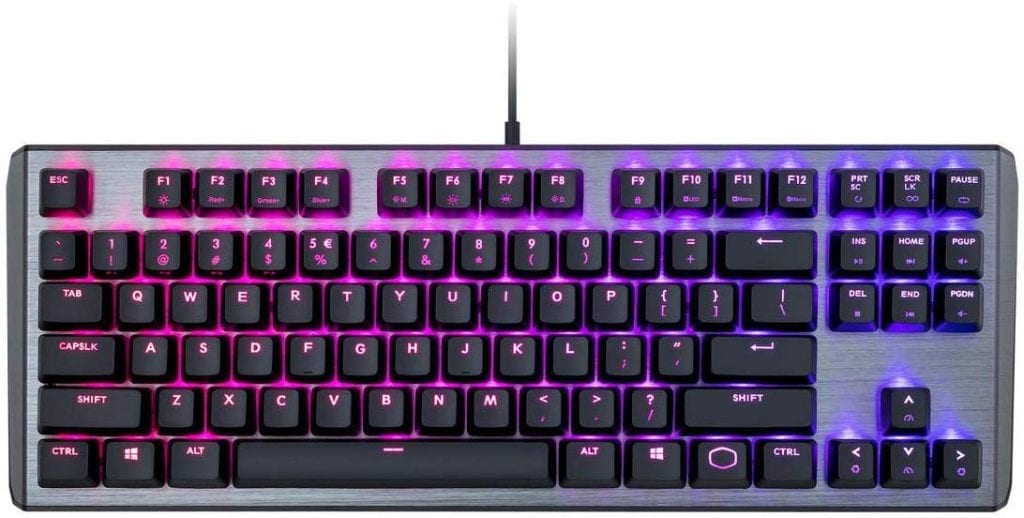 A supbar budget line from Cooler Master that doesn't compete on value with overseas manufacturers.
See Price on Amazon
Switch: Gateron Red, Brown or Blue | Size: TKL or Full Size | Weight: 749 grams or 850 grams | Media Keys: Through fn layer | Keycaps: ABS, laser etched
Pros
Solid and rigid case
3 switch options, 2 colour options for the full size
2 keyboard size otpions
2 year warranty
Solid software
Cons
Wider than a standard size due to protuding case
Fixed cable
Cheap ABS key caps
Wobbly switches
Very loud and chattery stabilizers
Lack of rubber on feet
Only one angle on feet
Switches & Stabilizers
The got Gateron Reds with my CK530. In a likely cost saving measure the Cooler Master CK series comes with Gateron switches, which are Cherry style clones, it should be noted that clones don't necessarily mean worse. In this case, the Gateron Reds have a very wobbly stem, it might be the wobbliest stem I've experienced, it made for an inconsistent typing experience for me.Gateron Reds are a linear switch that actuate at 2.2mm @ 45 grams and bottom out 4 mm @ 55 grams, very similar to Cherry MX.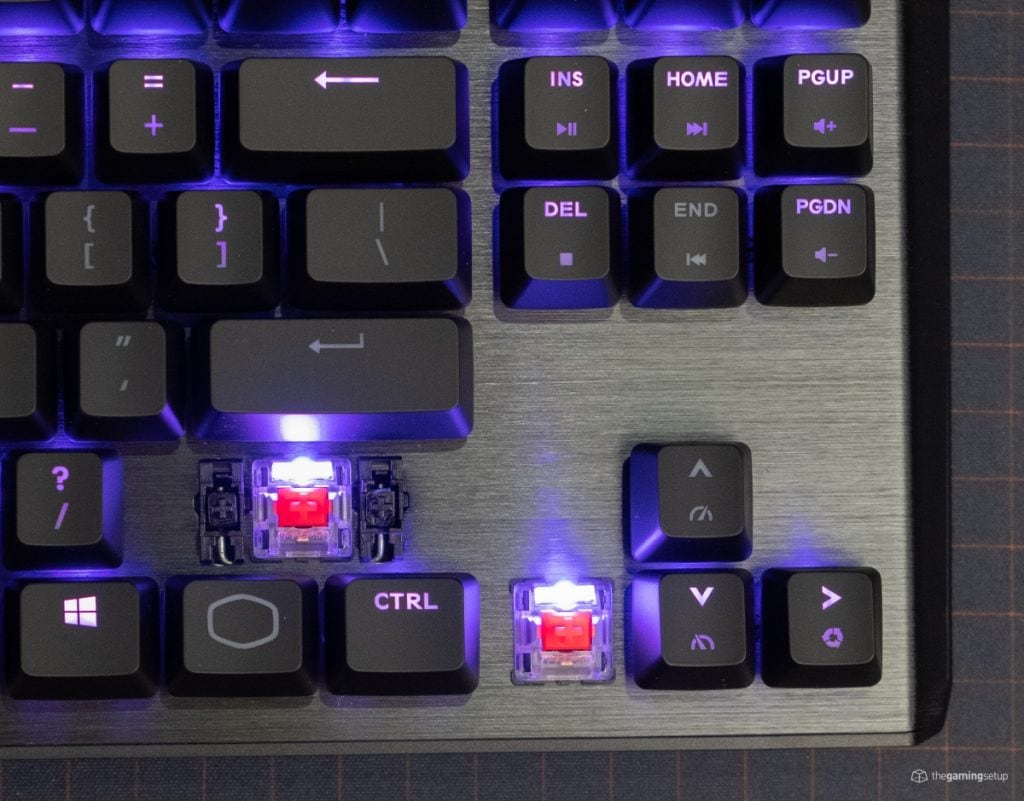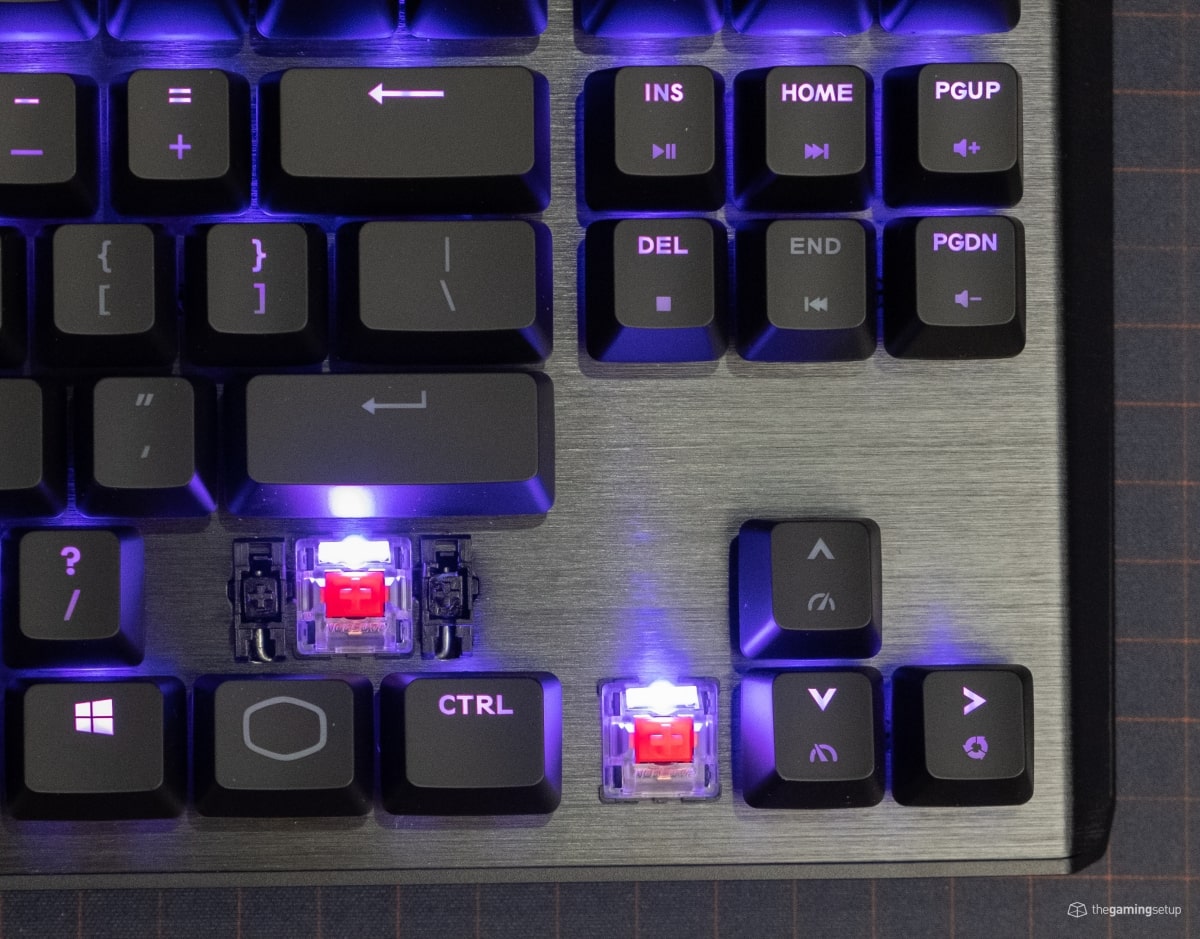 The switch itself is pretty smooth, smoother than Cherry Reds, but not as smooth as Kailh Box Reds or Razers Optical Linear switch for example. The Gat Red aren't scratchy and have a consistent linear experience through out.
The Cherry style stabilizers on the CK series are rough, this might be the chatteriest space bar I've experienced, it is ridiculously loud. The smaller stabilizers are not nearly as bad. the delete key isn't great, but they do add a little bit of resistance on the shift key that takes away from the smoothness of the Gateron Reds. Overall, the stabilizers make the keyboard very loud, I wouldn't recommend this keyboard for silent gaming if that's your prerogative.
For gaming I don't think you would notice the short comings of these switches as much, but for the price I think you can get a better typing, switch and stabilizer experience for similar price ranges.
Build Quality & Design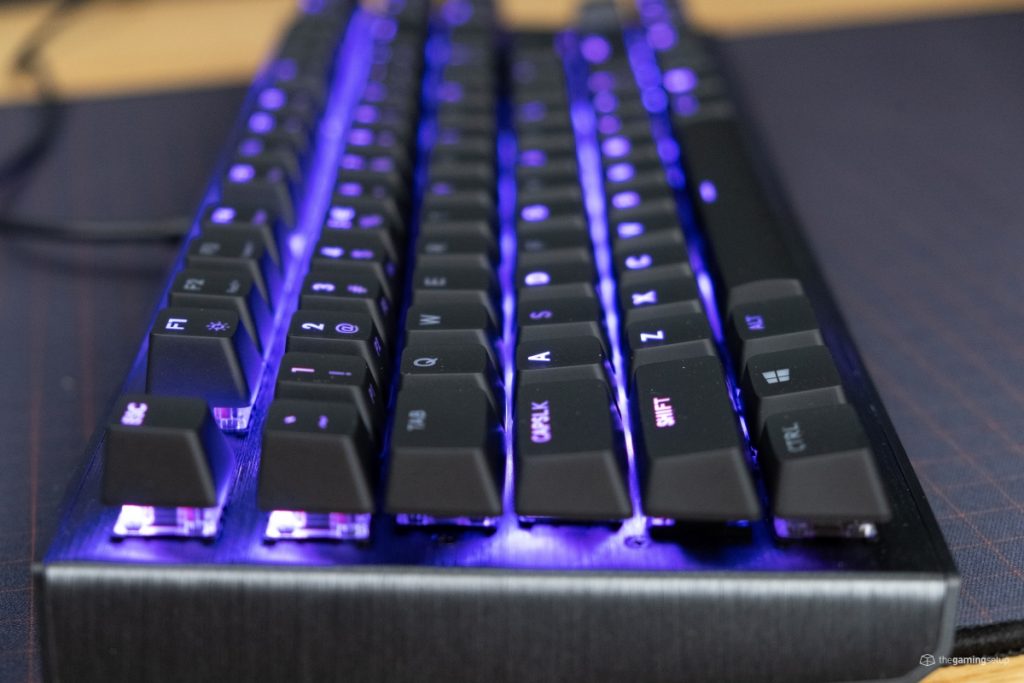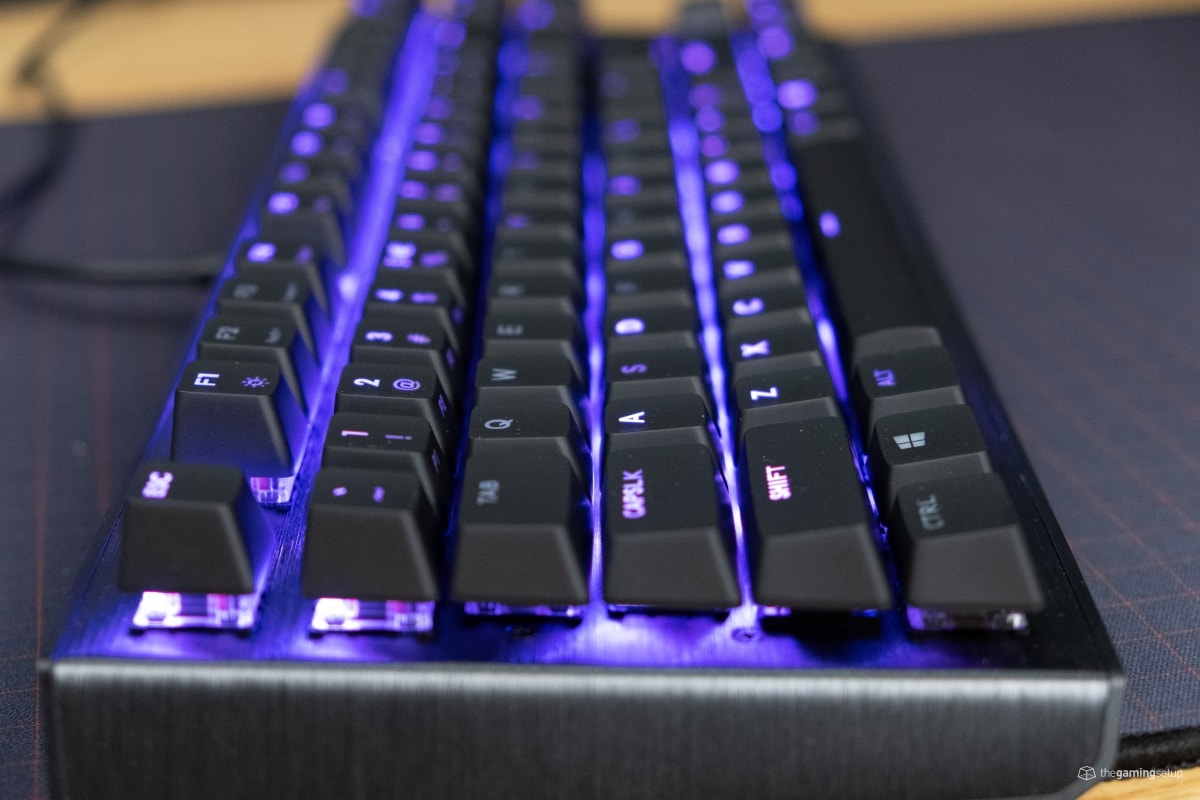 The Cooler Master CK series is yet another low profile, brushed metal top case that really doesn't provide much in the way of heft or feel. The sides of the keyboard are unique and give it a signature profile, but there's not much here that bares extra attention.
Case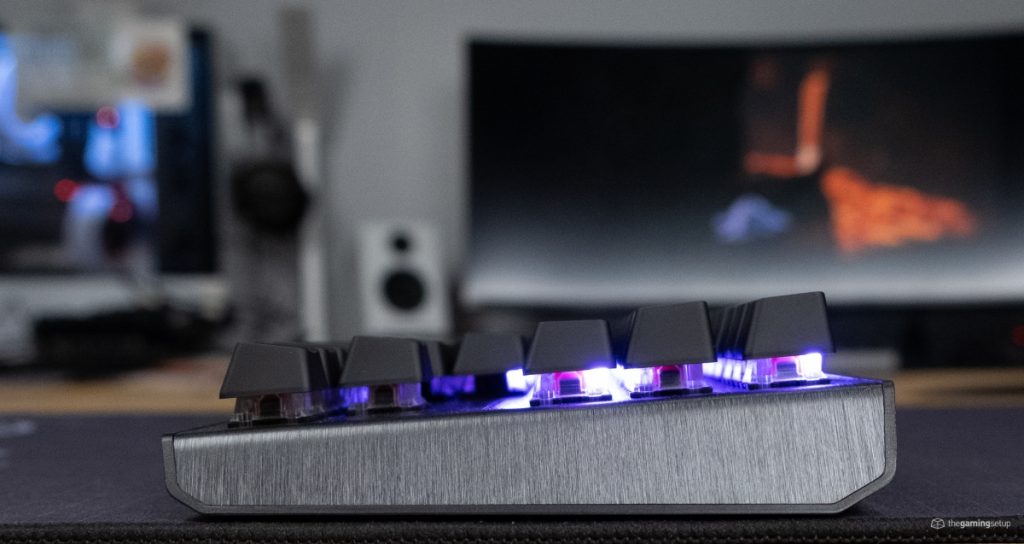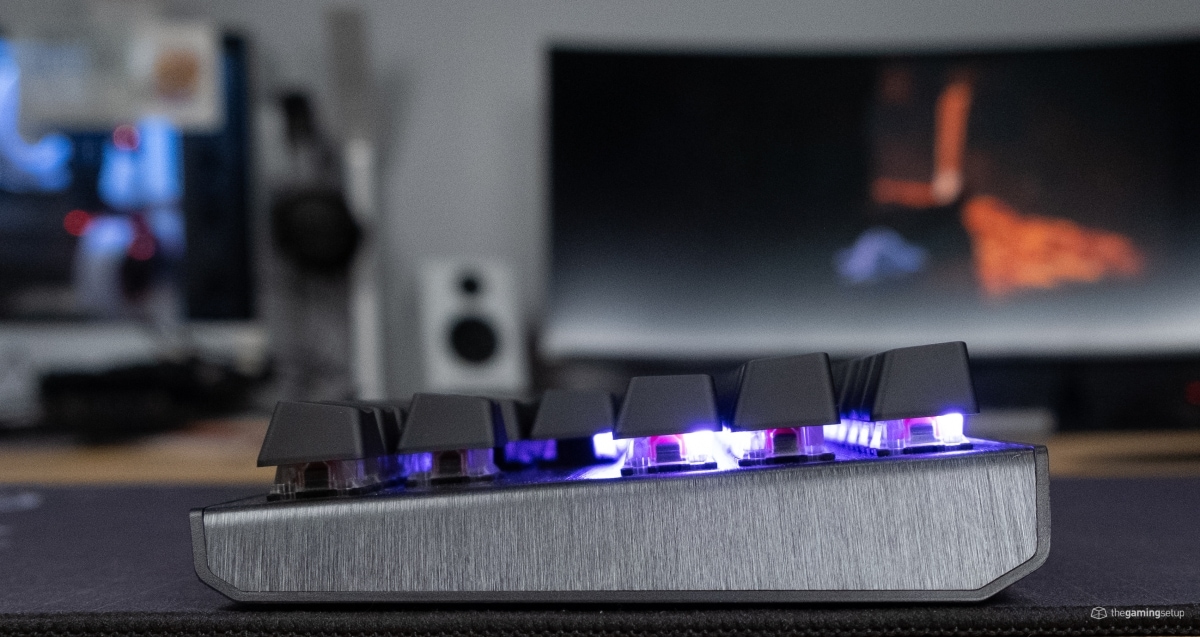 The right and left sides of the case flare out at an angle which at first looks like a neat little design feature with its curved edge, but in practice, this makes the keyboard take up more desk space than necessary, coming off of a more svelte TKL like the Razer Huntsman TE, I couldn't help but notice that I lost a bit of mouse space in comparison.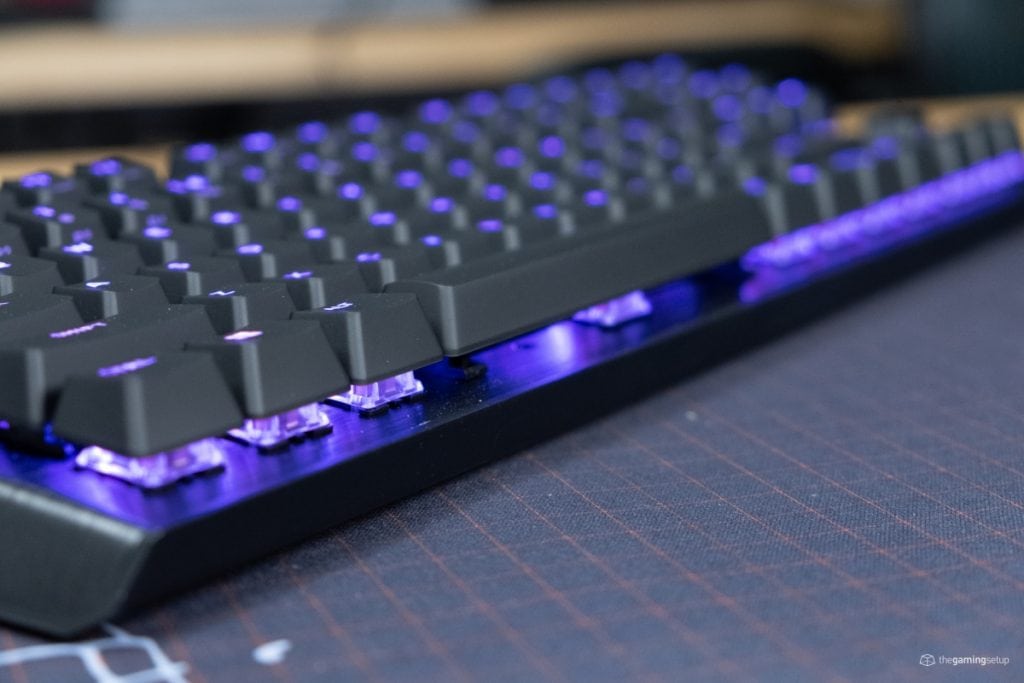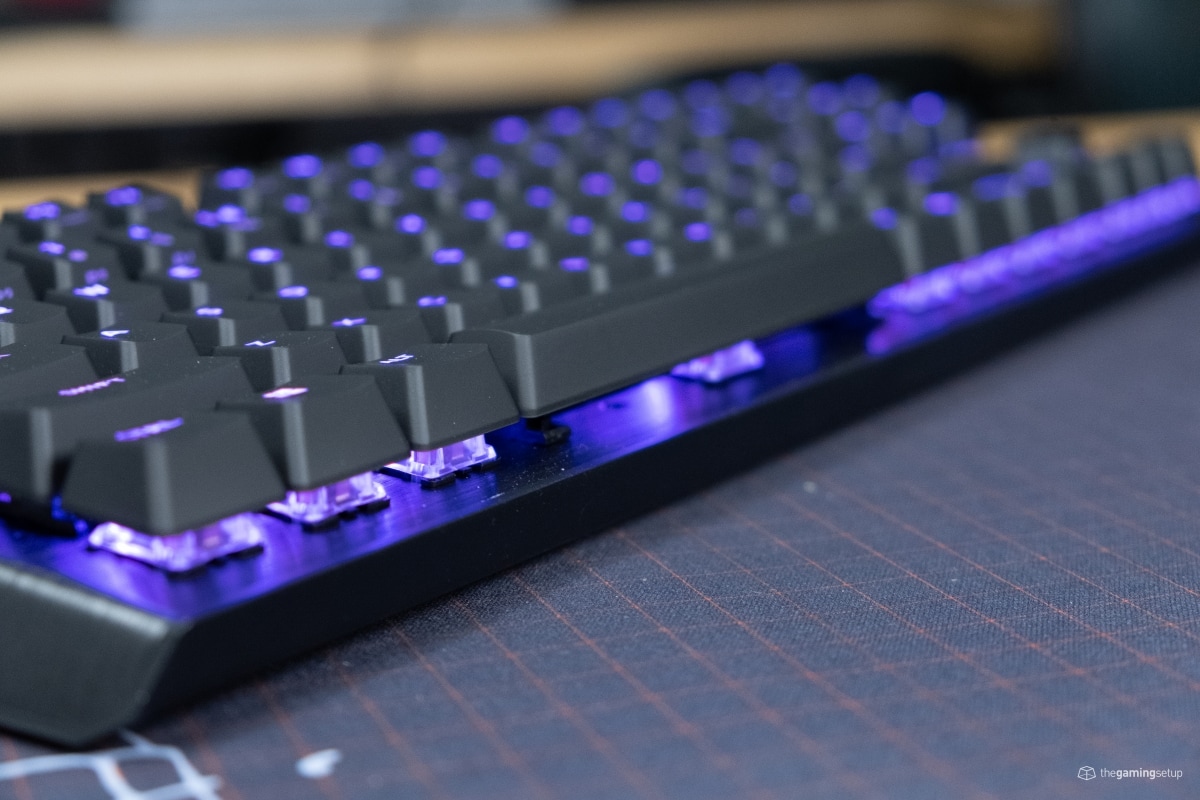 Outside of the unique sides, the rest of the keyboard is fairly standard, black plastic bottom case with a brushed aluminum that has a strong brushed texture that is resistant to finger prints. The colour of the aluminum is fairly light and silvery, which makes it good at reflecting a lot of the light coming off of the switches creating a larger glow effect.
Build Quality
The CK530 is rigid and strong, there's very little flex when testing and very minimal deck flex when pushing in hard, it is a solidly constructed keyboard. I do wish that the case was a little heavier, but at this price point it's not to be expected.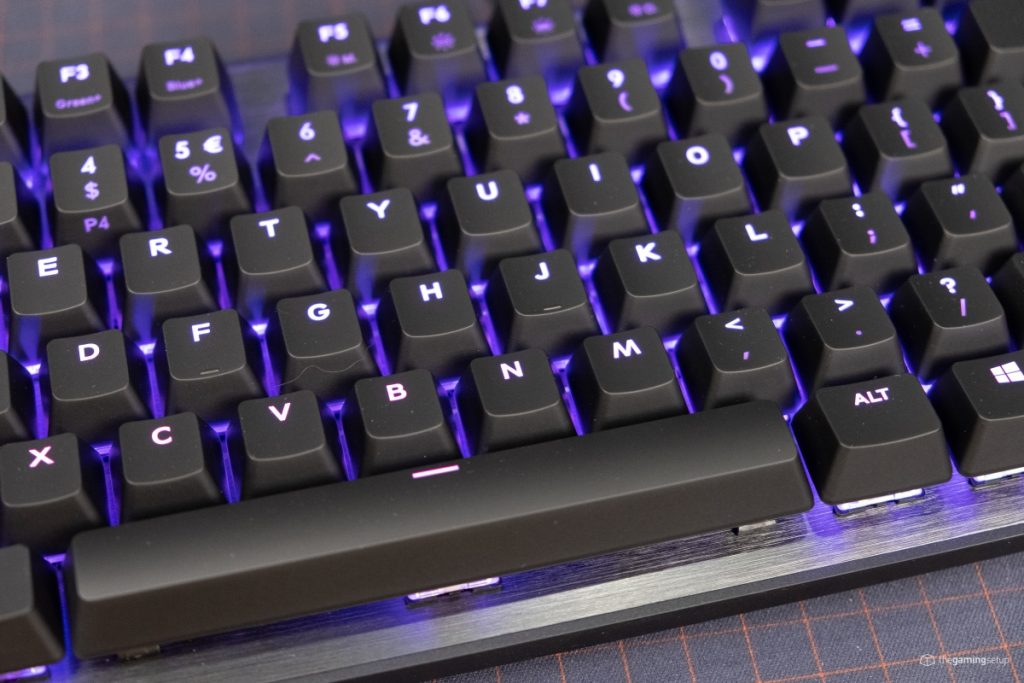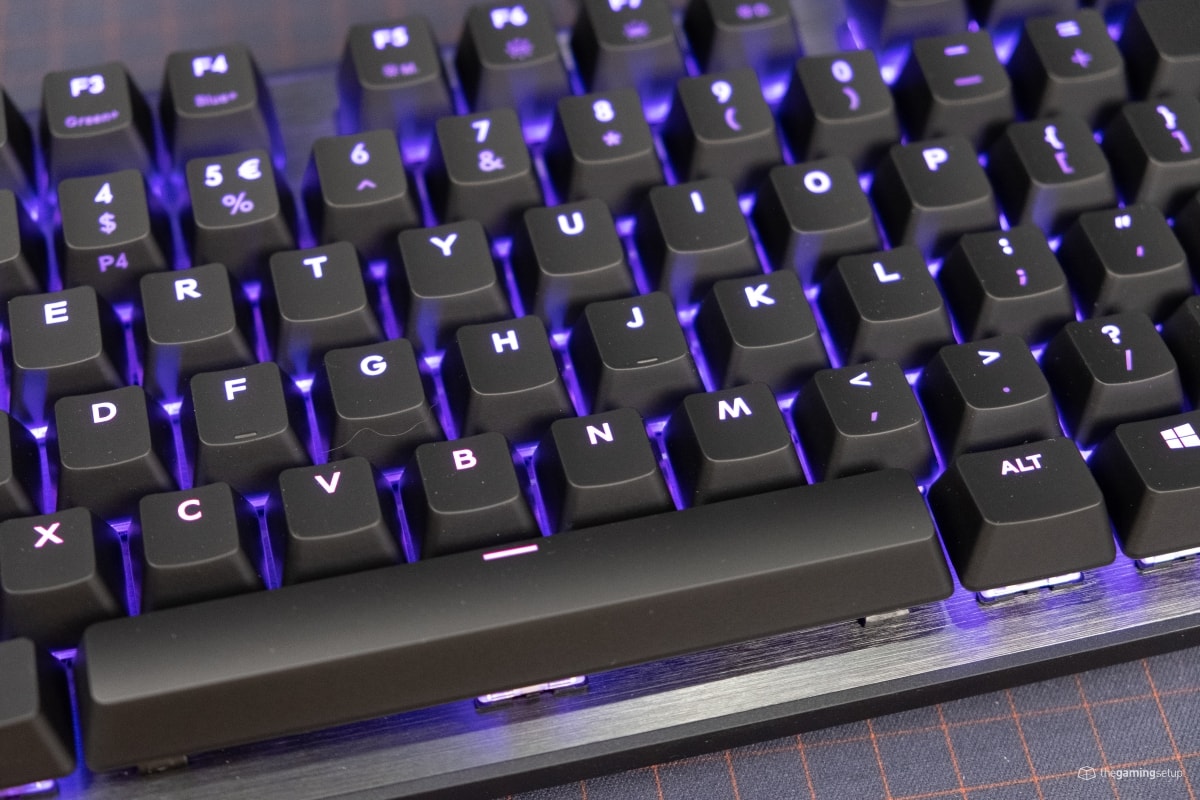 Cooler Master is using a really nice clean font that I like very much, everything is crisp, none of the legends seem horribly out of style.
Feet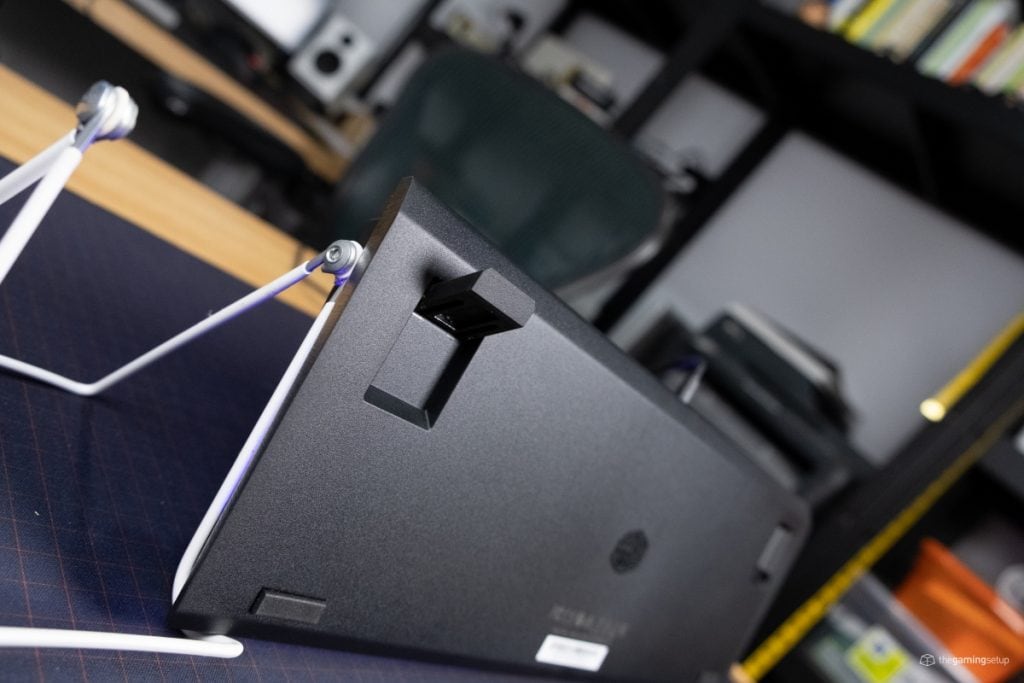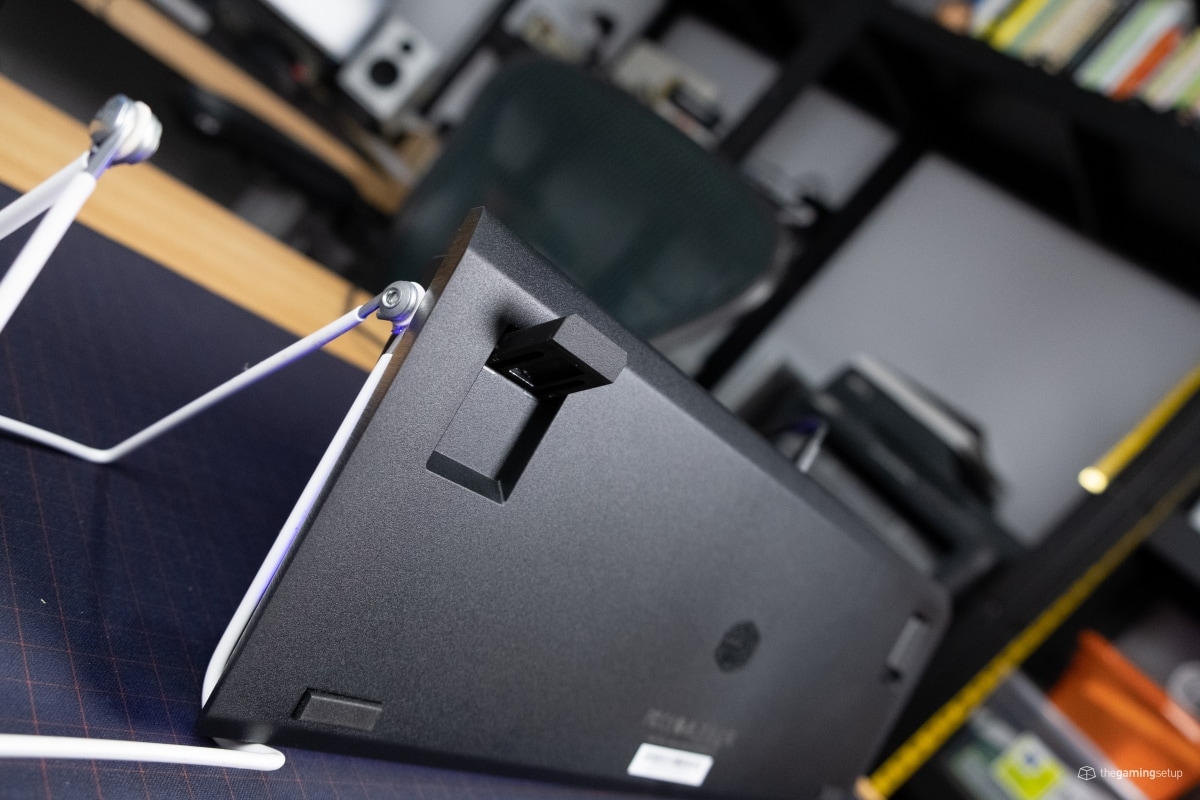 The CK530 only have one angle to them, so you'll have to live with a steep angle or a flat keyboard, no in between. The feet itself don't have much in the way of rubber, there seems to be a bit of a rubber coating on them, but it's a hard rubber so it's likely not doing much in preventing slipping and sliding. The hinges on the feet are strong, so you're likely going to get the feet folding in on you accidentally.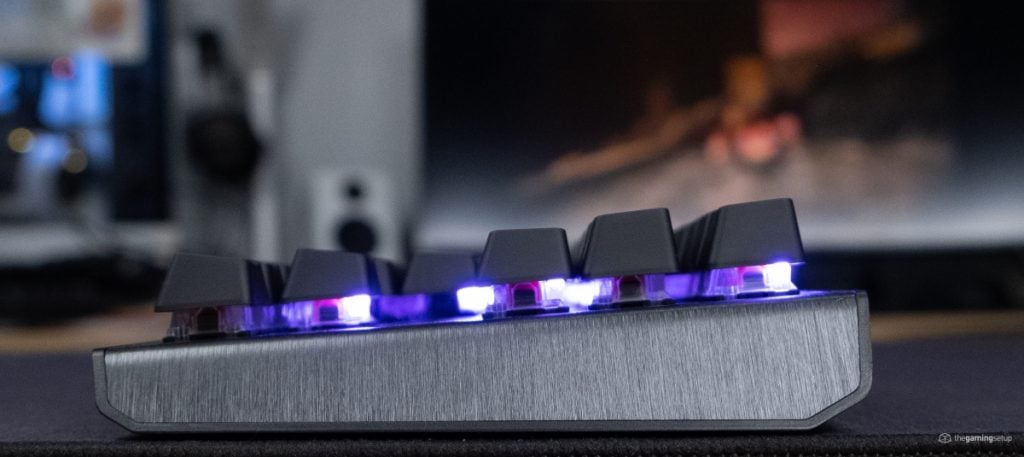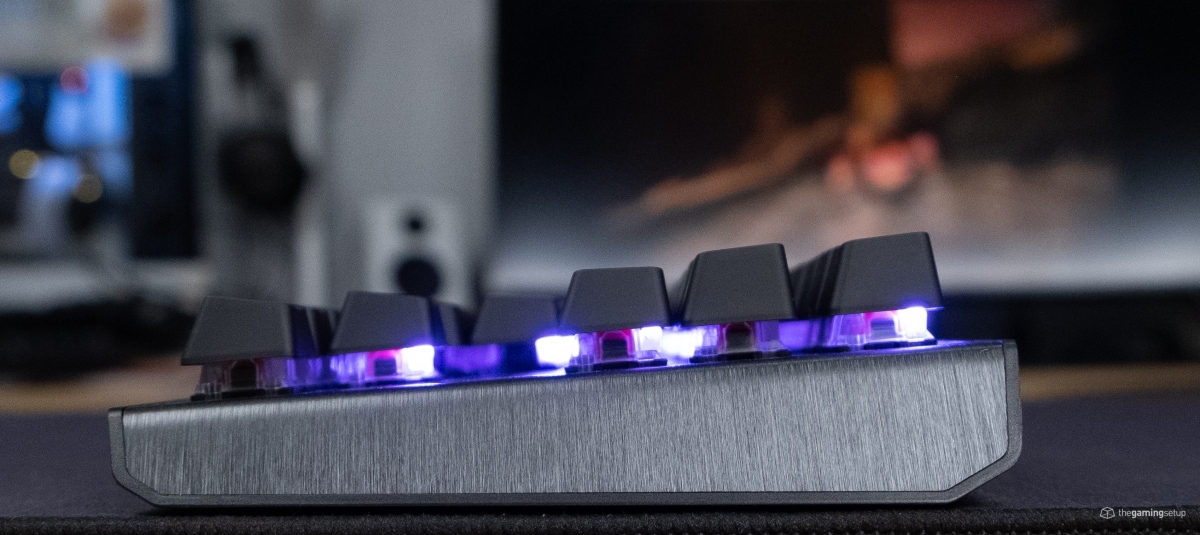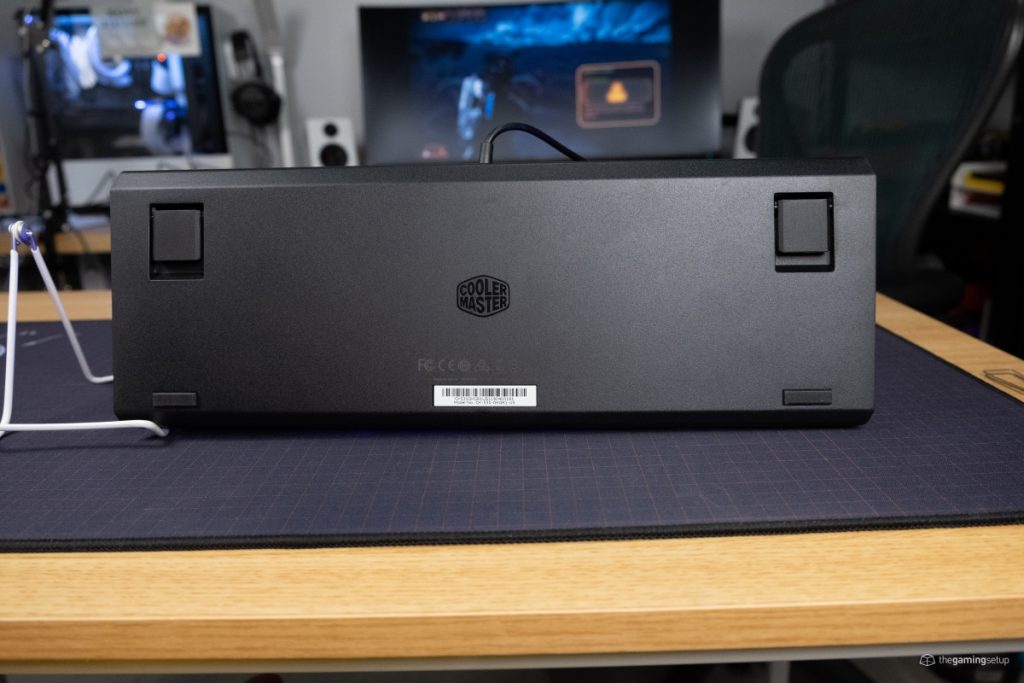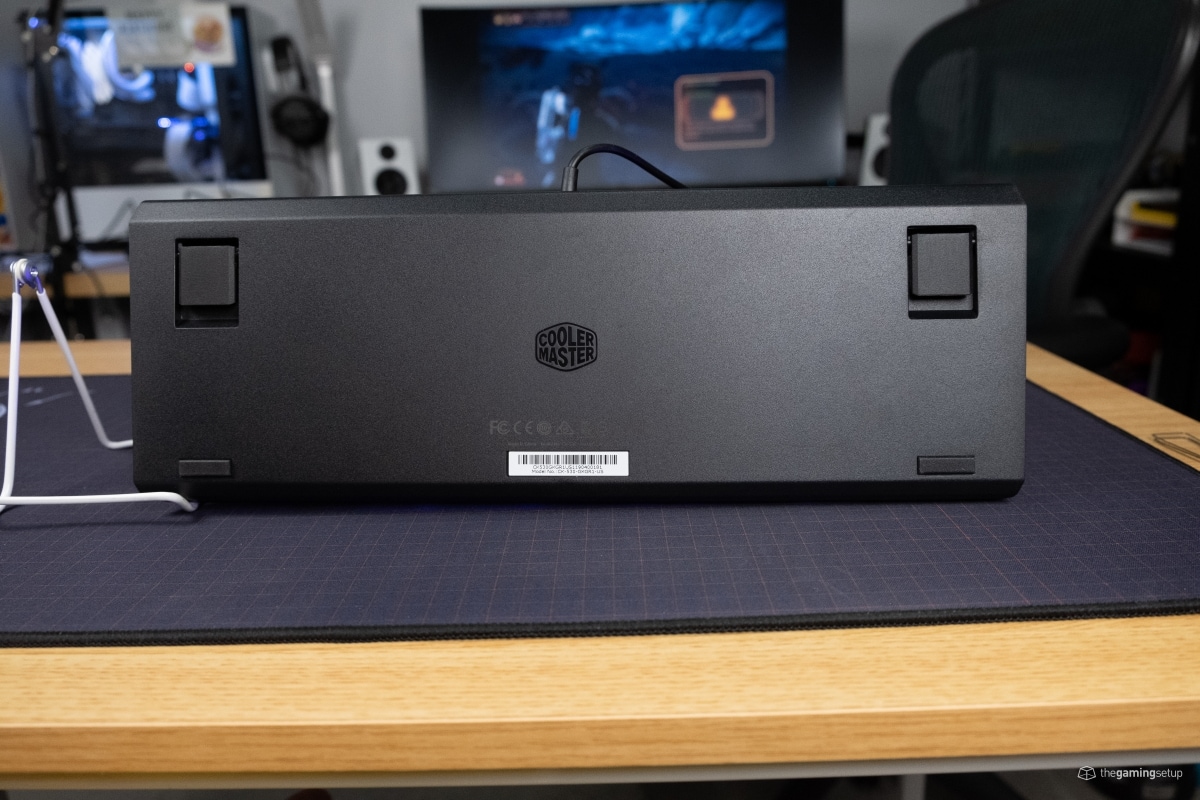 There are two small rubber feet at the bottom of the keyboard, unlike the rubber on the feet, the bottom feet does provide some grip and helps prevent keyboard slippage. Other than that, nothing else to note on the back of the keyboard, no patterns, no cable management, just a single Cooler Master logo.
Cable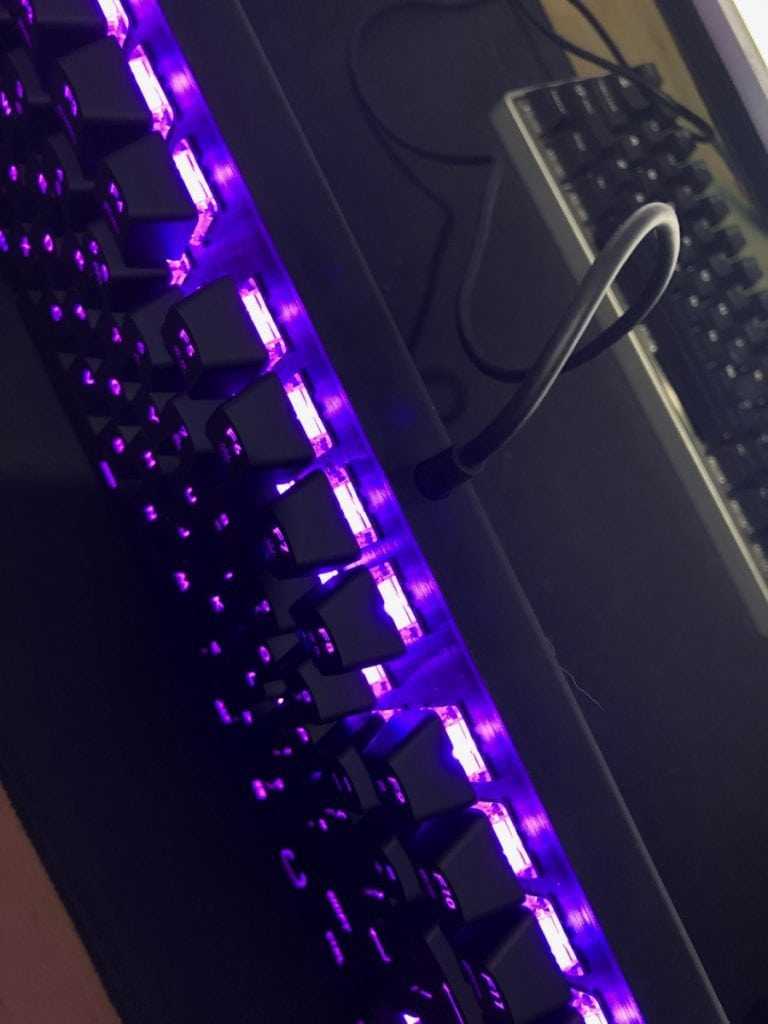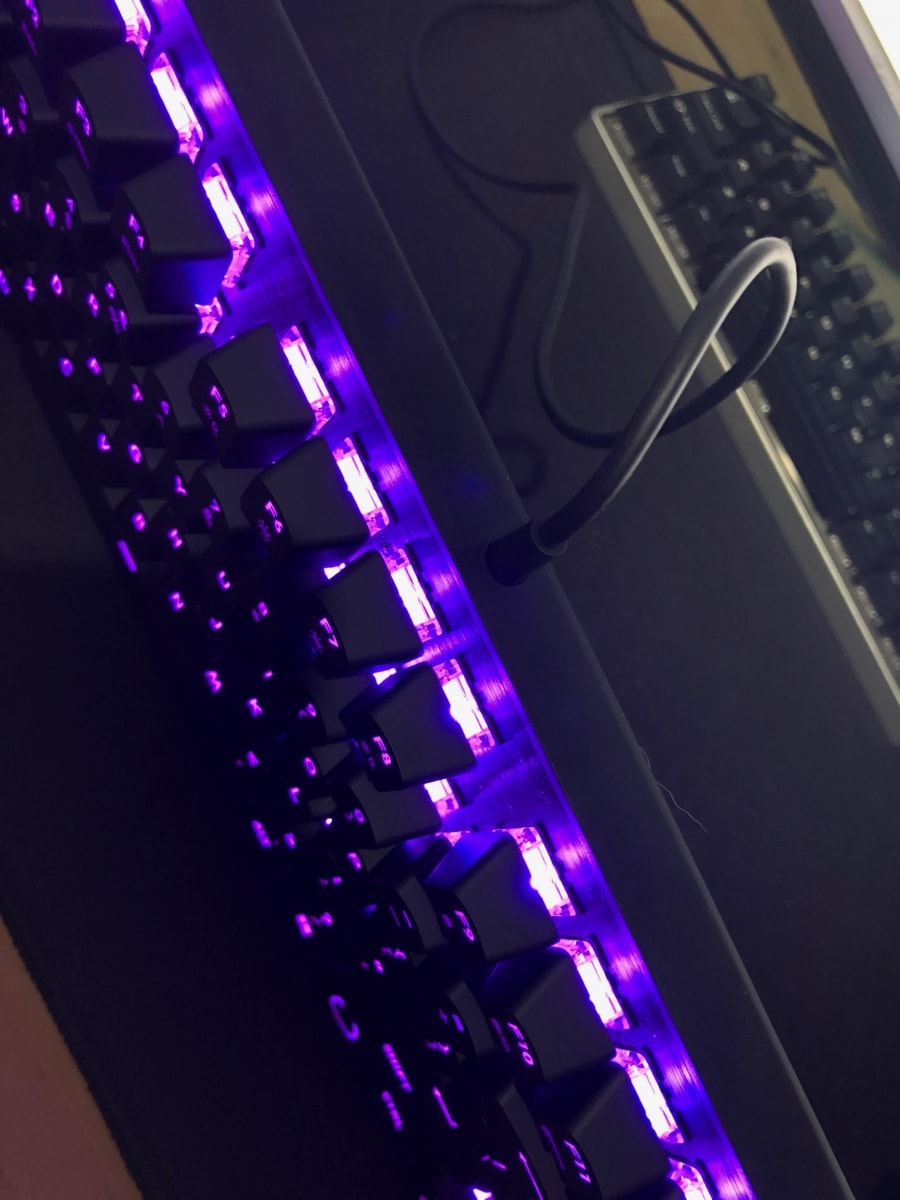 The cable is fixed and attached to the keyboard, no detachable options. The cable is soft and rubberized and is flexible and not too thick, otherwise nothing here to note.
Keycaps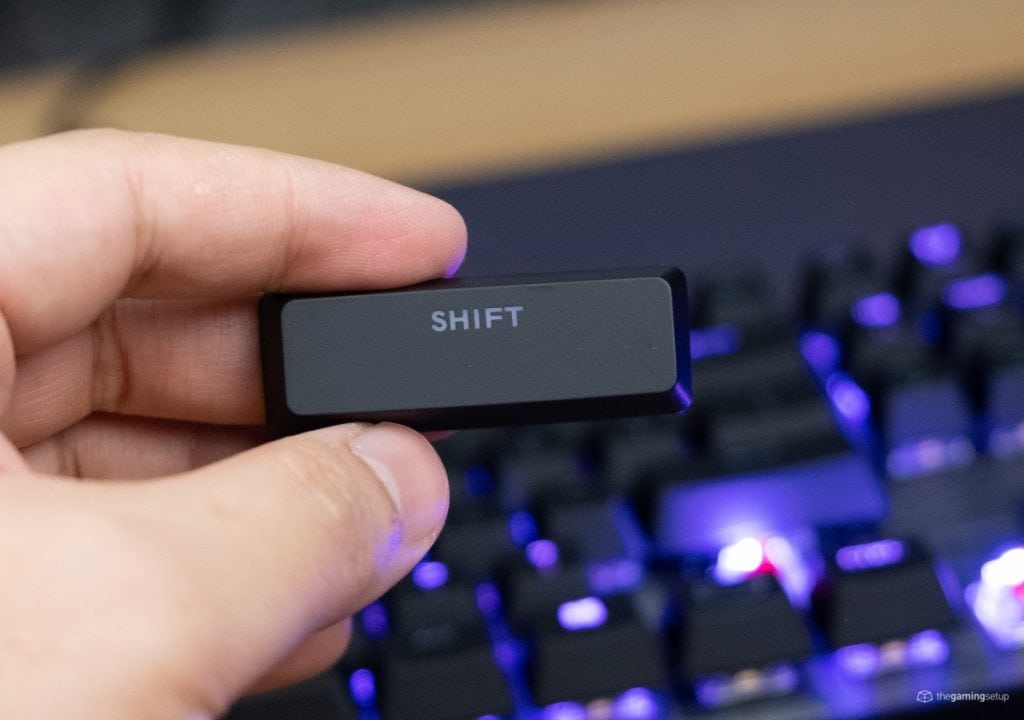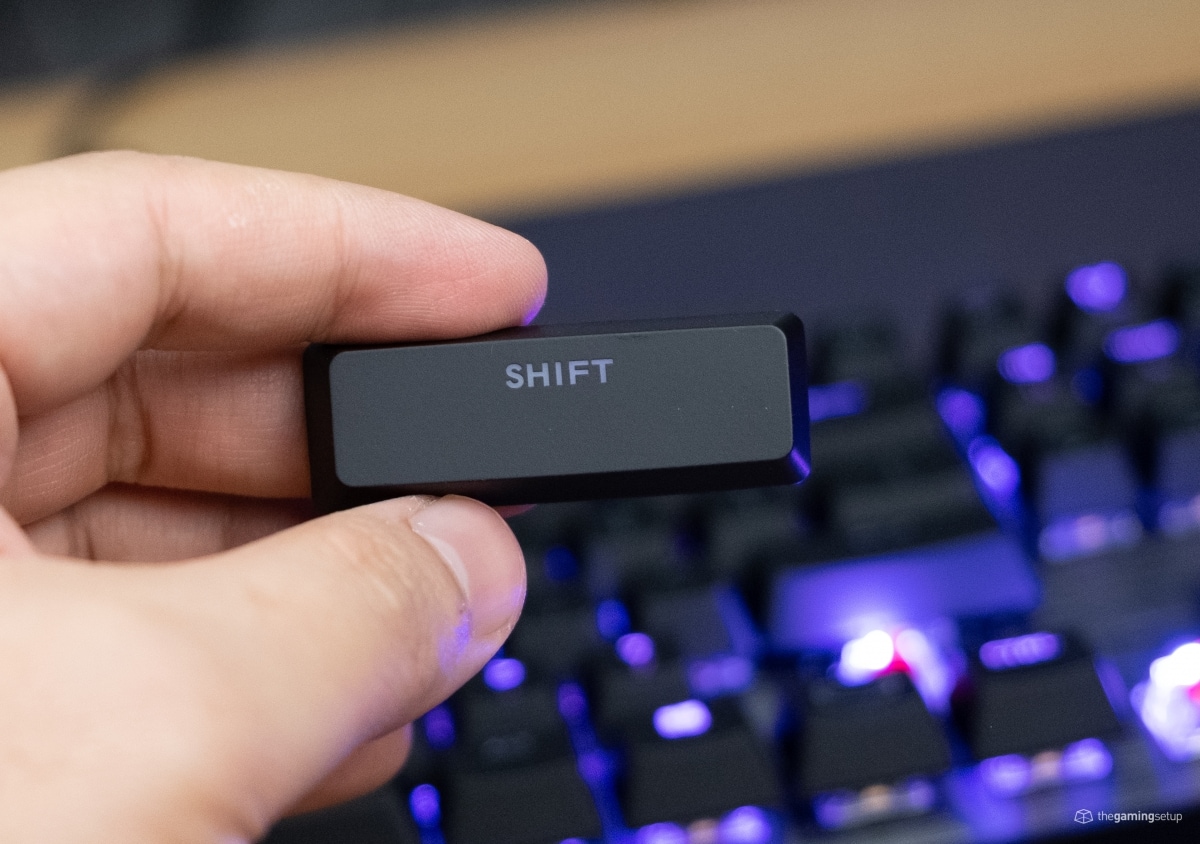 The Cooler Master CK530 comes with what almost seems like an industry standard thin, painted and laser-etched ABS plastic key cap. The thin ABS is more reasonable considering that the Cooler Master CK530 is more of a budget keyboard, but it's still kind of a bummer to type on these.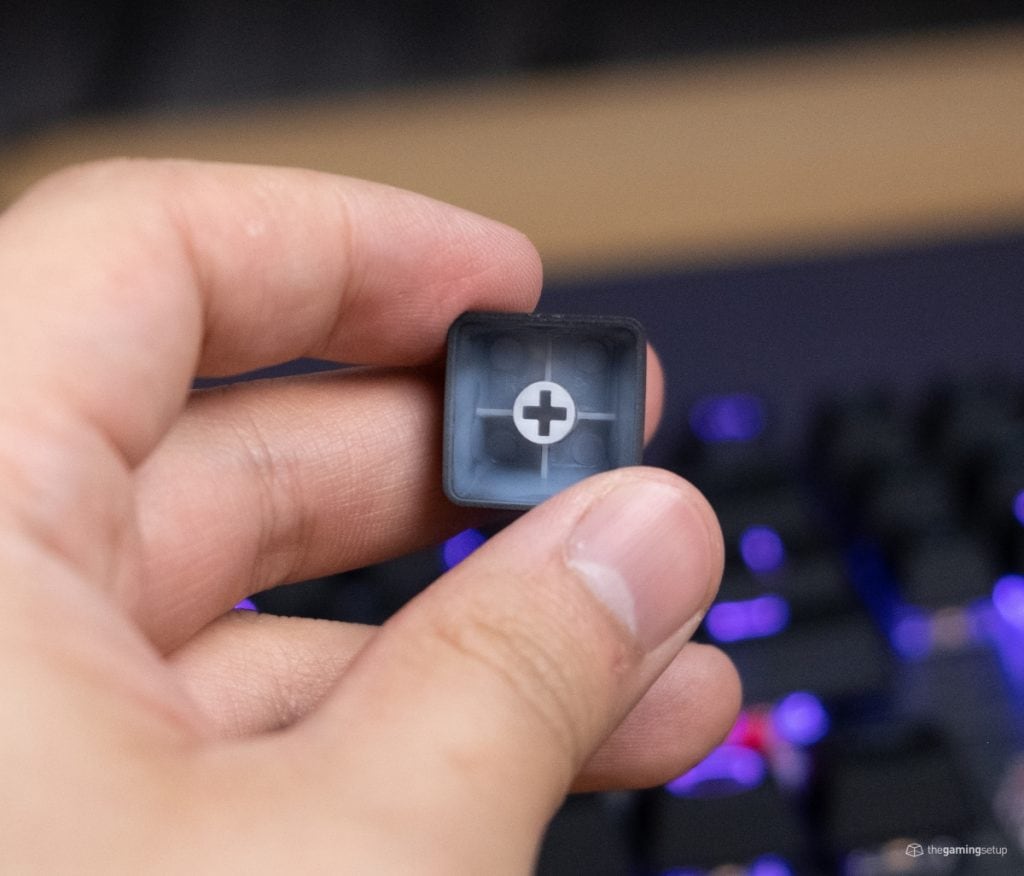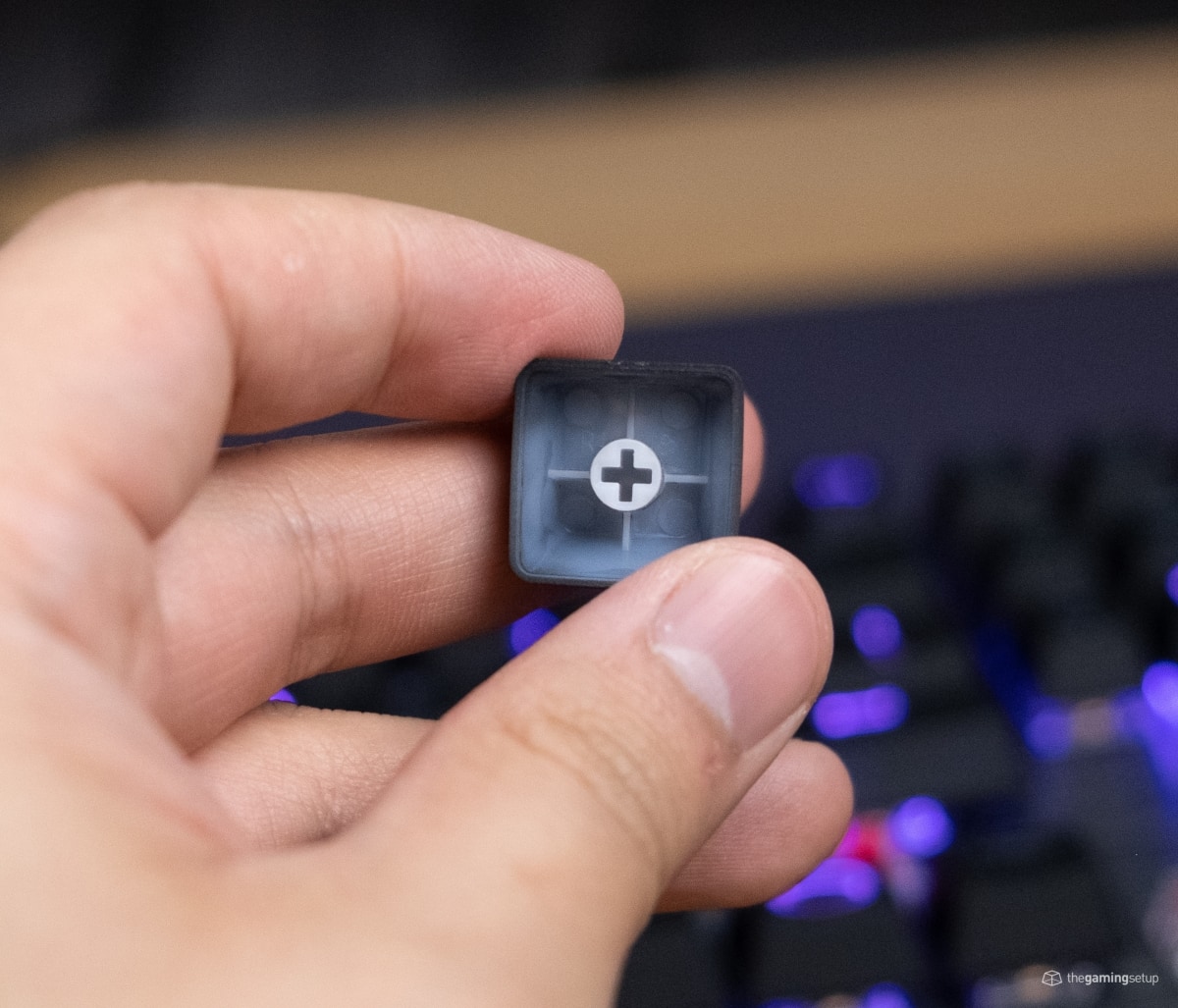 The laser etching allows light to shine through the legends to create the backlit effect on the keyboard. In a nice surprise, the sub-legends are also shine-through, but they're not evenly lit since the LED sits above the switch.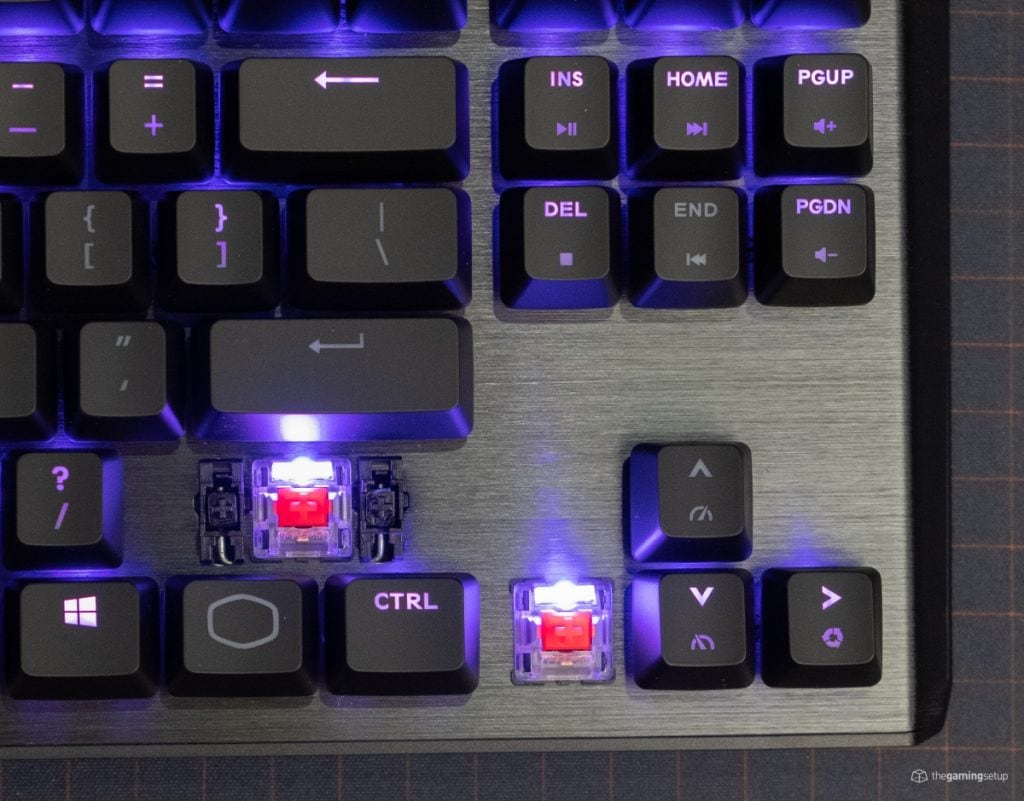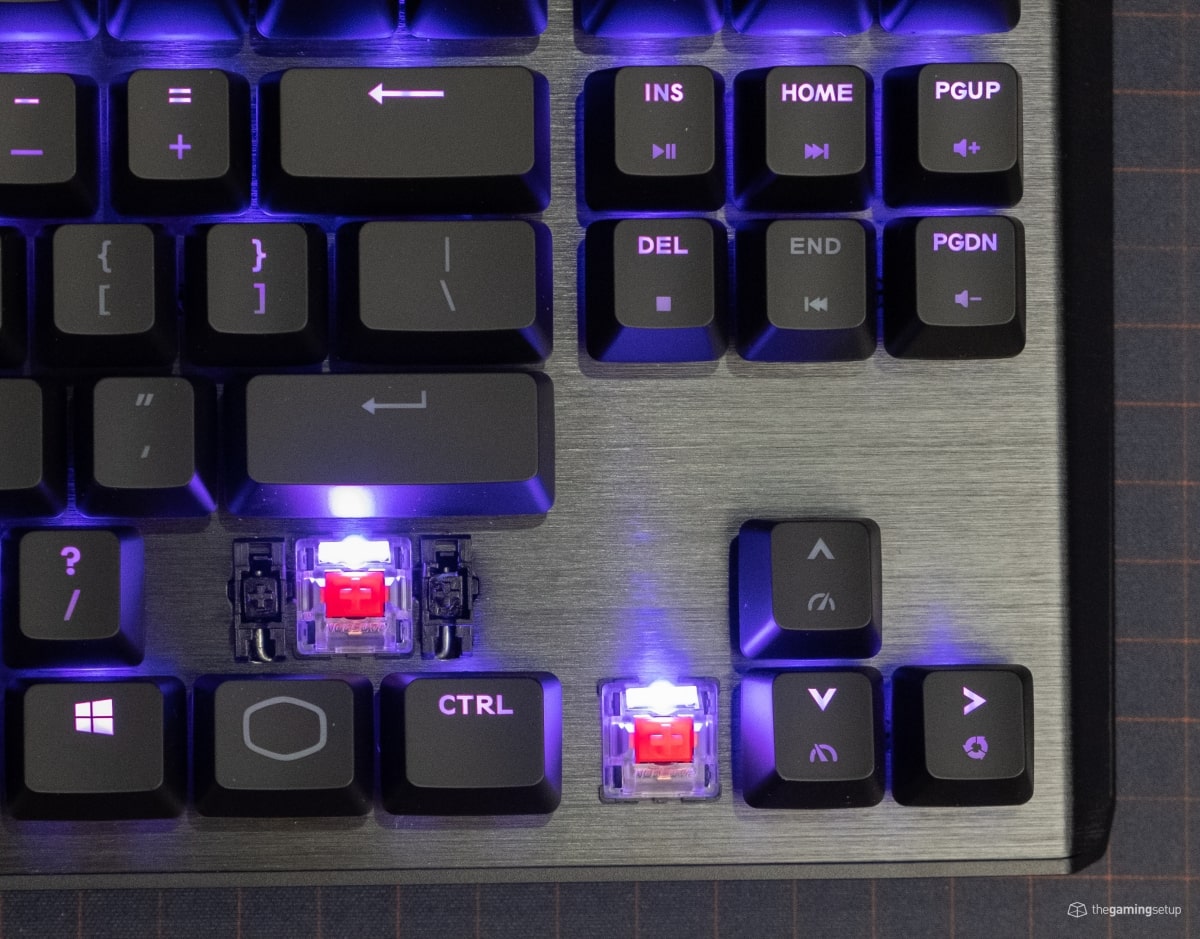 Cooler Master has always used a standard bottom row and that is still the case for the CK series, so if you do want to upgrade the ABS plastic caps, have full confidence that all sets will be compatible with this keyboard.
Features & Software
Cooler Master throws in a wire key cap puller which is much appreciated, I wasn't expect many extras like wrist rests or extra caps at this price point so anything included is nice. The Cooler Master CK series is customized through Cooler Master's software named Portal, you can download the latest version on the Cooler Master website. All of the functionality here is the exact same as covered in the Cooler Master SK630 review. Portal allows you to set RGB modes, set up macro actions, remap keys and store up to 4 profiles.
Warranty and Reliability
Cooler Master has a 2 year warranty on the CK530 according to their product page.
Value & Conclusion
I'm not sure there's room for a budget brand name keyboard in 2019, the immense value you can get from an overseas manufacturer makes it hard to justify recommending the Cooler Master CK series, you can get the same amount of bang for your buck or more with some of our options in our Best Cheap Gaming Keyboard post. Something like the Qisan Magicforce or the Kumara K552 give similar or better typing experiences for less money.
I can think of two reasons for choosing a CK series keyboard over the above cheaper options, you want reliable software to program your keyboard or you want the peace of mind of a 2 year warranty. In those cases, the Cooler Master is a serviceable keyboard.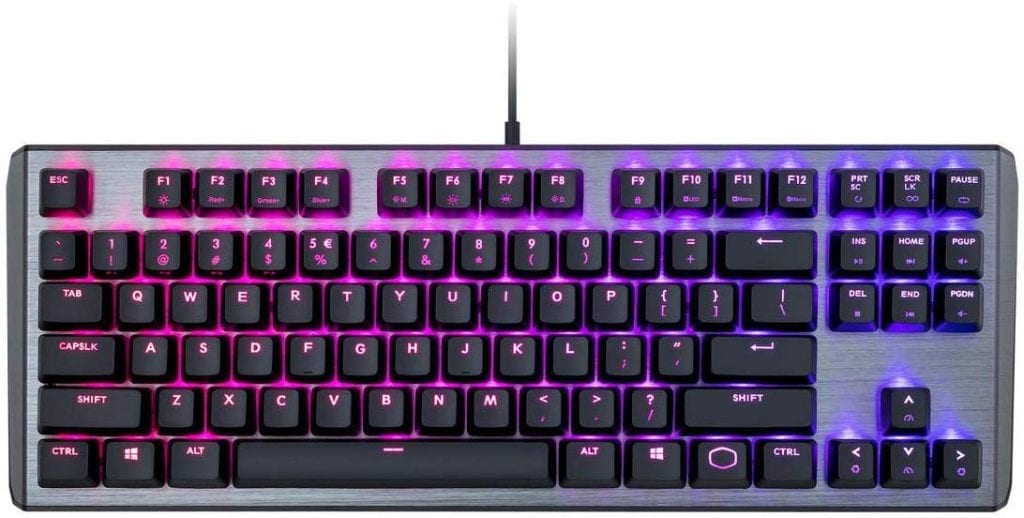 A supbar budget line from Cooler Master that doesn't compete on value with overseas manufacturers.
See Price on Amazon
Tech Specs
Cooler Master CK530/CK550 Dimensions
Width: 38.0 cm (CK530) | 46.0cm (CK550)
Length: 13.5 cm  (same for both)
Height: 4.0 cm (with caps)
Case: Brushed aluminum top
Weight:  749 grams (CK530) | 850 grams (CK550)
Keys: 87 TKL size | 104  Full-size
Cable Length: 1.8m, rubber, connected
Keys & switches
Switch options: Gateron Red, Brown and Blue
Keycap material: ABS
Keycap legends: Laser Etched
Keycap profile: OEM Profile
Media keys: Through fn layer
Backlight: Full RGB
Software: Cooler Master Portal
Polling rate: 1000 hz