The JBL 104-BT upgrades the standard JBL Series One 104 with Bluetooth connectivity.
These speakers deliver what they promise, a clear, analytical, studio sound that produces good spatial sound. If you're coming from a run of the mill desktop speaker, you will definitely notice an upgrade in clarity and soundstage.
The 104-BT are self powered, so swapping a desktop speaker set up for the JBL speakers is a matter of plug and play, no amps required.
If you have a budget and you're looking to upgrade your basic 2.0 desktop speakers to something with a little more HiFi, this is a good bet, as long as you don't need a lot of bass.
Pros
Very good clarity and imaging
Crisp and detailed highs
Affordable
Lots of connectivity options
Cons
Almost no bass
Weak mids
Not enough volume for a room setup
In the Box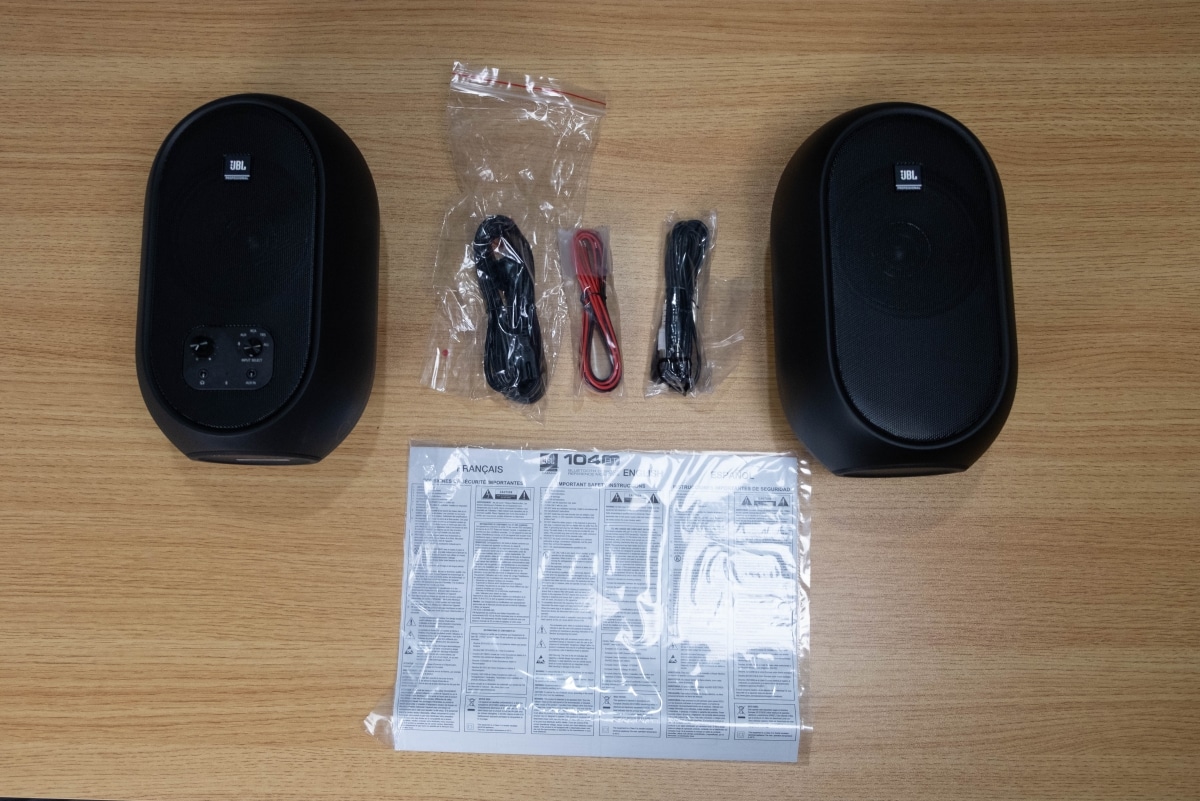 Here's everything that comes with the JBL 104-BT:
Instruction manual
Master and slave speakers
3.5 mm to RCA cable
Red and black speaker wire
Power cable
Design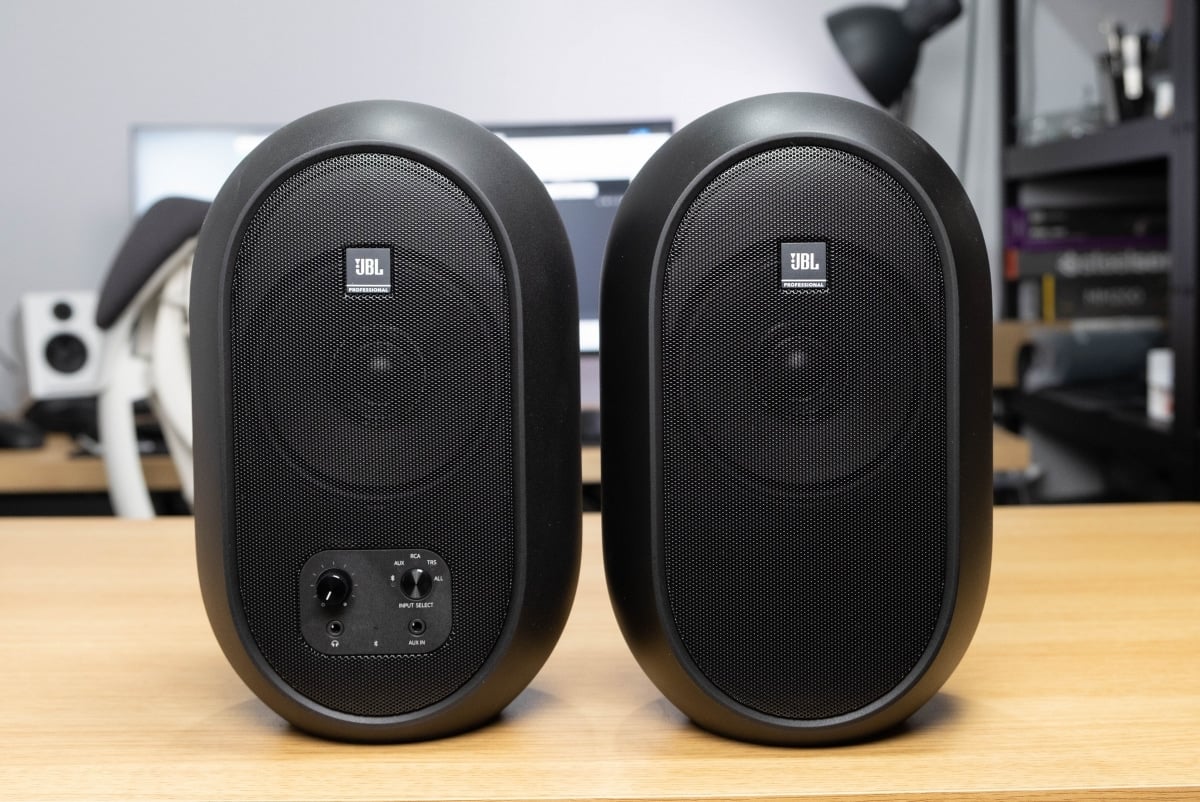 The JBL 104-BT have a minimalistic design, the speakers are simple with an ABS plastic enclosure with a non-removable metal front grill. The speakers come in both black and white, its pill shape is attractive and shouldn't have any issue fitting in with most environments.
The speakers are small, measuring in at 24.7 cm in height, 15.3 cm in with and 12.4 deep. The master speaker weighs 4.54 lbs and the slave speaker weights 3.81 lbs.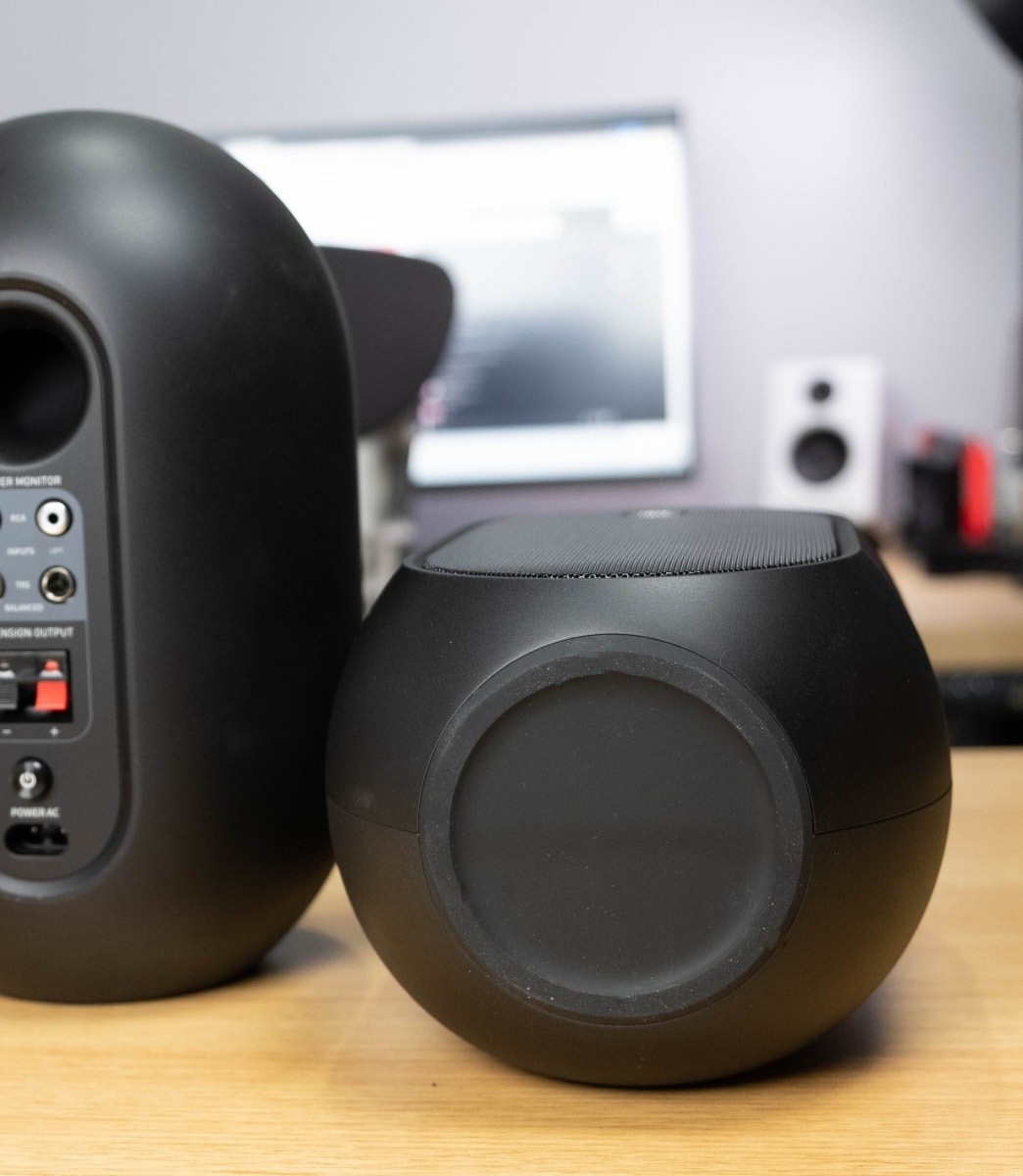 The bottom of the feet are comprised of rubber. They do a good job of padding and stabilizing the speaker to prevent vibrations. There's no way to angle the speakers, so if your speakers are sitting at seated level, it's suboptimal.
Specs & I/O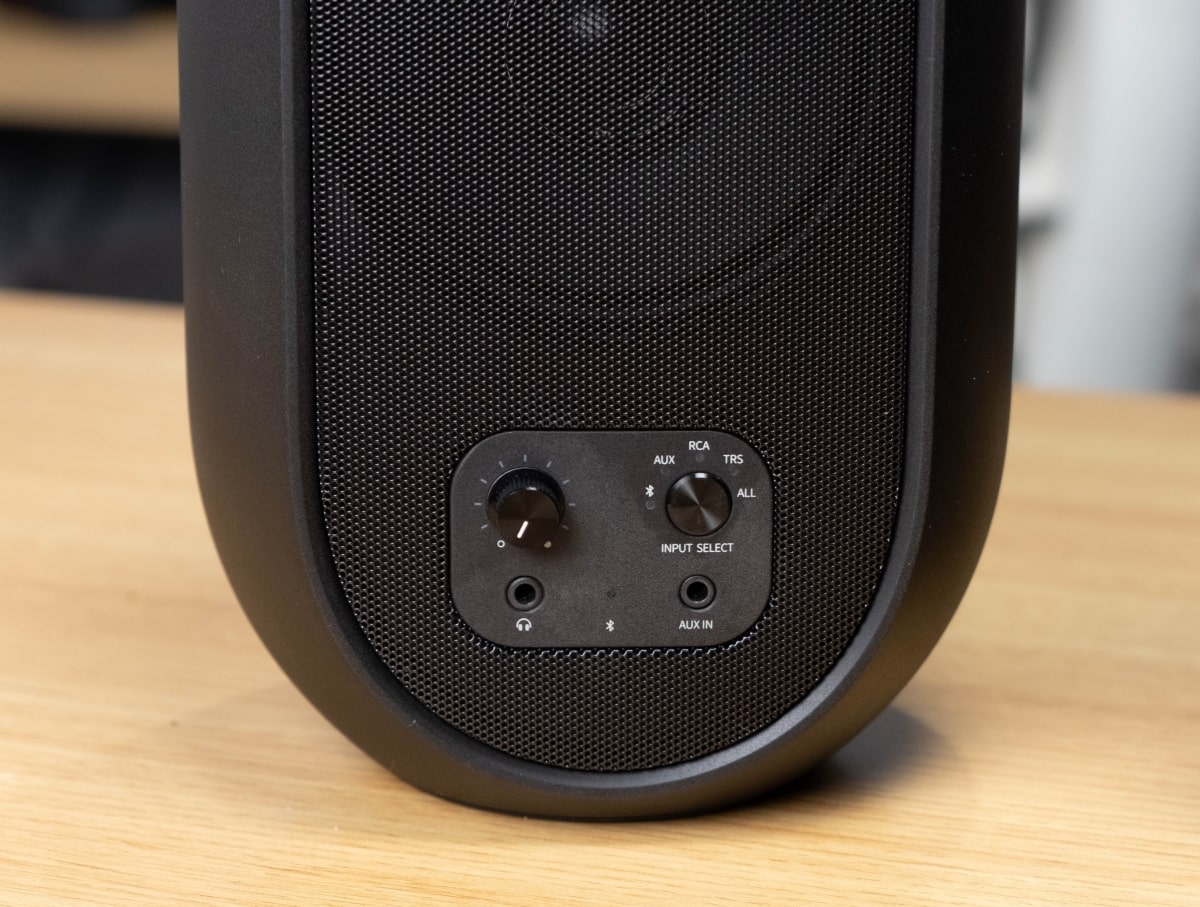 The JBL 104-BTs are a revised version of the JBL 104, adding Bluetooth connectivity to the mix. Aside from the blueooth addition, it seems like the BTs use the same sound hardware. The JBL 104-BTs pack coaxial 4.5 inch drivers with .75 inch soft-dome tweeters. These speakers are self-powered with each speaker rated to 30 watts.
Connectivity is the name of the game with these speakers, the JBL 104-BTs allow you connect with:
3.5mm to RCA
RCA
TRS
Auxiliary 3.5 mm
And of course, Bluetooth
All sources can be connected at once, there's a button and LED cluster that allows you to choose between audio sources, or have the speakers auto-detect source. The speakers do have a sleep function, I'm finding it slightly annoying having to press the input select button to wake the speakers.
The metal volume dial on the front is illuminated by an LED ring, the dial itself is notched with distinct steps.
Rounding out the front panel, the JBL 104-BT sports a 3.5 mm headphone jack and a 3.5 mm aux port. When headphones are plugged in audio from the speakers stop playing.
On the back, you have the option to connect RCA and TRS connections. The 104-BTs have the plastic clip style connectors to connect the headphones. Rounding out the back is a power button and power cable connection.
Sound
The 104-BT definitely delivers on what marketing promised, a high accuracy studio monitor meant for audio work. If you're looking for a laid back and comforting listen, these aren't for you. The 104-BT are meant for analytical listening and they excel at that.
The 104-BT has good detail and clarity in the highs. The treble is crisp and detailed, listening to instrumental music, you can can hear detail and separation in individual instruments. I wouldn't consider them too sparkly or sibilant.
The mids are significantly weaker, compared to my Audio Engine A2 or my DT1990, I feel like the 104-BT is missing a lot of the warmth and feel of my other audio devices.
The lows are essentially missing, if you're looking for bass, it's not here in the 104-BT. Hip hop and other bassy music is not particularly enjoyable on these speakers.
The 104-BT are best suited for near-field listening, with the speakers on top of a desk. In a desktop set up, the speakers feel appropriately loud and I don't have to set the volume too high to get an enjoyable listening experience.
The volume is not strong enough to be good for a lounge-y, room filling set-up. I would not recommend using the 104-BTs in a home theatre or bookshelf set up.
Imaging and separation are very good, I'm assuming you can thank the coaxial speaker set up of the 104-BTs. Left, center and right audio are very clearly defined and separated which is a very good thing for gaming. I had very little issue distinguishing footsteps in Modern Warfare for example.
The sound coming out of the headphone port out of the front of the JBL 104-BTs is passable. I appreciate the quality of life of being able to plug in headphones when the need arises. The audio quality I got out of the headphone port was inconsistent. IEMs I tried came off really sibilant and irritating, but some standard headphones sounded fine.
Bluetooth audio quality is good, I couldn't notice any significant drop in audio quality in comparison to a wired source. I appreciate the ability to be able to have a wireless connectivity option, but given the optimal use case of sitting in front of your desk, I wouldn't opt to use these speakers as room audio so there's a bit of a mismatch there.
Conclusion and Recommendations
The JBL 104-BT are way ahead of normal computer speakers at a pretty competitive price.
In a weird way, the JBL 104-BT is pretty good for gamers, a near-field desktop setup that requires great imaging is ideal for a competitive gamer needing to pick up spatial sound and audio queues. For gamers looking for an immersive feel, these speakers will have a tough going giving you that experience.
From a music listening standpoint, the speakers are only really going to excel at music that lives in the higher registers.
The JBL 104-BT could be a useful set of speakers to have if you're producing audio, the coaxial speaker set up does a good job of exposing any bad recordings or mastering due to its clarity.
If you're looking for a speaker with a small foot print and need clarity and a flat sound curve, the JBL 104-BT is a good choice.
Review unit provided by JBL