The AKG K371-BT is the best sounding wireless headphones at its price range.
AKG has done a stellar job of not messing with a good thing, taking the AKG K371 and adding bluetooth connectivity with 40 hour battery life without affecting acoustics, weight or comfort.
The K371-BT are closed-back headphones with a studio-focused neutral sound, the K371 is often compared to other closed-back headphones like the ATH M50X and DT770, with the K371 generally winning in those comparisons.
Fortunately, the acoustic experience doesn't change in its transition to wireless, the K371-BT are still excellent sounding.
While the K371-BT provide a great listening experience, for gaming they might fall a little short depending on usage, the wireless audio latency might be a problem for some and the microphone quality is pretty supbar for comms.
Amazing entry level wireless
Pros
Accurate neutral sound
40 hour battery life
Comfortable and light fit
Wireless or wired mode
Good isolation
Cons
Audio latency might be an issue, NO APT-X codec
Low microphone quality
Micro USB connection
There's a slight lack in the trebles
In the Box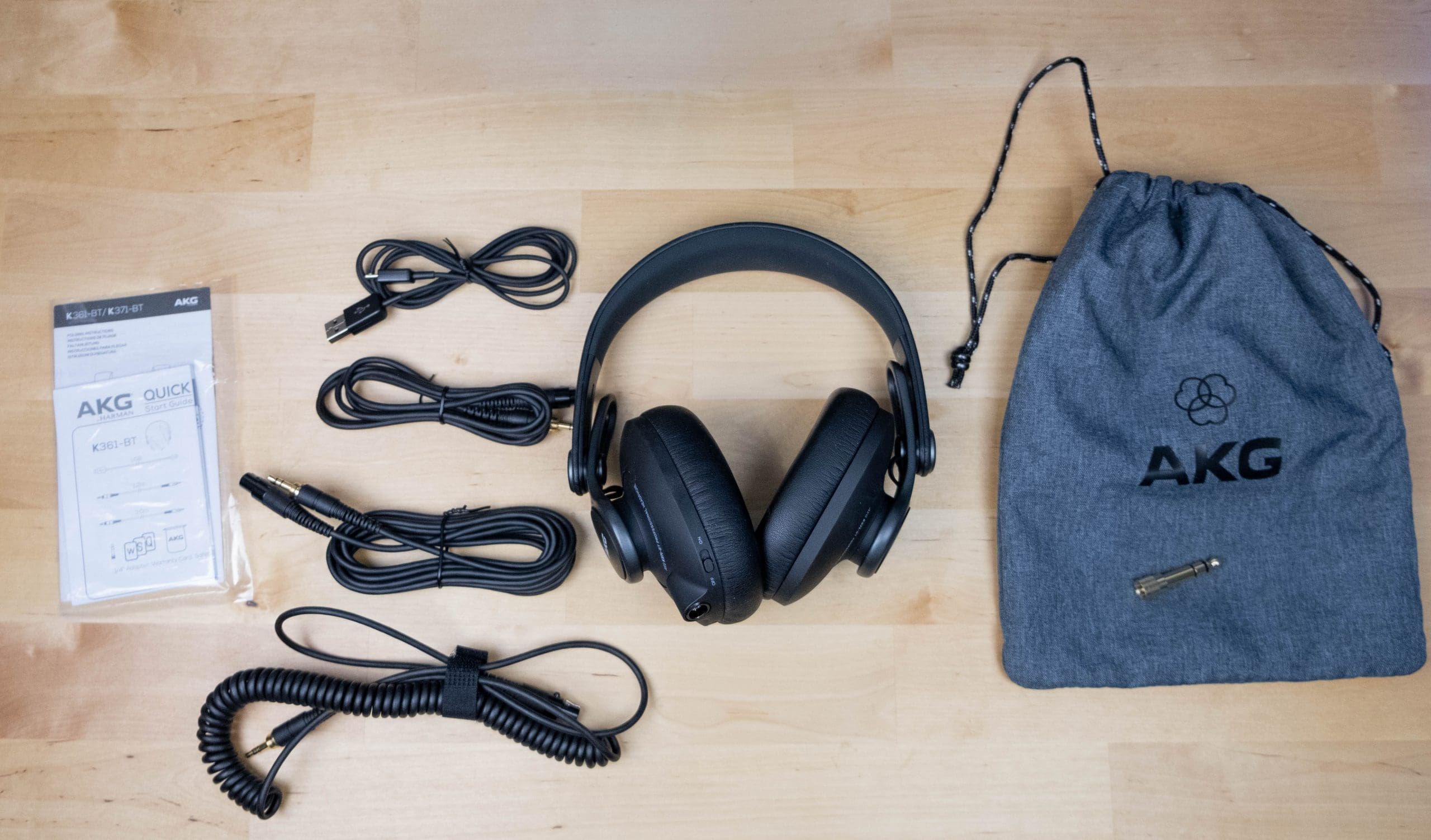 The K371-BT comes with a handful of accessories:
Instruction manual
Coiled 3m 1/8″ TRS to 3.5 mm
Straight 3m 1/8″ TRS to 3.5 mm
Straight 1.2m 1/8″ TRS to 3.5 mm
3.5 mm to 6.5 mm adapter
Micro USB to USB-A charging cable
AKG branded carrying pouch
Design, Materials & Build Quality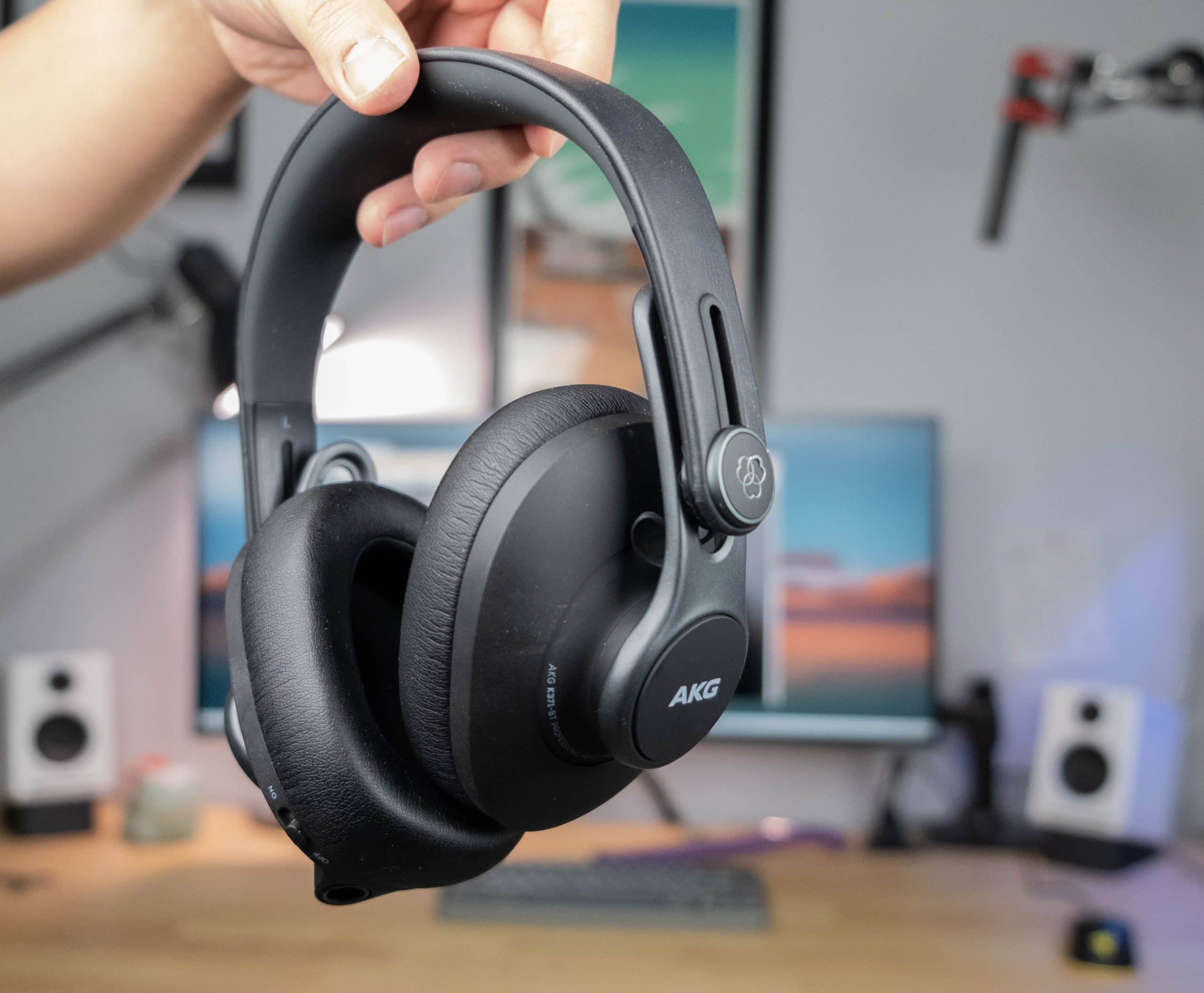 The AKG K371-BT is a largely made of synthetic materials, with plastic and pleather making up most of the composition of the headphone.
The headphones sport a classic AKG slider design, with notches instead of an elastic to hold the size of the headphone in place. The slider piece that is connected to the earcups is made of metal. The earcups themselves are made of plastic and house the touch controls on the AKG logo on the left side.
The touch controls are intuitive and easy to access on the left AKG logo:
double tap to play/pause
swipe up to increase volume
swipe down to decrease volume
swipe forward to front of face to skip ahead
swipe backward to back of head to go to previous track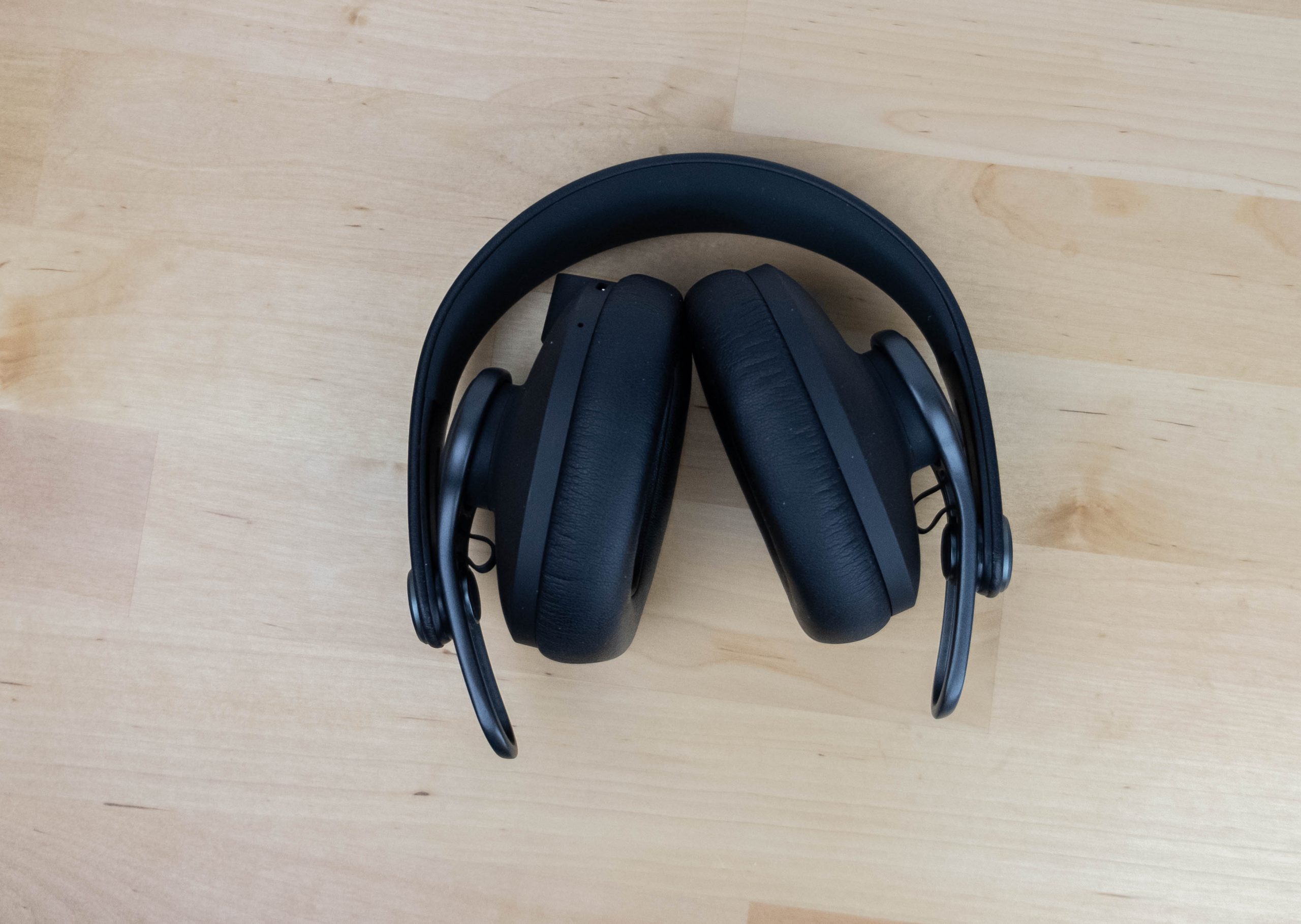 The K371-BT cups fold inward for a more compact profile allowing for easier stowage.
These headphones feel sturdy and at its price they're a good candidate to be your travel, commute workhorse headphones.
Connectivity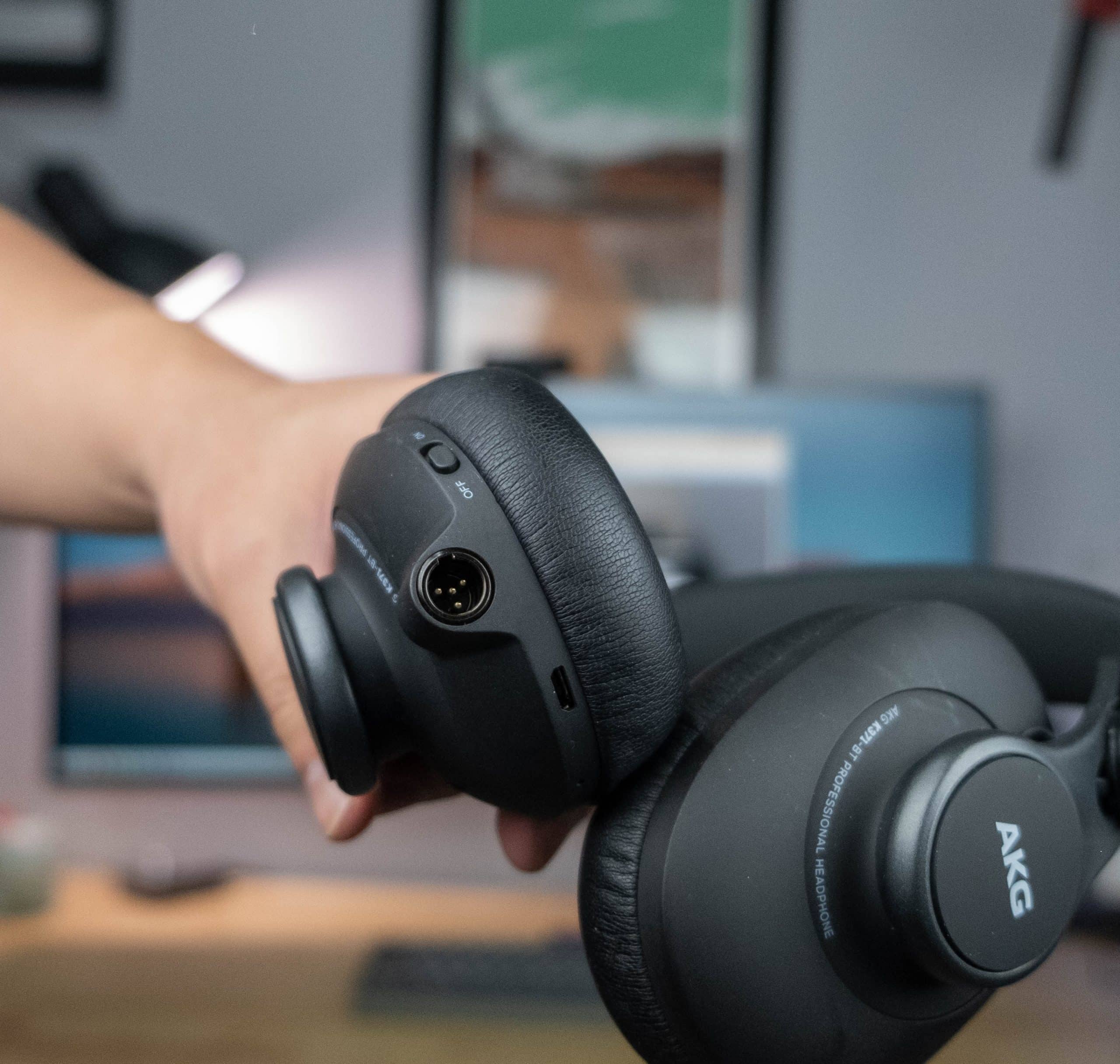 As the name implies, the K371-BT has bluetooth connectivity. It looks like they can only connect to a single device at a time. I'm not exactly sure how to put these headphones in pairing mode, the quick start guide and manual don't show how to connect to another device other than forgetting on an existing device and connecting to a new one.
The headphones connect via bluetooth with support for SBC and AAC codecs, the audio quality is excellent in wireless mode, SBC and AAC have plenty of bandwidth to produce good audio for audio streaming, gaming and online consumption in general.
Some gamers might have issues with audio latency, I didn't notice any significant issues in games like Dota 2 or Modern Warfare. This is where aptX codec support would've been useful to insure low latency audio.
Battery life sits at 40 hours, the headphones auto shut off when no audio is being played, I often forgot to turn off the headphones and did not notice any battery drain because of it. The headphones charge via a micro-USB port, would've loved to see a USB-C port here in 2020.
If you're worried about bluetooth audio quality, latency or reliability, AKG has designed the headphones to work in wired mode, including 3 TRS to 3.5 mm cables for you to use at your disposal
Lastly, there is a small LED indicator next to the power switch to show status on the headphones.
Sound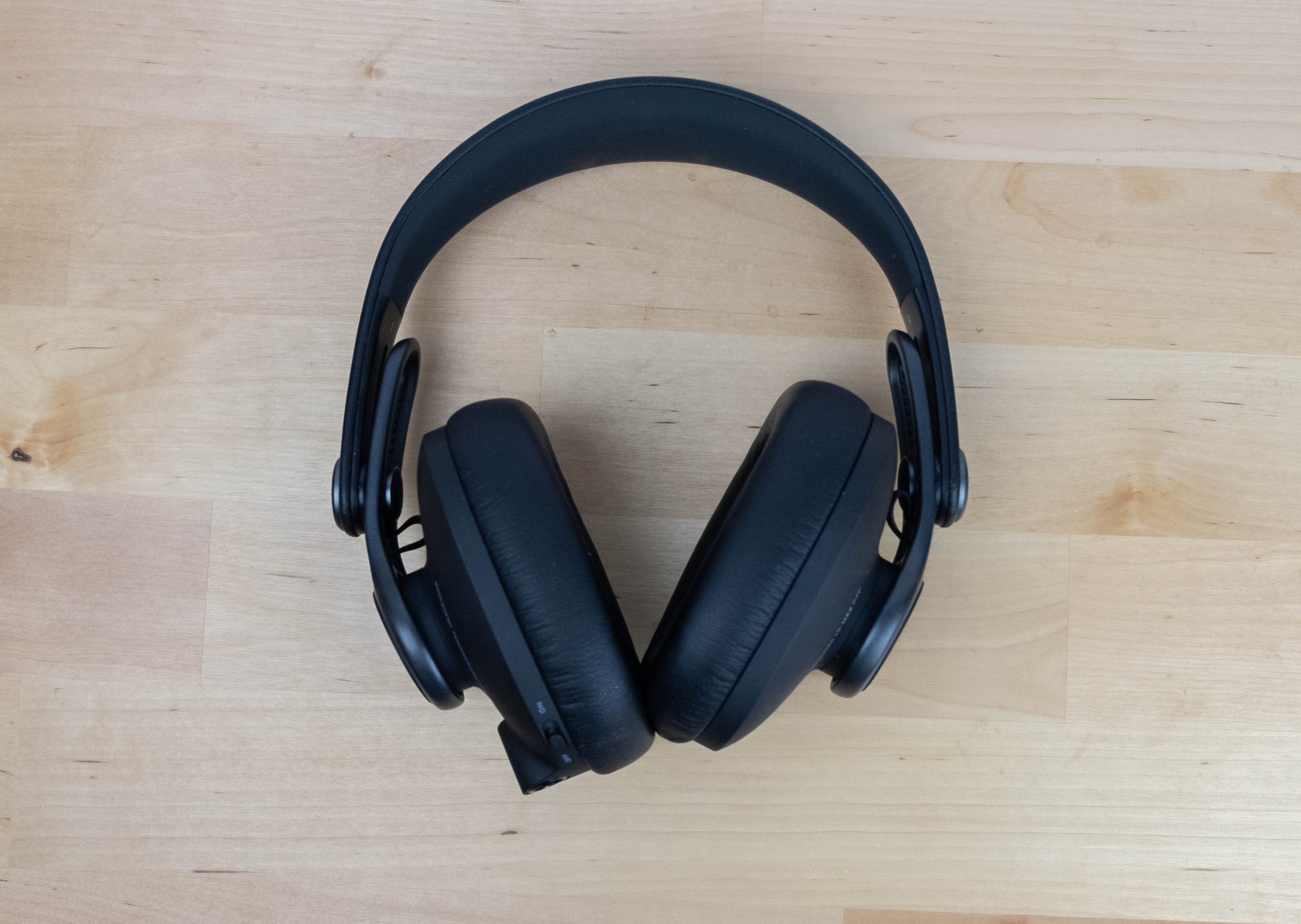 Wired or wireless, the AKG K371-BT deliver a detailed and accurate neutral sound. The headphones are louder in an amped wired setup, but the peak volume through wireless is plenty for most use cases.
The K371-BT excel as studio headphones, their flat and accurate frequency response across lows and mids make it an ideal wireless headphone for editing sound.
The bass is pleasant, with a good rumble in the low end, the mid-bass is less pronounced, these headphones don't intend to knock your socks off with bass, they deliver clear bass without crushing vocals or tones in the midrange. If you're looking for more fun in the low-end, you might want to skip these, they're meant for clarity.
Midrange frequencies are accurate and detailed on the K371-BT, they're benefited by the fact that the bass is controlled, allowing for mid-tones to come through cleanly.
The high-end treble avoids any sibilance issues, AKG doesn't rely on treble much to add crispy detail, they're fairly average in the high-ranges, if you care a lot about sparkly, bright treble then these cans might not be for you.
Being a closed-back headphone, don't expect these headphones to provide huge airy soundstages. That being said, the soundstage is very reasonable for closed headphones, but don't expect them to compete with open headphones.
There have been reported issues with channel balance on the AKG K371, I haven't noticed any balance issues on the BTs, but something to watch out for, having poor balance is extra detrimental for imaging and location spotting for gamers.
Gaming on these headphones is a neutral experience for lack of a better word, enhanced trebles are generally useful for hearing footsteps in shooters, while bigger bass is nice for immersiveness. Having a V-shaped sound signature can over emphasize certain sound effects, so a neutral sounding headphone like the K371-BT affords a certain level of flexibility in the games it's suitable for.
The noise floor is low, I'm not able to hear any audible hum or hiss when there's no audio playing.
The clamp force on these headphones is rather low in my big-headed experience, the lightweight and light clamp make for an average level of isolation, there are better headphones options if you're looking to shut the outside world out.
Wireless Latency
The main initial concerns I had with these headphones was its lack of aptX or LDAC codec support, it could introduce unwanted audio latency into the mix, which can prove detrimental to the gaming experience. So far, in playing shooters and watching some Netflix, I have noticed no issues with audio latency, lips and gunshots are synced alike.
Microphone
The microphone is functional, but barely passable if you need clear comms in-game. The K371-BT sports an embedded pin-hole microphone next to the micro-USB port on the headphones, the microphone does a good job of picking up voice, but the audio quality of the microphone definitely lacks in clarity. Below are some samples of the headset mic compared to the microphones I had on hand.
K371-BT microphone test
Rode VideoMic NTG
Blue Yeti USB Microphone
Logitech C920 Webcam
Comfort and Fit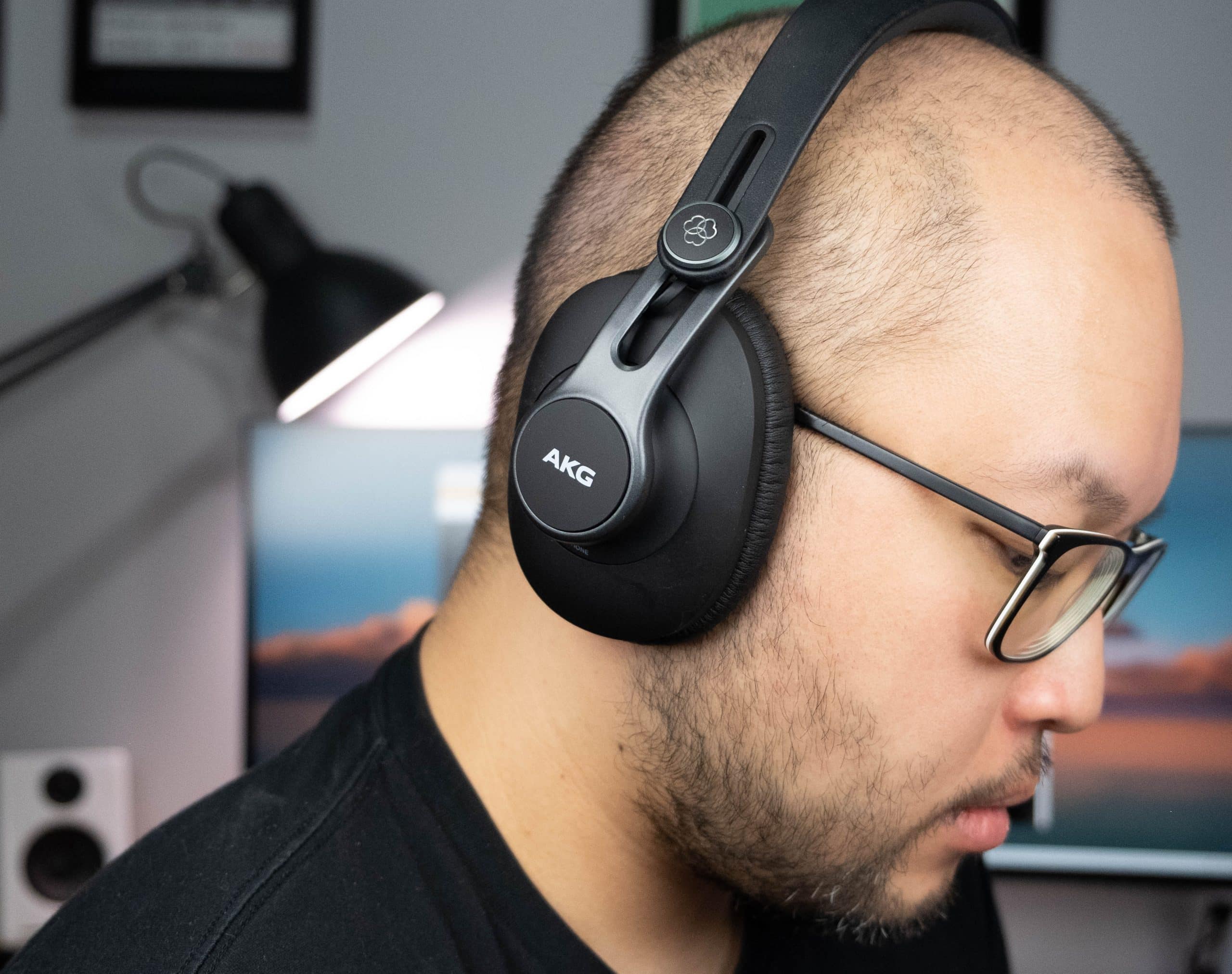 I have a big head (62-63 cm around), and wear glasses full time, so comfort with headphones for me is sometimes an issue. The K371-BT fit me just fine, out of the box they're light on the clamp force, in combination with the lightweight at 300 grams, I'm not really feeling any sore spots on my head.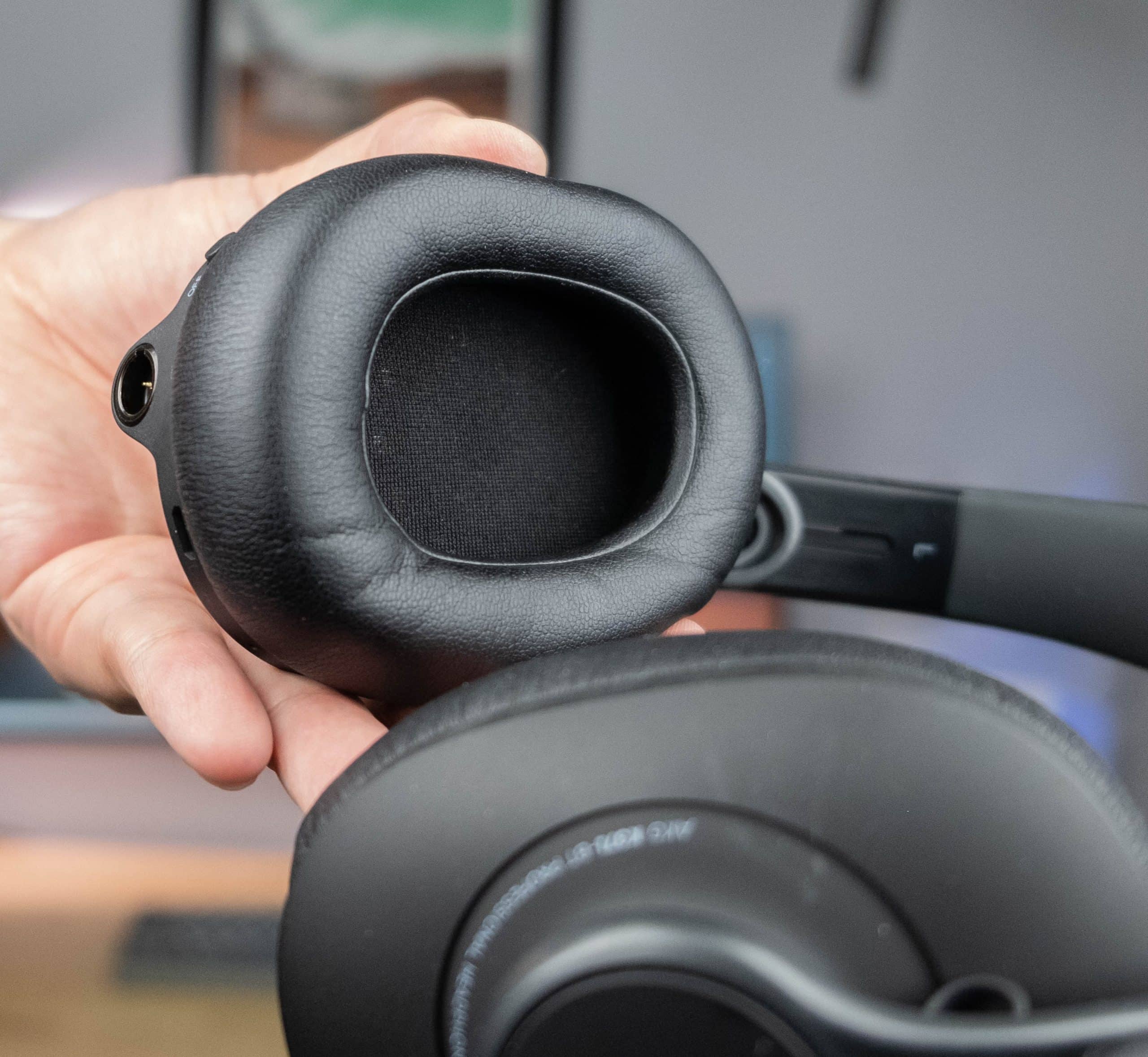 AKG has elected to use a medium-sized oval earcup for these headphones, I have above-average sized ears and don't have any issues fitting over my ears with the K371-BT. The earcup depth is shallow, the tops of my ears hit the inside padding. The cups are made of a soft pleather material, very comfortable on the head. Over time, heat accumulates in these headphones in my experience, this is not too surprising for closed-back headphones, by the end of a 2 hour gaming session I was sweating from the ears, full disclaimer, I am a sweatier gamer in general.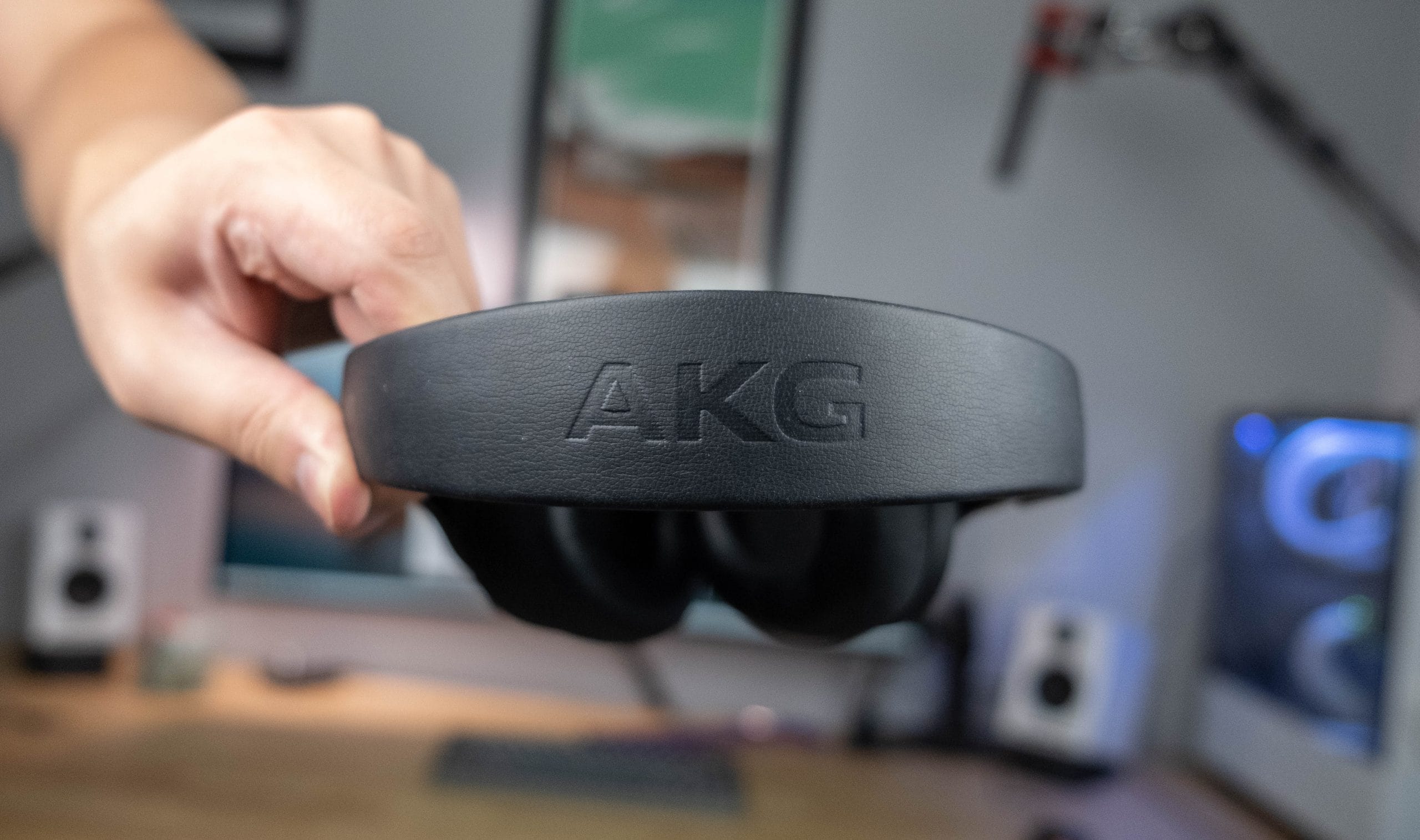 The headphone band is well padded, I have a bit of a pointier head at the top and the headband did not introduce any discomfort or heat at that point.
Conclusion and Recommendations
If you're looking for neutral sounding wireless headphones then this is it, there's nothing in this price range that contests the AKG K371-BT.
For gaming specifically, the headphones have some shortcomings, I'd advocate for an open headphone for a wider soundstage representation in gaming. The microphone is also rather anemic and substandard for streaming and communication in multiplayer games.
For music listening and gaming sounds, the AKG731-BT in wireless mode are great, the headphones are light and comfortable, easily holding up to longer gaming sessions.
Review unit provided by AKG
Amazing entry level wireless