The Roccat Kone Pure Owl Eye is a unique ergonomic mouse for medium size hands. The shape is not for everyone, it has really strong grooves for fingers making it an unsafe shape for some but a really comfortable shape for others. Aside from the shape, the KPOE has solid characteristics in all other dimensions, solid buttons, flawless sensor and good build quality.
This is definitely a good mouse, but you have to try the shape to see if its right for you.
Pros
One of the best scroll wheels in the market
Low price
Good weight at 88 grams
Solid build quality
Good primary buttons
Flawless sensor
Good software and customization
If the shape works, it works really well
Cons
Unsafe shape, it isn't for everyone
Lots of mouse branding
Okay side buttons, don't like the gap between buttons
No public warranty information
Tech Specs
Roccat Kone Pure Owl Eye Dimensions
Length: 11.5 cm
Width:7 cm
Height: 3.9 cm
Weight: 88 grams
Shape: Ergonomic
Cable Length: 2 metres, standard braided cable
Tech
Sensor: Owl Eye Sensor (PMW 3361)
Buttons: Omron
Polling Rates (Hz): 125/ 250/ 500/ 1000
DPI: 100 – 12000, 5 profiles
Buttons: 5 +2 DPI switcher
Software: Roccat Swarm Software
RGB: 1 zone, 4 modes
Connectivity: Wired
Shape, Weight & Design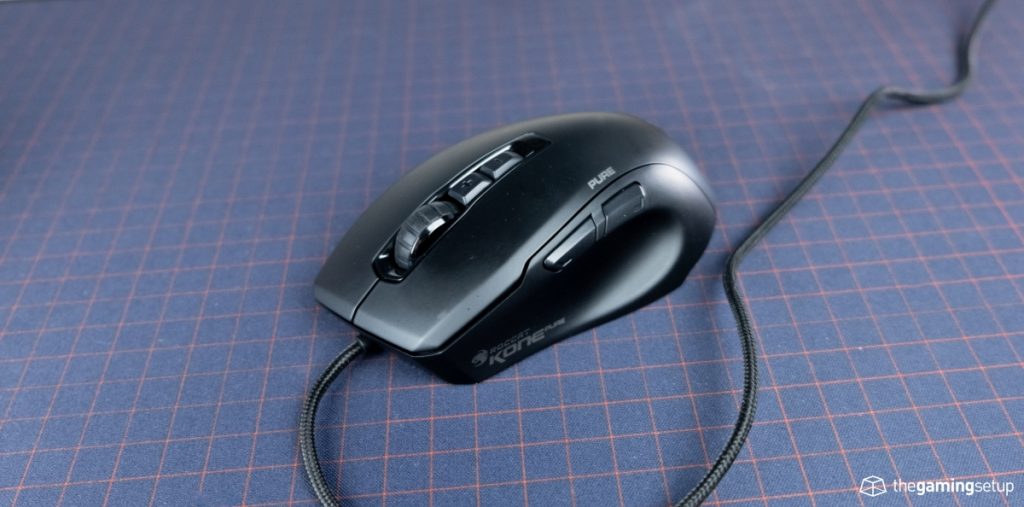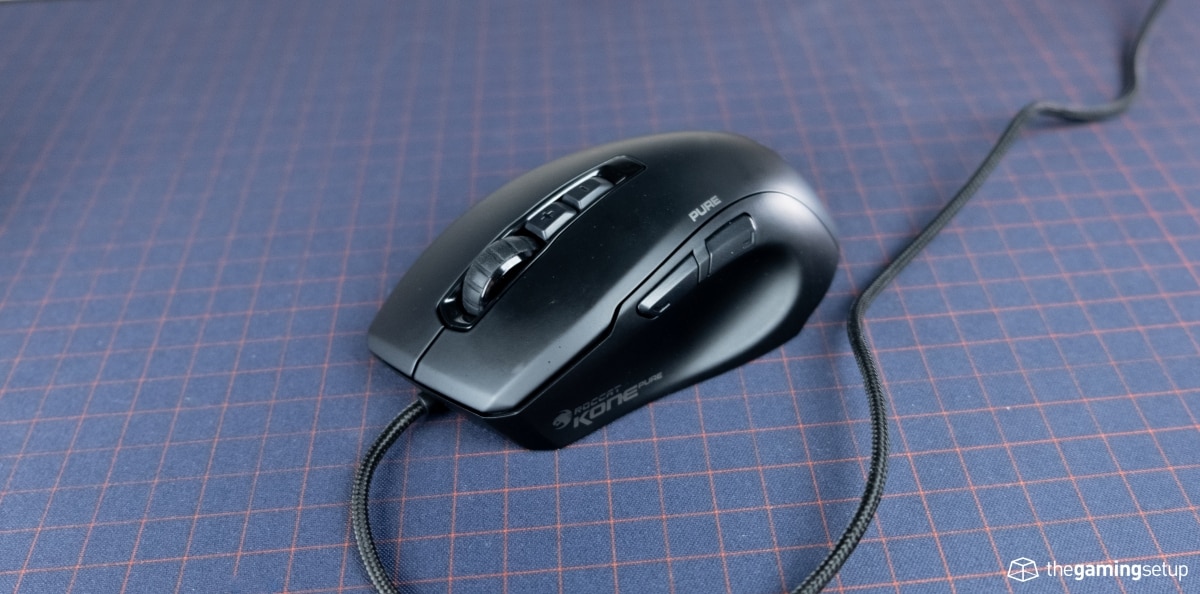 The Roccat Kone Pure Owl Eye (KPOE for short) has a unique shape that is polarizing, it works really well for some people and is just completely unsuitable for some people. I can see why the KPOE is polarizing, the shape isn't particularly safe with deep grooves and angles on the left and right side of the mouse.
The mouse serves a small/medium size hand which is surprisingly, is under served. As someone with medium hands this mouse feels really good in a palm grip while still being completely suitable for claw and finger tip as well. For larger hands this mouse will serve decently has a claw/finger tip exclusive mouse, I'd say this is a top shape for smaller hands that know they want to palm grip.
There's no real close comparison to the Kone Pure Owl Eye, it's a little reminiscent of a shorter/smaller G502 with its deep grooves but its feel is unique all on its own.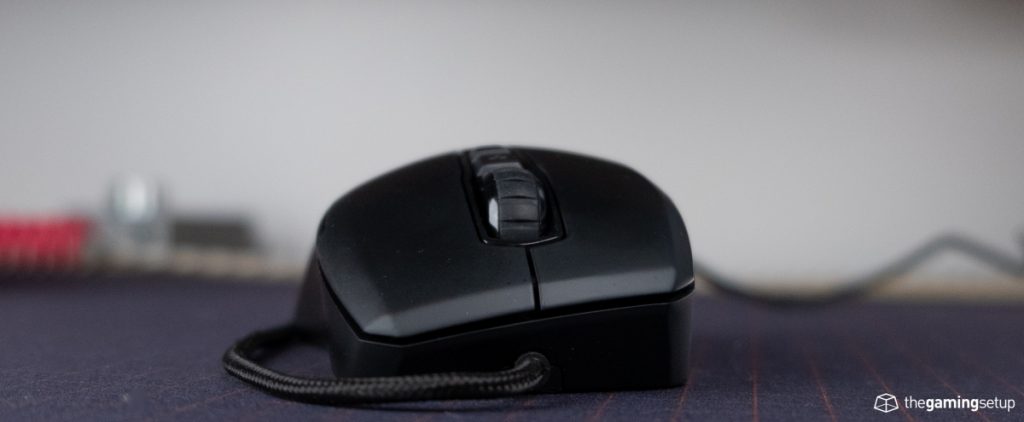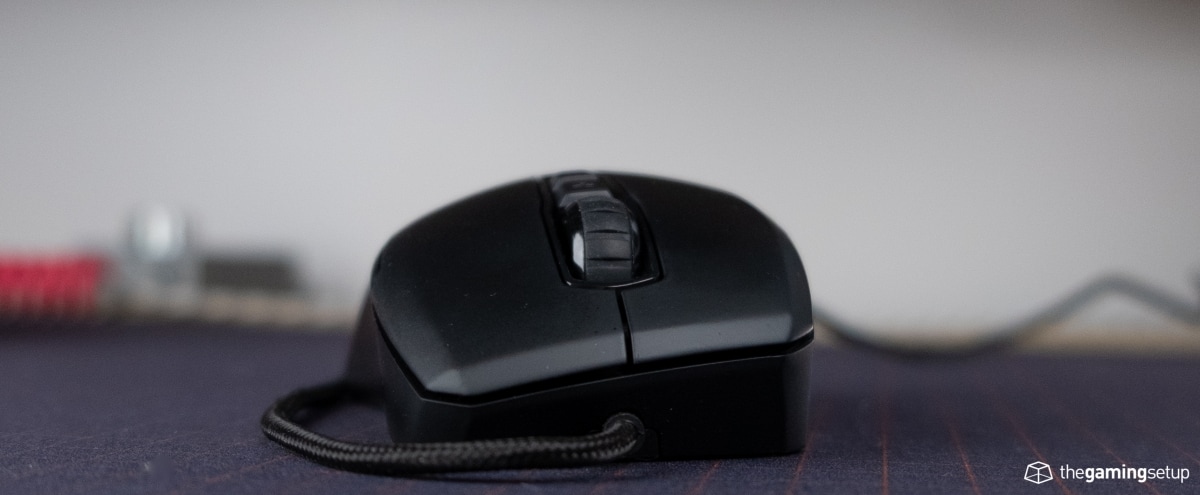 The mouse weighs 88 grams which is pretty good, it's not the lightest on the market but the weight definitely won't slow you down too much. In general, you can expect to get good performance out of this mouse.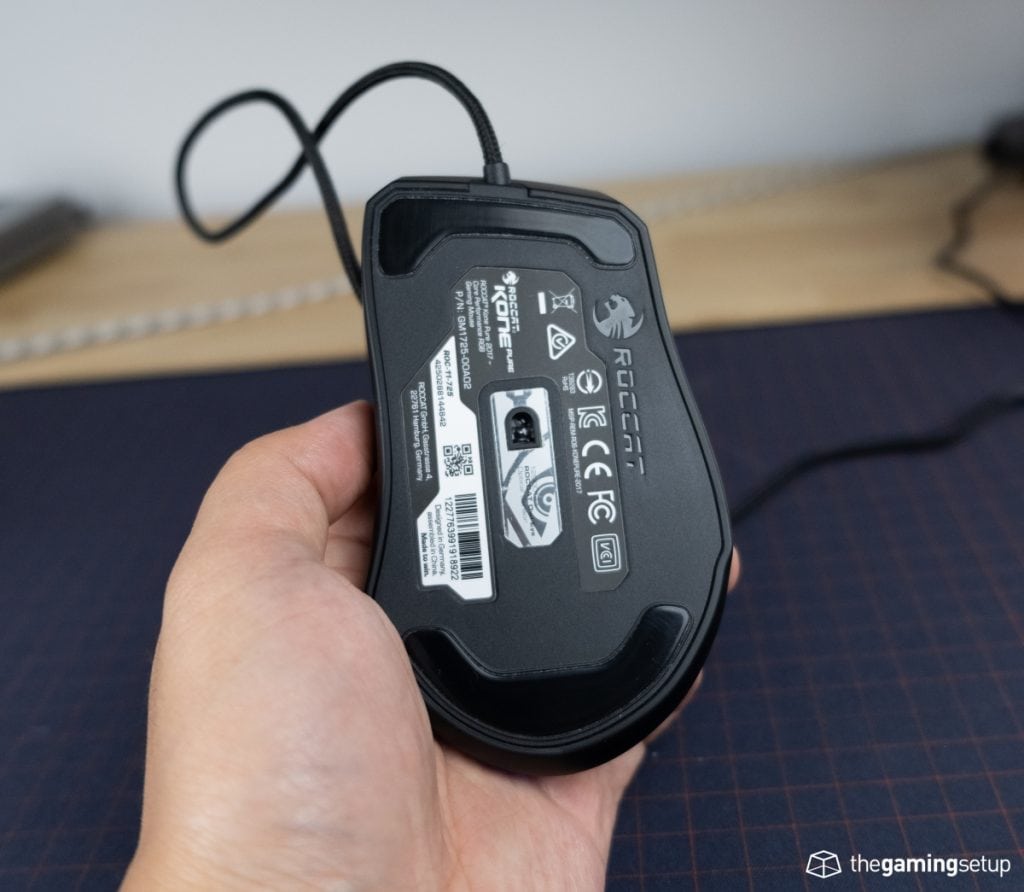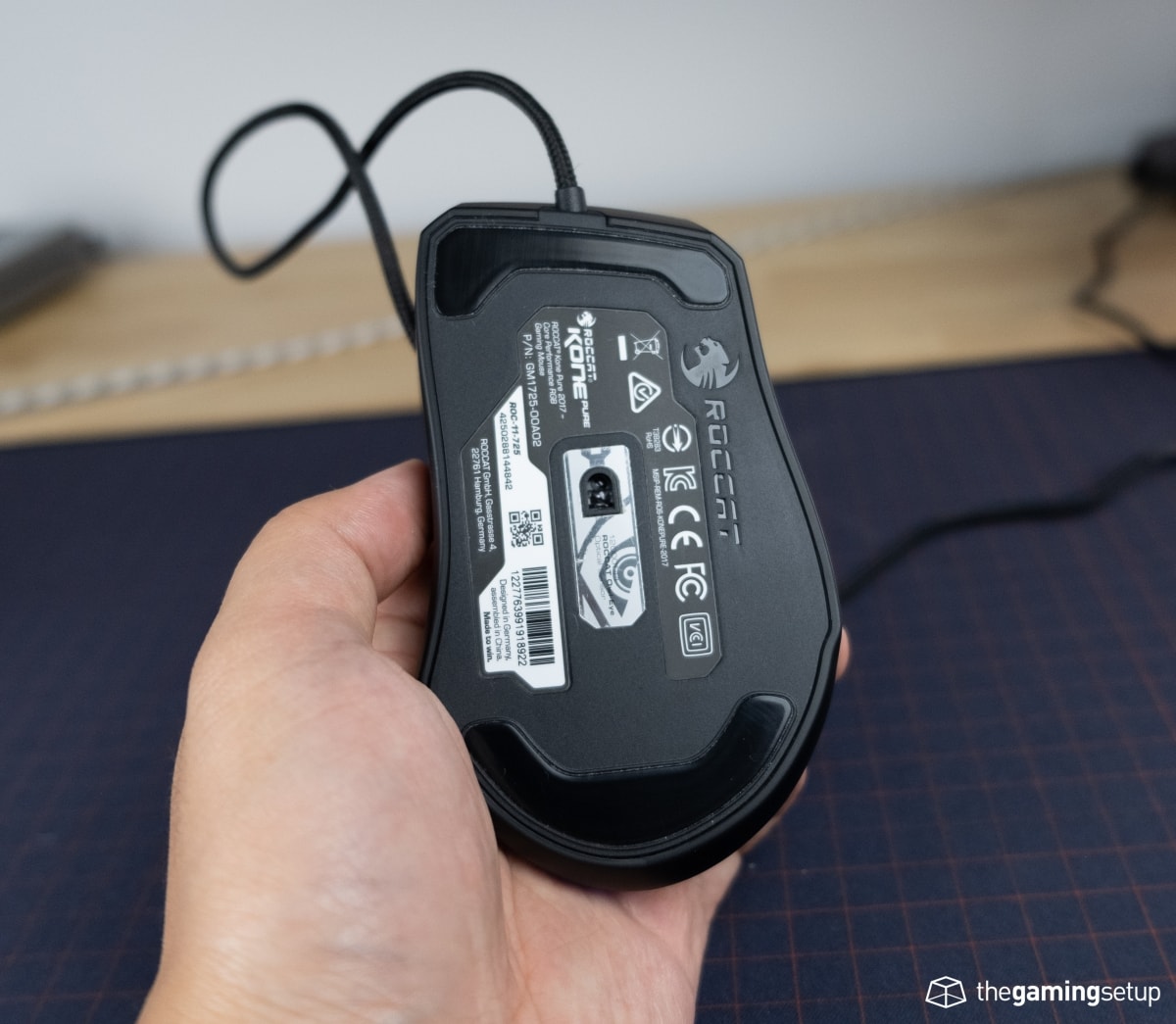 The feet are respectable, two long strips line the front and back of the mouse, the glide on the mouse is smooth and consistent.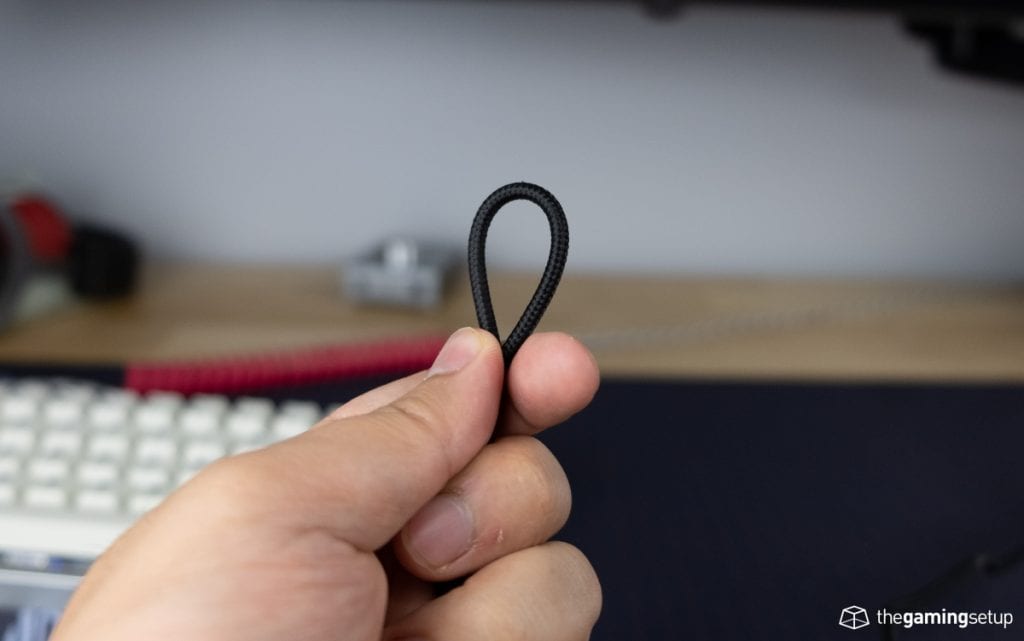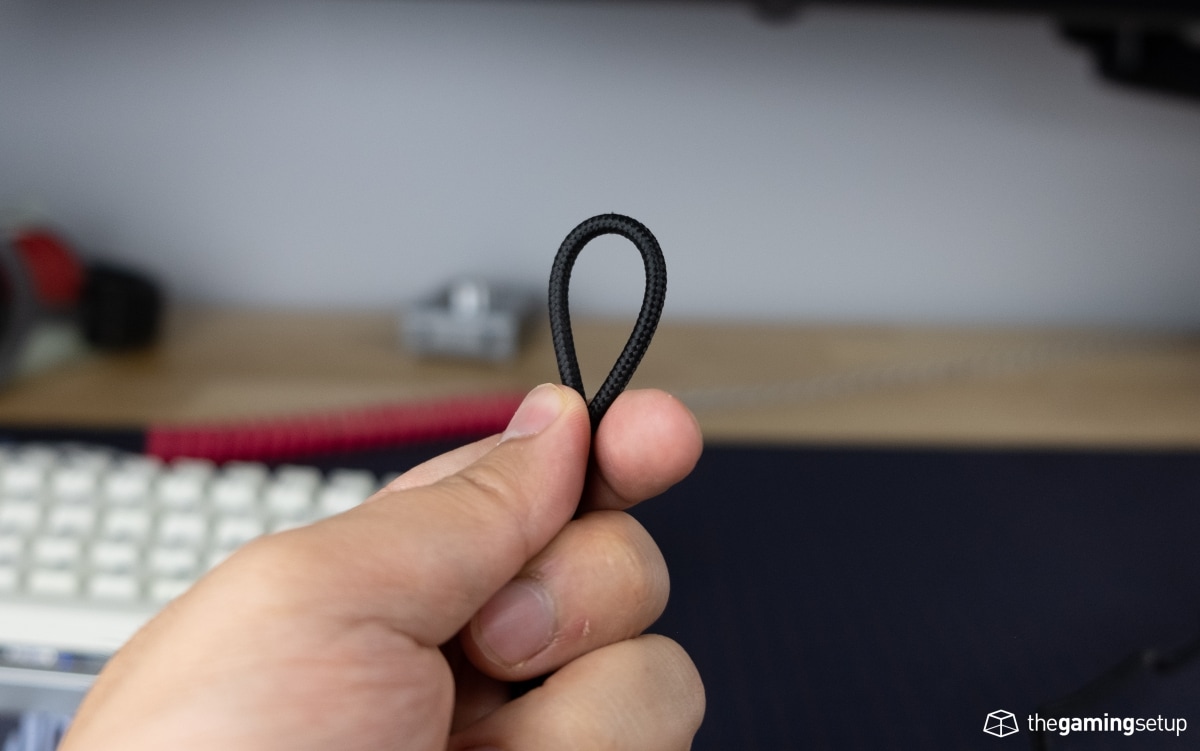 The cable on the Roccat is your standard fare braided cable, it's not as stiff as some of the infamous Logitech cables but not super flexible either, this mouse would benefit from a bungee.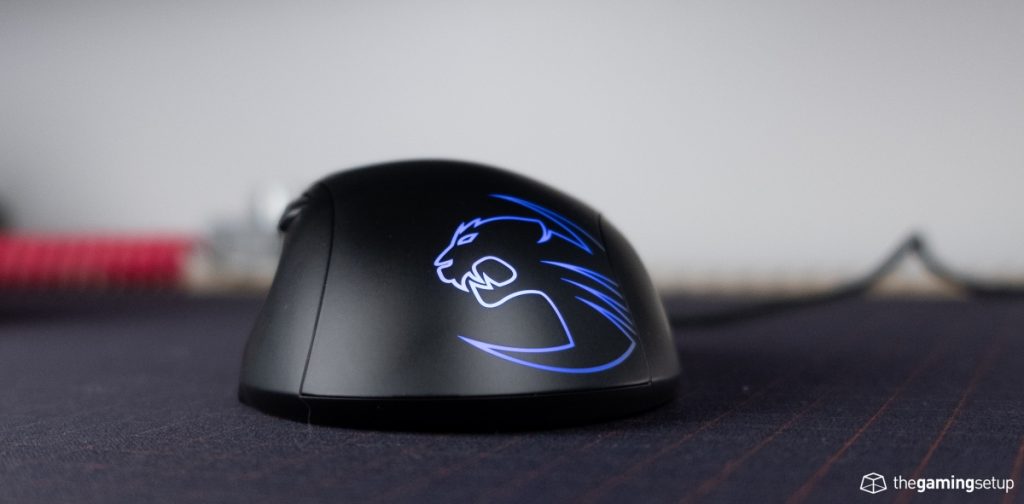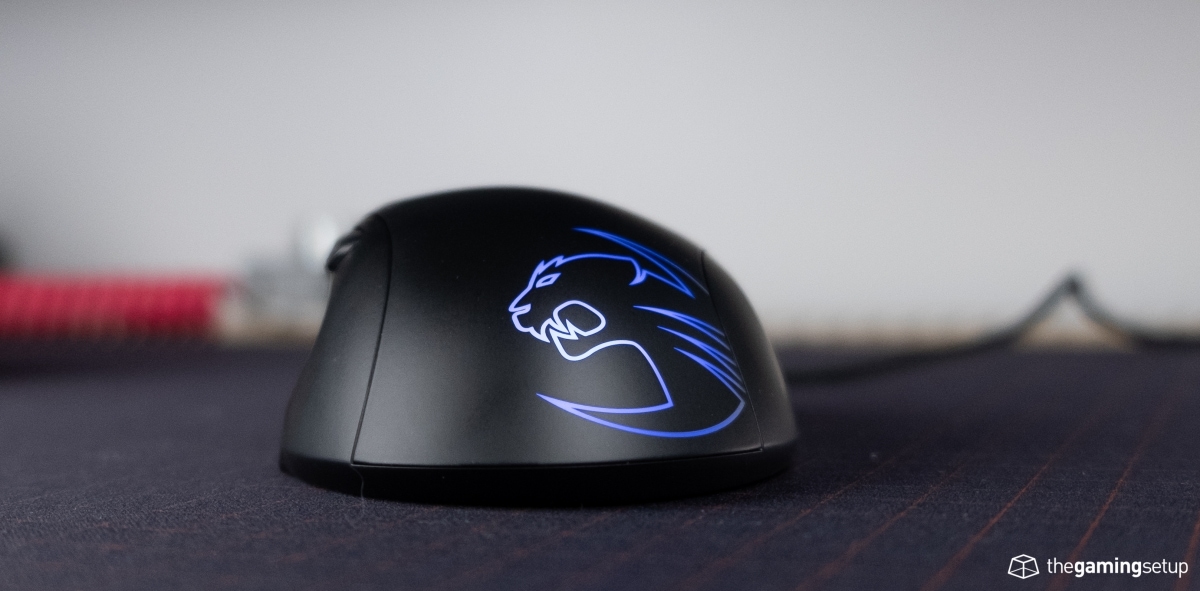 The back of the mouse features a Roccat logo led, it definitely has an aggressive design with a couple of branded spots on the top and the left front-side of the mouse. The sharp lines and grooves of the mouse make for an aggressive looking mouse, it definitely leans on the gamery side of things.
Build Quality & Materials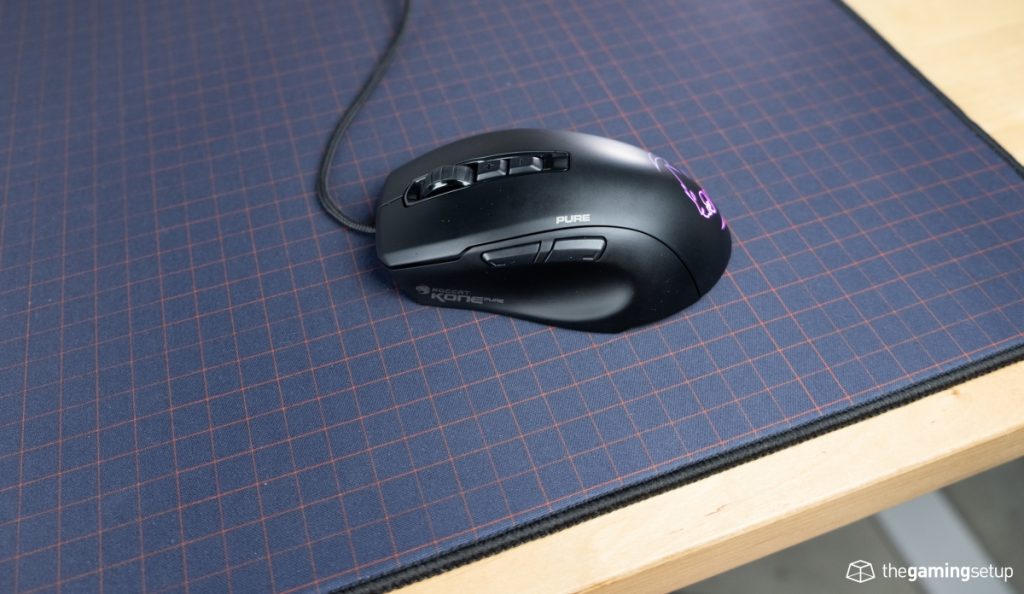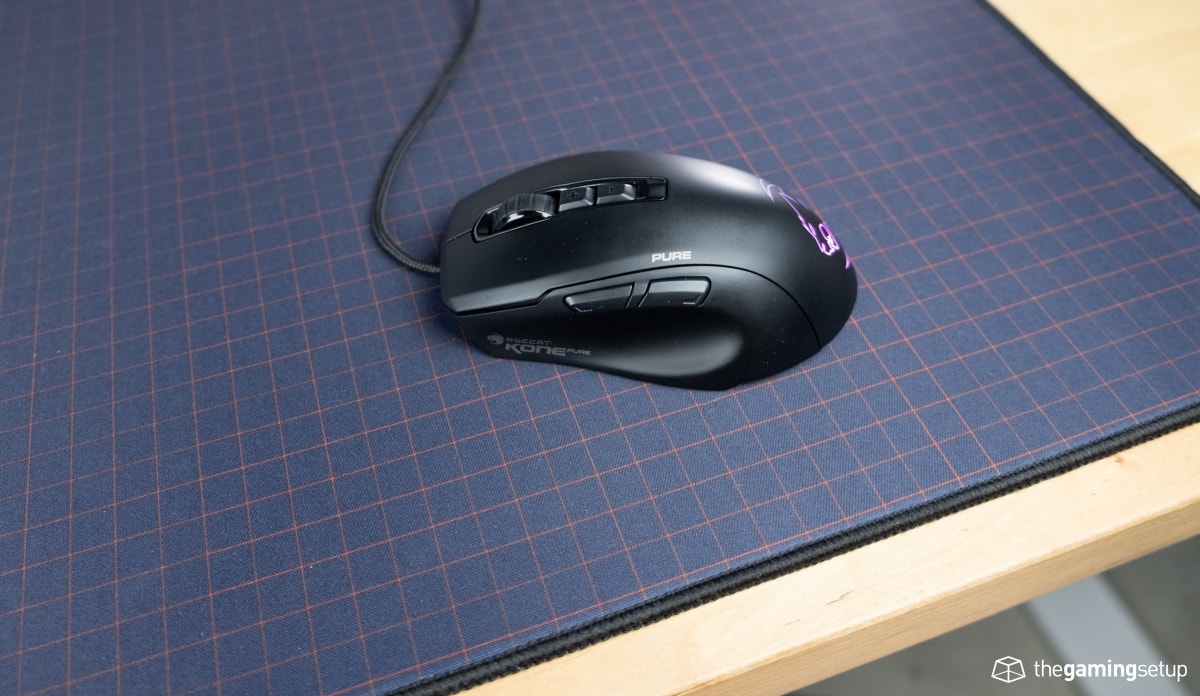 The Pure Owl Eye is made up of a matte black plastic on all sides which is the material I prefer since I have sweatier hands while gaming. There is a white version of the mouse that sports a duo-tone look with the top part of the mouse being made up of a white plastic.
The build quality of the Kone is rock solid, no flex or creaking anywhere when pressed, no rattles when shaken. The KPOE is top tier in terms of how well built it feels.
Buttons & Scroll Wheel
The Roccat Kone Pure Owl Eye keeps it simple with its buttons:
2 primary clicks: left and right
2 side buttons
middle click scroll
2 DPI switchers
The scroll wheel on the KPOE is one of the best on the market up there with the Model O. The clicks on the mouse are middle tier, not overly squishy, but not as snappy and responsive as top tier buttons.
The side buttons are kind of strange, a little mushy, the gap between the side buttons make the muscle memory of clicking back and forth between the side mouse buttons a little off.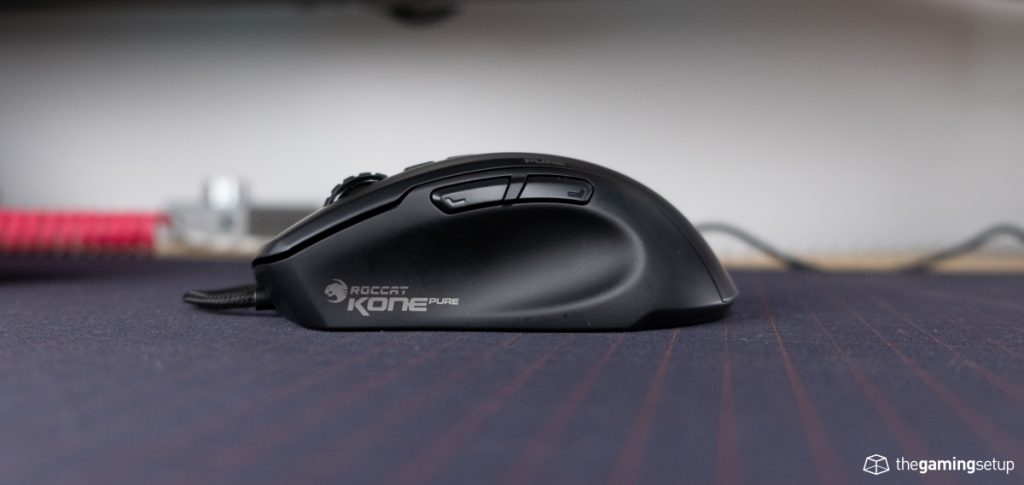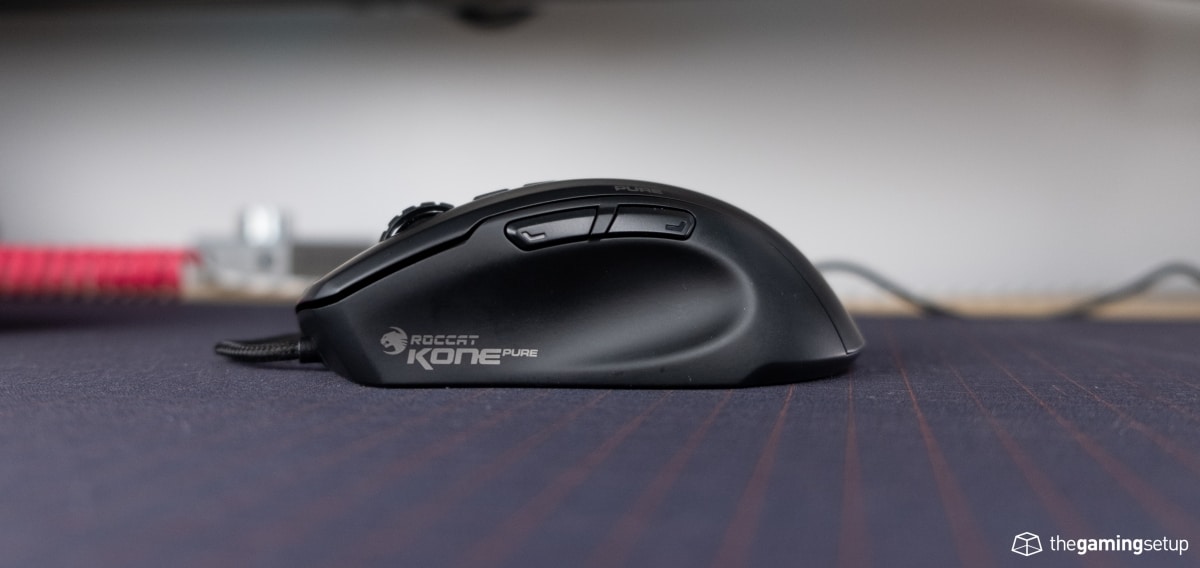 Sensor & Performance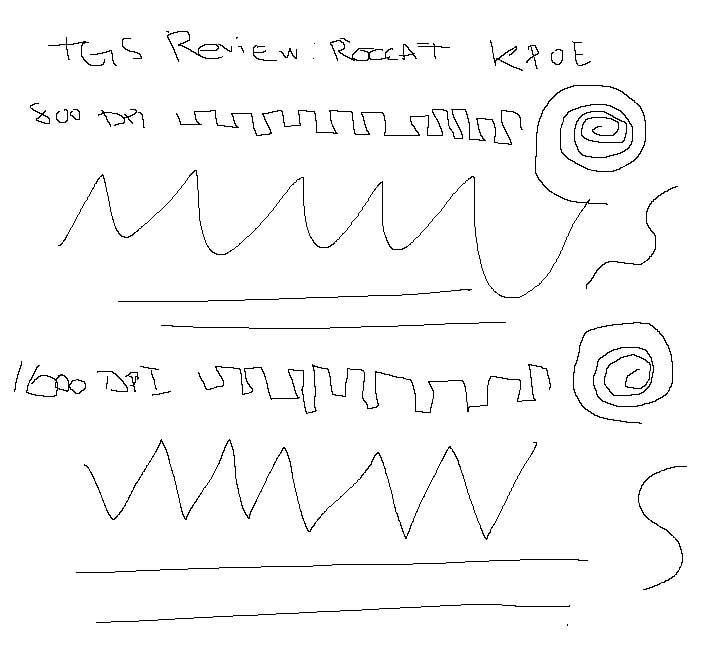 The KPOE has a flawless sensor, Roccat dubs it the Owl-Eye sensor, it is otherwise known as a modified Pixart PMW 3361. As you can expect from 336 Pixart sensors, flawless tracking, no jitter, no prediction, no acceleration. The Owl Eye has a configurable lift off distance.
The mouse can operate in multiple polling rates:
The DPI of the sensor can be set at 100 increments anywhere from 100 to 12000 with 5 dpi steps.
Features & Software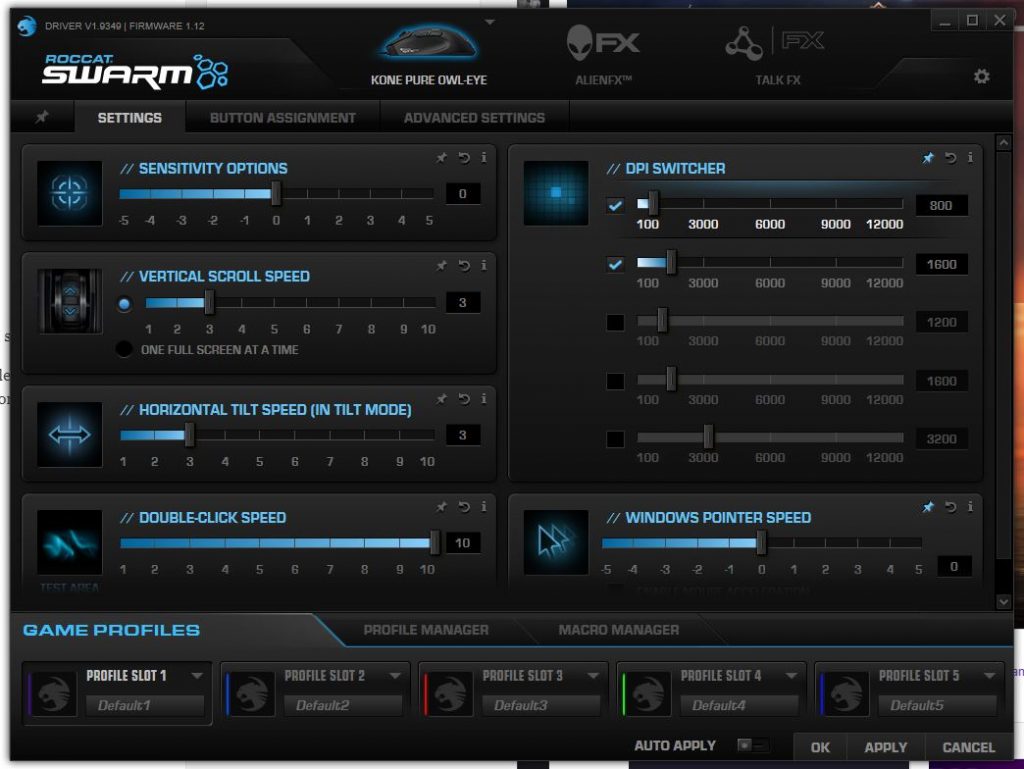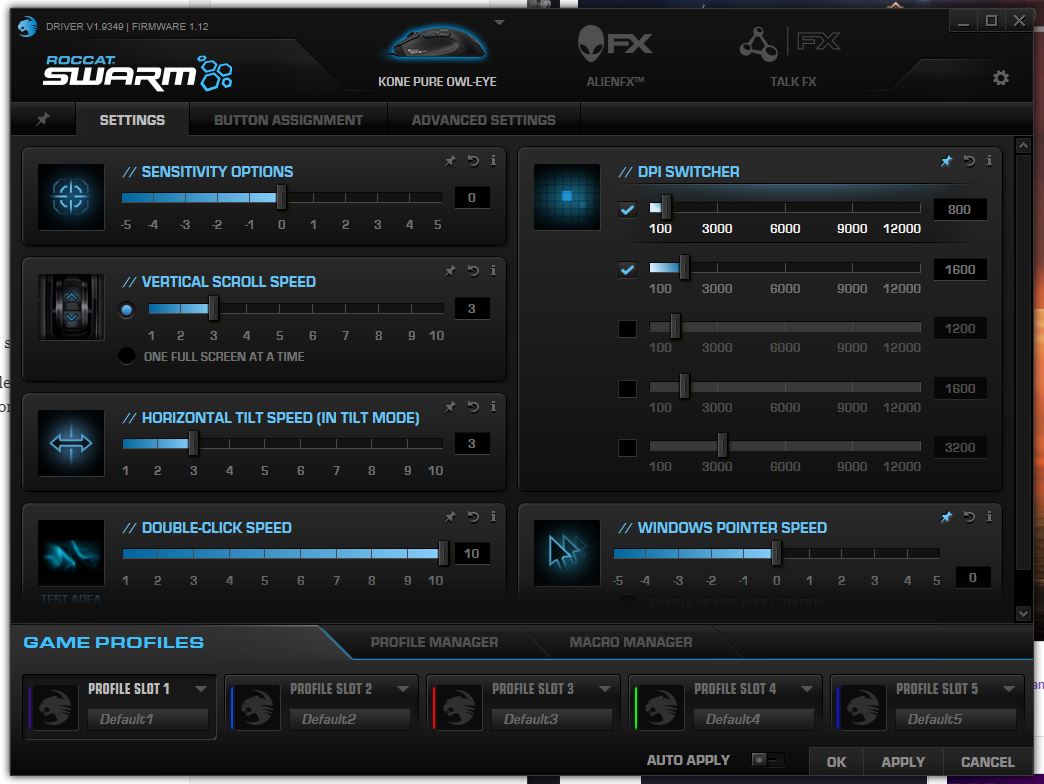 You can download Roccat Swarm here.
Roccat Swarm basically lets you tweak every performance aspect of the mouse, you can do a lot to customize the exact behaviour of your mouse, here's a quick list:
General sensitivity
Vertical scroll speed
Horizonal Tilt Speed
Double Click Speed
DPI
Windows Pointer Speed
Button assignments on all buttons
Polling Rate
Sound feedback on settings changes
Lift Off Distance
RGB Illumination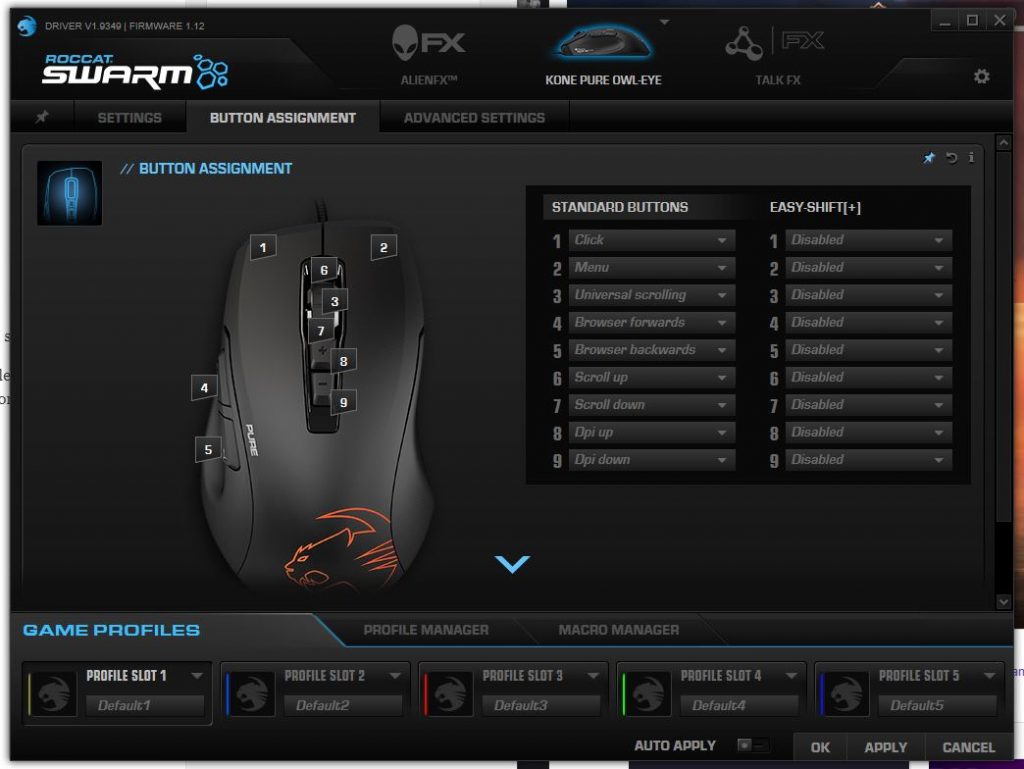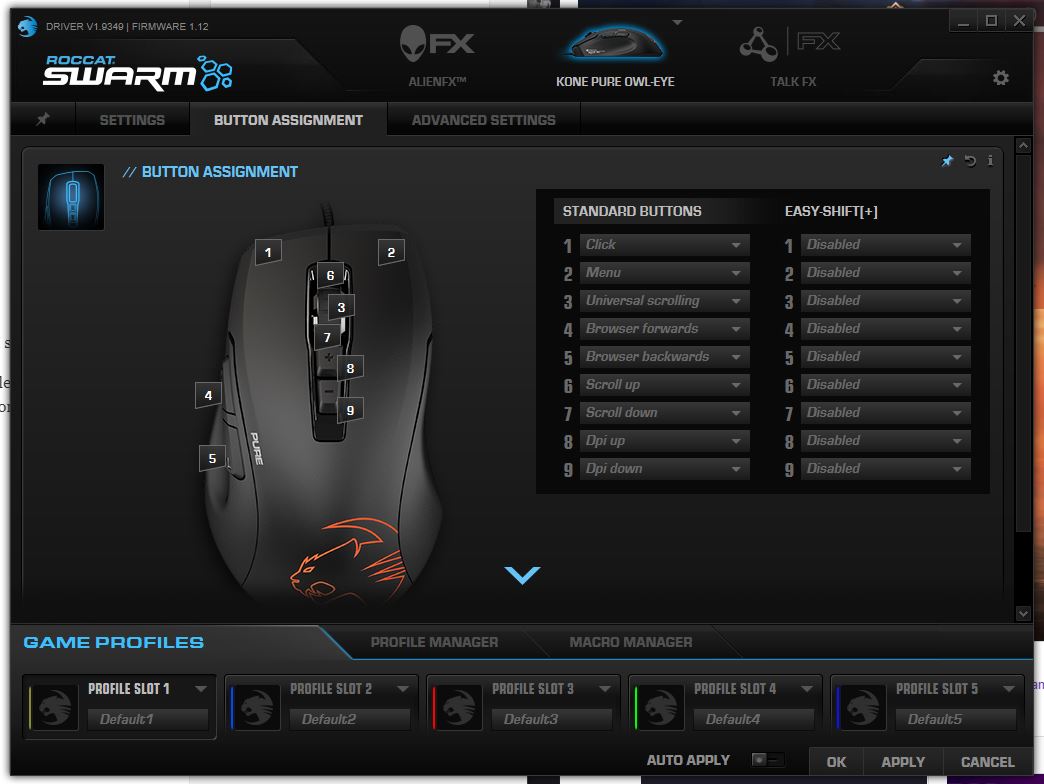 Button assignments in Roccat Swarm are pretty standard with the exception of the ability to re-map side buttons to Roccat Easy shift which essentially allows one of your side buttons to act as an Fn key on your mouse, it adds a second layer to your mouse buttons. So Fn + Mouse click 1 can turn into a macro or another function altogether.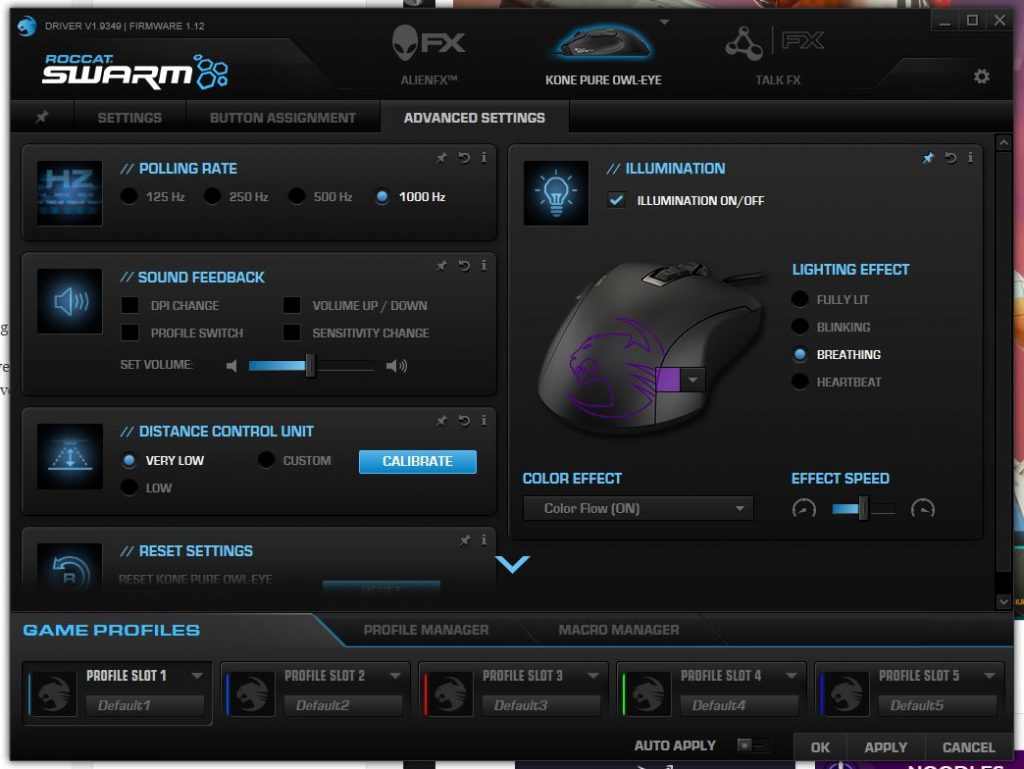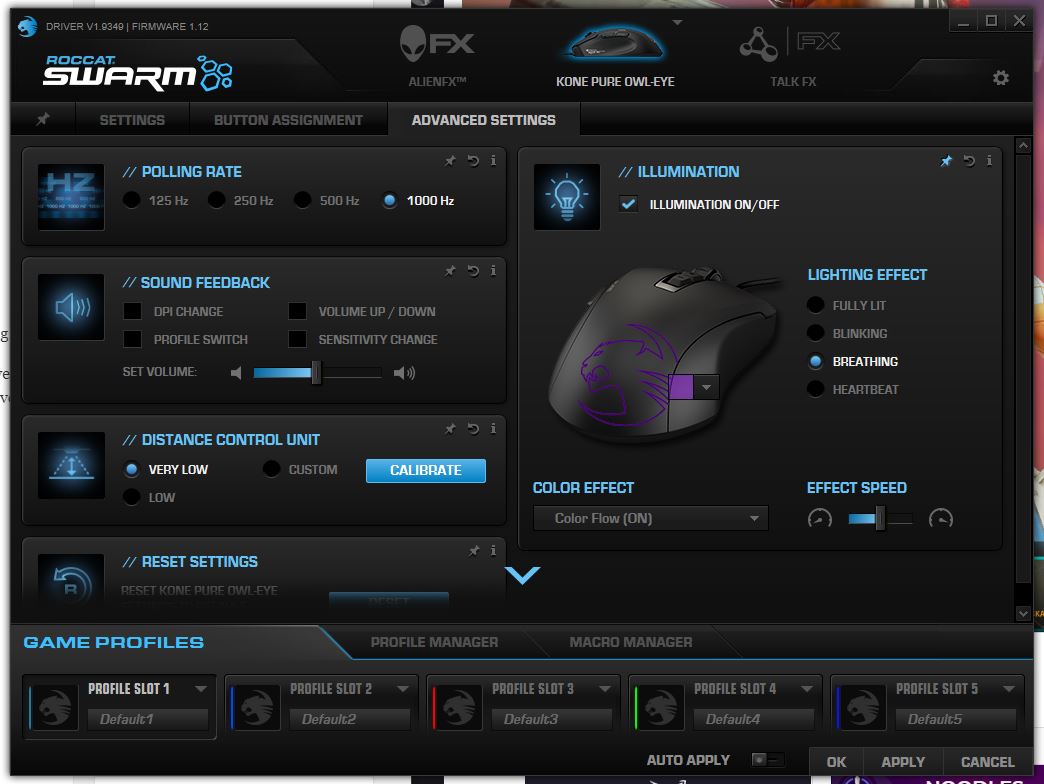 RGB settings are pretty limited, you have 4 lighting effects:
Fully lit
Blinking
Breathing
Heartbeat
With the ability to cycle through colours or pick a single colour and adjust cycling speed.
Warranty & Reliability
I don't have any concerns with the build quality of the Roccat, doesn't seem like there is a large outcry of broken Kone's out there.
Unfortunately, Roccat doesn't publicize their warranty policy, you must contact them to get warranty information
For warranty questions/claims, it is best to get in contact with our support team via https://t.co/q06c7fLV28.

— ROCCAT (@ROCCAT) March 7, 2018
Conclusion & Value
The Roccat Kone Pure Owl Eye is a niche mouse that does its job really well, it has a unique shape that I find very comfortable in both a claw and palm. If you're looking for a medium-ish ergo mouse, consider the KPOE, the closest competitor in that space is the Zowie EC2. For the price, you get a rock solid mouse with good customization and a flawless sensor, hard to go wrong as long as the shape works for you.