The latest iteration of the Razer BlackWidow Elite is its best version yet. If you're looking for a full sized keyboard with clean aesthetics and a high build quality then the BlackWidow Elite is definitely a contender.
At its price the value of the keyboard is only okay, you can get a keyboard that offers almost as much as the BlackWidow Elite for less but few will be able to compete with Razer in the completeness of its offering. The extras like the media keys, wrist rest and build quality that Razer is charging for are genuinely useful.
The Razer switches are a competent alternative to Cherry MX switches but nothing more than that, you have options to choose a loud clicky, tactile or completely smooth linear. You have to be sure that you want a full size keyboard as your gaming keyboard, this is a strong consideration if you value a numpad and dedicated media keys.
Pros
Overall high-end feel
Good build quality
Good RGB
Premium features that don't suck

Media keys
Excellent wrist rest

Good switches, less wobble than Cherry MX
Highly customizable profiles and lighting
Well designed cable management system
USB and 3.5 mm pass-through
Cons
Premium price
Synapse requires an account sign up
Low keycap quality considering the price
Overly thick braided cable
Non-standard bottom row, standard keycap replacements won't work
Non-detachable USB cable
Only USB 2.0 on pass-through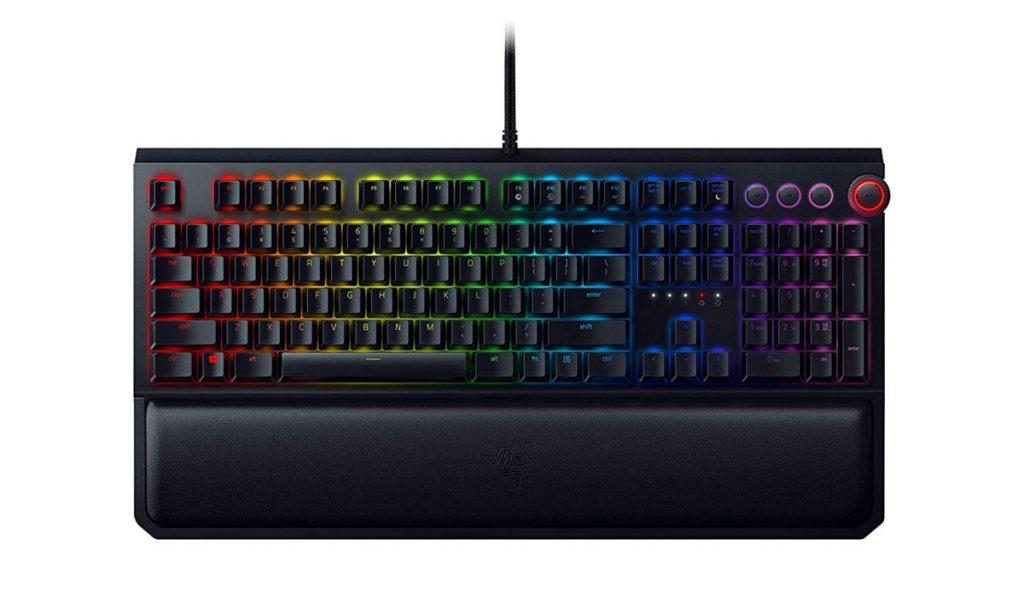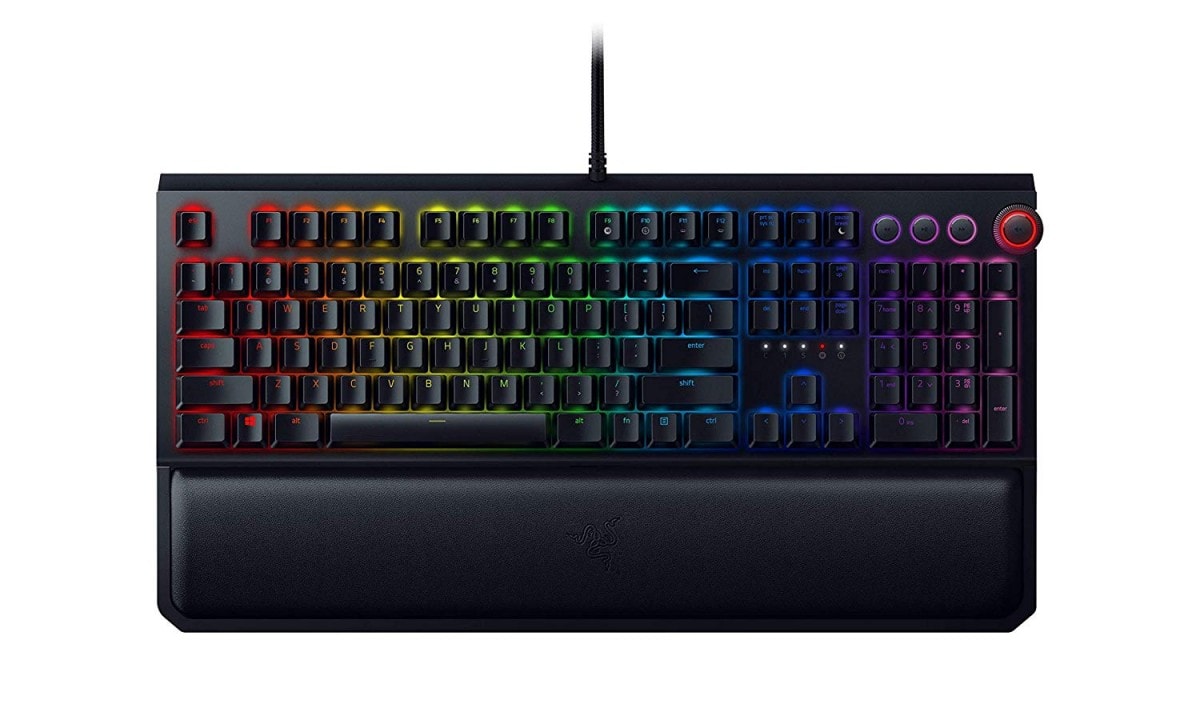 The BlackWidow Elite is a very high quality keyboard that demands a high quality price. The Razer is a great out of the box keyboard with little avenues for further customization.
See Price on Amazon
Tech Specs
Blackwidow Elite dimensions
Length: 44.8 cm
Width: 16.4 cm, 23.3 with wrist rest
Height: 4.23 cm
Case color: Black, plastic with metal top plate
Weight: 1422 grams (keyboard only)
Keys: 101 (Full)
Cable Length: 1.8 metres, detachable
Keys & switches
Switch options: Razer Green (clicky), Orange(tactile) or Yellow(linear)
Polling rate: 1000 Hz
Keycap material: ABS
Keycap legends: Laser Etched ABS
Keycap profile: OEM
Media keys: 3 dedicated media keys and volume wheel
Backlight: 16.8m RGB, Razer Chroma compatible
Connection: USB 2.0 to PC, USB 2.0 for pass-through, 3.5mm pass-through
Size & Design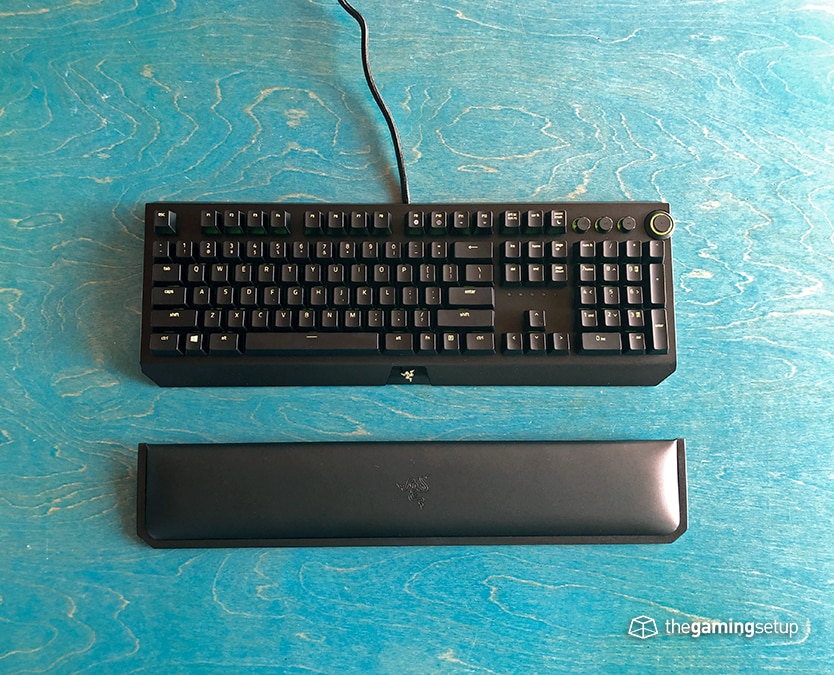 First impressions when lifting the BlackWidow out of the box is that it feels like a premium product. The keyboard has a very defined heft and stiffness to it that I really appreciate in a keyboard. The top plate of the case is made of a supposed military grade metal while the rest of the case is composed of a thick black plastic. The combination of materials makes for a really nice premium feel, the metal on top is brushed and fingerprint resistant.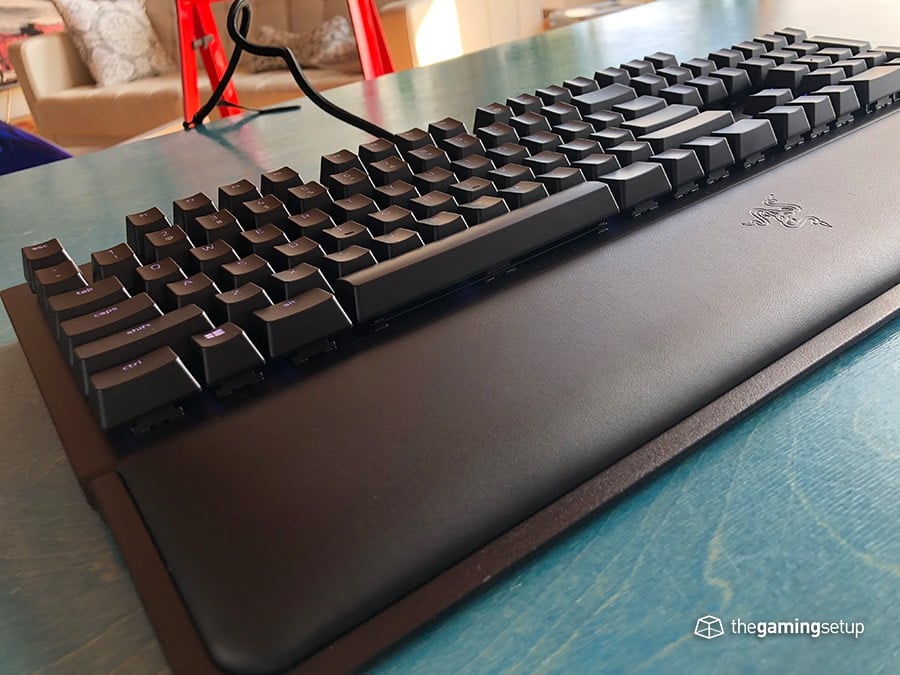 The wrist rest is made of a pleather type material that's really comfortable and soft, the bottom of the rest is plastic with rubber feet to prevent slippage. A really nice touch with the wrist rest, it attaches to the BlackWidow Elite with magnets, with a really nice snap to put it in place.
If you've seen the Huntsman Elite then the BlackWidow Elite design will be instantly familiar, as the two share the same design. The entire keyboard is black with only the RGB providing colour.
The RGB itself is even and pleasing without getting overly harsh in a darker environment. The low-profile design of the case exposes the switches and allows for the RGB to reflect off the metal surface. The LEDs here aren't the brightest in the market, but they're very smooth and pleasant to look at. The laser-etched keycaps let RGB light flow too without any light bleed happening through the caps.
I quite enjoy Razer's design choices here, a clean aesthetic with a few flairs that represent classic Razer design. There aren't many extra superfluous design choices here, no huge array of macro keys, just everything you need to get the job done.
This extends down to even its LED lights, it might even be a little too minimal, when first using the keyboard I didn't know which LED represented what.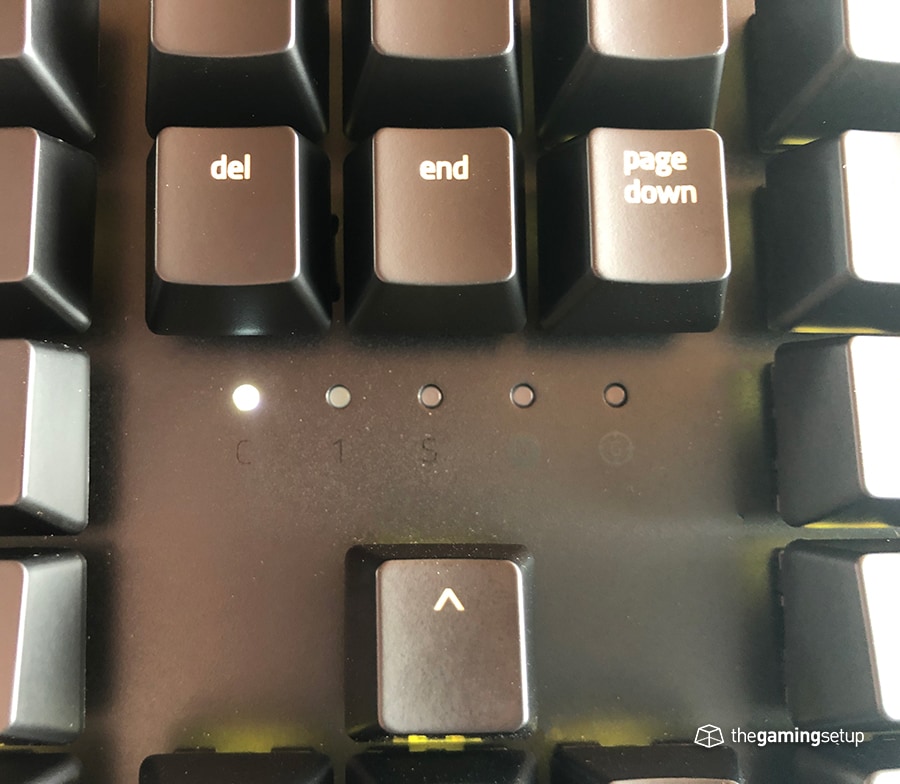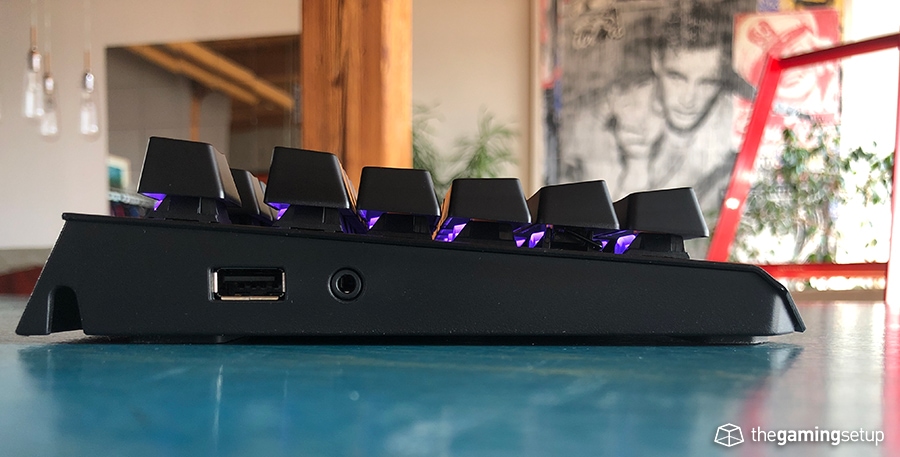 Some really smart design choices on the back and the sides of this keyboard as well. The BlackWidow allows for pass-through of one USB port and a 3.5 mm jack so you can keep your wires a little tidier, the USB pass-through is unfortunately only a 2.0 port. The underside of the keyboard has channels for cable management, you can route the BlackWidow's non-detachable heavy braided cable to come out on left, straight up or to the right. If you happen to move the keyboard around the cables might slip out due to the braided cable of the BlackWidow, so a little finesse is required to make sure you have a permanent cable management solution here.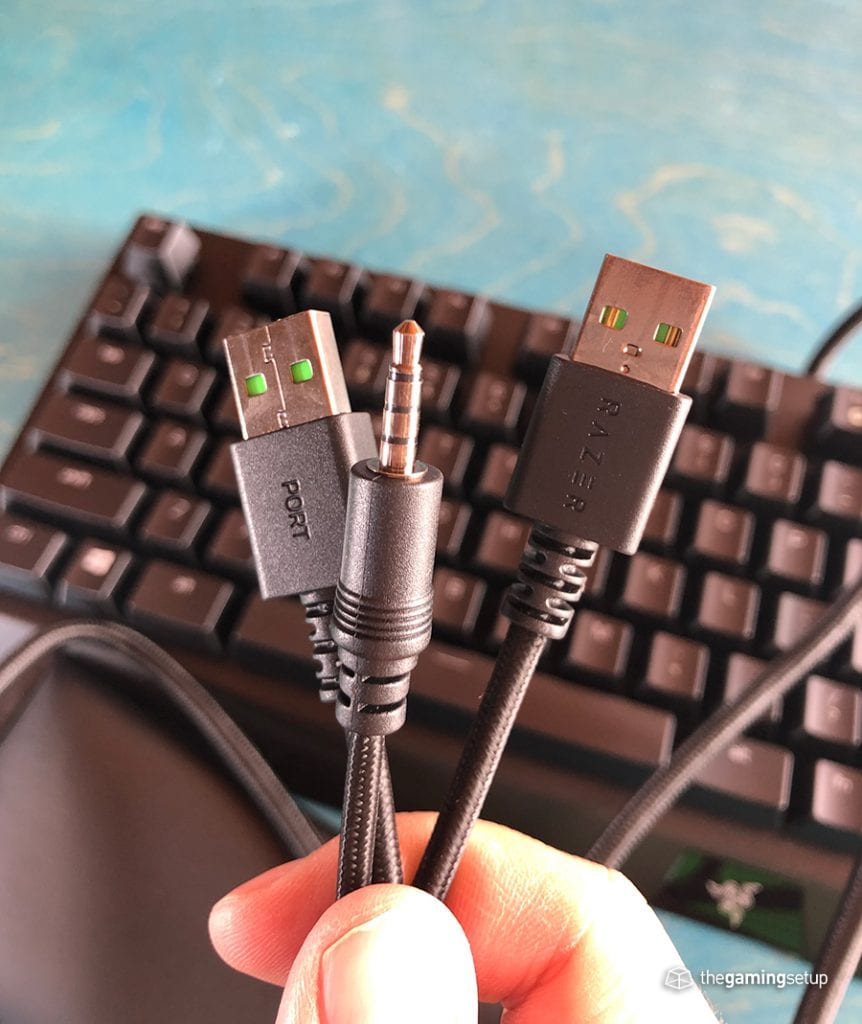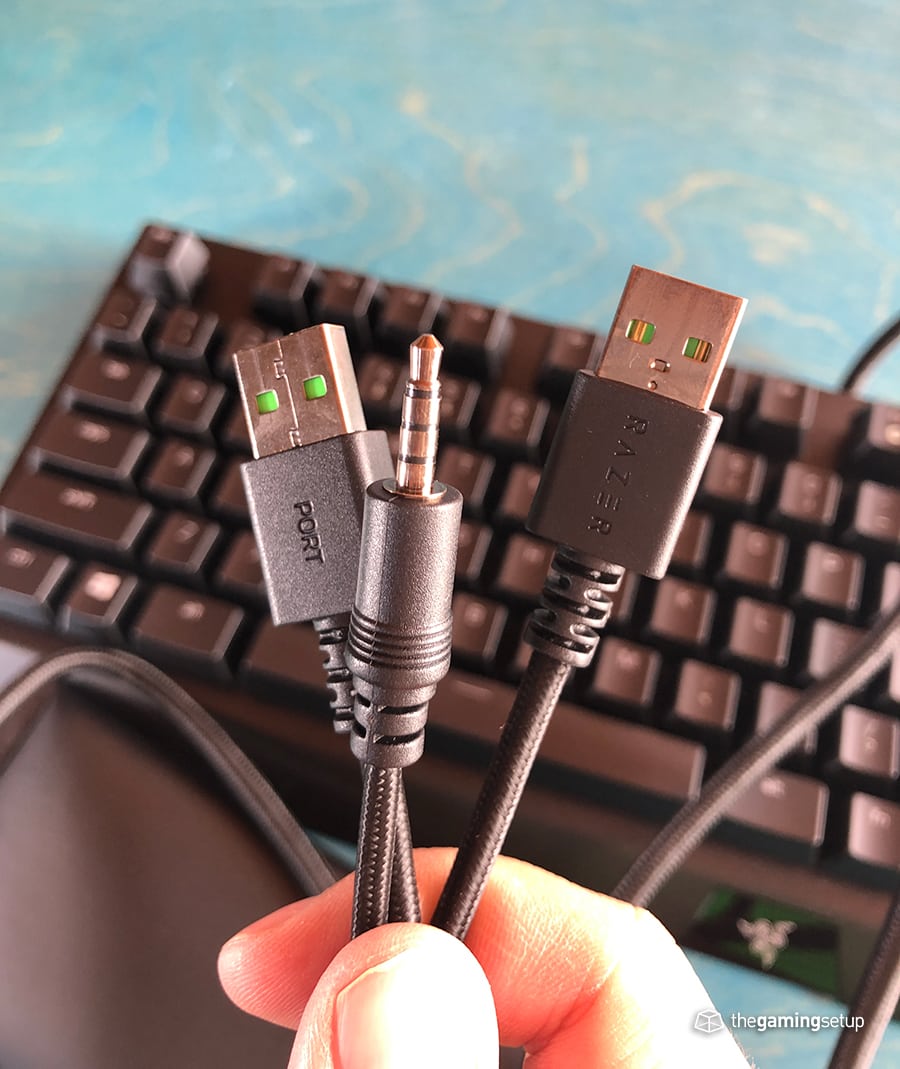 Underneath you'll find perfectly serviceable feet with two steps. On its base height the BlackWidow has 4 large rubber pads that keep a firm grip on your desk, this keyboard isn't going anywhere.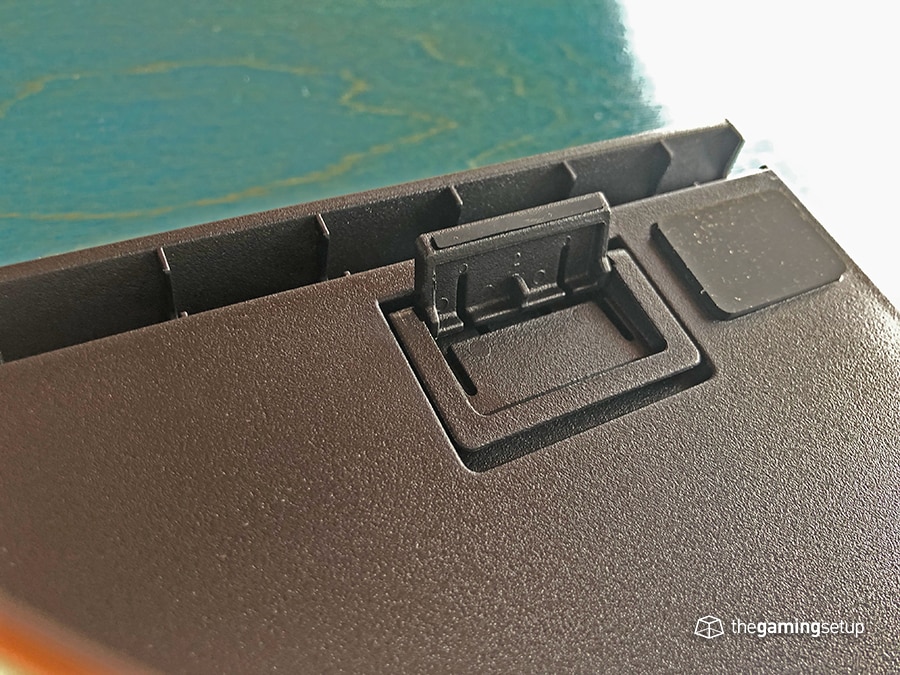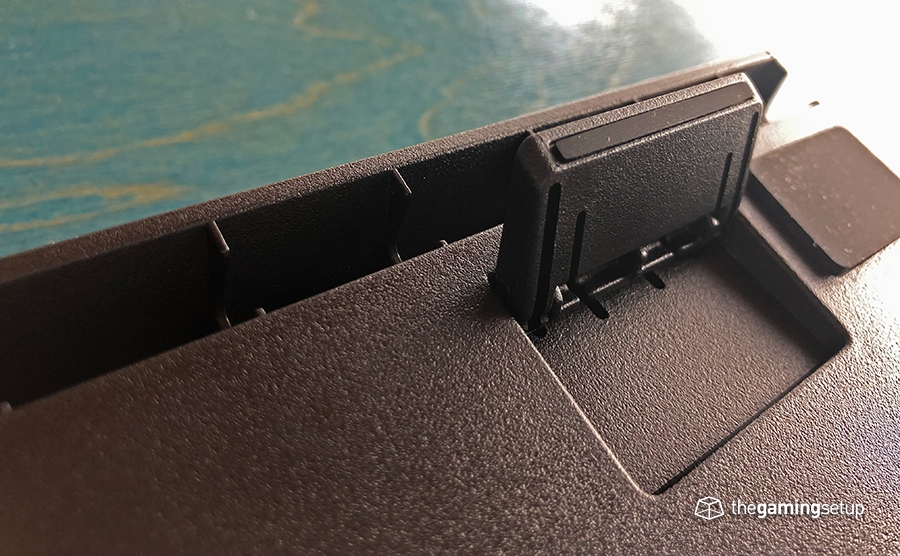 Razer has included some very well designed media keys to the top right of the keyboard. The keys themselves are round and have a satisfying click, there is a slight wobble to the media keys that isn't overly concerning but it would've been nice if they were rock solid. The volume or brightness wheel is the standout with a mute button in the middle and distinct steps on its ring, it's a delight to use. There's a nice little design touch on the wheel as well, the LED ring on the media wheel goes up and down in brightness when stepping volume up or down and turns completely red when muted.
The BlackWidow is not suited to be a travel keyboard, its full size design and weight pretty much make it a hunker down on your primary set up keyboard.
Take a look at smaller keyboards if your intention is to travel with it, or if you need more space on your desk. If your primary games of choice are competitive FPS then you might be better off with a TKL or 60% to maximize the amount of space you have for your gaming mouse to roam. You'll likely perform better with more mouse pad space than a larger keyboard with a numpad.
Build Quality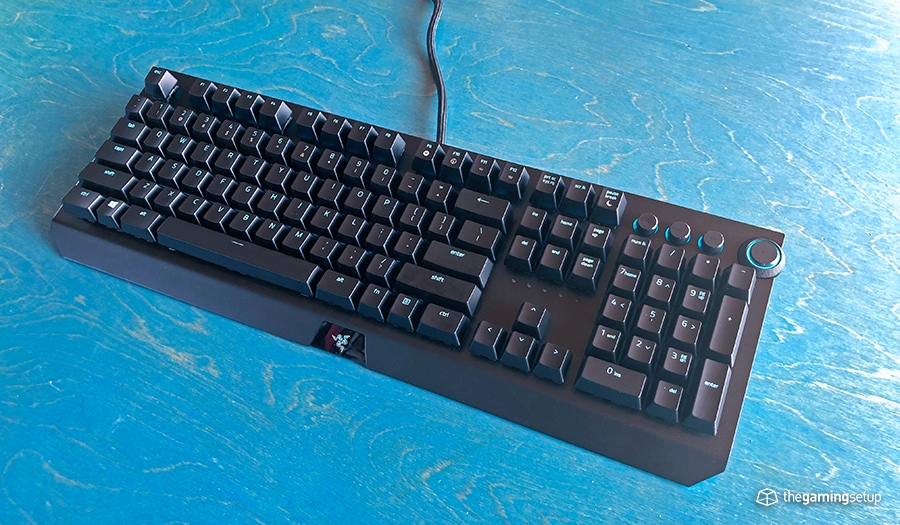 The keyboard feels very well built. The metal case top feels premium to the touch and adds a lot of rigidity to the entire keyboard.
There is absolutely no creak or flex when I try to twist the keyboard with a moderate amount of force. The combination of weight and rigidity makes the keyboard really nice to hammer away at. Doesn't seem like there's a ton of empty space inside the keyboard, the clicks and sounds coming from the keyboard are rattling around in there.
This is definitely one of the top keyboards in terms of build quality.
Switches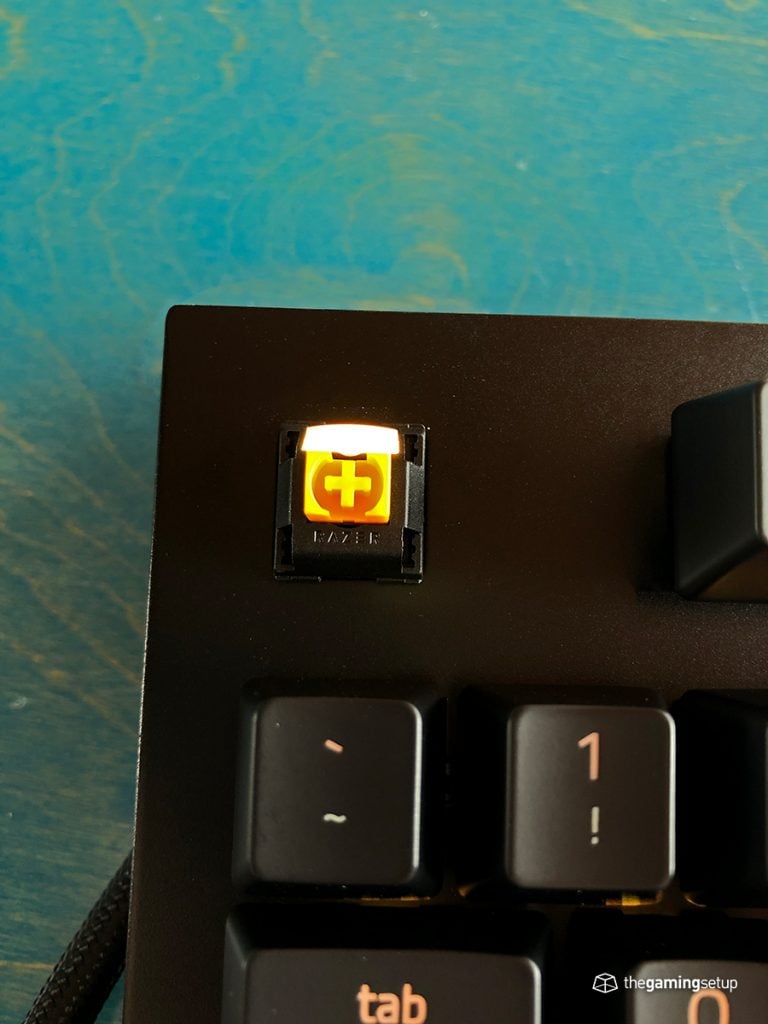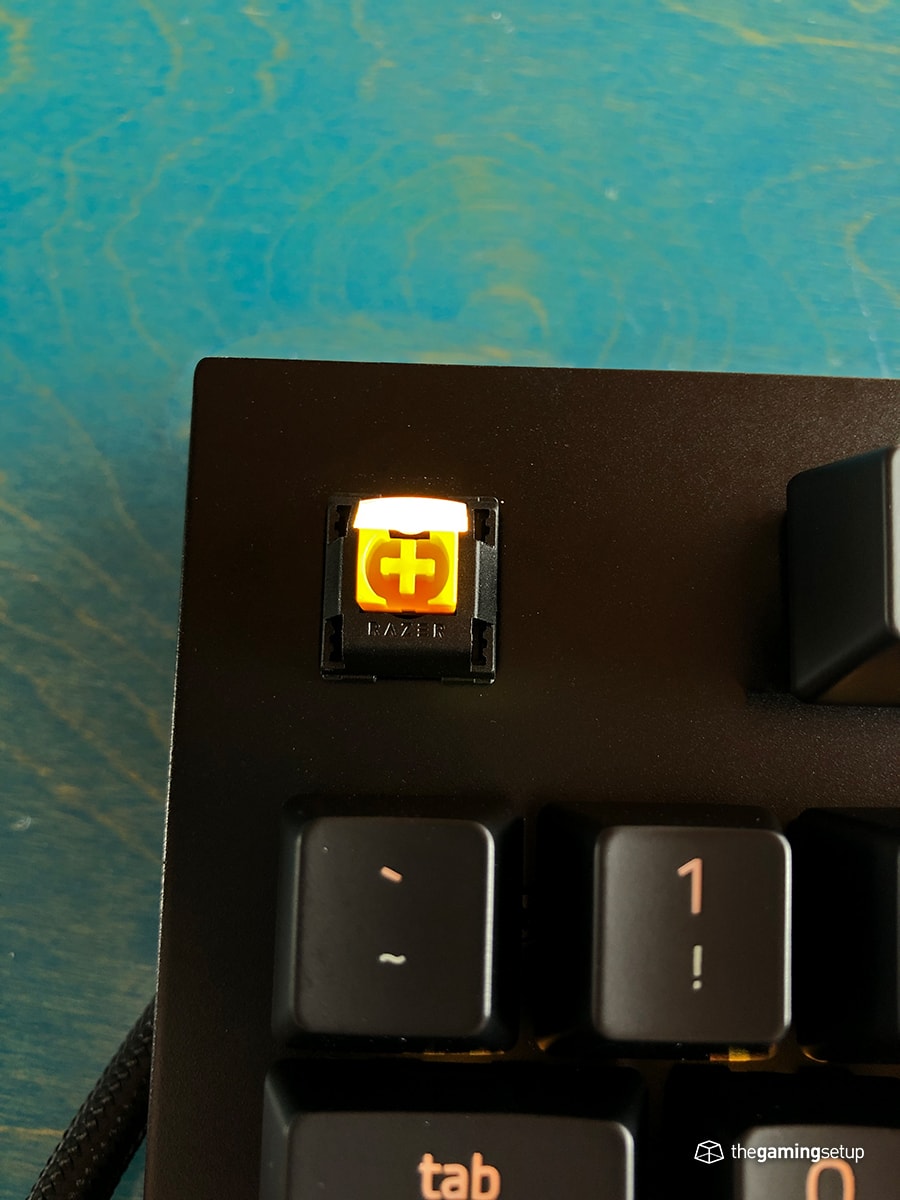 The Razer Blackwidow Elite comes with three switch options:
Razer Green (Clicky similar to Cherry MX Blue)
Razer Orange (Tactile similar to Cherry MX Brown)
Razer Yellow (Linear similar to Cherry MX Red)
These switches essentially map to a Cherry MX equivalent in terms of feel, with a few slight improvements, the Razer switches boast an 80 million click life time and the switches seem to wobble a little bit less than the Cherry switches.
We have a Razer Blackwidow with Razer Orange switches, here's the typing sound test:
The Razer oranges do the job, they're not too different from Cherry MX switches and for that purpose they serve it well. Our orange switches, which are labeled tactile, don't offer much of a bump at all, which is very similar to the MX Brown, they just kind of feel like a dirty linear switch. Razer does a great job emulating the MX Cherry feel on their boards, the wobble on these switches seem a little bit improved compared to a Cherry switch. I wouldn't consider Razer switches an improvement though on any other available switch on the market, it's not a major selling point.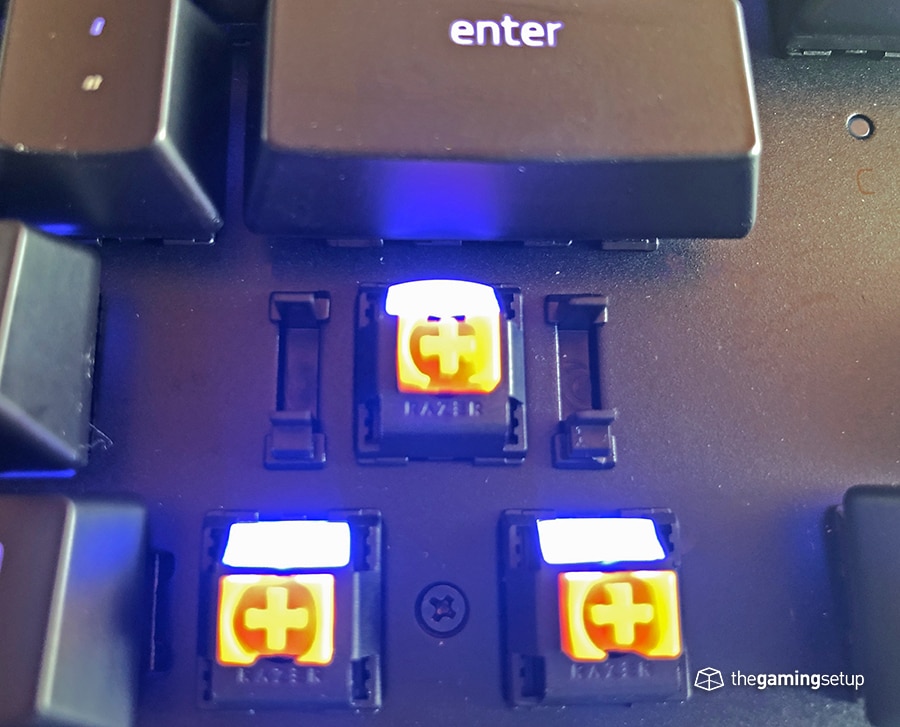 The stems on on the switches have a standard cherry stem in the middle with thick borders similar to Kailh Box switches. This is good news, it means most keycaps should be compatible with Razer switches though there seems to be a few reports of thicker keycaps having a tight fit with the thick borders of the Razer switches.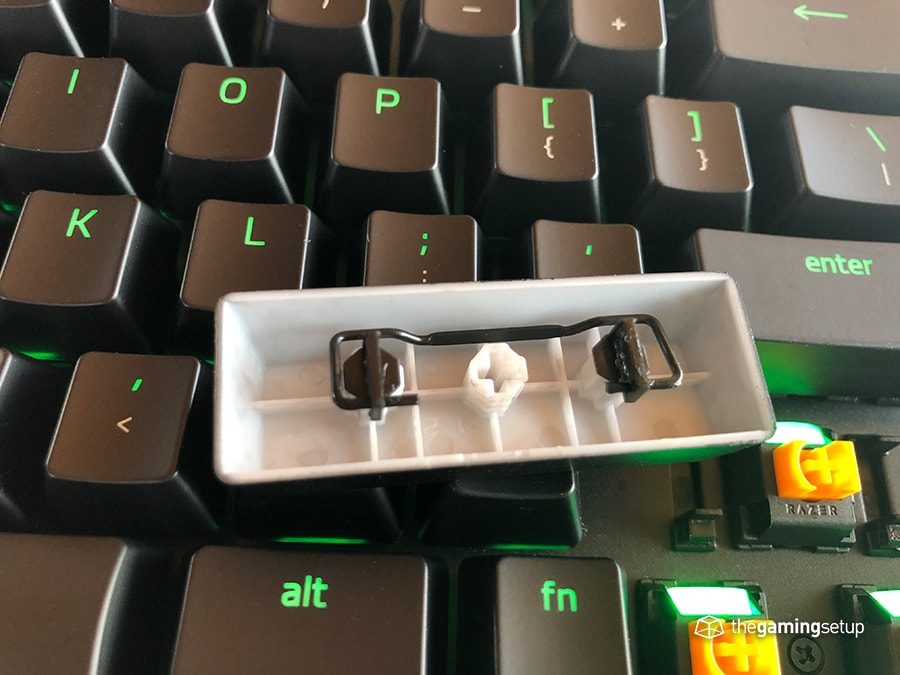 The bigger keys use a wire metal stabilizer that's thinner than a standard Costar stabilizer, no complaints here, the stabilizers do a good job and the longer keys don't wobble more than a normal amount.
Keycaps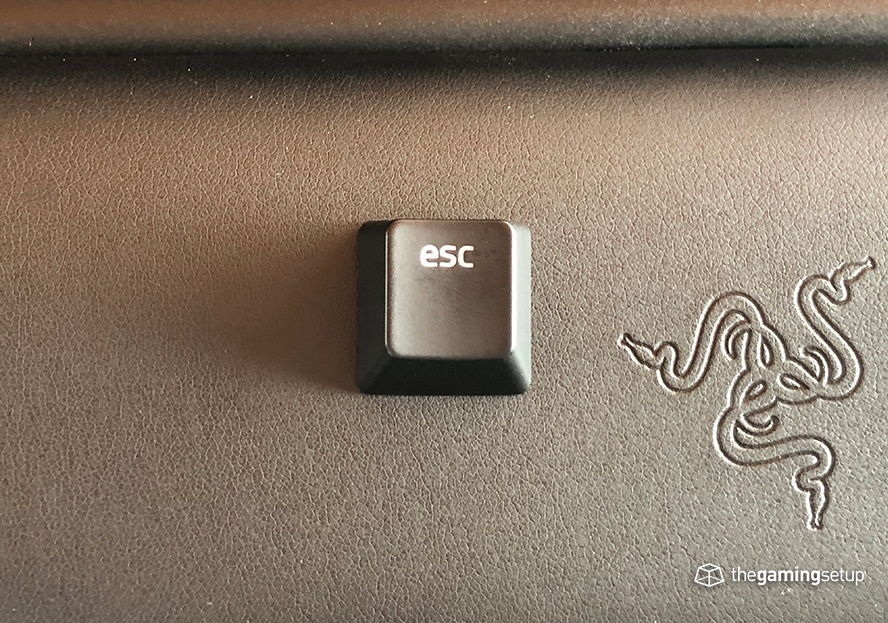 Keycaps is where I think this keyboard falls a little short and it is a little disappointing given the price point of the BlackWidow Elite.
The Razer Blackwidow Elite comes with painted ABS plastic keycaps with a laser-etched legend. What this means is that eventually the paint will wear and get shiny, the durability of these keycaps will not match up to the 80 million clicks of their switches.
The bottom row is non-standard, so even if/when you want to replace your keycaps with an aftermarket set, you'll have to find some custom keys to make it fit.
Here are the sizes of the keys on the bottom row for the Razer Blackwidow Elite from left to right:
L Ctrl: 1.5 U
Windows: 1 U
L Alt: 1.5 U
Space: 6 U
R Alt: 1.5 U
Fn: 1 U
Menu: 1U
R Ctrl: 1.5U
I love the font they've chose to use on the BlackWidow, a round and clean sans-serif font, nothing gamery, just clean easy to recognize legends.
Features & Software
The Blackwidow Elite reports at a 1000 Hz polling rate with a 10 key roll-over (with anti-ghosting!). All standard and expected from a gaming keyboard, I don't suspect that this keyboard will have any performance issues nor did I experience any when playing.
The BlackWidow Elite will prompt a Razer Synapse install as soon as you plug in your keyboard, not a fan of this at all. The Synapse software also requires an account to access functionality, in general I am not a fan of Razer's software philosophy and I consider it a large negative point for Razer hardware, but once you give in have it all set up the software works well.
The BlackWidow Elite has the ability to store up to 5 profiles on-board and on the cloud if you are the type to use multiple profiles. You can switch between profiles using a hotkey combination: fn + menu key will cycle through your 5 profiles.
Other on keyboard hotkeys:
fn + f9: records on the fly macros and then assign them to a key
fn + f10: turns on gaming mode which disables the windows key
fn + f11/f12: turns down or turns up RGB LED brightness
Of course there are the 4 dedicated media keys:
Previous track
Play/Pause
Next Track
Volume wheel
That's it for onboard functionality, the other features of the Razer Blackwidow Elite can be accessed through Synapse.
Razer Synapse will let you reprogram any key to a variety of actions:
Another key press
A mouse action
Switch Profile
Act as an function key
Launch software
Multimedia commands
Window shortcuts
A string of text
Disable key
Synapse provides a lot of lighting customization with these default effects:
Breathing
Fire
Reactive
Ripple
Spectrum Cycling
Starlight
Static
Wave
You can customize per key lighting if you download Chroma Studio.
Synapse also has the option to create profiles based on the game you're playing to enable specific lighting and key mapping, could be useful to have a DOTA 2 lighting set up and an Apex Legends lighting set up if you look at your keyboard while playing.
The BlackWidow Elite is Chroma enabled which means that if you have other Razer devices or Chroma compatible devices they can sync lighting profiles.
Warranty and Reliability
Razer keyboards have a 2 year warranty:
Product warranty lengths differ depending on your Razer product. For example, mice have a two(2) year limited warranty, while keyboards have a one(1) year limited warranty.
Please see full details for warranty lengths: here.
Value & Conclusion
The Razer BlackWidow Elite is a very good keyboard, its only glaring weaknesses are the keycaps and the insistence of Razer Synapse software. Everything else, the BlackWidow Elite does at a good or better level with build quality being the most stand out factor. Razer is charging a premium price for this keyboard and at its price the value here is okay, the wrist rest is nice and the media keys are useful but they're not absolutely essential to gaming so make your own decision whether those premiums are worth it to you.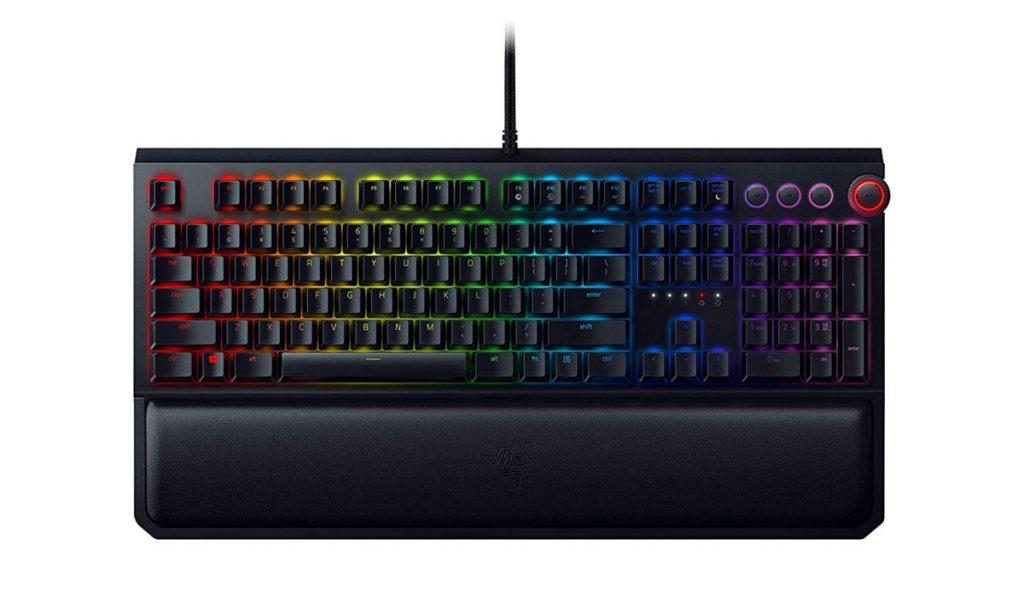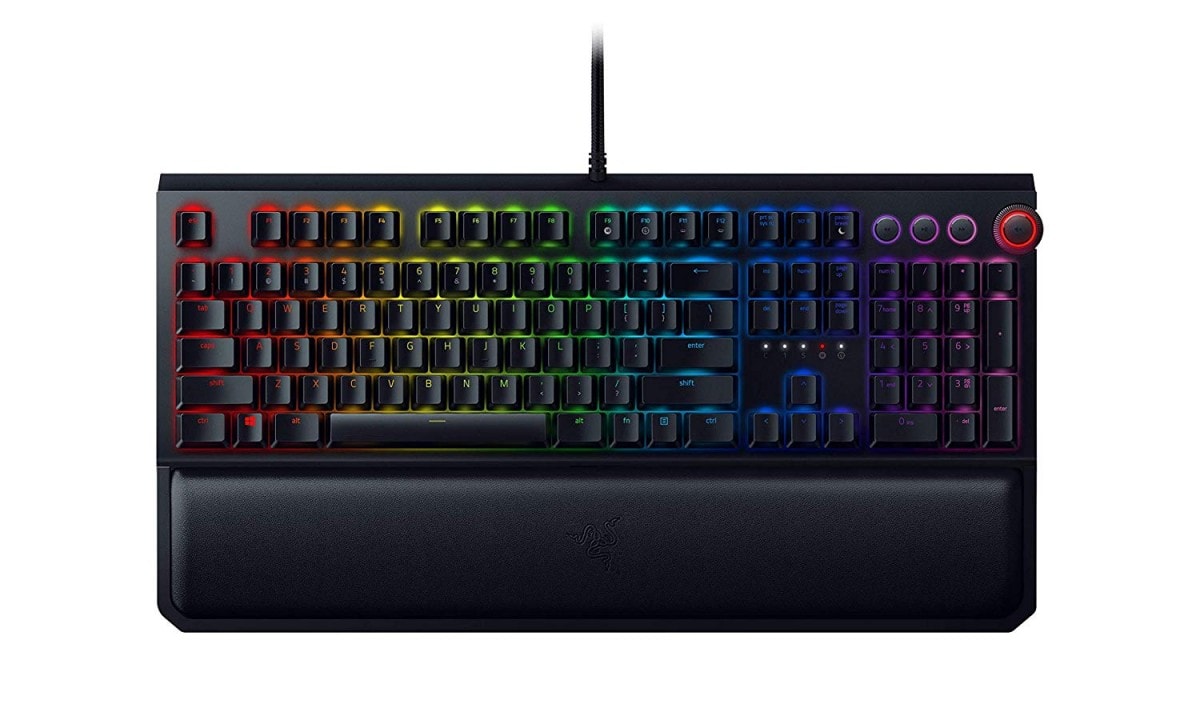 The BlackWidow Elite is a very high quality keyboard that demands a high quality price. The Razer is a great out of the box keyboard with little avenues for further customization.
See Price on Amazon