The sound of a keyboard can make or break your build. It can feel and look great but what if it just doesn't sound right? Maybe it's too loud, quiet, clacky or just lacking something. It's important to take into consideration your preferences and environment when creating your own.
Silent switches are perfect for people who prefer keyboards on the quieter side. If you couldn't guess already, these are switches that have a much quieter sound profile compared to standard tactile, linear, and clicky switches.
All data is pulled from our switch comparison database, so feel free to browse there for more spec information.
What makes a switch silent?
Silent switches don't have a completely different structure compared to other switches. The method to making a switch silent is actually quite simple.
You'll find rubber dampening pads on the silent stem; specifically on the bottom and top. This is to help absorb and dampen the bottom-out sound and when the stem smacks the top housing on the way back up.
Let's dive into some great silent switch options.
---
1. Gazzew Boba U4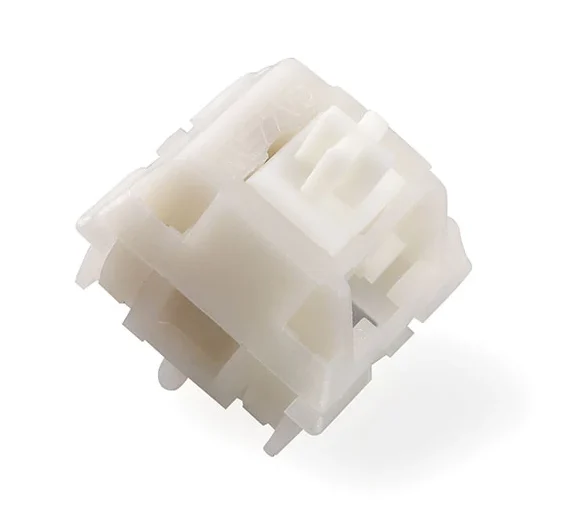 Switch type: Tactile
Actuation force:
Bottom out force: 62g & 68g
Actuation distance: 2mm
Travel distance: 4mm
The Gazzew Boba U4's have been gaining some hype and for a good reason. They offer an amazing typing experience and still maintain the silent profile despite the very hard hitting tactile bump.
These switches come in both 62g and 68g versions. A variety of weights is good as there are always keyboard smashers out there that need the extra bit of resistance. In addition to this, the Gazzew's come in both a milky top and clear top for RGB lovers.
Gazzew's have what people call a "D-bump" to describe their tactility. It means that the "bump" you feel will start at the top and ends close to the bottom-out point. In other words, you should feel the bump almost throughout the whole keypress and this gives a great feeling while bottoming-out.
As for the sound, the Gazzew's pair a soft housing made from a proprietary plastic blend and silicone dampeners placed on the stem to deliver a quiet experience.
Stock Gazzew's can feel and sound slightly scratchy so lubing can definitely enhance the switch but is not required. You probably won't need films since the housing is tight already.
Overall, the Gazzew's can give an amazing typing experience but may not be the best for gaming as the huge bump can be distracting.
2. Durock Daybreak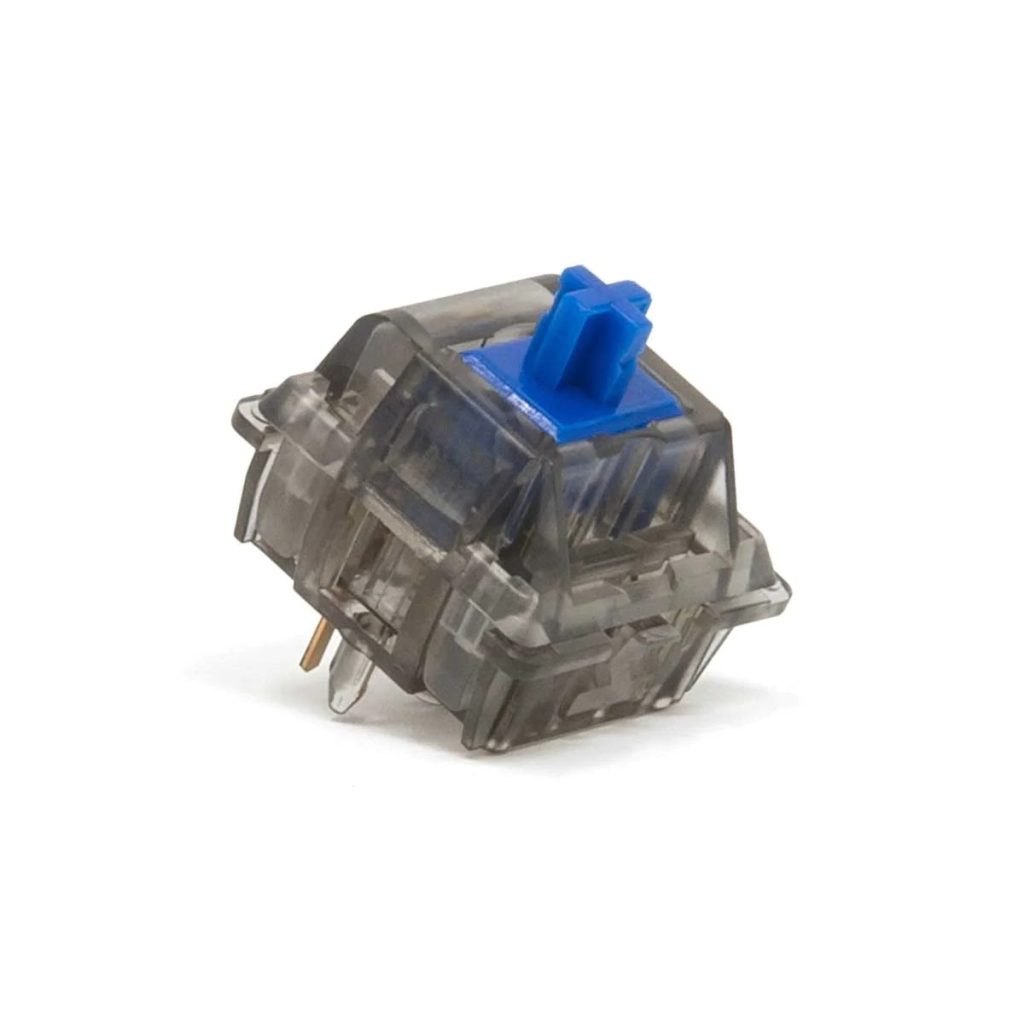 Switch type: Linear
Actuation force: 42g
Bottom out force: 67g
Actuation distance: 2mm
Travel distance: 3.8mm
The Durock Daybreaks are one of Durock's silent linear switches. They have a lighter actuation force of 42g and get heavier on the bottom-out at 67g. They feature a dark foggy housing and navy blue stem, so if your objective is to get good RGB shine through these might not be the best for that.
Durocks have a unique way of dampening their sound. Instead of only having pads on the top and the bottom of the stem, they instead use a silicone ring that loops around the rails of the stem. They essentially do the same thing but it was an interesting method that we haven't seen yet.
In terms of sound reduction, the Daybreaks are on the quieter side compared to the competition. If you like a smooth switch, the Durocks will deliver with less scratch in their stock form and feel very smooth when lubed.
The Durocks would be a great switch for typing and pretty average for gaming with a standard 2mm actuation distance. However, the lighter actuation distance could make inputs feel quicker and less fatiguing on the fingers.
3. ZealPC Healios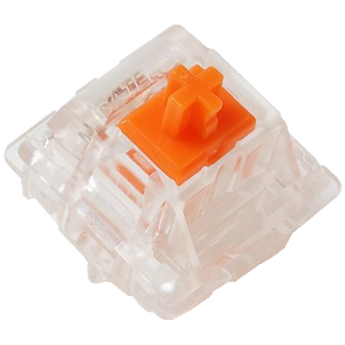 Switch type: Linear
Actuation force:
Bottom out force: 63.5g
Actuation distance: 2.4mm
Travel distance: 4mm
The Healios from ZealPC feature the transparent housings and have a very vibrant orange stem which helps distinguish them from other switches.
Having a bottom out force of 63.5g, the Healios feel like a medium switch and don't feel heavy when typing of them. Being linear, the Healios would be a great option for people looking for a smoother switch to type on. It can be a decent option for gaming but the longer actuation distances might slow you down just a tad.
The keystrokes on the Healios are smooth but can feel a little scratchy stock. A bit of lube fixes them right up, removing both the scratchy feel and noise. Filming these switches aren't necessary as the both the stem and housing feel tight enough the way they are.
The Healios' sound profile can be described as a muffled clack. They don't have a completely muted sound but more of a surpressed one. In comparison to the Zilents, Healios sound slightly quieter and could be due to the lack of tactility.
Healios come in at the more expensive side, matching their tactile counterpart at $1.30 per switch. Given that budget isn't a restraint, the Healios could be a good option for typing enthusiasts.
4. Gateron Silent Yellow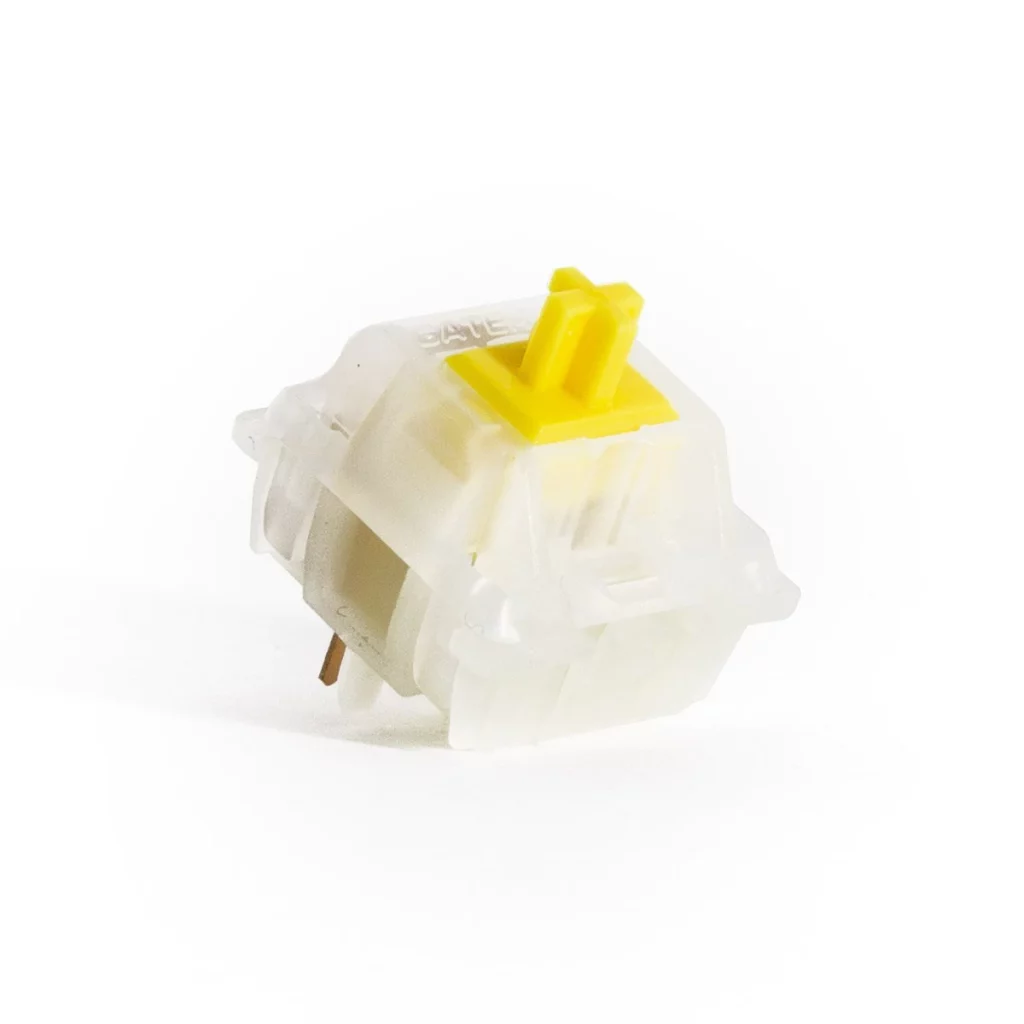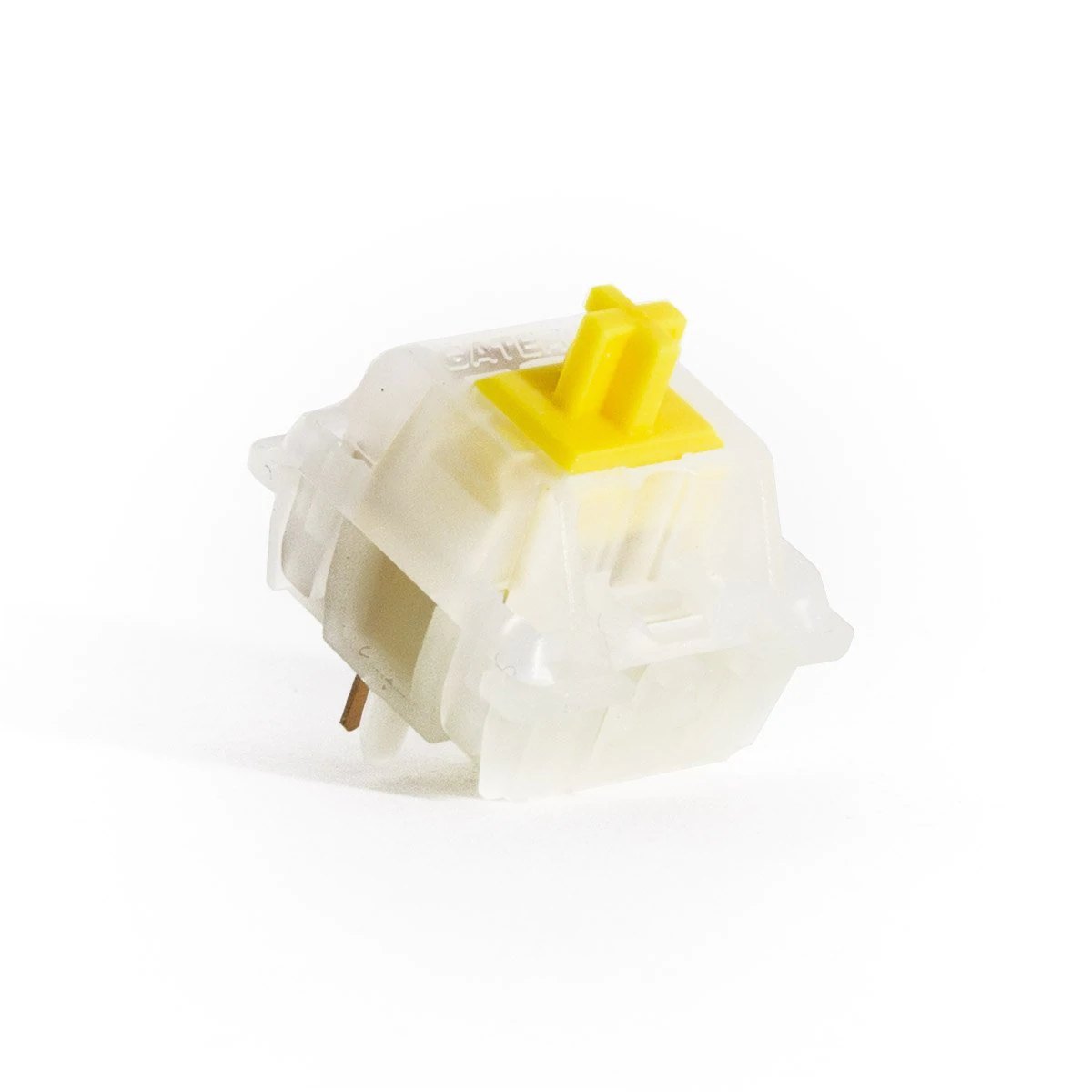 Switch type: Linear
Actuation force: 50g
Bottom out force: 60g
Actuation distance: 2mm
Travel distance: 4mm
Gateron comes with a variety of Silent switches: silent blacks, reds, browns, yellows, and whites. All Gateron Silent switches are made from a Nylon PA66 transparent housing and feature dampening pads for both top and bottom stem contact points.
Overall, the Gateron Silent lineup can feel a bit mushy across all their switches.
The Silent Yellows are on the quieter and smoother side amongst the Gateron Silent lineup. After lubing, these switches can feel like butter and will provide a great typing experience.
The Yellows are slightly heavier than the Browns and Reds but are still relatively a light switch to type on.
5. ZealPC Zilent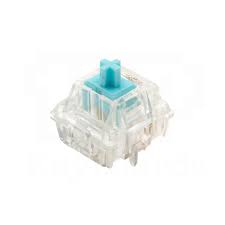 Switch type: Tactile
Actuation force: 20g, 25g, 30g, 40g
Bottom out force: 62g, 65g, 67g, 78g
Actuation distance: 2mm
Travel distance: 3.8mm
ZealPC are a silent version of their popular Zealios switches called Zilents. They come in an array of weights including 62g, 65g, 67g, and 78g options. Much like the Zealios, the Zilents have a very defined and crisp tactile bump at the very start of the keypress.
ZealPC does a good job of cutting down the noise of this switch with the rubber dampening pads on the stem. The pads made the typing experience softer, more comfortable, and less clacky.
If you're a fan of heavy-hitting tactile bumps, Zilents can definitely fill that desire. These can give a fun typing experience but would not be a good pick for gamers due to the distracting tactility.
Despite the premium price point of $1.30 per switch, they come with some flaws at stock. First, there is a noticeable amount of switch and stem wobble which both poorly change the sound. Another thing is that these have pretty bad pinging.
Luckily, this can be fixed with some filming and lubing. After some modifications, the Zilents can sound pretty damn good, but with all the adjustments and high price, we just can't justify buying these switches over some of the better options.
6. Gateron Silent Red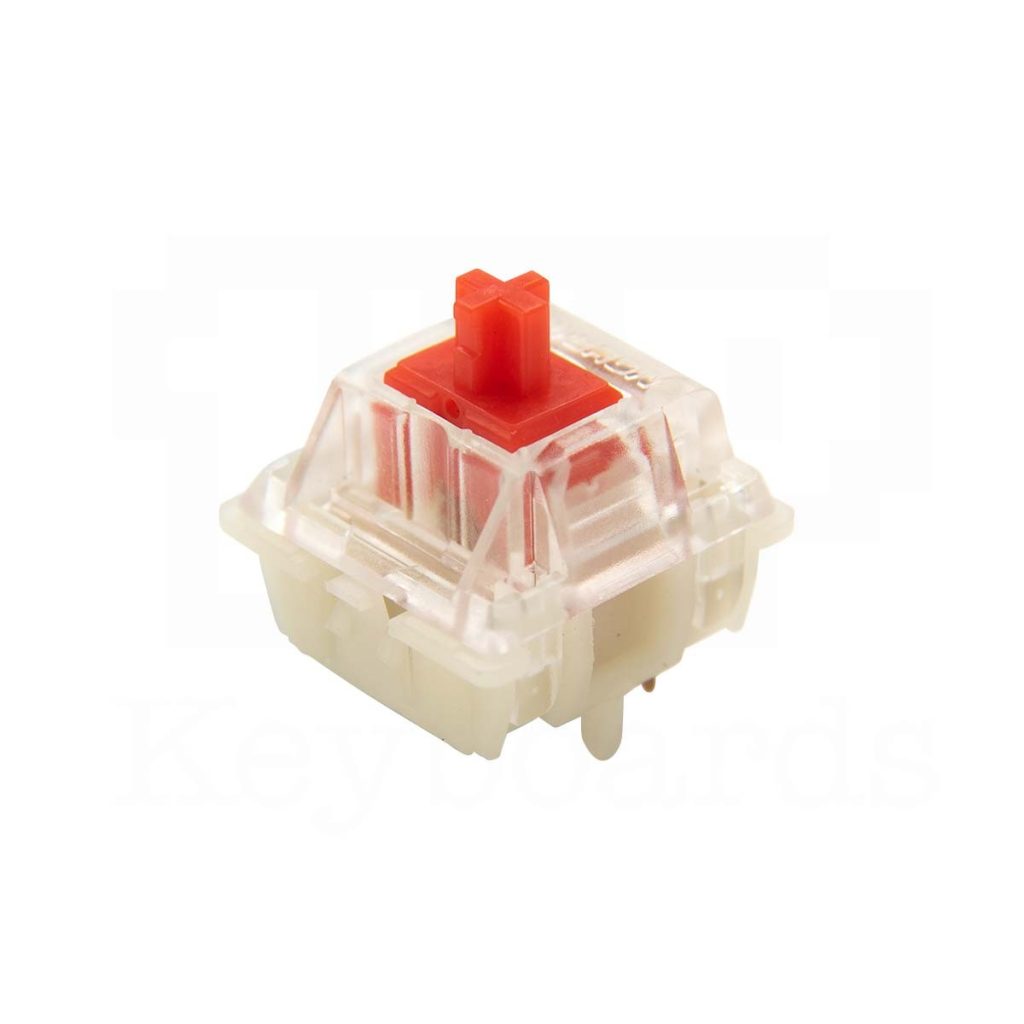 Switch type: Linear
Actuation force: 45g
Bottom out force: 55g
Actuation distance: 2mm
Travel distance: 4mm
If you have ever typed on the regular Reds, these feel like those but a mushier from the dampening pads. The Silent Reds have some scratch to them at stock and generally don't feel super premium.
Being a lightweight linear switch, the keystrokes will feel less tiring on the fingers. Compared to the regular Reds, the noise has been cut a bunch with the dampening pads and would be great to use in quiet places. In terms of sounds levels, they sit in the middle of the pack for this list.
These can be a good option for gaming as the Silent Reds are spammable and light. As for typing, these were not meant for heavy hands but can match well with lighter typers.
7. Cherry MX Silent Red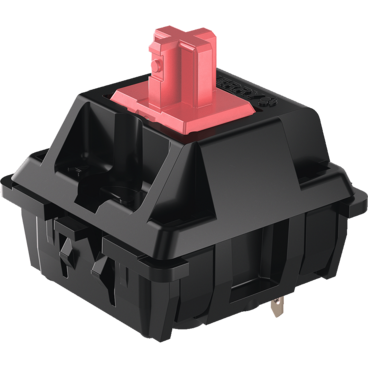 Switch type: Linear
Actuation force: 45g
Bottom out force: 75g
Actuation distance: 1.9mm
Travel distance: 3.7mm
The Cherry MX Silent Red switch has many similarities to the original Cherry MX Red. These have a lighter spring which make it well suited for both gaming and delicate typers. Like the original, the Reds are a linear switch, making the keypress smooth all the way down.
The Silent Reds definitely reduce some clack with the dampening pads used. Again, these won't be the quietest but have a significantly reduced sound profile.
8. Gateron Silent Black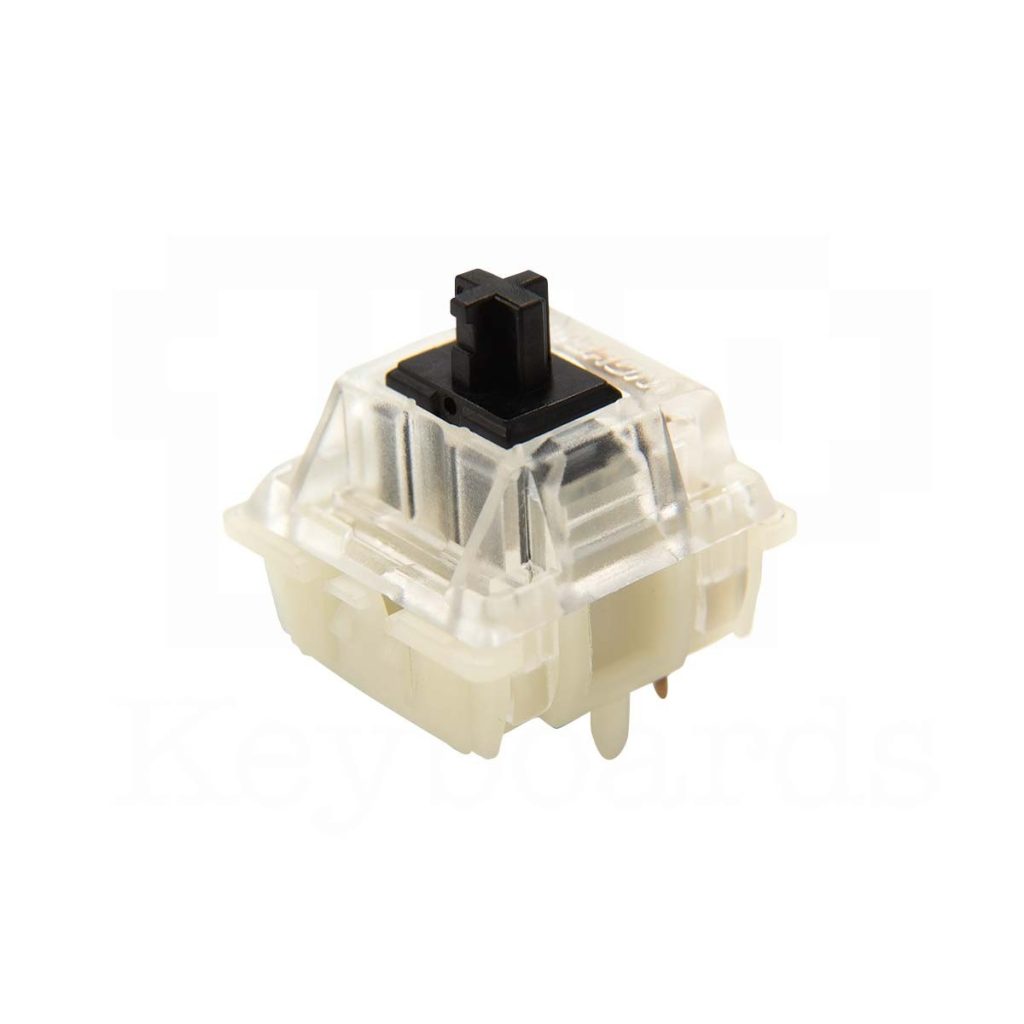 Switch type: Linear
Actuation force: 60g
Bottom out force: 75g
Actuation distance: 2mm
Travel distance: 4mm
Gateron silent blacks give a smooth typing experience. When typing, it almost feels contactless but some scratch can be noticed if pressed in at an angle. They are a linear switch coming in at a 60g actuation force and 75g bottom out force making this a medium feeling switch. It's not too light, but also not too heavy.
Although they have the dampening pads to reduce the noise, it doesn't seem like it's super effective in combating the noise levels. The Silent Blacks are slightly louder than other silent switches but they still manage to dampen some sound.
If you're looking for the quietest switches, these won't be the switch for you. However, it performs well in both the typing and gaming category given its smoothness.
9. Kailh BOX Silent Pink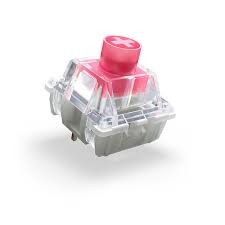 Switch type: Linear
Actuation force: 35g
Bottom out force: 45g
Actuation distance: 1.8mm
Travel distance: 3.6mm
The Silent Pinks are Kailh's lighter silent linear switch. At a 35g actuation force and 45g bottom-out force, these are very light. The switch has a milky bottom housing and clear top housing which still allows for good RGB shine through.
A very unique feature of the BOX switch lineup is that the contact leaf is encased in a plastic "box" housing rather than it being fully exposed like regular switches. You will find a small green switch beside this plastic box that the stem comes into contact to that triggers the leaf inside.
The Kailh's have a pink stem with the classic circular cup at the top that all Box switches have. On the stem, you will find dampening pads on both the top and bottom of the stem that do an effective job of reducing sound.
When stock, the Silent pinks feel scratchy but light and crisp. With some lube, you'll still feel a bit of scratch but creates a smoother and quieter experience.
Being so light, you can make mistakes while typing if you aren't the most accurate. Gaming could be good with these as the actuation distance is shortened but just make sure you don't fat finger any other keys as these will actuate with little force.
10. Gateron Silent Brown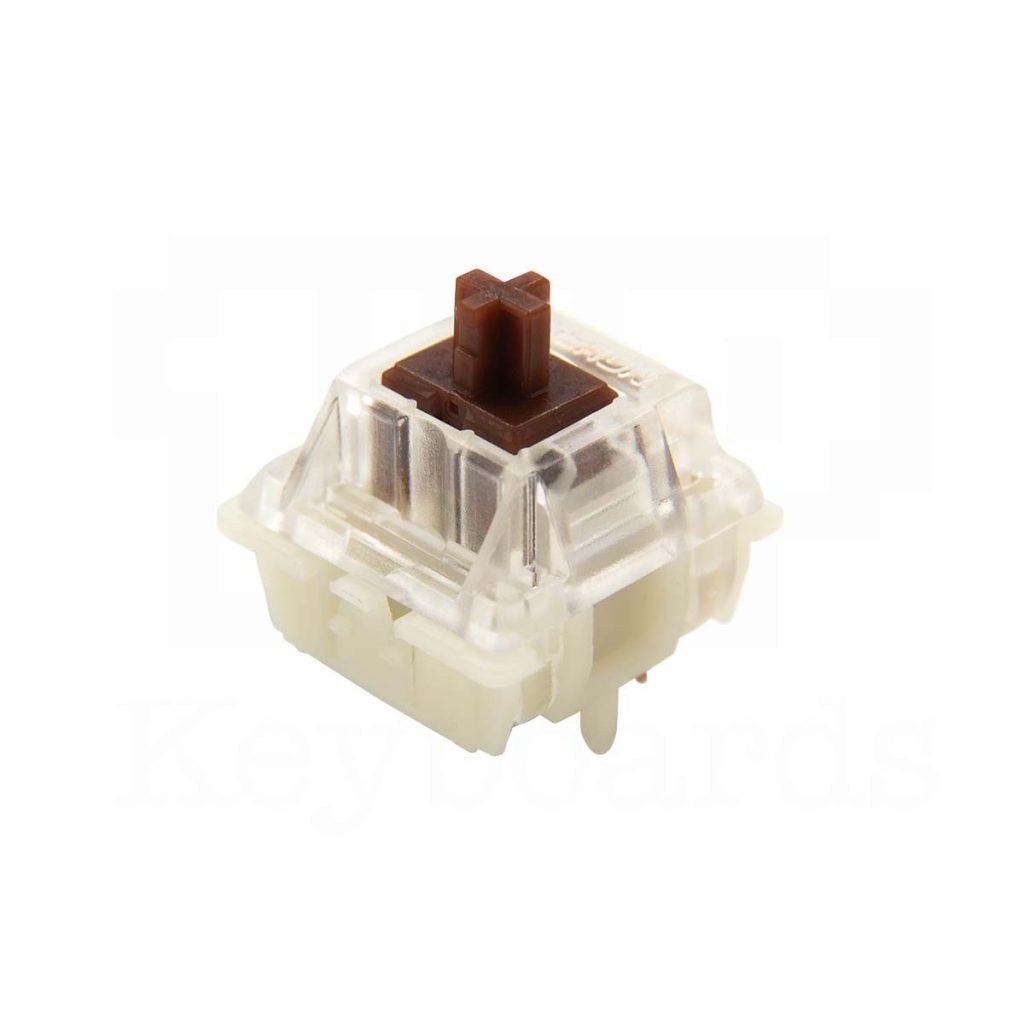 Switch type: Tactile
Actuation force: 45g
Bottom out force: 55g
Actuation distance: 2mm
Travel distance: 4mm
The Silent Browns maintain a similar tactile bump to the regular Gateron Brown switch. Although these are the Silent versions, the Silent Browns still sound loud. The sound profile gets reduced more when lubed but still on the louder side for silent switches.
Being a tactile switch, these will feel a little more exciting to type on. The bump on these don't start at the very top but there is some pre-travel before getting some feedback.
These switches are on the lighter side for a tactile switch with an actuation force of 45g and bottom out of 55g. If you were worried of tactiles being too heavy for your typing style, the silent browns could be the solution.
11. Gateron Silent White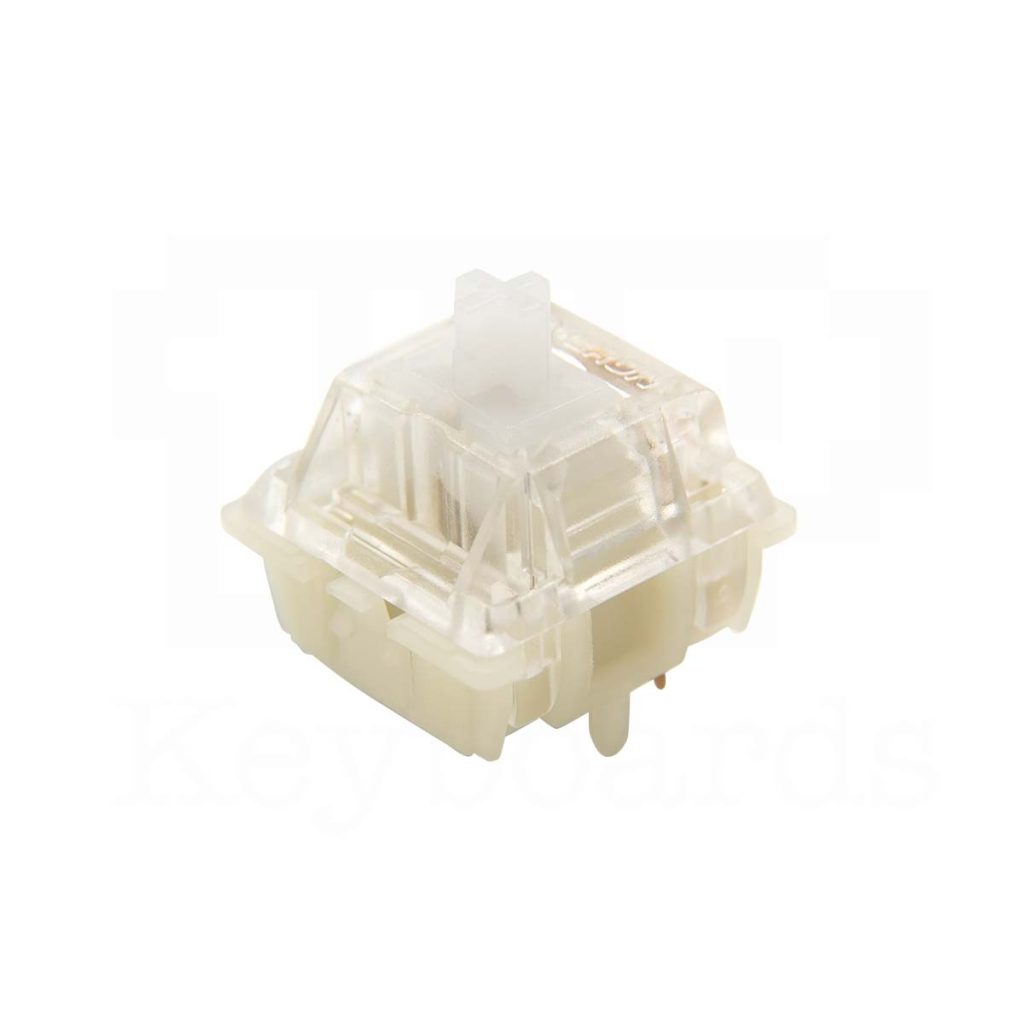 Switch type: Linear
Actuation force: 35g
Bottom out force: 40g
Actuation distance: 2mm
Travel distance: 4mm
The Silent Whites are a less popular option for keyboard builds. By no means are they bad but people may stray away from this since they sound mediocre and feel way too light.
They have some scratchiness when stock but can be made a little better with some lube. Again, with a 35g actuation force and 40g bottom out force, you have to be a very accurate typer or prepare to make some typos.
In all honesty, it can be a good consideration if you're on a low budget but we would prefer getting other Gateron Silent variations and they beat the Whites in many categories.